Atlanta FaZe defeat New York Subliners 3-1 at Toronto Ultra Home Series
The Toronto Ultra Home Series is underway, as the Atlanta FaZe defeated the New York Subliners 3-1. While the matches themselves weren't too thrilling, fans did get a taste of the newly implemented maps in the rotation.
Earlier in the week, the Call of Duty League announced Crossroads Hardpoint and Garrison Search and Destroy were being replaced. Apocalypse Hardpoint and Express Search and Destroy are now in the meta. Atlanta and New York were the first teams to play each map during an official match, and it led to some exciting moments.
Express Search and Destroy makes its return
In map two, Express Search and Destroy saw daylight in an official match for the first time since 2013. The classic map hails from Black Ops 2 and not much has changed from then to now in terms of how it plays. Extremely fast-paced, Atlanta and New York traded blows on both the offensive and defensive sides of the map. There were few moments of tranquility for either team but eventually, the Subliners took the map after an exciting round 11.
After the series was over, FaZe member Alec "Arcitys" Sanderson spoke on Express and said the team was trying out new things. He joked that was the reason James "Clayster" Eubanks took a map off them but also said his teammates might have been playing a little too fast. "They [Simp, Cellium, aBeZy] were flying around the map a little too much." This was evident in most of the rounds, as the FaZe players continually played with no regard for caution.
FaZe dominates Apocalypse Hardpoint
While the Subliners did manage to take Express–their only map win–Apocalypse Hardpoint was a different story. The first Hardpoint on Garrison was a close contest but Apocalypse wasn't up until the very end. FaZe thoroughly dominated the Subliners for most of the map, with McArthur "Cellium" Jovel using the meta's new weapon, the Krig-6, to his full advantage. Apocalypse's smooth-flowing design and understandable spawn points likely aided FaZe's victory. Though it's still early, Apocalypse seems like a top-tier Hardpoint map.
It also appears the new XM4-less meta is working out for FaZe, who went with two Krig-6's, one QBZ-83 and one AK74u for most of the maps. Arcitys stated the roster is "loving the new meta," as they were advocates for banning the XM4 in a Gentleman's Agreement, which took place last week.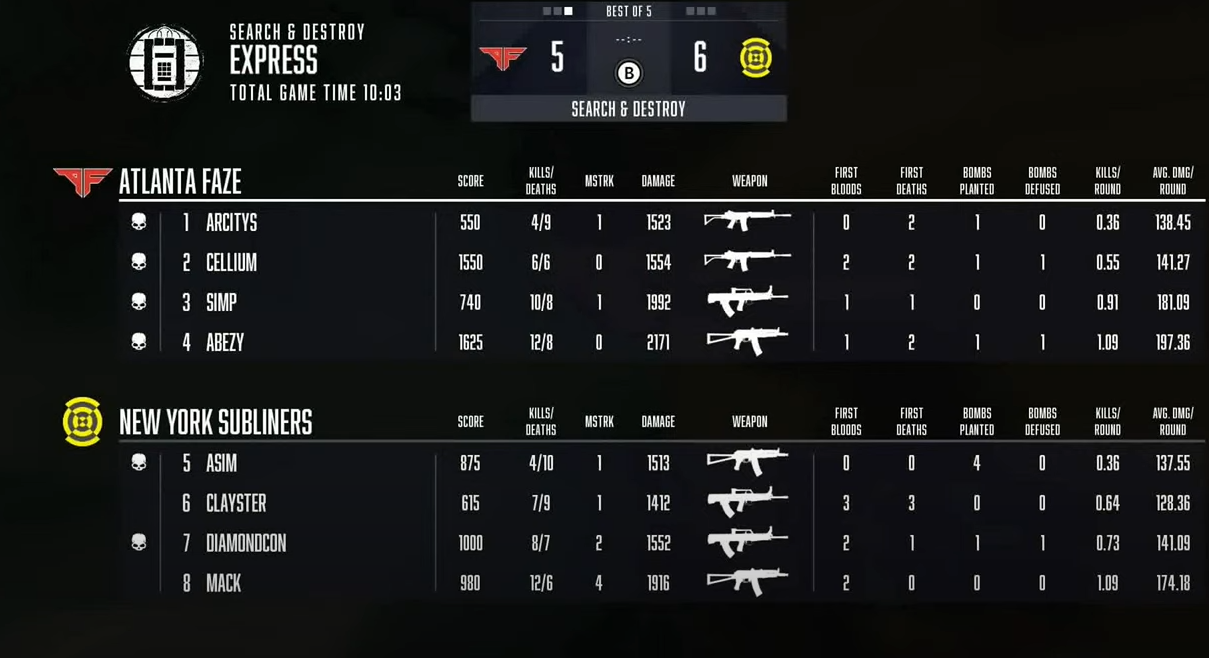 Though New York put up a solid fight, Atlanta FaZe is clearly still the top dog in the CDL. They'll have another chance to prove that tomorrow against the home-team Toronto Ultra. Viewers can tune in through the CDL's official YouTube broadcast starting at 3 p.m. ET.
Source: Read Full Article