Sweet Dreams quest guide | Cyberpunk 2077 Walkthroughs
Despite the plethora of launch problems Cyberpunk 2077 has experienced, one non-issue with the game is its side quest variety. Each mission is unique and different from the last one you completed, providing a great sense of diversity. One such is called 'Sweet Dreams', which can be a little confusing. Here, we'll go over exactly how to complete this quest and what choices to make throughout it.
How to complete Sweet Dreams in Cyberpunk 2077
To start this side quest, you need to make your way to the No-Tell Motel. This is where you meet Dexter DeShawn after the completion of 'The Heist' mission. If you haven't made it to Act 2 yet, you won't be able to take on Sweet Dreams.
After making your way to the motel, meet with a man named Stefan, who is located just outside the building. The conversation will start with Stefan offering you a Braindance for a whopping 16,000 eddies. Furthermore, he'll offer the equipment for the Braindance for an extra 4,00 eddies.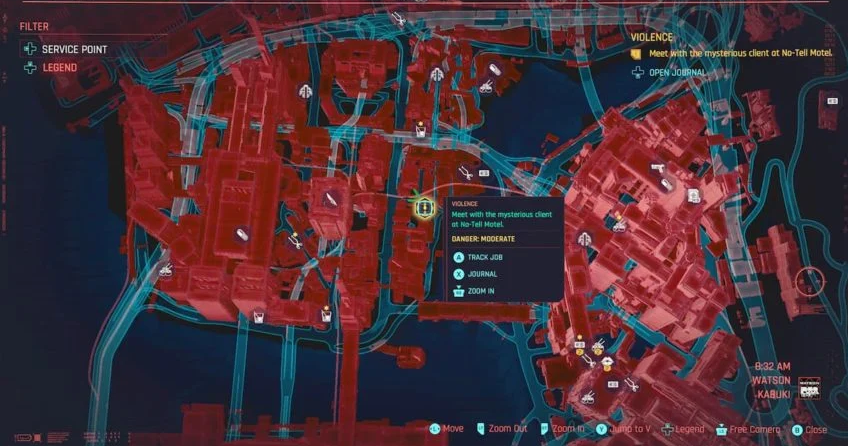 The location of the No-Tell Motel. Image via CDPR
In short, if you value your cash, simply say "Not interested" when Stefan prompts you to pay. This will save you at least 16,000 eddies and end the quest. However, if you really want to participate in the quest, accept the offer. In short order, you'll end up in a bathtub with no clothes or equipment.
If you don't retrieve your gear during this quest, you won't ever have the chance to get it back. To get your equipment back, head out of the bathroom and sneakily kill the enemies in front of you. Once they're all dead, find the hole in the wall and locker within that hole. That locker contains your gear, so just loot it and re-equip your items.
After that, simply eliminate the remaining enemies and find Stefan, who is located on your map. Unfortunately, the NPC won't give you your eddies back. To make up for this, you can kill him on the spot or just leave him be.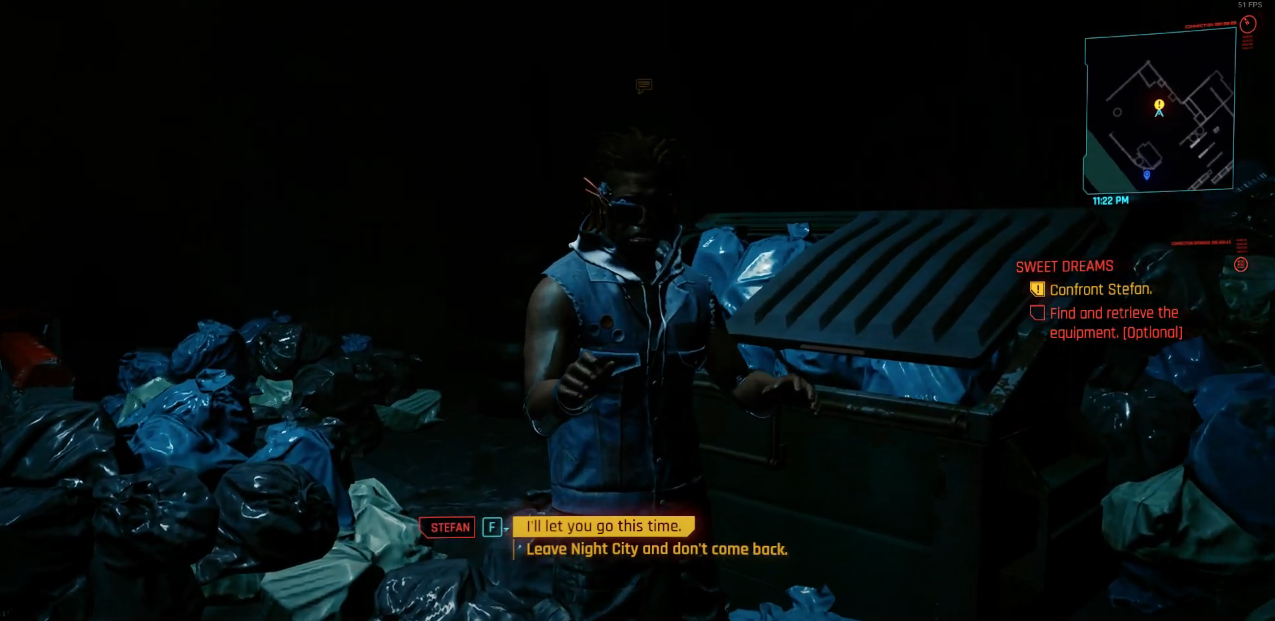 Image via CDPR
To ensure a safe quest, we recommend saving often during Sweet Dreams. Some players reported bugs with the quest that resulted in their gear being bugged in the locker. Still, it's wise to simply forego this quest in the first place.
That's how to complete Sweet Dreams — make sure to stay tuned to Daily Esports for more Cyberpunk 2077 guides and news.
Source: Read Full Article