TSM unsurprisingly loses LCS match against FlyQuest
It's a tough week for TSM as they went against FlyQuest and suffered a terrible loss. Some viewers thought it was a roller coaster of a game, but TSM just saw it as an opportunity to do better. As the fifth week of the League of Legends Championship Series (LCS) approaches, they have plenty of thinking to do.
We're back to make the Rift a greener place one @TSM death at a time.


: https://twitch.tv/lcs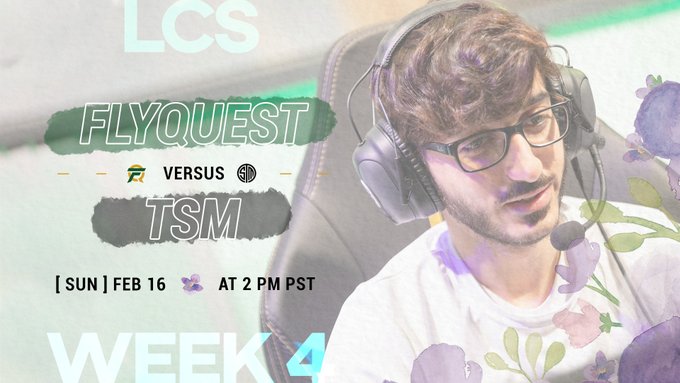 TSM, the only team to have qualified for all of the first seven World Championships, is finding it hard to win games this season. After they played a 47-minute game against FlyQuest, fans are not surprised at the results. At the beginning of the game, it seemed they had it under control. They had a large gold lead up until the very end — when FlyQuest undoubtedly pushed hard for the win. The way they lost this game echoed their previous game against Cloud9 the night before — the inability to focus, reach objectives, and overall synergize well.
GGWP as @Flyquest comes back to take down @TSM:#FLYWIN #LCS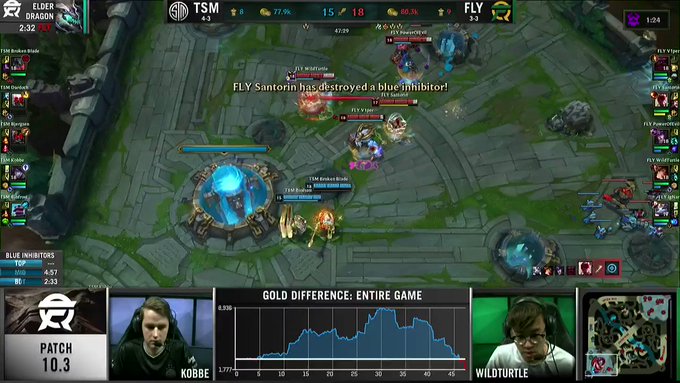 By playing this video you agree to Twitter's use of cookies
This use may include analytics, personalization, and ads.
TSM struggles
Ten minutes into the game, TSM jungler Joshua "Dardoch" Hartnett managed to get first blood killing FlyQuest top laner Omran 'V1per" Shoura. This move gave fans an optimistic view of the overall game. As they released the Rift Herald and took down FlyQuest's tower, they moved forward with an almost 3,000-gold lead. Soon after, TSM had 3 towers down, a 4,500 gold lead, and 3 kills. Although FlyQuest had both Infernal and Cloud Drakes, they were struggling as TSM continued to play aggressively.
This all changed once the 20-minute mark hit, and TSM found themselves in a tough spot. FlyQuest mid laner Tristan "PowerOfEvil" Schrage defeated TSM top laner Sergen "BrokenBlade" Çelik. This team fight near the Drake pit snowballed into another kill, where FlyQuest's bot laner Jason "WildTurtle" Tran defeated Dardoch. As TSM retreated to base, they had to rethink their next move. They came back with some rhythm 26 minutes in, as TSM bot laner Kasper "Kobbe" Kobberup went in for a triple kill. Viewers thought all was well until they started slipping up in future team fights.
Lack of defense
TSM realized FlyQuest started scaling the longer the game went on. TSM didn't build any healing reduction or much defense — which made it perfect for FlyQuest to win fights. TSM's overall damage was underwhelming as FlyQuest capitalized on their Ornn ults. In the end, it was clear that TSM lacked proper communication as their team fights were messy and eventually ended up in FlyQuest winning objectives.
Towards the end of the game, fans were already chucking out their white flags. It seemed like a loss until TSM fought hard against FlyQuest to protect their Nexus. As they pushed FlyQuest back, they attempted to regain some control. Eventually, FlyQuest took over the Elder Dragon, one which TSM had no chance to contest, and pushed to the enemy's Nexus. As the game ended, fans were overall disappointed but relieved the torture was over.
[#TSMLCS]
ggwp @FlyQuest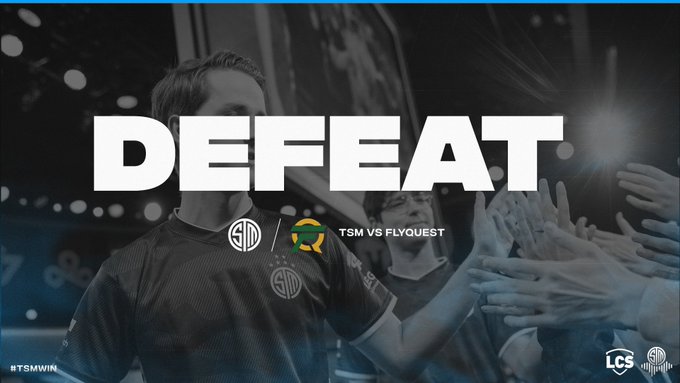 The need to communicate
In the end, TSM has a lot of re-analyzing to do. They need to reassess their decision-making and communication for their upcoming games. As they are consistently repeating the same mistakes over, there has to be a solution on how to gain back some rhythm. Hopefully, this game serves as a lesson. They didn't seem to learn much from Saturday's discouraging game against Cloud9.
Their next game is against 100 Thieves on Saturday, Feb. 22, followed by their game on Saturday, Feb 24 against Evil Geniuses. Are you for a #TSMWin or #EGWin?
Source: Read Full Article