ALGS Returns Next Month With $5 million Prize Pool And New Regional Finals
Apex Legends has announced details of the ALGS Year 3 competition, which will once again culminate in crowning a world champion at the ALGS Championship next year. There are three planned LAN events and a $5 million prize pool over the year, which all sounds very familiar. However, there are a couple of changes, including more invited teams, all-new Regional Finals, and added bonuses for teams that do well in the Challenger Circuit.
After an agonising summer with only a handful of Apex Legends esports events (and even fewer for EMEA competitors), it's good to have the big guns back. The ALGS returns next month with the Preseason Qualifiers, and Pro League kicks off on November 6. Here are all the details about ALGS Year 3: what's new, what's changed, and what's stayed exactly the same.
The biggest news is about LANs. While the plan is unchanged – the ALGS is aiming for three in-person tournaments this season – this will be the first time it has successfully hosted all three, so long as all goes to plan. The previous two years of competition were ravaged by last minute Covid cancellations and subsequently kept to online tournaments as a precautionary measure. All being well, the ALGS hopes to host "three international LAN competitions throughout the season – Split 1 Playoffs in winter 2023, Split 2 Playoffs in spring 2023, concluding with the Year 3 Championship in summer 2023."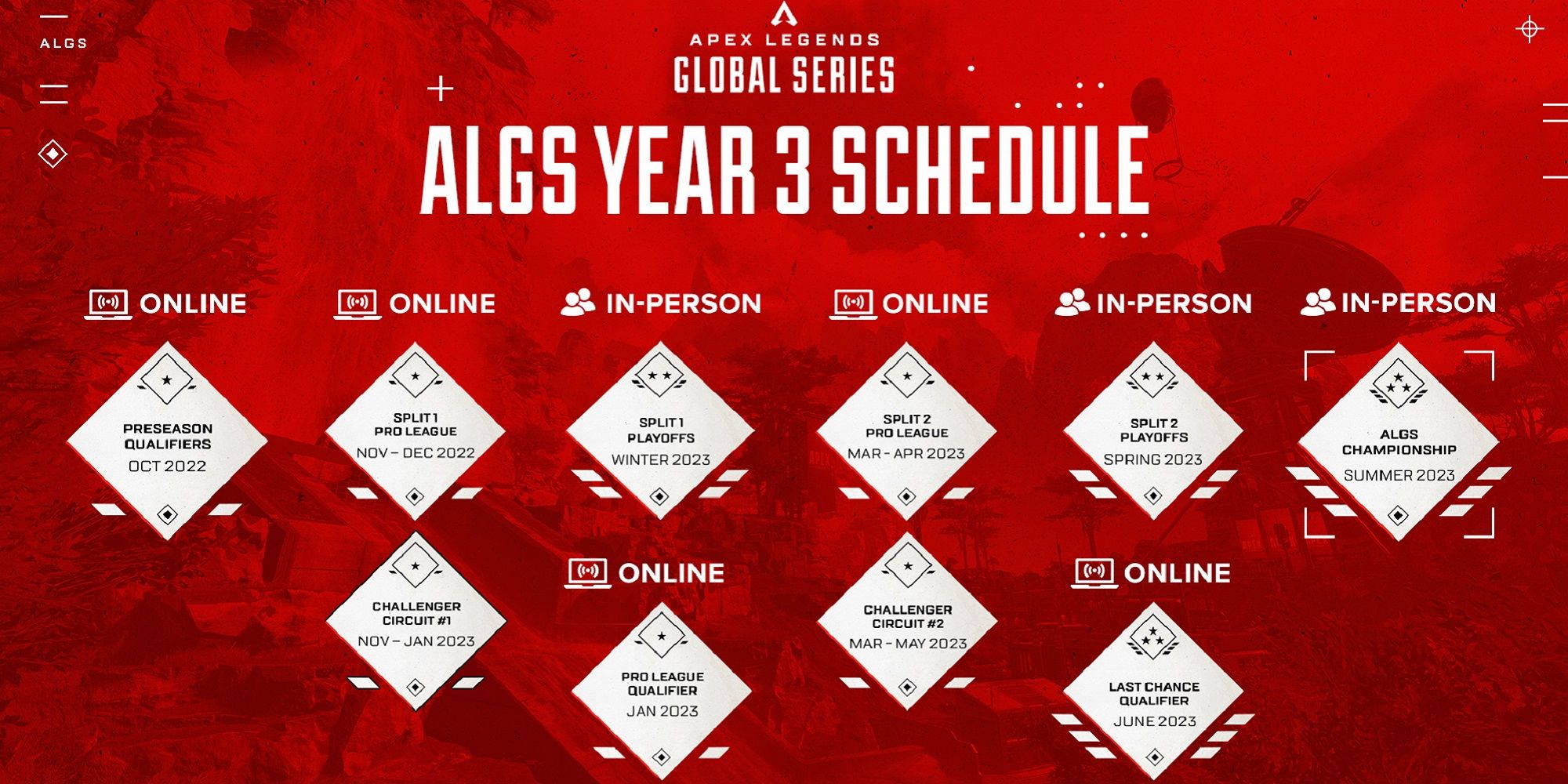 As per the above graphic, we can expect Split 1 PLayoffs to occur in January or February 2023, Split 2 Playoffs potentially in May or June, leading to the ALGS Championship possibly occurring in July again next year. This is conjecture on my part based on the above timeline – nothing is confirmed yet. We also don't know the location of the LANs at present.
One major change to the ALGS Splits is the introduction of Regional Finals. The top 20 teams from each geographical region will play a Match Point series and the winner will be granted a guaranteed Playoff spot.
It's also worth noting that each region now has 10 fewer teams competing at Pro League standard during each Split. The ALGS has invited 22 teams per region – who you can see below, barring one team from NA that is still to be announced – and the final eight spots will be fought over during the Preseason Qualifiers, which start next month. The winning team from each Challenger Circuit tournament will also automatically qualify for the Split 2 Pro League Qualifier or the Last Chance Qualifier for the ALGS Championship.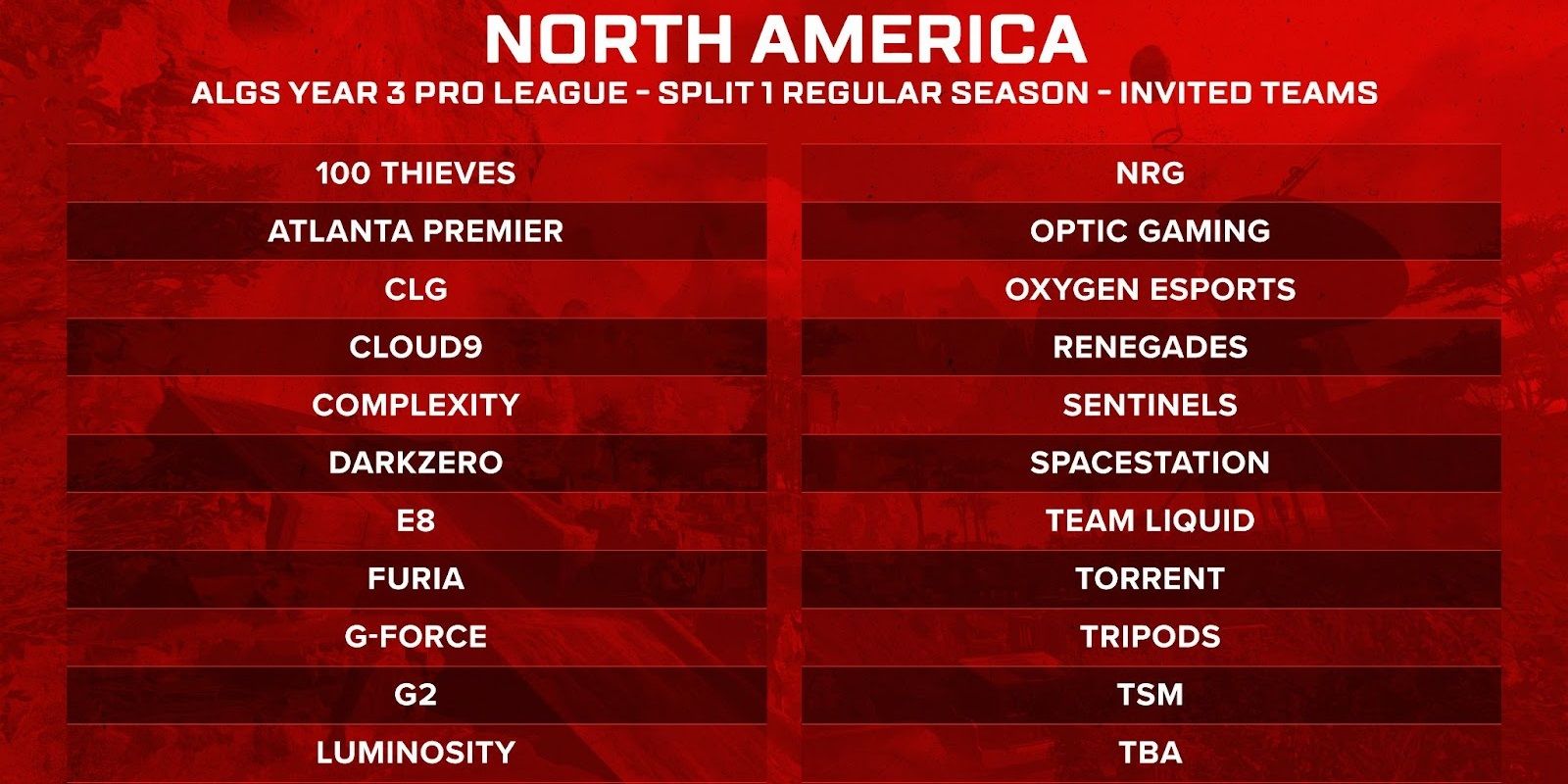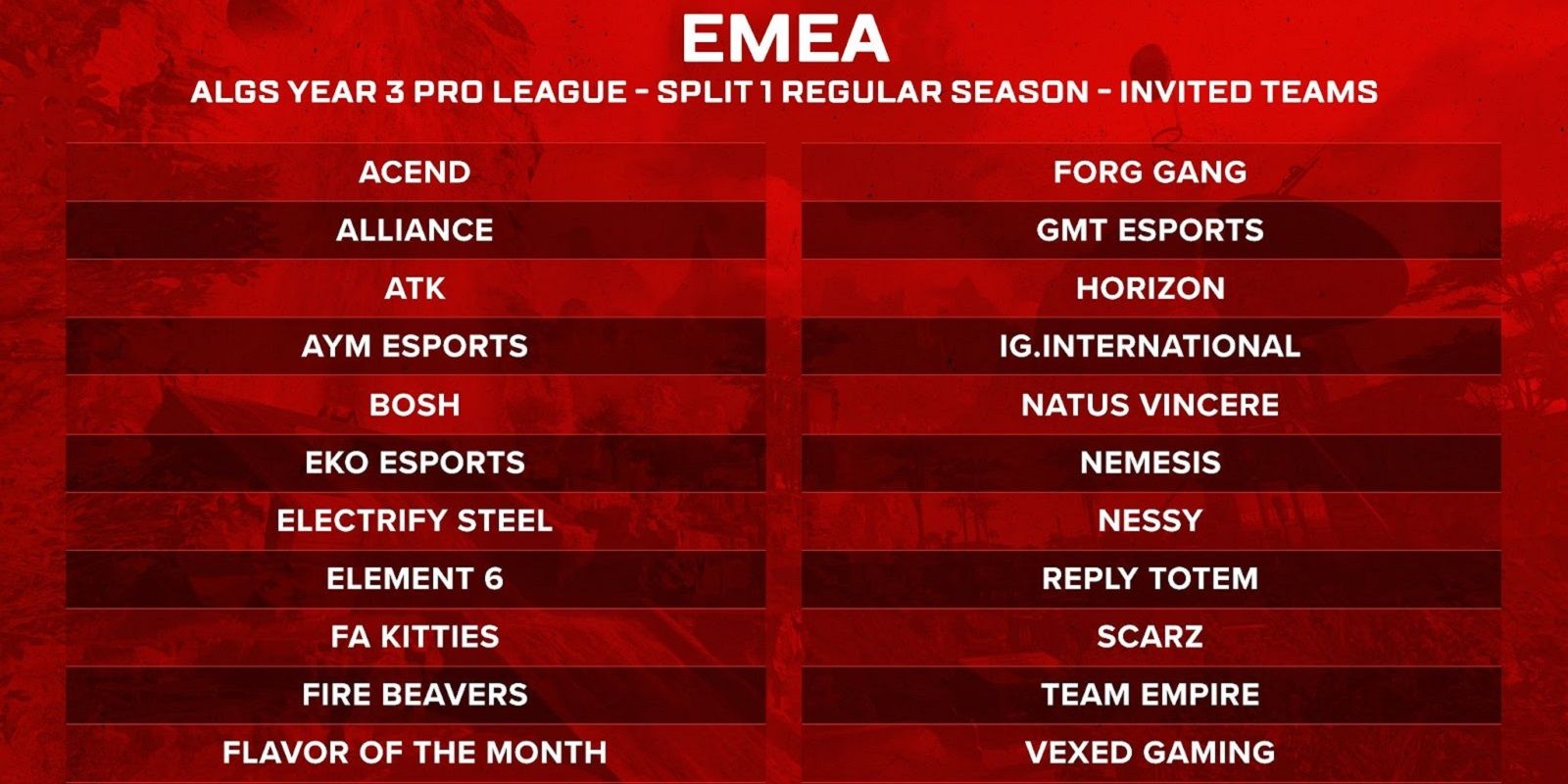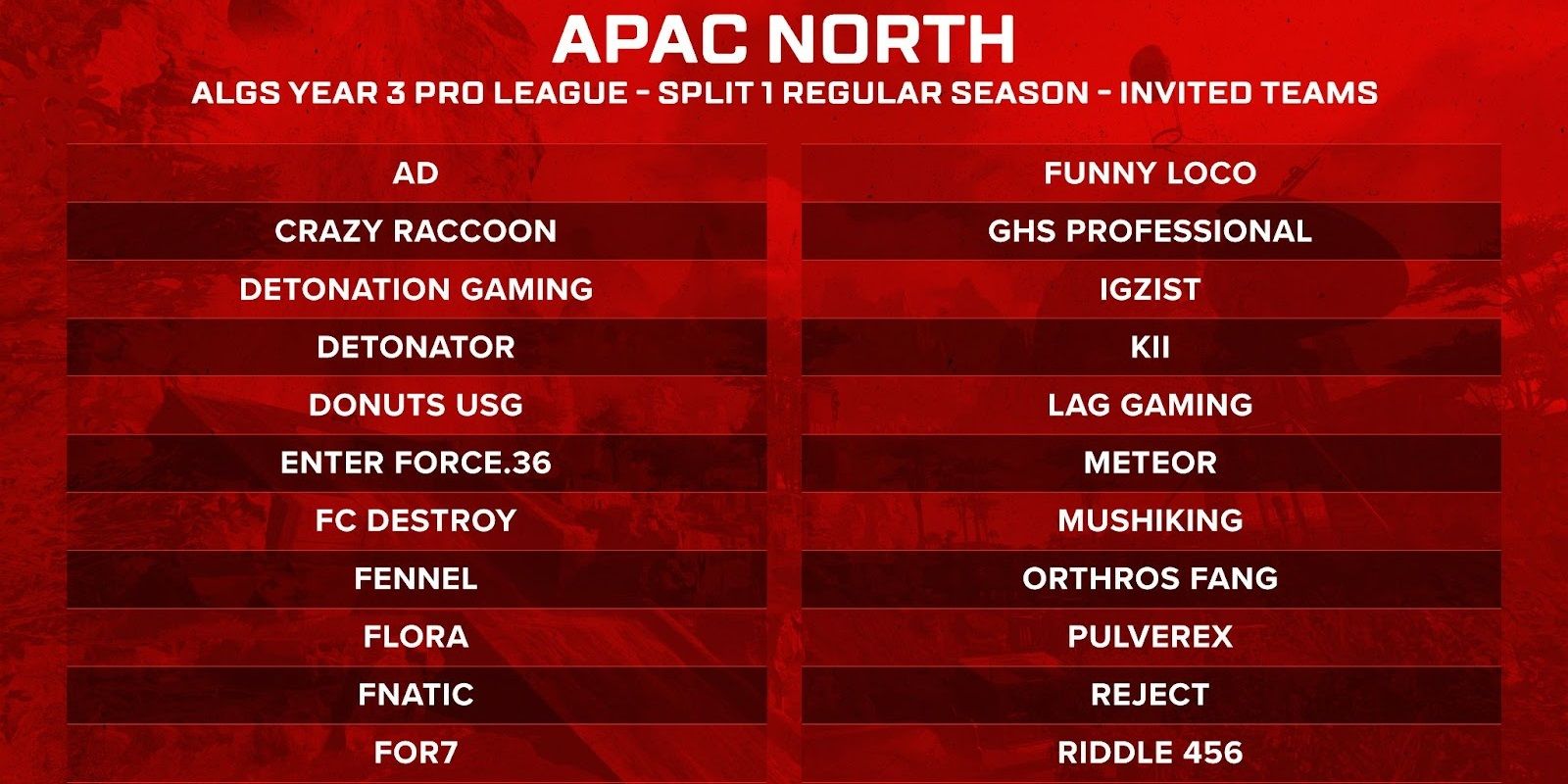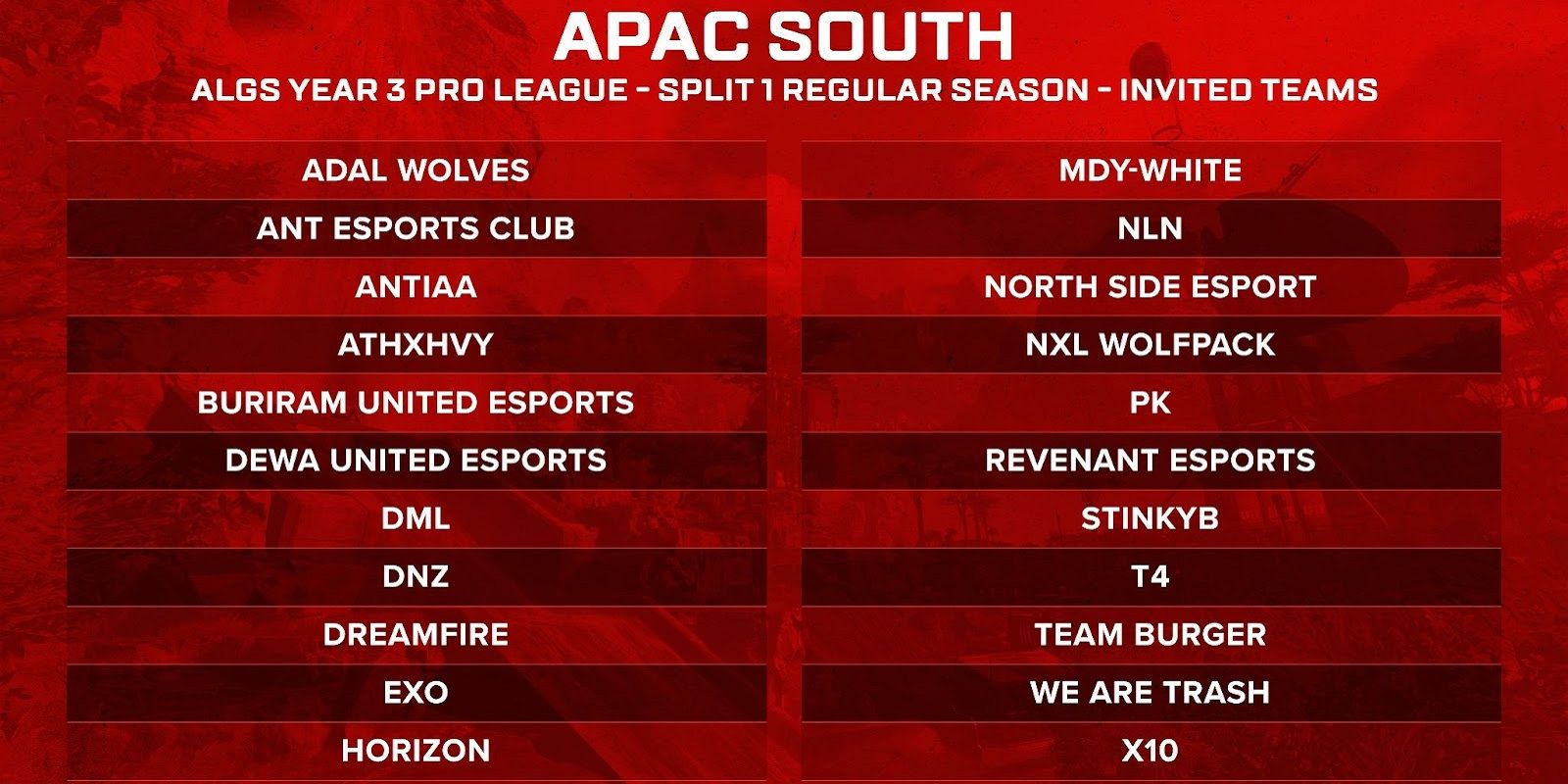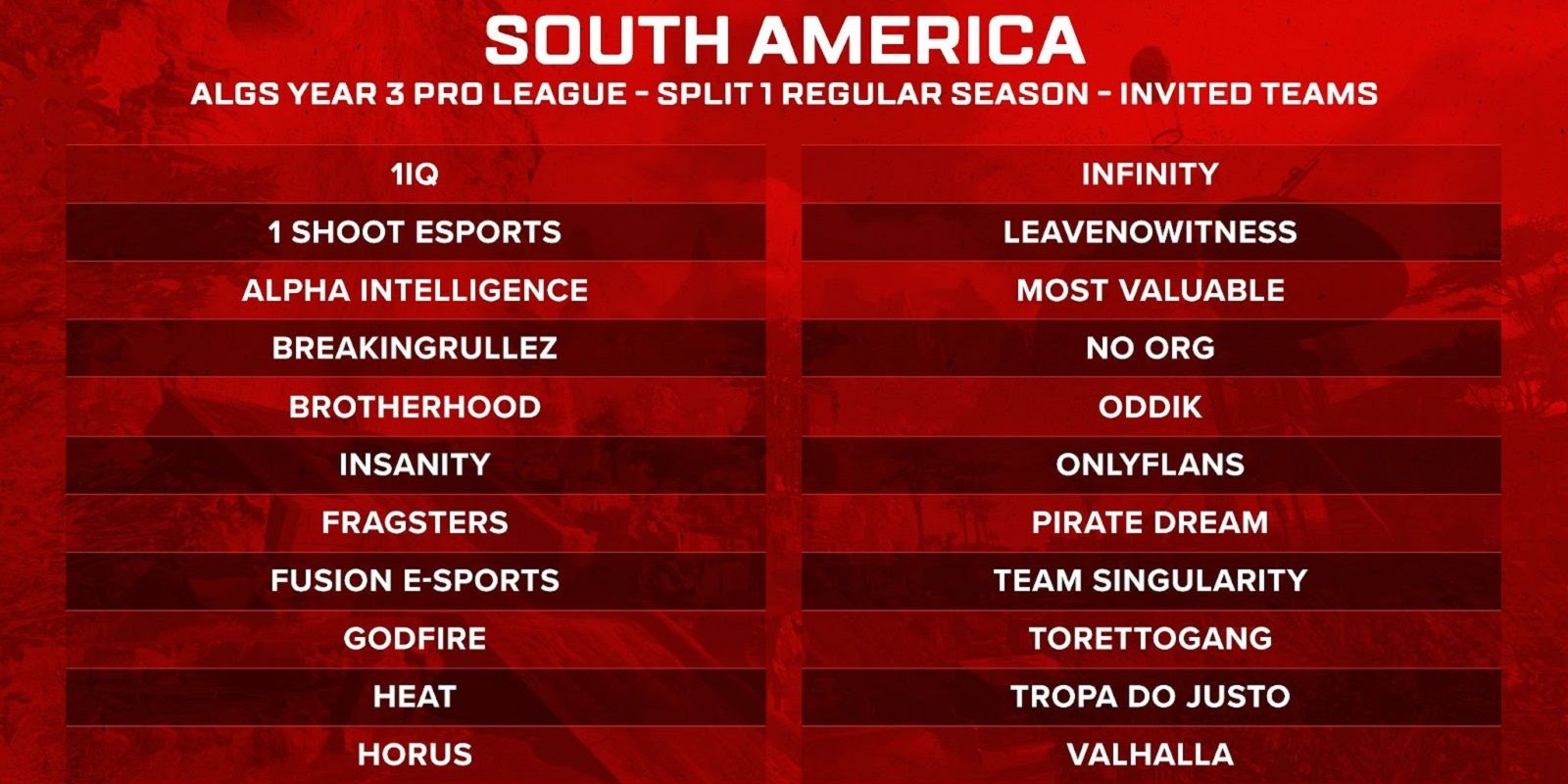 The ALGS press release also mentions that, "Year 3 will also introduce a number of ecosystem enhancements designed to drive deeper engagement amongst both players and fans." One specific addition is the Regional Finals, but it remains to be seen whether there are other "ecosystem enhancements" planned.
You can register for Year 3 Preseason Qualifiers here, and check out all the info and updates on the ALGS blog.
Source: Read Full Article