Amazon Luna Gets A Prime Day Deal To Entice New Users
Amazon's Prime Day, an annual event for Prime members that offers huge deals and discounts on a ton of products, is currently underway. The two-day event, running June 21 and 22, is offering Prime members a bunch of savings on top and name-brand products. This year, Amazon is also offering Prime Day deals for its cloud gaming service, Luna. These deals seem to be Amazon's way of enticing some new users to the fairly-new gaming service and if you have been on the fence about whether or not to go in on the service, now might be the perfect time to check it out.
Luna, Amazon's competition to other cloud gaming platforms like Stadia, Xbox Cloud Gaming, and PlayStation Now, launched early access to Prime members on October 20, 2020. The gaming service allows users to stream games up to 4K/60fps on multiple devices like the Fire TV, PC, Mac, and iOS. Luna offers subscription-based channels that give users access to game libraries like the Luna+ channel which currently offers games like Resident Evil 7, Control, and Metro Exodus. The system will also offer Twitch integration for gamers to livestream their play throughs.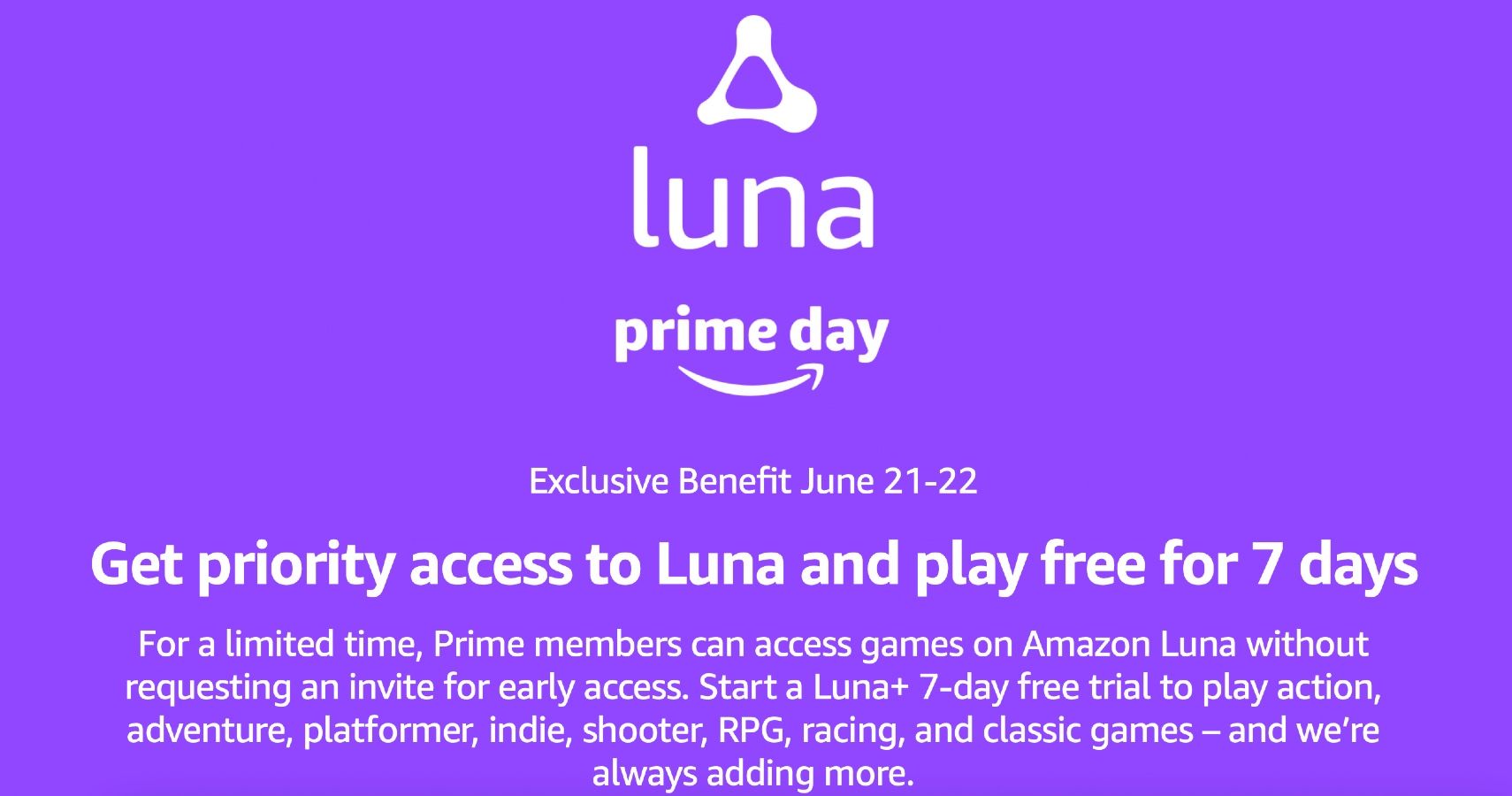 For Prime Day, Amazon its hoping to lure gamers in with some great deals. From June 21 to 22, Amazon Prime Members can access games on the Luna+ channel without requesting an invite for early access and can instantly start their seven day free trial of Luna+. Amazon is also offering some special deals leading up to the end of Prime Day on June 22. Prime members can get 30% off of the Luna Controller, a high-performance gaming controller designed specifically for gaming through cloud-direct technology that will allow for easy transition from one screen to another on Fire TV, iPad, laptop, and more. The controller is also compatible to use with USB and Bluetooth on devices and services beyond Luna.
Prime members can also purchase the 4K Fire TV Stick and Luna Controller Bundle for $40 off up until June 22. Now is the perfect time to check out Amazon Luna and see if it is the right fit for your cloud-gaming needs. To learn more Amazon's 2021 Prime Day deals head over to Amazon's Prime Day page, or you can learn more about Amazon Luna here.
Source: Read Full Article