Become A 'Drive Thru Diva' In Taco Bell Card Game
Ever wanted to make a quick run to Taco Bell without having to actually go to Taco Bell? Well, now you can thanks to Ravensburger. The the award-winning board game makers just released the Taco Bell Party Pack Card Game where players can "run" to Taco Bell in order to cure their teammates cravings.
Announced earlier this year, the Taco Bell Party Pack Card Game allows two-to-six players the opportunity to make a Taco Bell run in order to pick up their favorite menu items. From crunchy tacos and bean burritos to Freezes and anything else they happen to be craving, the card game is sure to have your favorite late-night Taco Bell order. These menu items will help players feed their crew, whether that is the Supreme Superfans, Happier Hour Heroes, Drive Thru Divas, or another group of Taco Bell lovers with a punny name. Through action cards, players will have to make sure their crew is well-fed and gather enough points to be crowned the winner.
Those who are able to satisfy the specific cravings of their crew will snag crave chips, which are chip-shaped tokens worth a surprise number of extra points at the end of the game. The game also includes sauce cards that will gift players special abilities in order for them to cure their crew's cavings and win the game. Florian Baldenhofer, the International Category Manager for Family Games at Ravensburger, shared his excitement about this partnership; "We were delighted to work with Taco Bell on this game. Our team enjoyed capturing the essence of Taco Bell's fun, witty, and colorful brand in a game with the same qualities."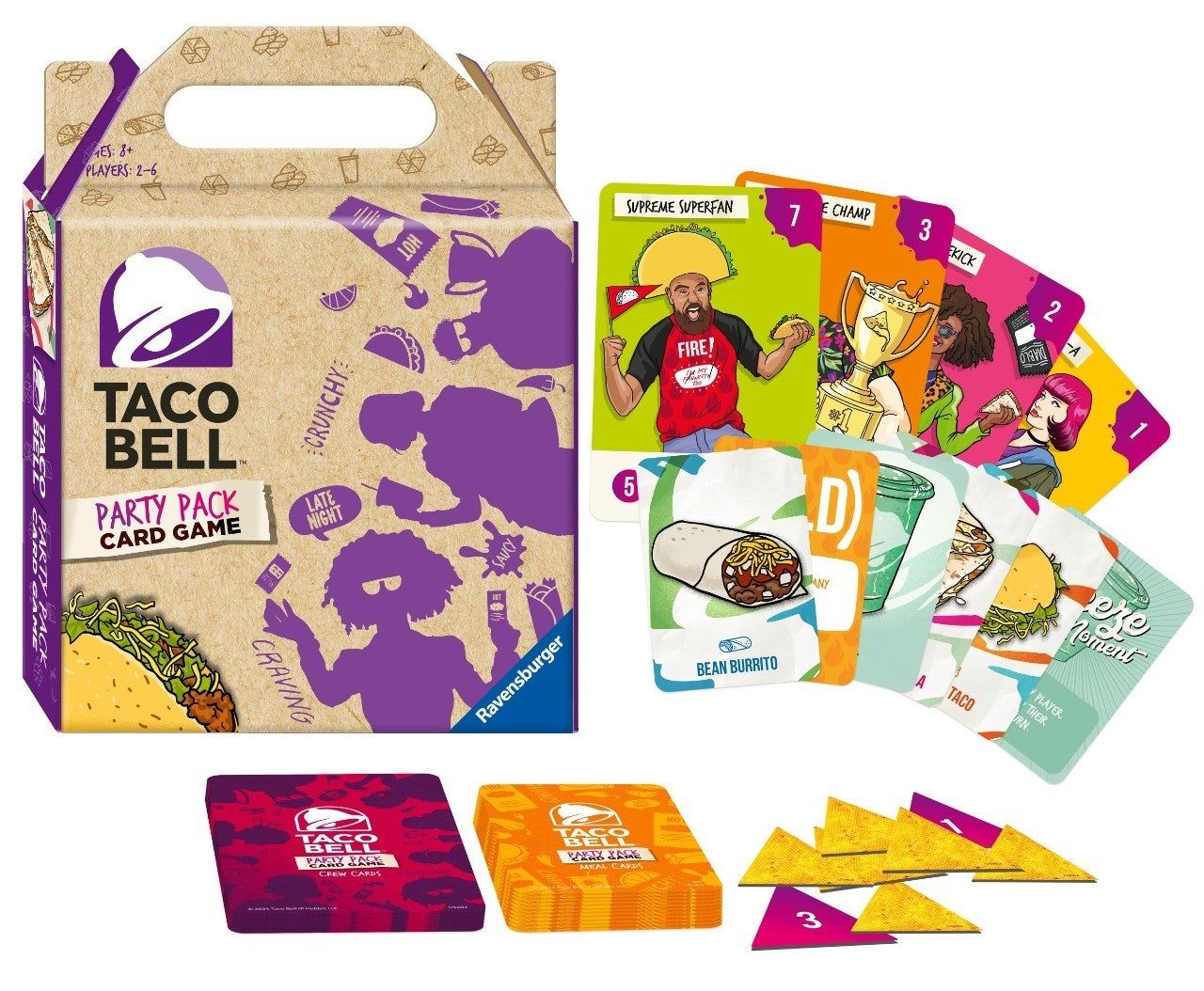 The game itself comes in a special party-pack style box that is reminiscent of Taco Bell's taco boxes. Inside the party pack, players will find 112 meal cards, 50 crew cards, and 18 chip tokens. Each play through will be a quick, easy, and extremely fun start to any game night. Though the fun art and use of menu items may have every game ending with a quick trip to Taco Bell.
The Taco Bell Party Pack Card Game is currently available at Target for $16.99 and will make its way to Amazon and local gaming stores beginning August 1, 2021.
Source: Read Full Article