BioShock: The Collection And The Sims 4 Are Your February 2020 PlayStation Plus Titles
Sony has unveiled the free titles that PlayStation Plus subscribers will be getting next month and they are pretty decent. Both BioShock: The Collection and The Sims 4 are on the docket to nab for free. Technically four games, this sort of follows last month's blueprint of giving a remastered trilogy alongside something a little more recent.
If you happen to have PlayStation VR, you'll even be able to claim a bonus title in February. Sony is handing out Firewall Zero Hour as a full title this time. Back in December, a free trial of the tactical VR shooter was available for Plus members to test out. Now, the game is ready for release and you'll be able to play with no limitations.
While this brings the total games up to three, this bonus doesn't seem like it will be the norm. With the PS5 right around the corner and no discussion of what will happen with PlayStation VR, this move almost seems like Sony trying to clear out stock before the next generation starts. At least it will give long-time subscribers a reason to check out Sony's headset.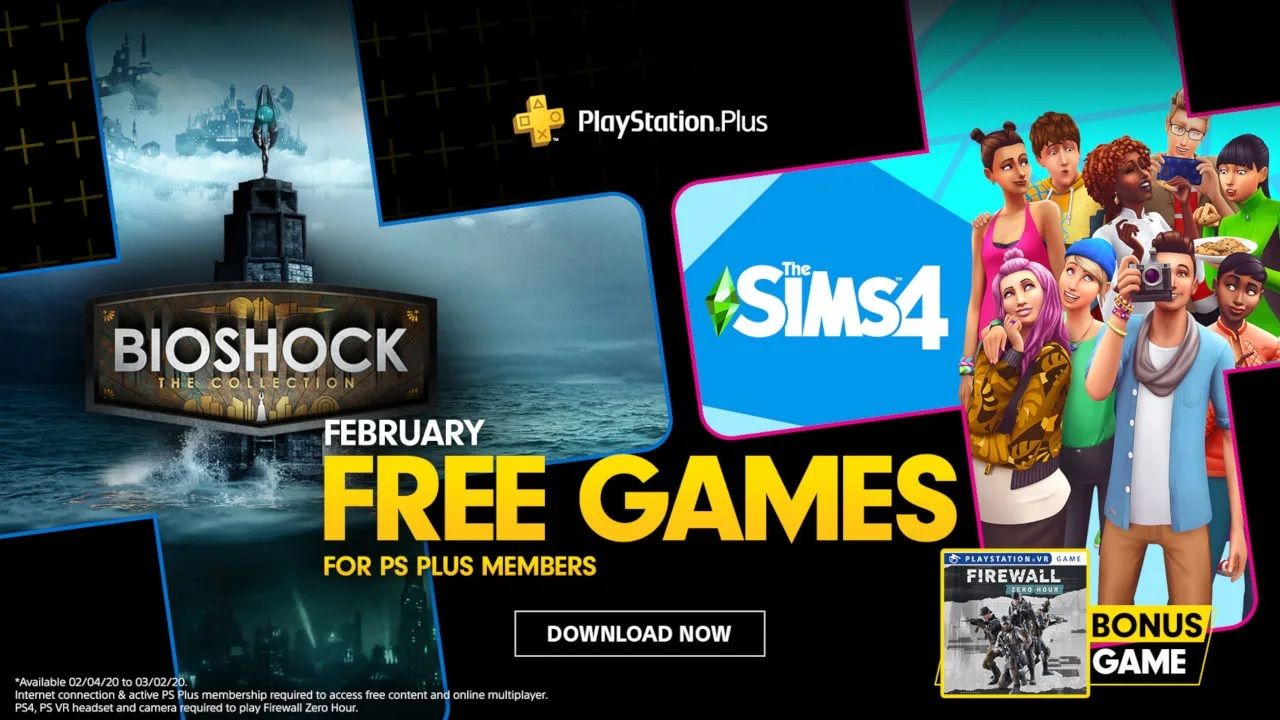 It is pretty nice that Sony is starting to hand out some remasters on Plus. Not many people played these back on the PS3 and with backward compatibility not a thing, this is a good way to try out some classic games. I don't know if either of the BioShock sequels are worth dipping into, but the original game still provides an interesting narrative that plays with player expectations.
The Sims 4 is kind of surprising. EA has been more willing to hand out games lately, but I wouldn't have expected a strategy sim like that. You can play with a gamepad but…it's not elegant. Thankfully, the console versions of The Sims 4 actually support mouse and keyboard options. You don't even need any special kind of hardware as a generic USB keyboard will work.
These titles will be available to grab starting February 4, 2020. They will be up for roughly one month before the March selection is added. You can add these to your account through either your PS4 console or from Sony's website. Either method will add them to your library and you'll be able to download them as long as your subscription remains active.
[The article originally stated that the PS4 port of The Sims 4 did not feature mouse and keyboard options. This error has been fixed]
Source: Read Full Article