Borderlands 3's Valentines-themed Broken Hearts Event Begins Today
It's almost Valentine's Day, and that means service games arere starting up their romantic event schedules. It's no different in Borderlands 3, which sees the return of Broken Hearts Day once again.
From now until February 25, Vault Hunters will see "mysterious floating hearts swirling around lovesick enemies." Shoot those hearts and six things might happen:
The heart falls to the ground and explodes.
The heart breaks open into a shower of loot.
The heart starts regenerating you and your teammates' health.
The heart converts nearby enemies into temporary allies.
The heart spawns Bloody Harvest Ghosts, giving you access to the Halloween-themed loot outside of the usual season.
The sixth possible outcome is unknown at this time, but will probably be a pretty wacky thing. That seems on par for Borderlands 3.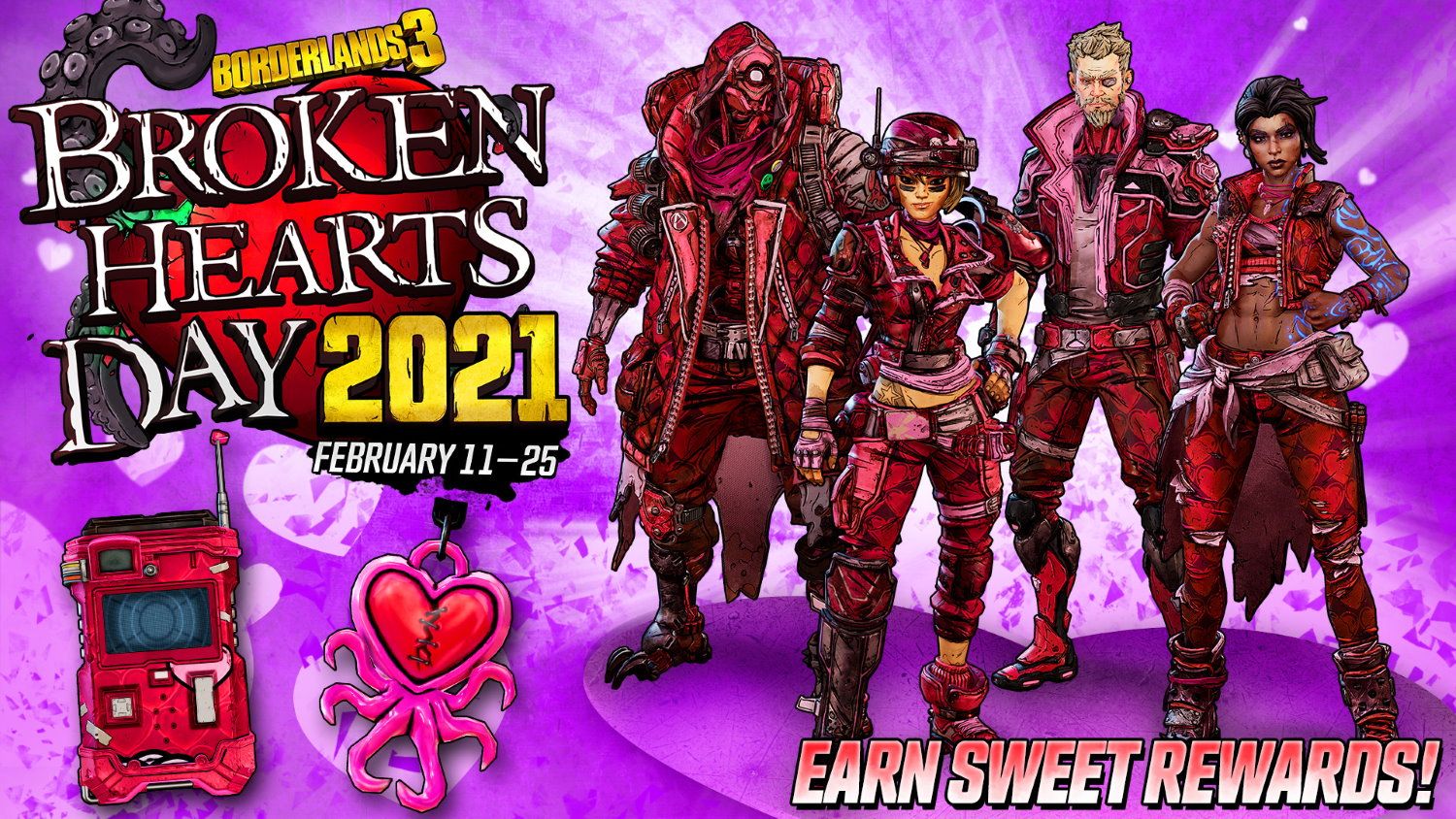 Also, Maurice the sentient Saurian has returned to Sanctuary III and is keeping track of your progress in smashing all those hearts. He says it's because he wants to study your species' mating rituals, but it sounds like he just wants to watch the violence. In any case, shoot enough hearts and you'll get rewards, which includes:
10 – "ECHOcardiogram" ECHO Skin
25 – "Cosmic Romance" Weapon Trinket
50 – "Terminal Polyaimorous" Legendary Maliwan SMG
75 – "Heartbreaker" Vault Hunter Skin
100 – "Wedding Invitation" Legendary Jakobs Sniper Rifle
Eagle-eyed Vault Hunters will recognize these items as basically the same as last year's rewards, but they've been updated with a slightly different shade of red. Except for the weapons, which are the exact same as they were last year. Broken Hearts runs from now until February 25 at 8:59 AM PST.
In other Borderlands 3 news, The Director's Cut launches on March 13 with a new raid boss and a series of murder mystery missions, while Tails from the Borderlands gets put back on digital store shelves on February 17 after an extended hiatus.
Source: Read Full Article