Bungie Teams Up With Nerf For Real-Life Gjallarhorn Rocket Launcher
The Gjallarhorn is back in Destiny 2, along with quite a few Halo-inspired weapons in celebration of Bungie's 30th anniversary. Gjallarhorn is a beloved Exotic Rocket Launcher from the original Destiny that dominated the PvE meta throughout the first year of the game. Now it's back in Destiny 2 and it very well might dominate the meta once again.
And if not, it can certainly dominate a real-life Nerf arms race. Bungie has teamed up with Nerf to recreate the Gjallarhorn in a 1:1 scale toy that actually fires giant Nerf darts as well as the recently invented Nerf Mega Shell, which is basically a giant foam ball that is less likely to take out somebody's eye.
At four feet long, the Gjallarhorn is one of the largest Nerf blasters ever made. It comes with 3 Mega Shells, 9 Nerf Mega Darts, and requires two AA batteries to operate the illuminated scope.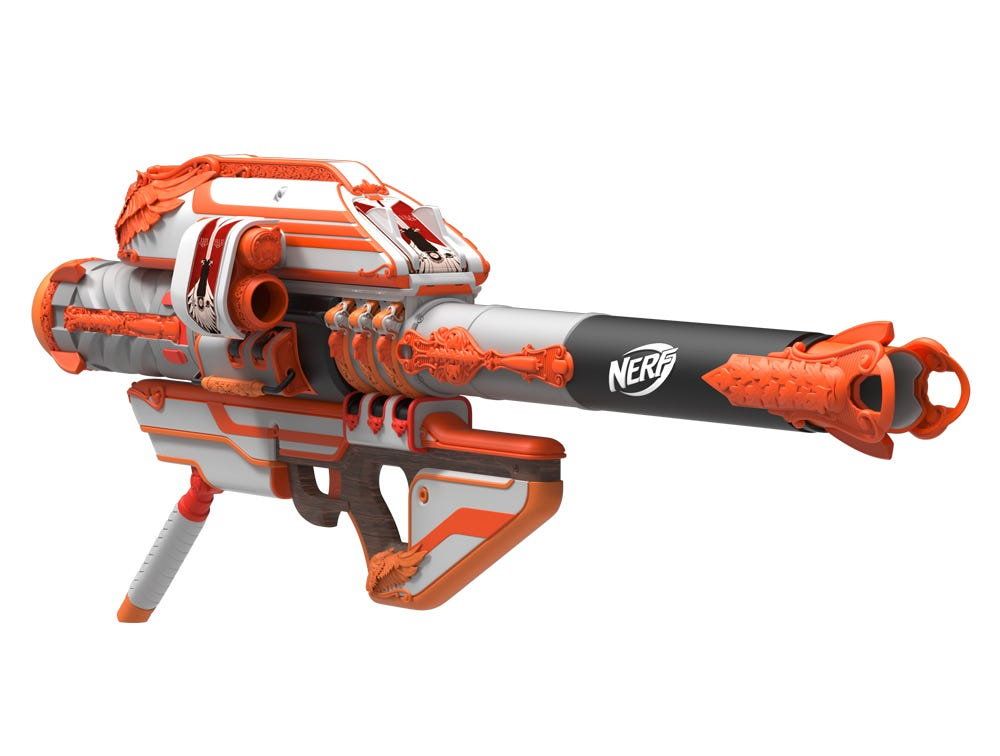 Reloading the Gjallarhorn even mimics how Guardians do it in Destiny 2. First, you have to slide the assembly forward to expose the breach, and then you slide it back to load the dart/shell for firing.
Much like other Bungie products, acquiring the Nerf Gjallarhorn first requires you to acquire the Gjallarhorn in-game, which means running through the Grasp of Avarice dungeon at least once. Then you can head to Bungie's store and pre-order for $160.00. All pre-orders must be received before Dec 31, 2022, and you must have earned the Gjallarhorn in-game before August 1 to qualify for pre-orders.
Bungie didn't say when deliveries would begin, but I wouldn't expect anything before 2023 judging by these pre-order dates.
But if you're less into the real-life Nerf blasters that look capable of dislocating your cat's shoulders, there are plenty of new guns available in Destiny 2 courtesy of the 30th Anniversary Pack. A bunch of Halo-inspired weapons has been added to the game, including the Battle Rifle, Focus Rifle, Energy Sword, and the beloved M6 Magnum. There are also other weapons from throughout Bungie's history, like the shotgun from Marathon and the sword from Myth.
Source: Read Full Article