Coral Island: Guide To Skill Points
Quick Links
How To Build Your Skills In Coral Island
How To Spend Skill Points
Mastering your skills in Coral Island can take time, but it's more than worth it. Dive for treasure and heal coral reefs, get your hands dirty mining in the Cavern, or go foraging for collectibles as you hone your craft. However, earning skill points has a little more to it than just crafting and collecting
You'll need to think carefully about investing your points into dedicated skills trees, each one providing special buffs and abilities to make the going that much easier. Here's how the skill point system works on this relaxed, sun-kissed isle – and how you can make the most of it.
How To Build Your Skills In Coral Island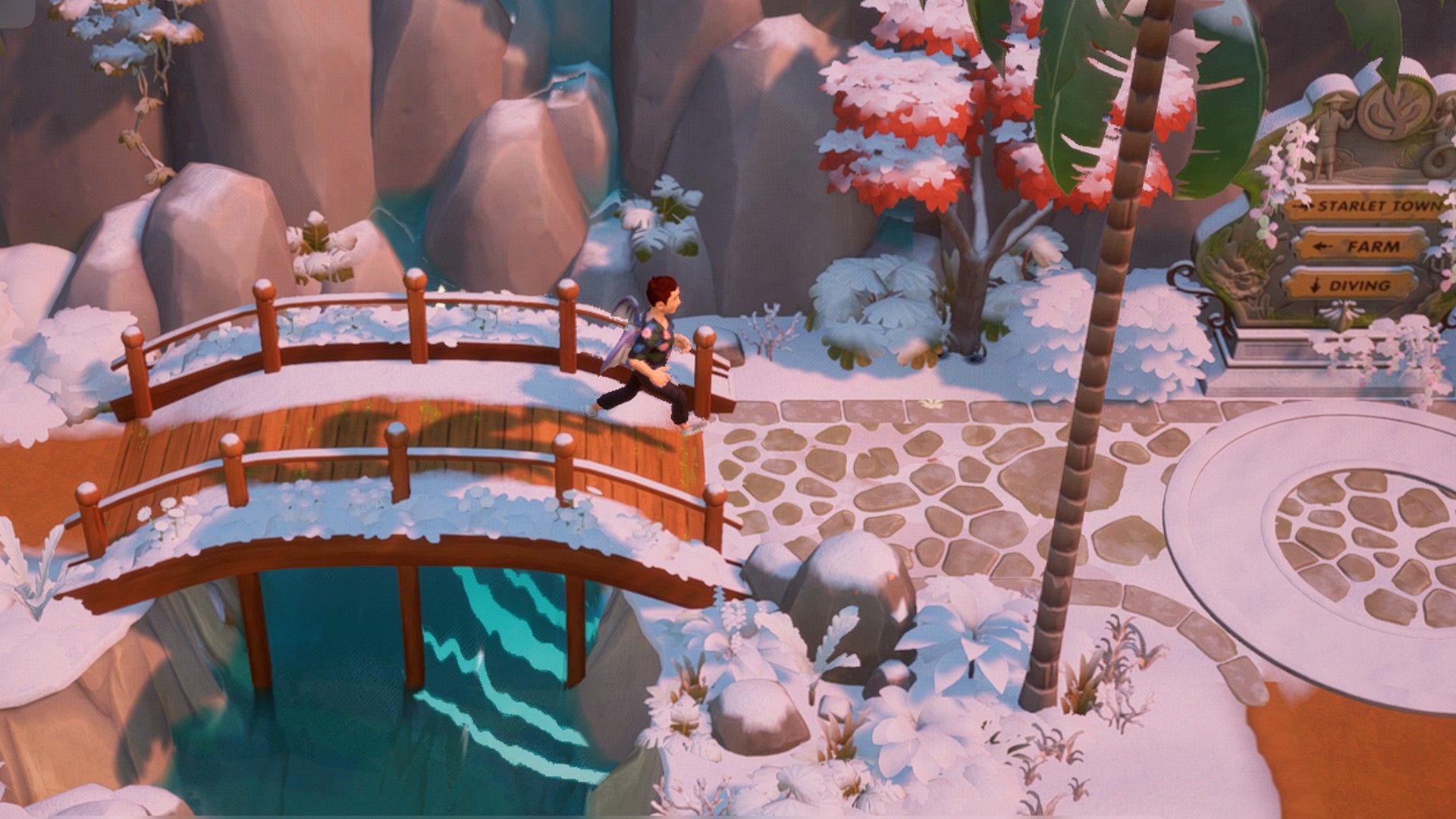 Carrying out certain skilled tasks will earn you not only gold but skill points to boot. These will be awarded to you at the end of the day, visible on your summary screens before you wake up in the morning.
On Coral Island, there are eight skills you can build and keep track of from the Mastery page in your inventory screen. Each skill has a necessary attribute or tool needed to carry it out:
| Skill | Tool Needed | How To Unlock |
| --- | --- | --- |
| Farming | Trowel and Watering Can | Given to you on Day One |
| Fishing | Fishing Rod | After visiting the Beach Shack after being invited in the post |
| Catching | Basic Net | After visiting the Beach Shack after being invited in the post |
| Mining | Pickaxe | Given to you on Day One; unlock The Cavern |
| Diving | Wetsuit | Given to you after being asked to visit the Diving Pier |
| Foraging | N/A | Pick flowers and collect shells that have the Harvest interaction above them |
| Combat | Blunt Sword | Given to you at The Cavern |
| Ranching | Coop, Stable, Barn | Construct at The Carpenter's house |
You can eat some flowers such as daffodils to gain a catching skill buff, as well as sea clams and diving snacks to give yourself a diving buff! Buffs allow you to build skills faster.
How To Spend Skill Points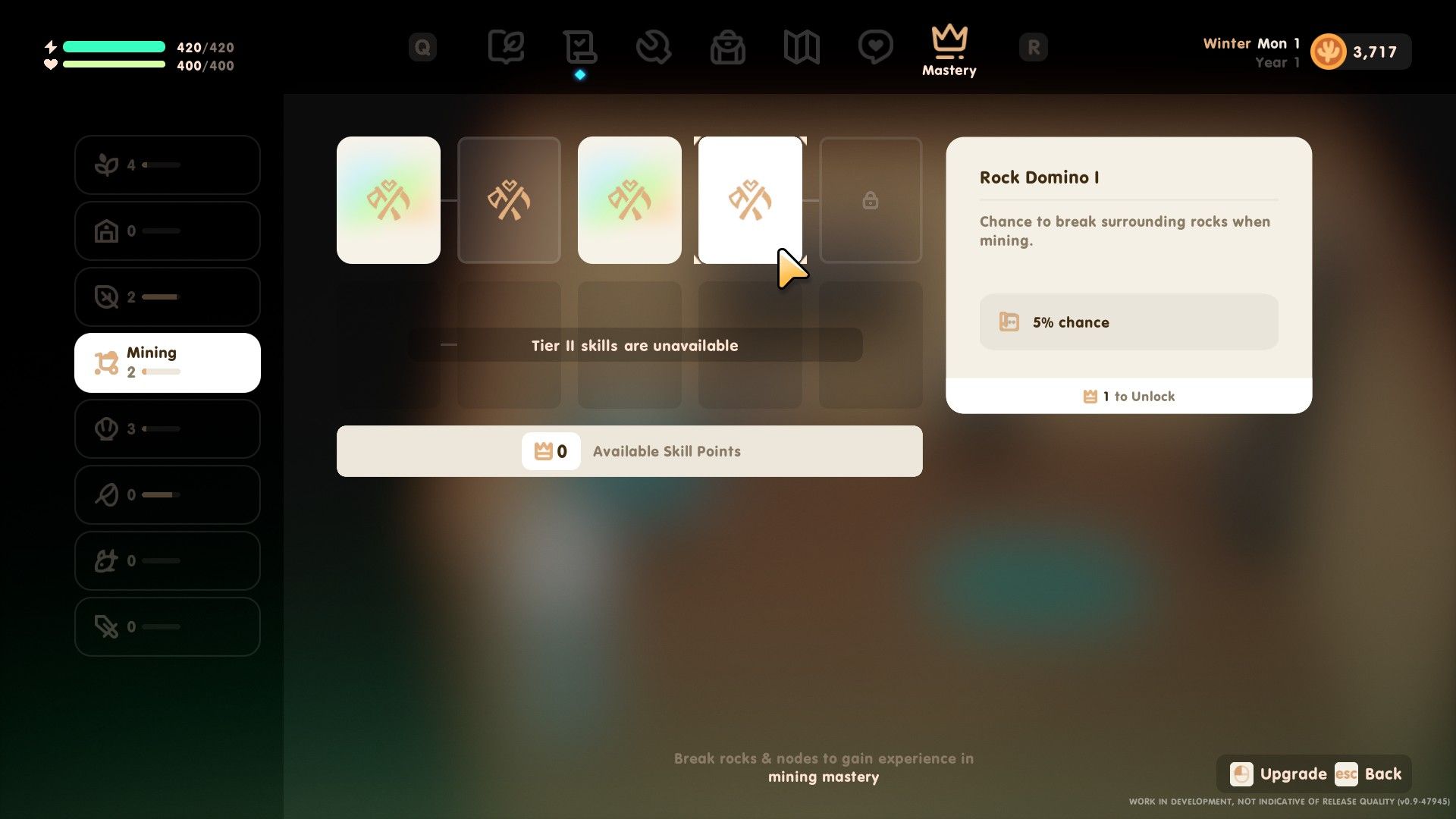 At the end of each day on your summary screen, you will see how many skill points you have earned from carrying out your daily tasks and missions.
These can be viewed from the Mastery section of your inventory screen, where you will be able to spend them in their respective trees.
There are four levels to unlock per skill, and you need to purchase all five skills in each level before you can access those of the next level up. The good news is that gaining skill points – at least early on – is a relatively quick process, and each skill ability only costs one point.
From having your soil stay wet for two days to collecting twice as many crops when you harvest items, it's easy to overlook the Mastery screen if you don't know how to find it. The game never prompts you to spend skill points, and they will build up over time unless spent strategically.
Check back frequently, because a few are bound to slip beneath your radar!
Source: Read Full Article