Cyberpunk 2077: All Unique Pistols, Ranked
If you're playing Cyberpunk 2077 right now, then you understand that nothing compares to a good pistol at your side. Whether it's silenced for stealth, modded for damage in a straight-up fight, or scoped up for ranged kills, you probably have one in your inventory that has got you out of plenty of trouble.
The development team knew the importance of the pistol and so when they were making iconic guns, they made sure there were more pistols to choose from than any other firearm. That being said, they are not all designed equally, so review these top tier items before settling in and giving one a home in your holster for good.
11

Plan B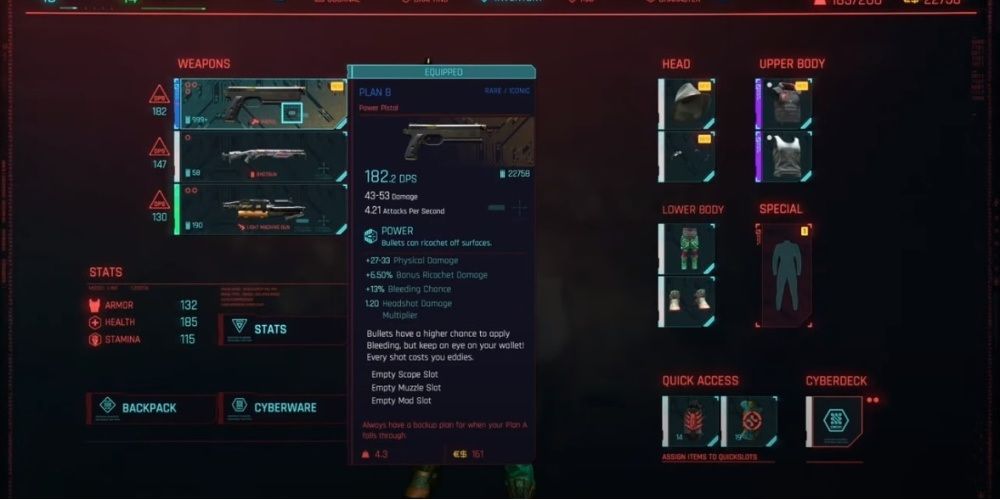 Pistol.
Power Weapon.
Chance to apply bleed effects.
Iconic: Increases chance to get bleed effects.
Each shot costs eddies.
Please don't use this weapon, your wallet will thank you. Dexter DeShawn is an interesting character, but he's not feared because of the iron he's got at his side. You'll get this off of him, and hopefully, you don't use it too many times before you realize your mistake has landed you into bankruptcy.
The status effect is good on an assault rifle or submachine gun, but a pistol doesn't really have the fire rate to make bleed effects count. The bigger issue is that you lose eddies every time you squeeze the trigger. Money is hard to come by in Night City. Using this means you'll have to stand on a street corner with your hands out just to earn enough ammo to use it… which, in turn, drains your wallet. See the problem?
10

Chaos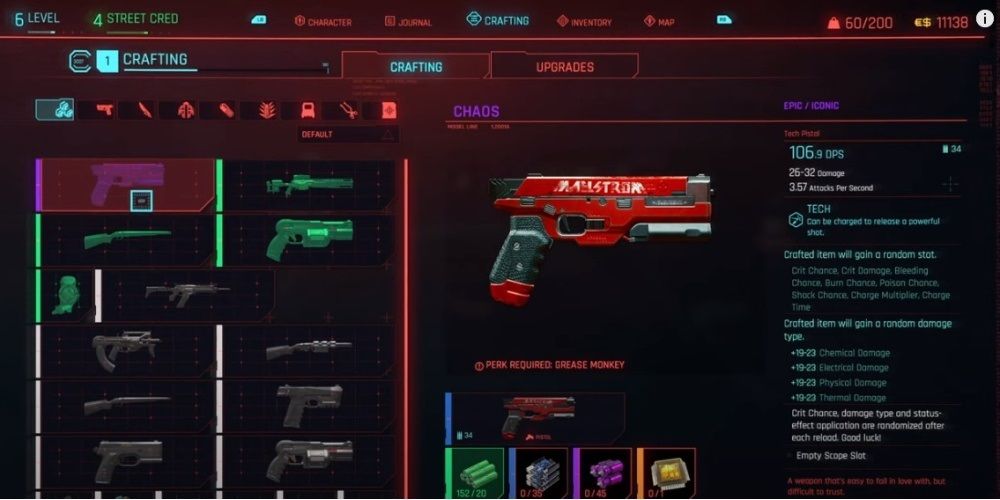 Pistol.
Tech Weapon.
Iconic: Crit chance, damage type, and status-effect application are randomized every time you reload the weapons.
A game that touches on themes of anarchy and disorder should have done so much better with a weapon called "Chaos." In concept, it sounds fun, with every clip doing a different kind of damage and status effect. It is admittedly fun to be shooting fire in one second and poison in the next.
But the damage is awful. Whoever was crafting this gun must have thought the status effects were enough to carry the gun because the bullets in it do nearly nothing. It's a fun weapon to use, but the fun isn't worth the tradeoff of being unable to kill enemies before they are all over you.
9

Dying Night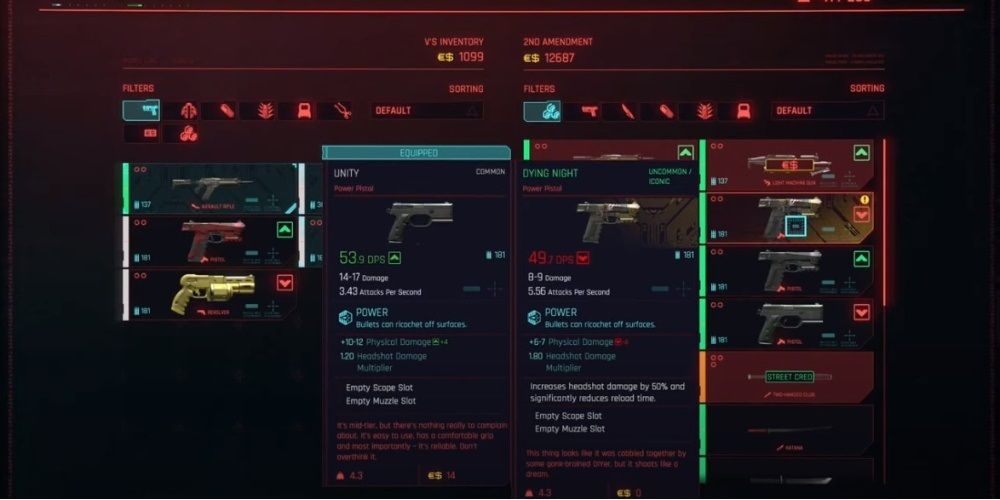 Pistol.
Power Weapon.
Iconic: Increases headshot damage by 50%. Reduces reload time.
The Dying Night isn't a bad gun. It's just hard to justify it as an iconic weapon. People who use their pistol to get headshots usually use it before the combat has started because the enemies aren't moving around too much. Afterward, it's too hard to reliably hit moving targets right in the sweet spot.
So the catch is that you'll probably want to slap a silencer on it, but the low damage makes it so even the boost to headshots isn't much better than average. Or you can leave it unsilenced, but your shot will warn everyone, so you might as well use a sniper rifle. It's above average, but the iconic title isn't well-earned.
8

Genjiroh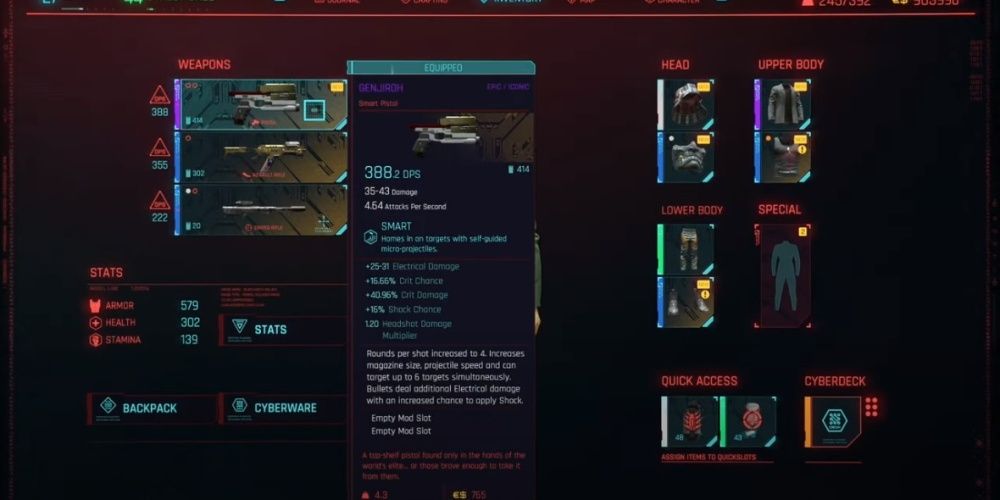 Pistol.
Smart Weapon.
Deals electrical damage and has a chance to shock.
Iconic: Fires four rounds per shot, increased magazine size, increase bullet speed, can target up to six enemies.
The Genjiroh is a smart weapon which means you'll be getting a lot of hits in even without too much accuracy. And it fires four bullets every time you pull the trigger, so with the electrical damage that it deals, you'll be shocking and killing an enemy with pretty much every clip.
Targeting six enemies sometimes works against you in groups because the damage will be spread out too evenly, keeping enemies alive. And you'll spend a lot of time reloading, but the DPS and magazine size should help mitigate these problems getting to you before the targets overwhelm your position.
7

Pride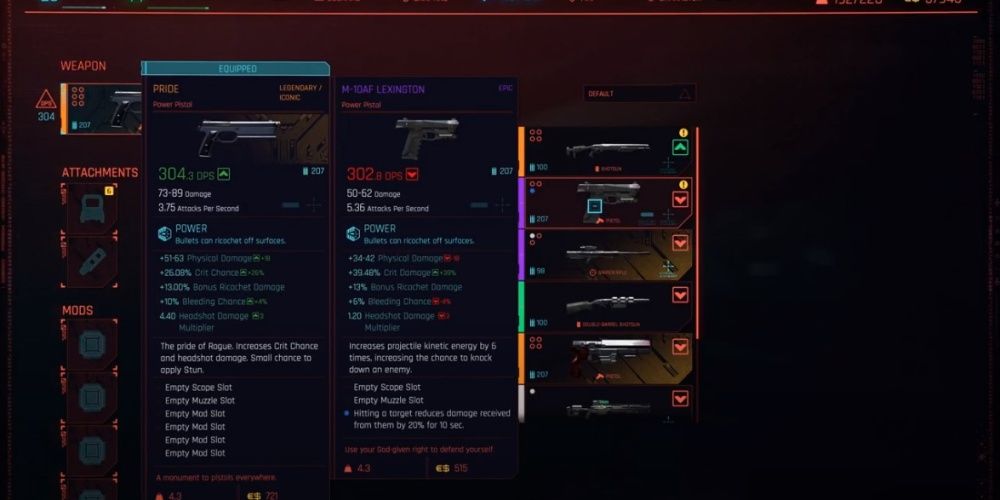 Pistol.
Power Weapon.
Chance to apply bleed effects.
Iconic: Chance to stun the target. Increased headshot damage and crit chance.
Here's a great all-around iconic weapon that you can use in pretty much any situation. Free opening headshot? You get a bonus. Lots of enemies? Stun chance. Big tough boss? Crit chance boost. Add in a bleed effect and some bullet ricochet and this is a mean beast for any situation.
The damage on the weapon is nothing to sneeze at either, just a hair under most sniper rifles. If you ever intended to go through the game using mostly one weapon, the Pride would be a great candidate, but it's only available pretty far into the main story. Still, if you have side tasks stacking up after that, you can make short work of them with this.
6

Lizzie's Gun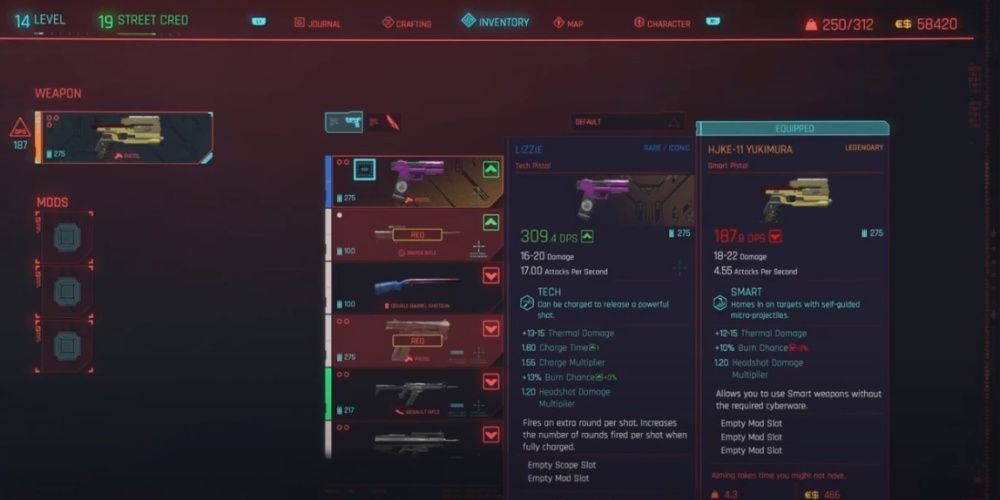 Pistol.
Tech Weapon.
Chance to apply a burn effect on targets.
Iconic: Adds one round to the clip. Clips have more rounds when firing at a full change.
If you don't read the description of this gun and just start using it as soon as you pick it up, you'll find yourself wondering when you have to reload. But charged shot after charged shot and you just keep firing away. Finally, you've killed a room of seven targets and still have yet to drain that first clip.
This gun gives you more rounds if you're firing with the tech power. So if you charge up the shots, boom, extra bullets in your clip. If you hate reloading and know that keeping the pistol firing is how you get the best DPS, then be sure to visit Lizzie and… erm… borrow her gun… permanently.
5

La Cingona Dorada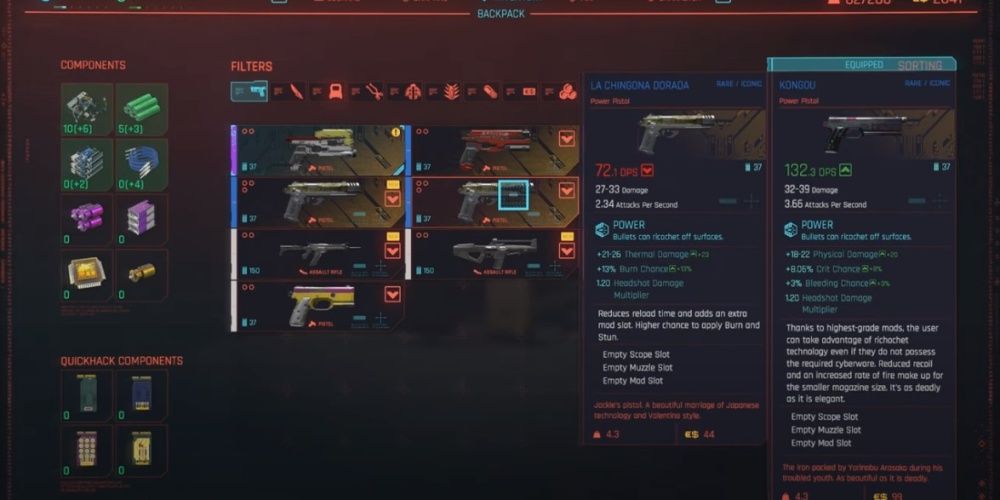 Pistol.
Power Weapon.
Deals thermal damage and has a chance to apply burn effects.
Extra mod slot.
Iconic: Chance to stun targets when hit. Faster reload time.
Jackie is your accomplice and friend who's escaped many dangerous situations. It could be because of the gold-plated gun that he tricked out just as much as his motorcycle. After you get ahold of it, you'll wish he shared it with V sooner. The gun's bite, thankfully, lives up to its bark.
Setting enemies on fire and the stun effects are just the tip of the iceberg. Better reload time is also nice when there are still targets left standing. The damage is a perk, but the real kicker is the extra mod slot. You can pump your damage through the roof with it and potentially take it to a place among the top.
4

Kongou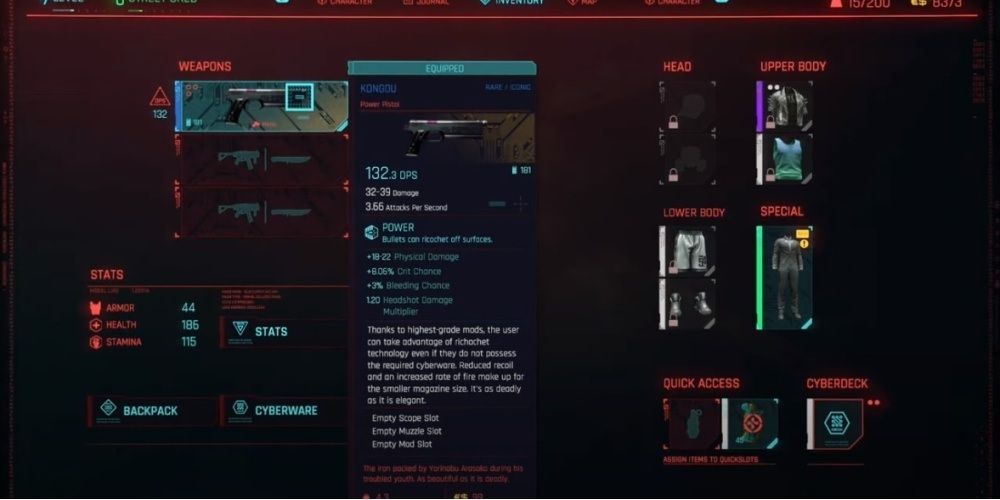 Pistol.
Power Weapon.
Chance to apply bleed effects.
Iconic: Allows the power weapon to function without the prerequisite cybernetics.
Reduced recoil and increased fire rate.
Reduced magazine size.
The Kongou can potentially be the best power weapon in the game for your character. The iconic power of this weapon allows those without the usually required cybernetics to use this pistol. If that's you, you're in luck, many people consider this the best pistol in the game with or without the allowance.
The magazine size has been reduced, but you probably won't care when all it takes is a few well-placed shots to take down a group of three anyhow. The reduced recoil and increased fire basically turn this gun into an automatic weapon that controls beautifully. And the DPS numbers are eye-popping in side-to-side comparisons.
3

Malorian Arms 3516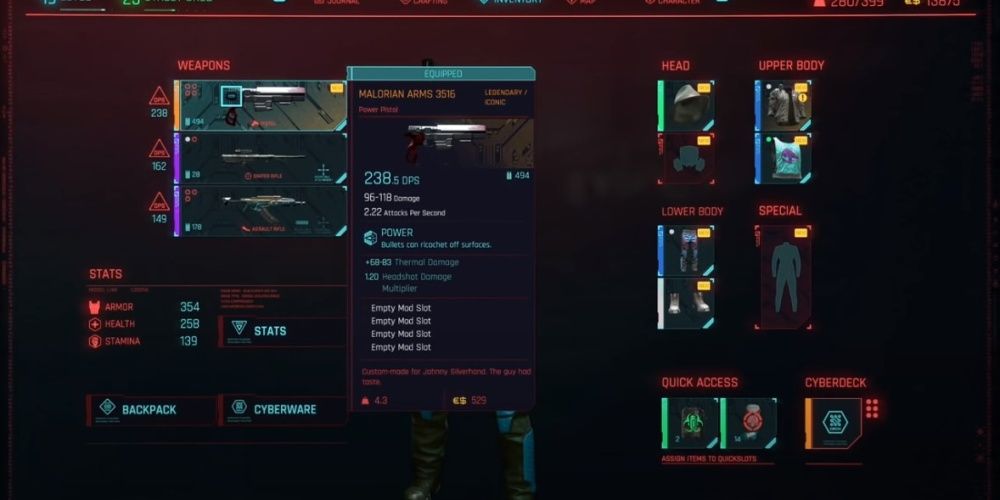 Pistol.
Power Weapon.
Deals thermal damage and has a chance to apply burn effects.
Iconic: Unique reload sequences.
For one brief moment in the game, you get a pistol in a memory sequence that just ruins everything that runs into it. It feels almost like a gun that just one-shot kills everything that it sees for the sake of playing through a demo-like experience. But it's not. That gun is real. And you can get it.
Yep, Johnny Silverhand's gun is available to you later on in this story. The unique reload sequences are cool, too, but don't worry, it's not ranked so high because of the sizzle. It feels just as powerful as it does in the memory sequence, only it's yours to keep the second time around.
2

Apparition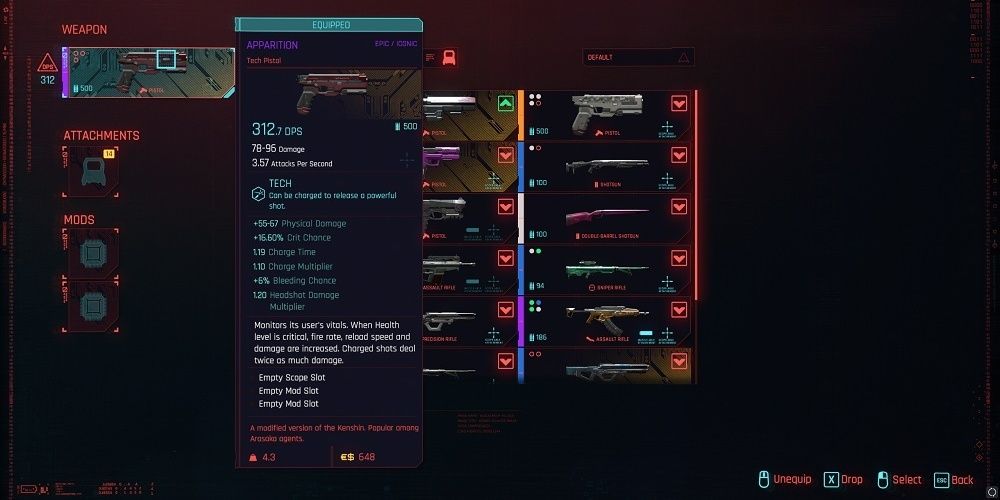 Pistol.
Tech Weapon.
Iconic: When your health is low, increases fire rate, reload speed, and damage. Charged shots deal double damage.
This gun has a really neat feature that syncs up with your vitals. If your vitals start getting low, this gun does even more damage, reload speed, and fire rate, essentially doubling your damage. It's a great feature if you ever get surrounded and things start looking pretty bleak, especially on higher difficulty settings.
Now forget about all of that. Unless you are beyond incompetent, enemies will not be able to do enough damage to you to make this matter. Why? Because it's a tech weapon that does double damage, which translated to sextuple damage when the two are multiplied together. That's a one-hit kill on just about everything.
1

Skippy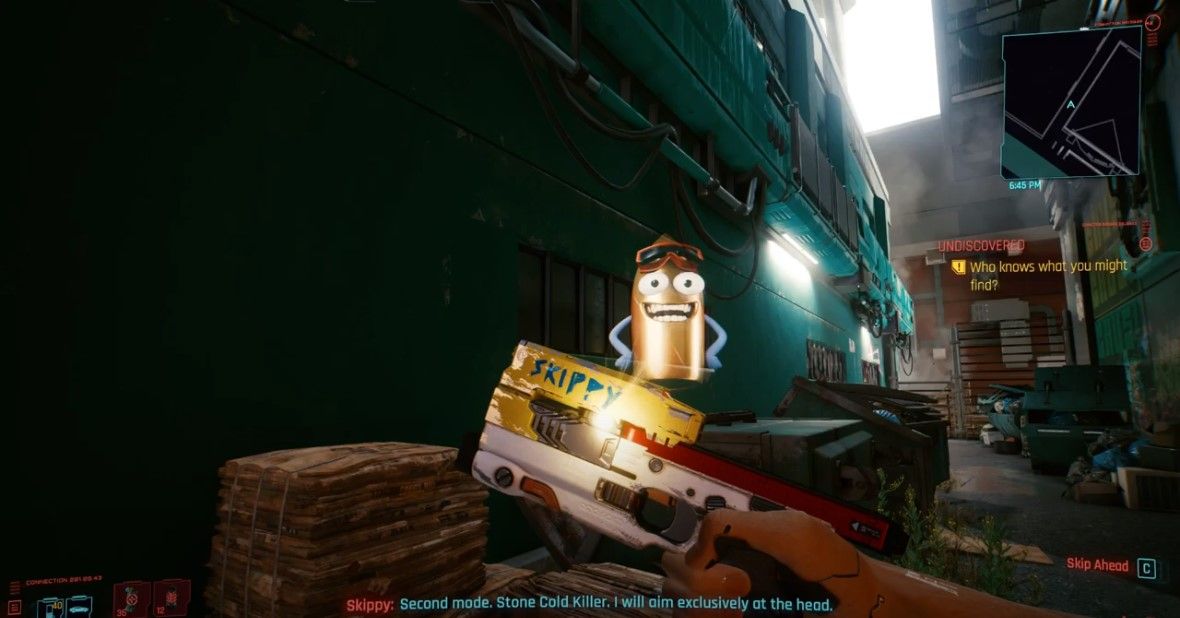 Pistol.
Smart Weapon.
Deals electrical damage and has a chance to shock.
Iconic: Scales to player level. Targets either lethal or non-lethal areas.
Talks to you.
There are two big mistakes you can make with Skippy. The first is that, after 50 kills, it will reprogram to do the opposite of however you first programmed it. So you want to choose the body shot option first and, when it resets, answer Skippy by saying "I don't know." And then you'll have headshot damage forever. And yes, as a smart weapon, that means every shot, even an inaccurate shot, is going straight for an enemy skull.
The second mistake is that you can turn it in as part of a quest for a couple of eddies. You do NOT need the eddies badly enough to get rid of what is widely considered to be the best gun in the game. It scales to your player level! Plus, it talks to you, so even if you don't need the maximum amount of damage, Skippy is perfect to have around for role-playing purposes.
NEXT: Cyberpunk 2077 Complete Guide And Walkthrough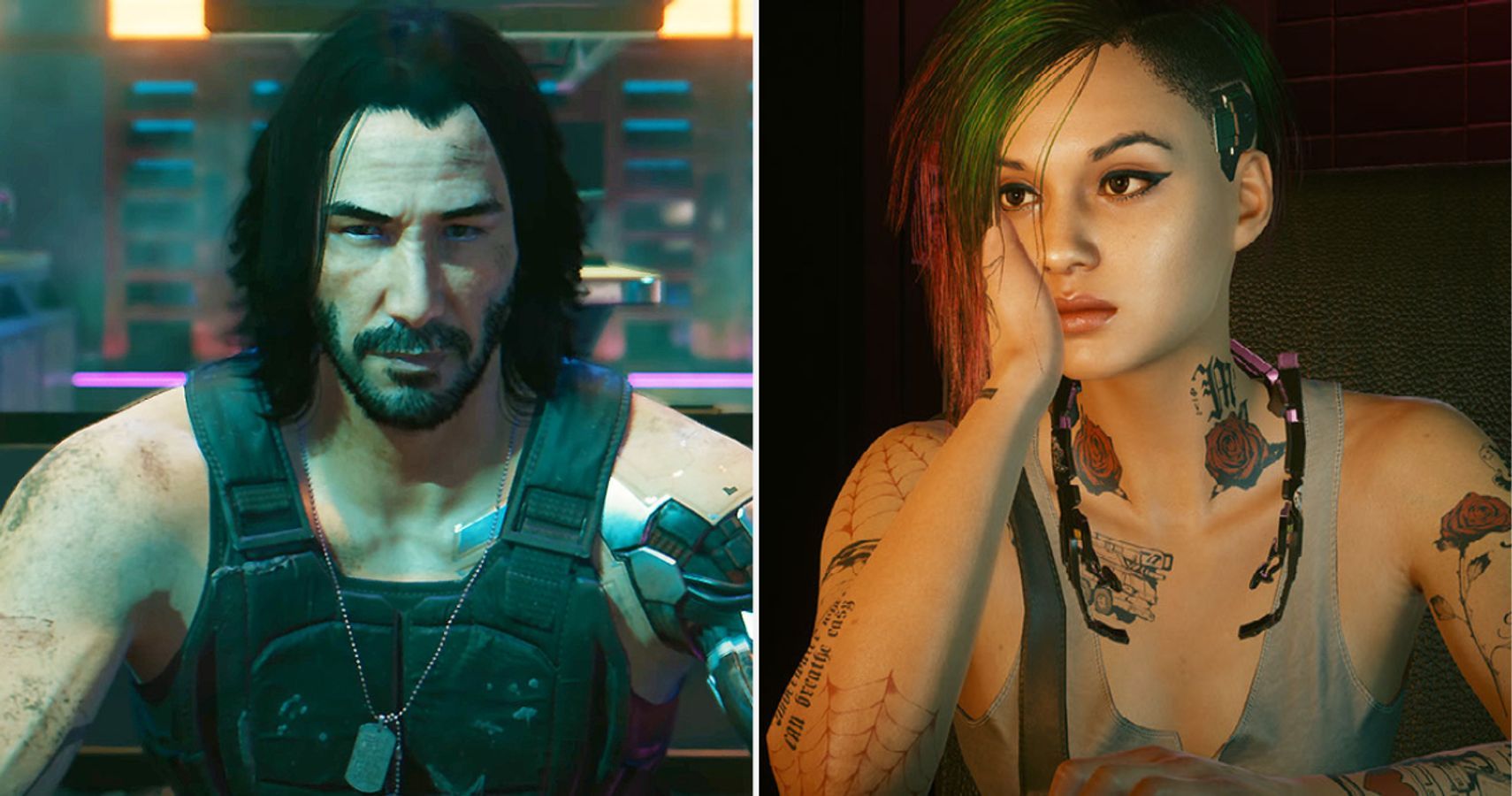 Guides
PC
Cyberpunk 2077
Xbox One
ps4
Hodey Johns is a writer for Game Rant based out of the Rocky Mountains in North Ogden, Utah. He's had a passion for video games and literature since he was a child growing up along the beach in San Diego, California. As a graduate of Theology from Liberty University, he puts his experience with religion, philosophy, and debate into his work. His other interests include sports, bike riding, and good old-fashioned barbecue.
Source: Read Full Article