Dawn Of Ragnarok To "Lean Heavily" Into Asgard Fantasy With New Realms One-Third The Size Of England
It looks like last week's leak was right on the money. Not only has Ubisoft announced a brand new crossover DLC between Odyssey and Valhalla, but the next Valhalla DLC will indeed "lean heavily" into Asgardian legend.
Dawn of Ragnarok will take Eivor out of England and place them in the nine realms. As revealed throughout the course of Valhalla, Eivor used to be The All-Father Odin in a past life, so when Eivor dreams they're taken away to the realm of Norse myth to battle the combined forces of demons and frost giants who are trying to tear down the World Tree.
Jotunheim and Muspelheim have fallen under the command of Odin's great nemesis, Surtr. With Baldr held captive by the Jotnar, Odin must travel to Svartleheim to beseech the dwarves to beat back the demonic and giant hordes.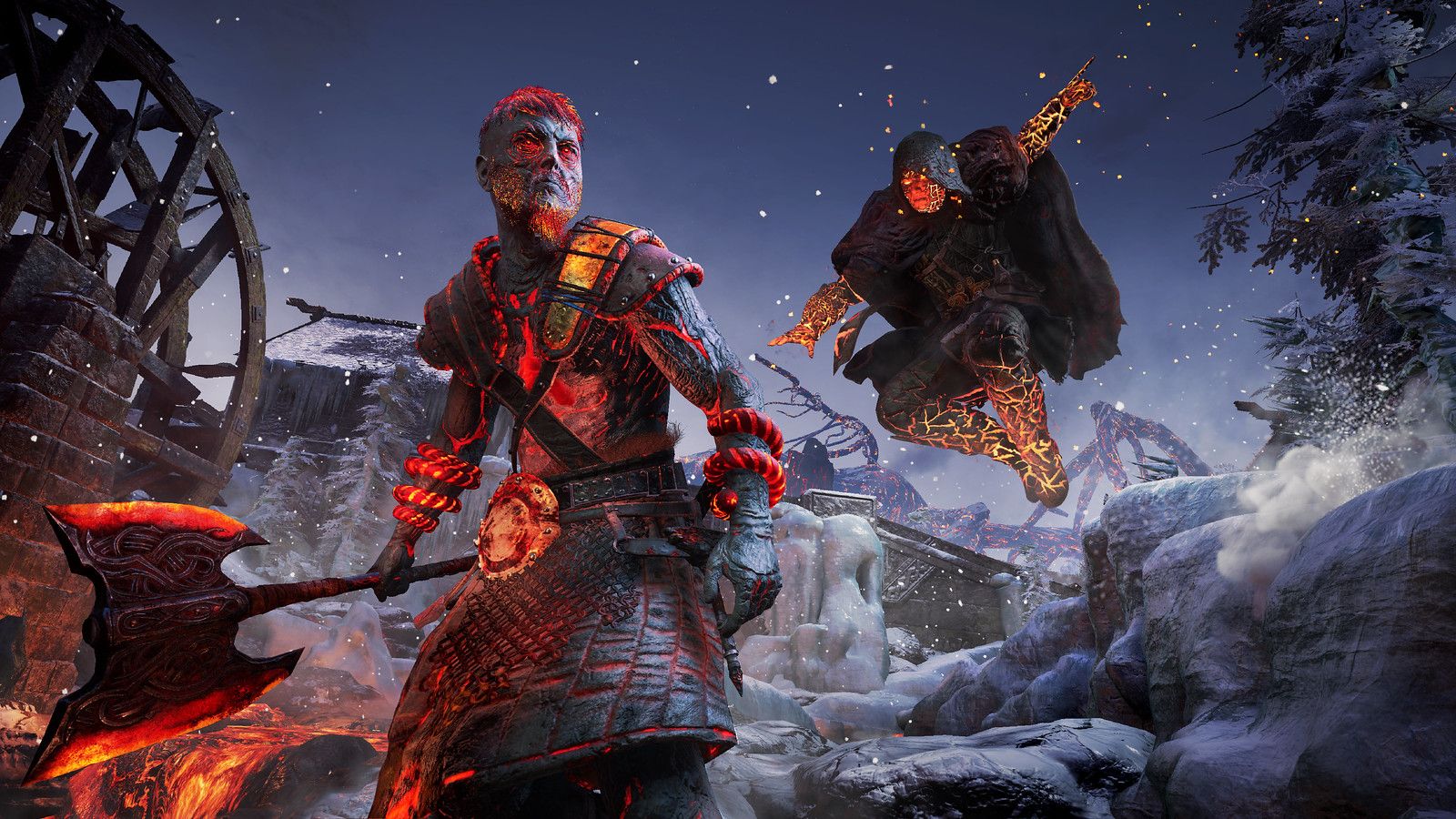 But Odin is apparently going to be a one-man (or woman, depending on your Eivor preference) army. Valhalla leans a bit more into combat than most Assassin's Creed games, but Dawn of Ragnarok will apparently have God of War-style melees thanks to a "fresh and unique" gameplay system. But stealth isn't entirely gone in Ragnarok. As a world-famous shapeshift, Odin can turn into a Raven, sneak up on his foes, and then turn back into The All-Father to deliver a killing blow.
Odin can also acquire the power of his foes, whether they be new weapons or brand new abilities. He's a tricky god like that.
Dawn of Ragnarok is going to be the biggest expansion to Valhalla yet according to Ubisoft Sofia producer Mariana Gosteva.
"The scale of Svartalfheim is indeed vast – we created a strong setting allowing us to expand the story of Odin in their quest to save their beloved son Baldr," she said. "But there is even more to that – one of our key objectives from the very beginning when designing the world was to offer to the players the opportunity to explore and investigate, to provide them with a playground where they can engage with a world very different from what they have enjoyed in the main game so far, and to experiment with all the fresh new ingredients we are adding to the gameplay."
Gosteva said that Dawk of Ragnarok should take players around 35 hours to complete, not counting the new Trials of the Valkyrie arenas, which offer players brand new loot.
Dawn of Ragnarok arrives on March 10, but you can get some free crossover DLC tomorrow with Assassin's Creed Crossover Stories arriving on all platforms.
Source: Read Full Article