Disney Lorcana Creators Know Exactly How To Make A Successful TCG – They've Been Doing It For Decades
This Ravensburger booth at this Friday's D23 Expo was a sight to behold. At the start of the convention, the tabletop publisher revealed the first seven cards of its upcoming TCG, Disney Lorcana. The gorgeous holographic trading cards – featuring fan-favorite characters like Elsa, Captain Hook, and Stitch – are imprinted with a "D23 Expo 1st Edition" stamp. Ravensburger sold this first set of promo cards for $49.95, and only 300 were available. If you know anything about trading cards, you can imagine how desperate people were to get their hands on them.
Ravensburger sold through the entire daily allotment of the Collector's Set in just over an hour. Before they sold out, there were moments when the booth was even more crowded than Funko, who was hocking some expo-exclusive Pop figures right next door. Disney Lorcana doesn't officially launch until Fall 2023, and it's already a smash hit.
If you stopped by the booth, you probably ran into Ryan Miller, Lorcana's brand manager and co-designer. He would have been hard to miss in fact. He's over six feet tall, boisterous, and seemed to have a giant grin stuck to his face the entire day. I was able to pull him away in between moments of excitedly telling fans about the game and autographing cards to ask him a few questions. And while the company isn't ready to talk about specific game mechanics or products that will be available until we get closer to launch, he painted a picture of veteran TCG designers coming together to create their dream game.
"We're all Disney fans, I've been going to Disneyland since I was a little boy," Miller says. "In fact, I learned about immersion through Disneyland. Even as a little kid it impressed me how immersive that space was. That's something as a game designer I've always been driven by. One thing I love about games is their ability to transport us. And working in trading card games for 20 years, putting these two loves of mine together has just been a delight."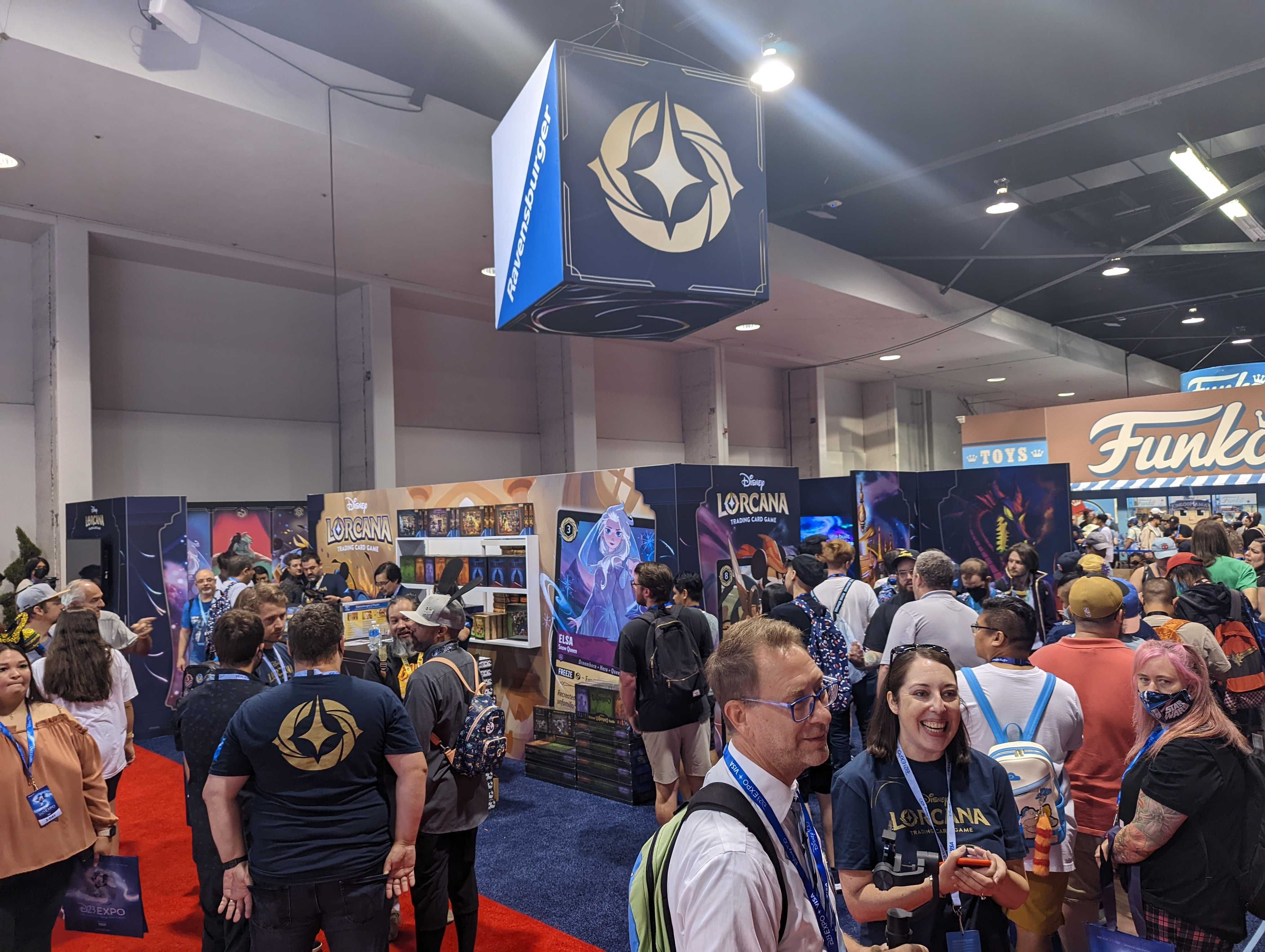 Miller's 20 years of experience includes designing products for Magic: The Gathering, head of design for Duel Masters and Kaijudo, and designing the Digimon game. His co-designer, Steve Warner has worked with Miller for many years at Wizards of the Coast. "That guy is like a surgeon," Miller says. "He finds the problems and he cuts them out. He and his team have absolutely knocked it out of the park with the sets."
All of that combined experience – including the incredible artists that worked on the game like Nicholas Kole, Simangaliso Sibaya, Luis Huerta, John Loren, and Marcel Berg – show just how big of a swing Ravensburger is taking with Lorcana. Disney characters are going to get players in the door, but an exceptional play experience will keep them coming back.
For the past two and half year that they've been working on Lorcana, their approach has been to make a game that can be played by anyone, even if they've never touched a trading card game before, while also providing depth and complexity for hardcore TCG players. "One of the beautiful things about the trading card game space is that the game itself can be inclusive and simple to learn, but the strategy and the depth comes from the cards," Miller says. "I always say the rules are like the skeleton and the cards are the meat. That's how our game is done and we think we've gotten that balance fairly well." Whether you're a curious Disney fan with no prior experience or a serious competitive TCG player, Miller says Lorcana will meet you where you are. "There are decks to find, there are combos to find, there's all sorts of cool stuff," he says. "It's like a treasure hunt going through the sets. It's really exciting to see the types of decks you'll be able to make. There's hidden stuff that we can't wait for players to find."
The cards in the Collector's Set give us some ideas about the game's mechanics, but we'll have to wait until next year to learn how Lorcana works. While the strength of gameplay is certainly the most important factor for any TCG, it isn't the only one. When it comes to things like release schedules (four sets per year) and product variety, Miller says the team is going to do a lot of the things that they know from experience already work.
"We're not trying to reinvent the wheel," he says. "We want to be a player in this space. We want to bring an awesome experience to the trading card game space. We're not talking much about the product line right now, but I don't think you'll be super shocked when you see it."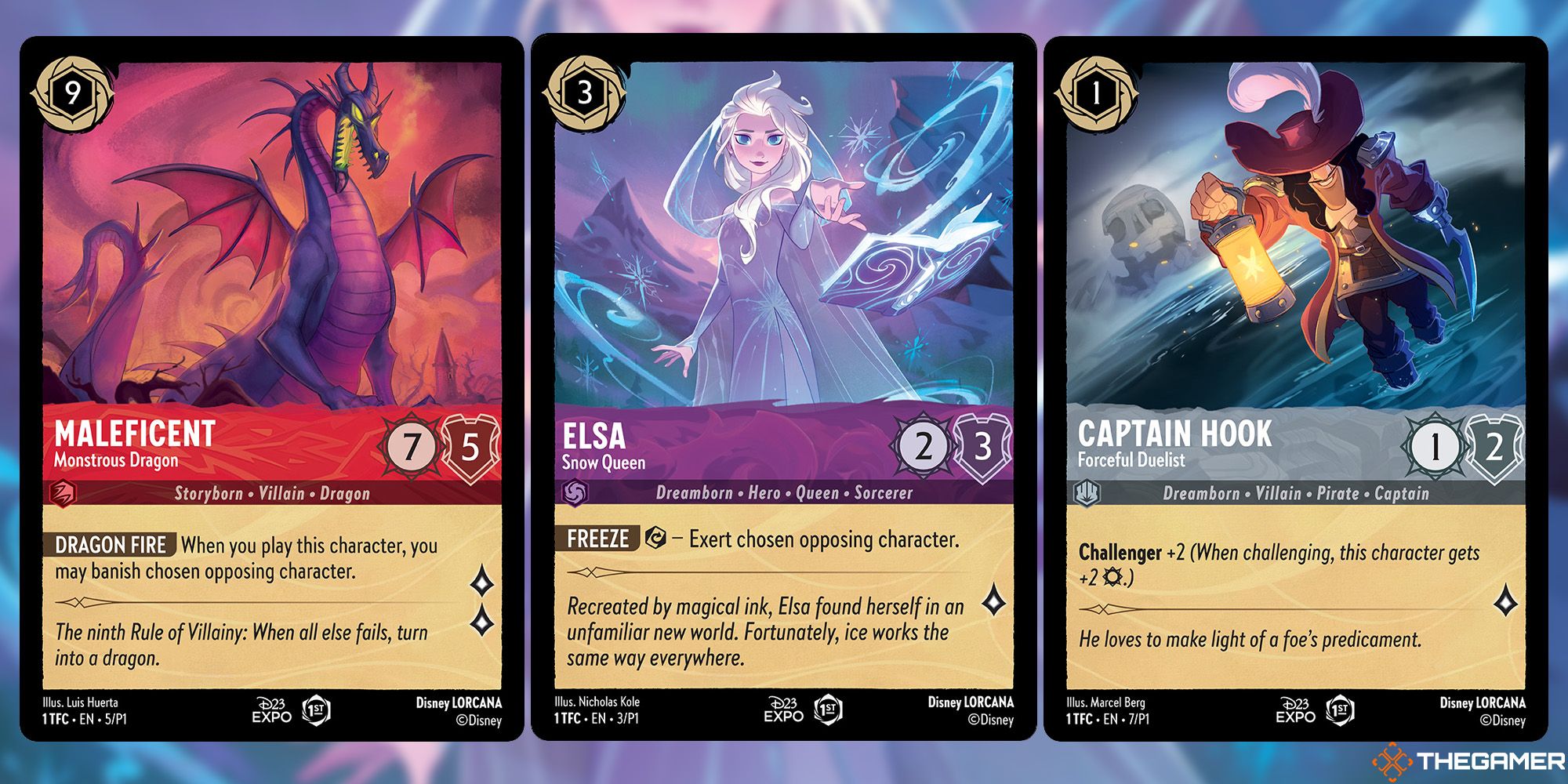 When it comes to organized play, his answers are a lot more committal. Miller started his career at Wizard's as a Magic judge, and he understands that a TCG can't survive without it. "I'm actually working on [an organized play] program right now with an old friend of mine who worked at Wizards on organized play," he says. "It's very near and dear to me. I think it's absolutely critical to a trading car game's success because it brings the people together so they can geek out, they can play, they can trade, they find these awesome retail stores and hobby shops. It's just a wonderful partnership and it's a wonderful experience for them to come together. I'm absolutely passionate about organized play."
Because Disney is so ubiquitous, it offers Lorcana a lot of unique opportunities that no other TCG, not even Pokemon, could do. It's not hard to imagine a TCG shop with tables for tournaments in downtown Disney, or promo cards bundled in new Blu-ray releases. Disney could send exclusive cards to D23 members with their annual gift, or give them out at movie theaters. Miller is tightlipped about those kinds of partnership for now, but don't be surprised when Lorcana cards start appearing everywhere next year. "There's a lot of opportunities out there and we definitely want Lorcana to surprise and delight our collectors and our players. We've got lots of plans."
Ravensburger is selling 300 D23 Collector's Sets each day of the expo, so if you didn't get yours today you can still try Saturday and Sunday. Everyone that waits in line will also get a free Mickey Mouse card and a pin. I recommend you get there as early as possible before they sell out again. And say hi to Ryan, he'd love to meet you.
Source: Read Full Article