Epic Games Giving Away Three Free Games Next Week
It seems Epic Games finally returns to its appreciated tactics among PC players, offering not one, but as many as three free games for the next week at EGS. Previously known for such generous shares, the service was giving off not so many different titles lately, with even the same giveaways happening again.
Epic Games Store has updated the list for its freebies for all players on PC. You can already grab 3 out of 10: Season Two from Terrible Posture Games for your account, just after you log in to the service and claim the game on its page. The giveaway will be available until April 15.
Since that date, three additional titles will be waiting for the players to add and keep in their library forever. The list of next freebies includes Deponia: The Complete Journey, Ken Follett's The Pillars of the Earth, and The First Tree.
Deponia and The Pillars of the Earth possess "very positive" user reviews on Steam, so you might want to check these beautifully crafted point-and-click adventures for yourself. The First Tree is an atmospheric walking simulator about a fox trying to find her missing family and the game has 79% positive reviews on Steam.
All the three mentioned above games will be available for free starting April 15. You can grab the projects anytime during the whole week, until April 22.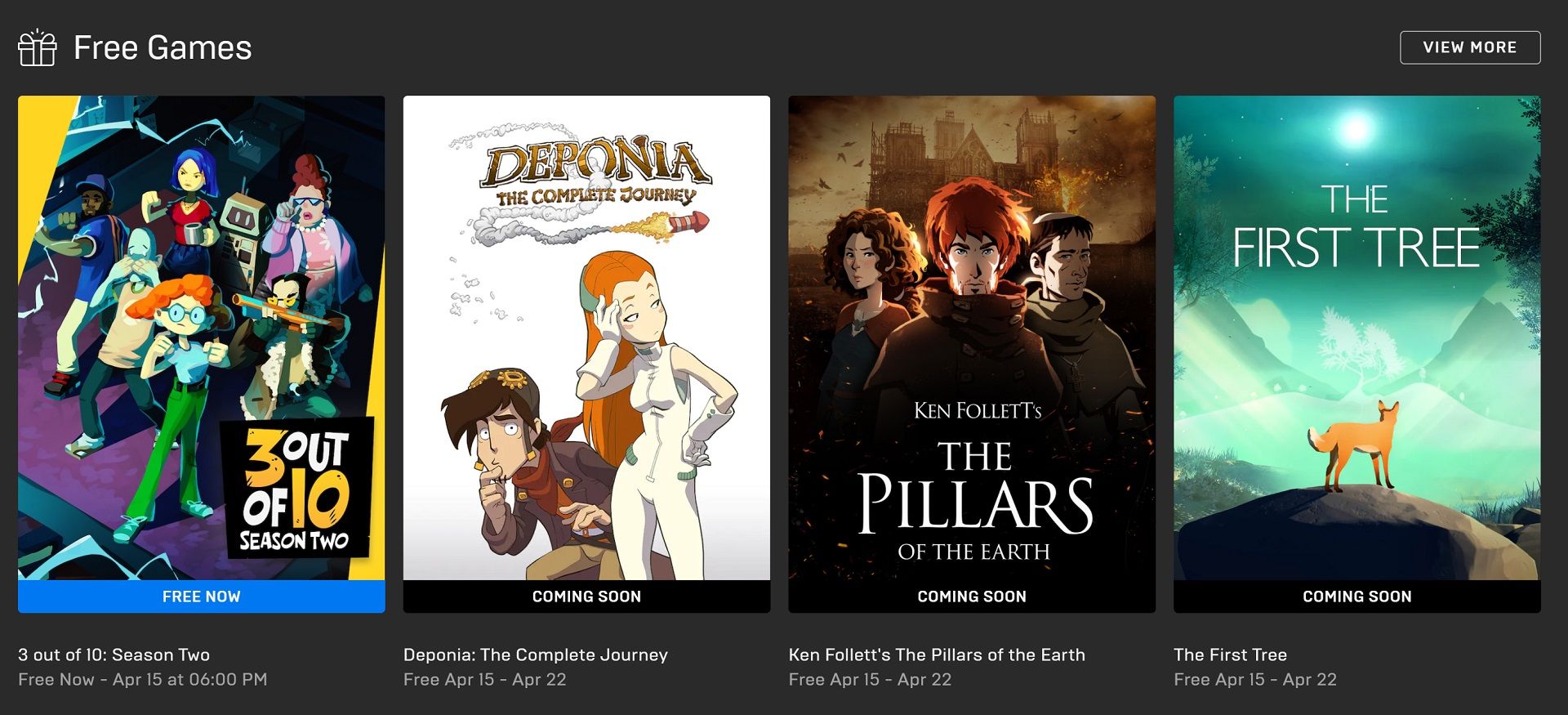 It is yet unknown if Epic Games will continue to generously pour out more than one game at a time in the future. The service often offered several games at once in the past, yet recently the giveaways have become more predictable, with only one title being available for free every week.
The EGS players can already stash more than a hundred free projects since the service launched at the end of 2018, thanks to its week-to-week freebie program. While many users admitted they have never even launched those titles, for some players it's a nice opportunity to try out games and genres you'll never play under other conditions. In a sense, it brings EGS close to Xbox Game Pass, expanding gaming opportunities on PC.
Source: Read Full Article