FIFA 23 Review – Same Name, Same Game
Folks, it's that time of year again – the FIFA 23 launch is here and I'm settling in to review a game that I've played year in, year out for the past 25 years, only to be told each time that it's the exact same game every year. One glance at FIFA: Road to the World Cup '98 compared to now will show that the series has advanced significantly in those 25 years despite always being the same. Even looking at last year's entry, FIFA 22, reveals some differences. However, they feel a little like sideways moves, and more worrying is the continuation of FIFA being funnelled entirely into one game mode: Ultimate Team.
To call upon a football cliche, I'm going to set my stall out early and declare that I'll be saying very little about Ultimate Team here. I'm sure there are hundreds of reviews out there in various different forms which focus entirely on Ultimate Team, so this is the antithesis. I never play it, despite logging hours upon hours of FIFA each year, so I'm not in position to comment. I was given 4,600 FIFA Points for the review, and even after spending them all my team left a little to be desired – my only viable wide players were Coman and Son, both loan signings with just three games each.
After them, my best player was Trippier. As a Newcastle fan, I can see the excitement that comes with the ever more spectacular player reveals, but if I want to play as Kieran Trippier online I can just play as Newcastle or England anyway. After spending what amounts to around £35, my team does not feel worth it. With that, let's move on from Ultimate Team completely.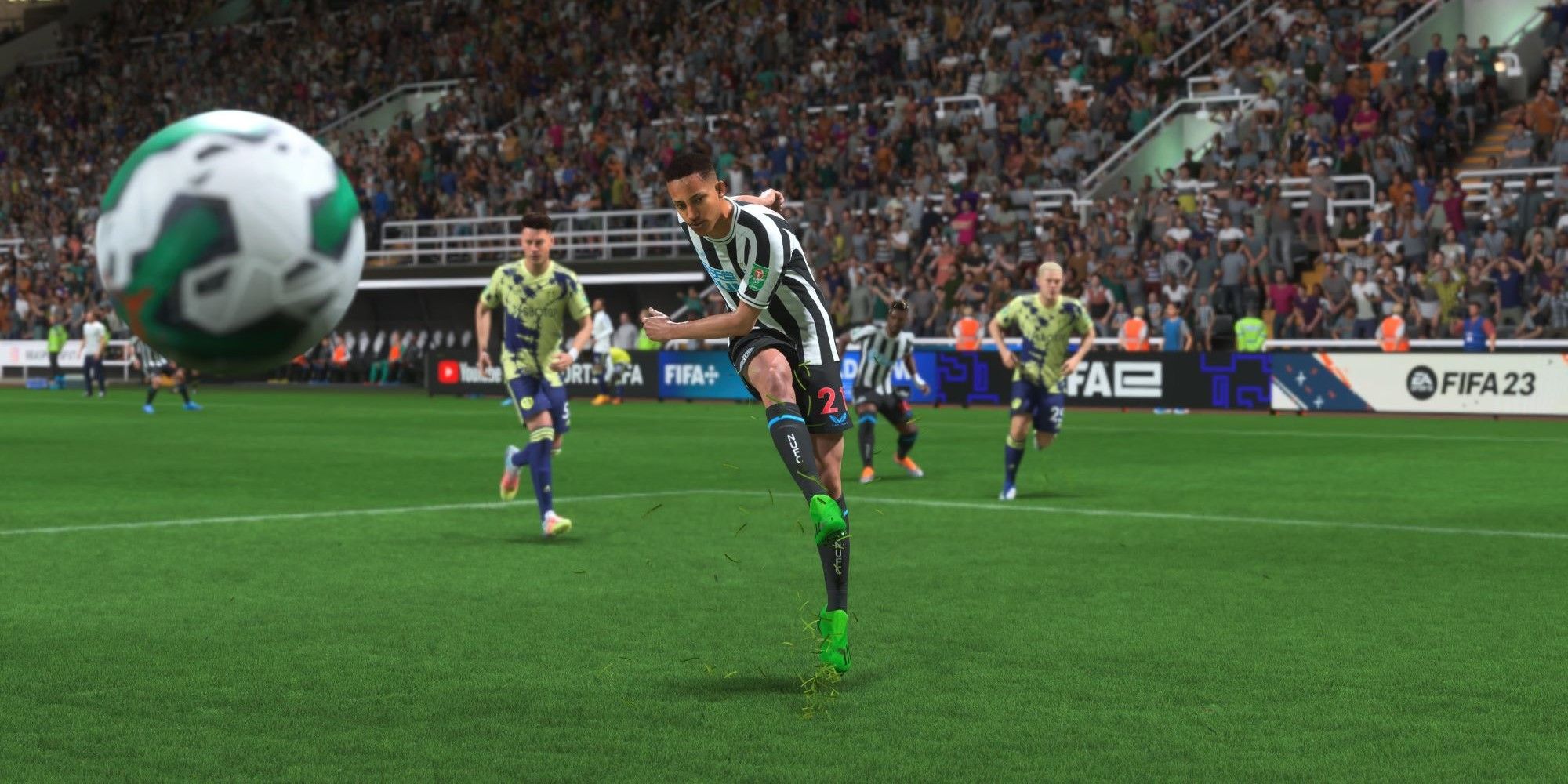 There are a few differences in the gameplay this year, but that's what they are – differences. Not improvements, necessarily. Dribbling is now more intricate, but pace remains crucial and players stand off a little more, meaning knock and run or skill moves do more than left stick dribbling. Tackles feel more robust, but they happen more rarely – a result of players standing off by default. Crossing is the best it's been in years too, with around a third of my goals, maybe a little more, being scored via crosses. Heading ability doesn't seem as important as the crosses themselves – Saint-Maximin has three headed goals for me, and my career has only reached November. It borders on overpowered, especially as fairly average players (with apologies to Miguel Almiron and Joe Willock) can pop in powerful, accurate crosses with a flick of the outside of their boot. I've got a team full of Cancelos and all my forwards are Tim Cahill mixed with Peter Crouch.
HyperMotion2 is the big addition in 23, an upgrade on HyperMotion introduced last year. Part of this is the tighter dribbling, which oddly encourages more open pace-based dribbling over technical ability. There's also a new power shot which sees players line up their efforts then drive it home with force. Unfortunately the way the game slows down and zooms in makes it feel like Mario Strikers, and is a little too far from realism. It is a decent addition to your arsenal though, and it's very satisfying to see Callum Wilson or Bruno Guimarães bury it from 25 yards.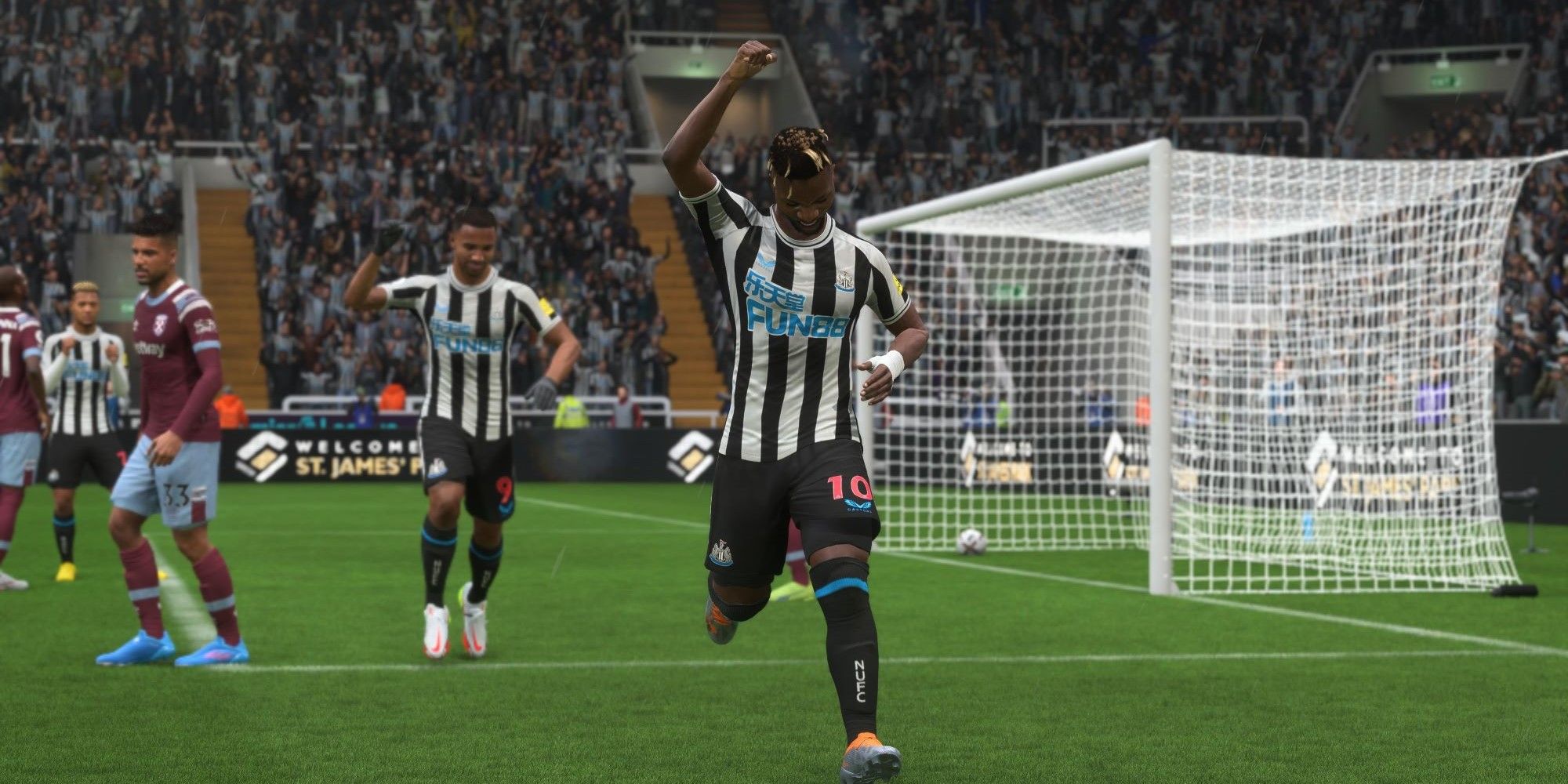 The aesthetics of this are very poor though. It tells you the xG of HyperMotion2 aided shots, but it's frankly wrong. Some bad defending by me left Michail Antonio unmarked on the edge of the six yard box with Pope scrambling across his goal. His xG was .2, which is miles of the mark. Antonio unfortunately was not as we went down 3-2 to West Ham. Replays also come with a collection of lines, shapes, and grids, all of which mean nothing.
Career Mode is no longer FIFA's star, but it's what keeps me coming back each year. It's largely the same, but with one major difference around transfers. You now get a grade on each transfer for how much money you spend, which affects nothing of consequence but did force me to push harder for deals, get players cheaper, charge more for departures, and grill new arrivals during contract negotiations.
In other news, when you sign a player, there's a short cutscene of them arriving at the ground, having a medical, and then posing with you with their shirt. It's a nice touch, and very satisfying to see James Maddison and João Pedro in a toon shirt. Just a little rehearsal for January, eh lads? I also signed promising youngster Wahi, mainly because his name sounds like 'why aye'. The opposite of these feel good videos though are the sad marches out of the club for the last time that you take every time you sell them. It felt like I was escorting Jacob Murphy out the back to shoot him.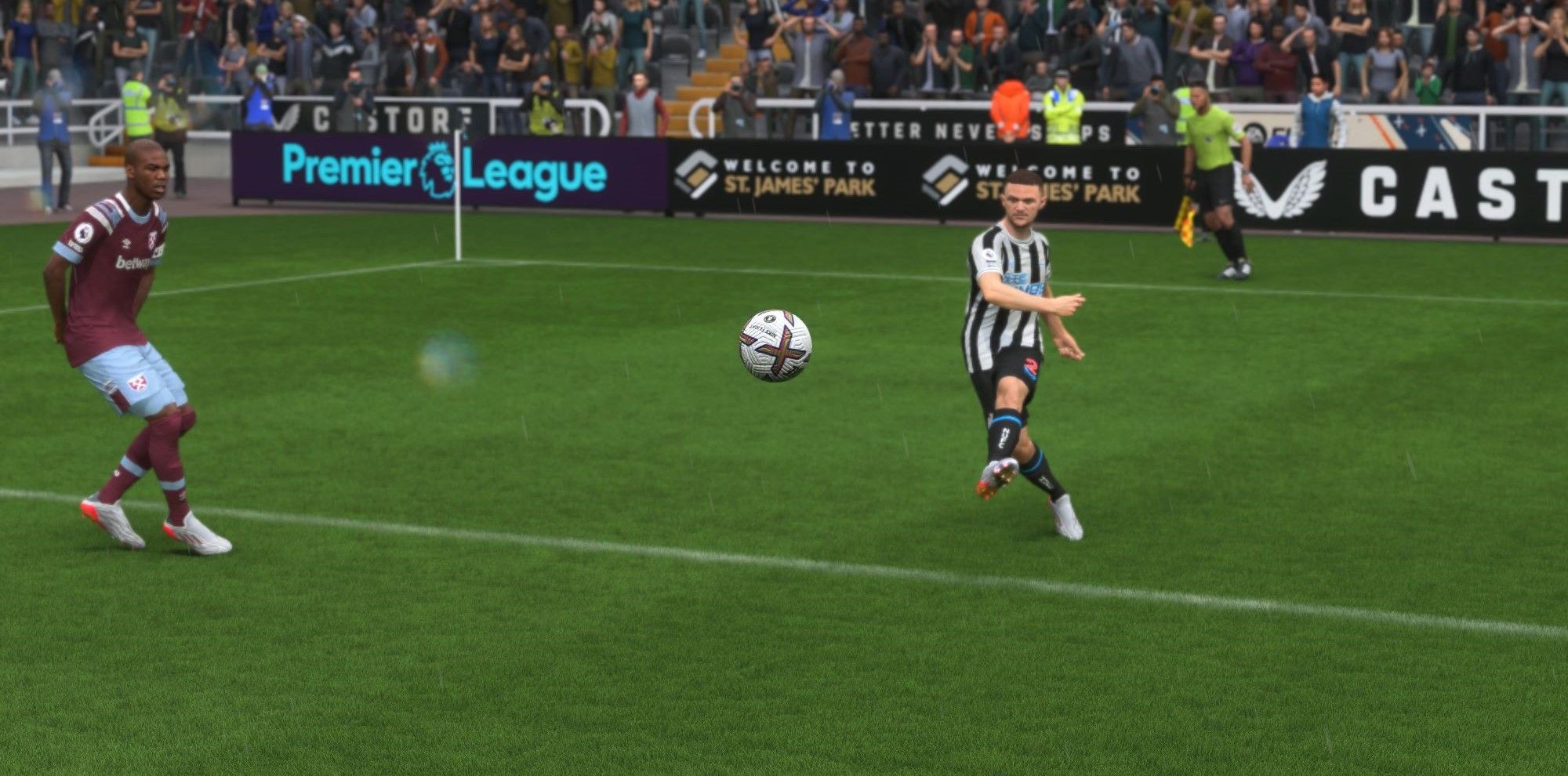 I don't usually like to bring the review conditions themselves into the review, but here I think it's pertinent and not just whining. During the preview period, there were eight separate embargoes for various different features, spread out over the course of two weeks – an unheard of embargo style, clearly designed to cater towards content creators. It's YouTubers and the like who dedicate their whole careers to FIFA in ways journalists cannot, so I don't begrudge EA making things easier for them but a) I suspect sharing it so widely with content creators is why literally everything leaked and b) it's part of a wider pattern that has seen FIFA focus more and more on Ultimate Team, the money maker and always always the focus of these channels.
This is the last FIFA to be called FIFA, and it represents a turning point for the series, reportedly soon to be known by the terrible name EA Sports FC. If FIFA wants to focus entirely on an online mode, propped up by microtransactions, and cater its coverage entirely towards content creators, it should probably admit it's a live-service game and start acting like it. FIFA's mostly casual fanbase presents a problem – it's unlikely many of them are aware of the naming rights wrangle to any real degree. Will players move to EA Sports FC, and will they continue to support it each year? Should they, when the landscape of all games like FIFA (which sees itself as more of an online contest than a sports sim) have moved to a free to play seasonal model with battle passes? FIFA 23 is the same as it has always been, maybe for the last time.

Score: 3.5/5. The publisher provided a code for this review
Source: Read Full Article