Fire Emblem: Three Houses Faculty Training Guide
Considering the fact that Fire Emblem: Three Houses takes place at a school, it's no surprise that even Byleth can stand to learn a little from Fodlan's best and brightest. In the first half of the game, this learning is done through Faculty Training, a system through which the various educators and knights working at the academy offer their expertise in rounding out your skillset.
How To Unlock Faculty Training In Three Houses
Faculty training is unlocked through a quest the player gets from Manuela during the third chapter of the game, titled "Learning from the Best". If you don't complete the quest, it'll unlock at the timeskip, but five years is an awfully long time to wait for a simple tutoring session. Just talk to Manuela in the monastery to pick up the quest, then have her tutor Byleth in Sword, Faith, or Flying.
Faculty Training will use up an activity point on your free days, so be certain that you're spending your time wisely. If you've gotten the DLC pass, it's also worth noting that Byleth can still get the increased skill gains from the Sauna, so use an activity point there at the beginning of the month with your student of choice to ensure you're maximizing your gains.
Faculty Training Skills – Who Teaches What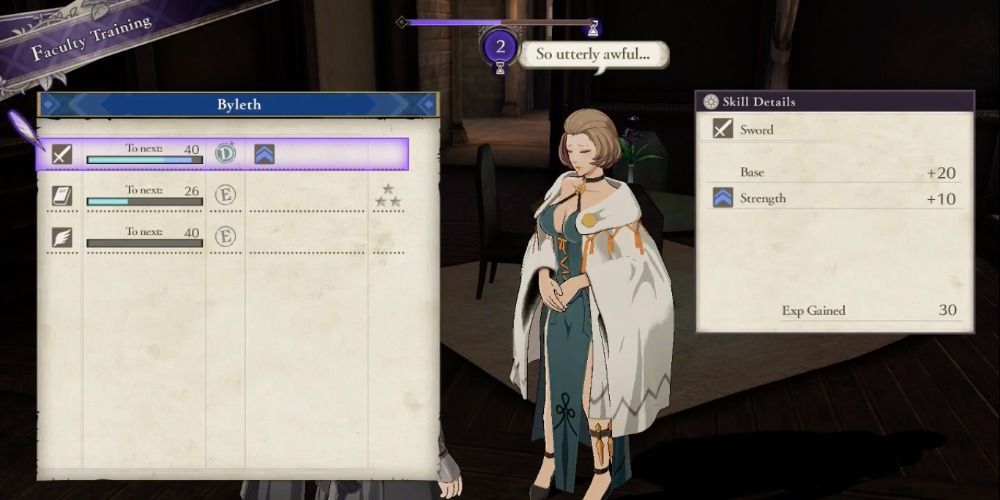 Every teacher or knight working at the academy (and even Rhea herself) is open to giving Faculty Training to Byleth, but may have differing availability route-by-route or even for specific chapters of the game. The knights often go out on missions, so try not to plan your whole schedule around learning the Riding skill from Jeralt.
Alois
Rhea
Shamir
Catherine
Seteth
Flying
Authority
Sword
Lance
Axe
Jeralt
Jeritza
Manuela
Hanneman
Gilbert
Axe
Lance
Heavy Armor
Riding
Anna (DLC)
More Ways To Teach Byleth Skills
Faculty Training isn't the only way to raise Byleth's skills at the monastery, however. You can earn a little bit of Faith and Authority skill by participating in choir practice, both on free days and during a few of the optional holiday celebrations sprinkled throughout the year. Outside of that, Byleth will attend any Seminars they aren't teaching, so it's possible to shore up some skills alongside your students by choosing to attend a Seminar on your off day.
However, as with most things in Fire Emblem, the battlefield remains the best teacher for those dedicated to the pursuit of a certain skill. Be sure to make good use of equipped items like the Knowledge Gem during combat if you're looking for maximum skill gain in any particular category.
Source: Read Full Article