GameStop And Microsoft Enter Multi-Year Partnership
In a move that's definitely going to turn some heads, GameStop announced a "multi-year strategic partnership" with Microsoft. Yet before speculation goes too wild, the deal mostly seems to be on the business end of things. GameStop is poised to incorporate much of Microsoft's office infrastructure to its retail operations, but little mention was made of offering any exclusive product.
GameStop put out an official press release for the announcement, saying that the partnership will be "further advancing its strategy to expand its physical and digital video game offerings, as well as enhance the Company's retail technology infrastructure." The main thrust of the alliance seems to be to get access to Microsoft's cloud services, office software, and devices for retail stores.
The press release also includes a bullet point list that lines up exactly what GameStop will get from the partnership, at least in the near future. The first is a plan to streamline the GameStop network with Dynamics 365, Microsofts cloud-based suite of applications. This will hopefully speed up the ancient GameStop systems and allow store associates to access up-to-date info on popular products and stock numbers. GameStop has a history of being unable to keep up with big product launches, and maybe Microsoft will help alleviate that.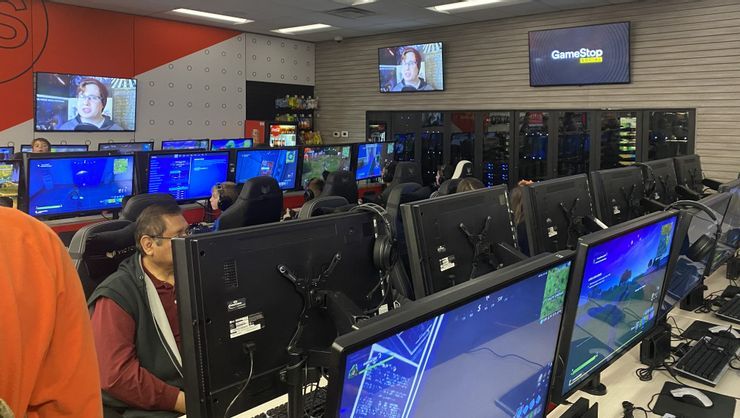 Even more on the ground level is GameStop's plan to incorporate Microsoft Surface tablets and Microsoft Teams into its stores. TheGamer saw something similar to this at the GameStop 2.0 concept stores. The employees carried tablets that could be used to look up stock, research game release dates, and assign demo time for the many in-store gaming setups. There were also giant tablets that customers could use themselves to look up games or make online orders. The Microsoft tablets and software could serve that function in all stores.
Finally, GameStop said it "has expanded its Xbox family of product offerings to include Xbox All Access, which provides an Xbox console and 24 months of Xbox Game Pass Ultimate to players with no upfront cost." It's unclear how this is different from other retailers that offered Xbox All Access. Perhaps GameStop will get the exclusive ability to offer more memberships to the service. This would be a big get, as there was clearly a big demand for the service during pre-order day.
Microsoft, the name behind one of the big next-gen consoles, choosing to partner with a specific retailer is a big deal. Especially for GameStop, which sees itself needing to redefine its role as digital gaming takes over. For now, however, the partnership seems focused on upgrading GameStop's business infrastructure.
Source: Read Full Article