Genshin Impact: Best Builds For Rosaria
Rosaria is a playable 4-star character in Genshin Impact. She is one of the strong Cryo users in the game and can do a lot with a good team. She is affiliated with the Church of Favonius, located in Mondstadt, one of the seven nations in Teyvat.
She was released back in April 2021. She has been available along with other characters in Albedo and Eula's rerun banner that started on Nov 24, 2021. Many weapons and artifacts are great on Rosaria because of her abilities and kit. However, some are relatively better because of the stat bonuses they give.
Best Weapons for Rosaria
You can acquire Rosaria, a rate-up character in the Albedo and Eula's rerun Banner, which will run until Dec 14, 2021. Do not worry if you miss the banners, as you can still acquire her from any banners at a normal rate. Rosaria's kit comprises unique Cryo and Physical abilities. Skills like Ravaging Confession allow her to teleport behind an enemy and deal severe damage. Her skills also do AOE Cryo damage to enemies in a small radius.
Below are four weapons that will work perfectly with Rosaria:
| Weapon Name | Base Attack | Secondary Attack | Passive Ability |
| --- | --- | --- | --- |
| Staff of Homa | 46 | +14.4% Crit Damage | Rosaria's health receives a 20% increase and a 0.8% attack increase based on her max health. On top of that, whenever Rosaria falls below 50% health, the effect increases by 1%. |
| Primordial Jade Winged-Spear | 48 | +4.8% Crit Rate | Rosaria's Attack on hit is increased by 3.2% for six seconds. This can stack up to seven times, and the effect occurs once every 0.3 sec. Upon reaching max stacks, Rosaria gains an additional 12% increase in Damage. |
| Skyward Spine | 48 | +8% Energy Recharge | Rosaria receives an 8% increase in Crit Rate and a 12% increase in Attack Speed. Rosaria has a 50% of triggering Vaccum Blade on her Normal and Charged Attacks. Vacuum Blade can occur once every two seconds and deal 40% Attack Damage to enemies in a small area. |
| Deathmatch | 41 | +8% Crit Rate | Rosaria Attack is increased by 24% if there is one opponent nearby. If two or more opponents are nearby, Rosaria receives a 16% increase in Attack and Defence. |
Weapons like Staff of Homa and Primordial Jade Winged-Spear are the most used weapons on Rosaria. The Staff of Homa was an acquirable weapon in Weapons Banner back in Genshin Impact 2.2. Whereas you can obtain the Primordial Jade Winged-Spear from the Epitome Invocation Weapon Event Wish Banner and Wanderlust Invocation Standard Wish Banner at a normal rate.
Best Artifacts for Rosaria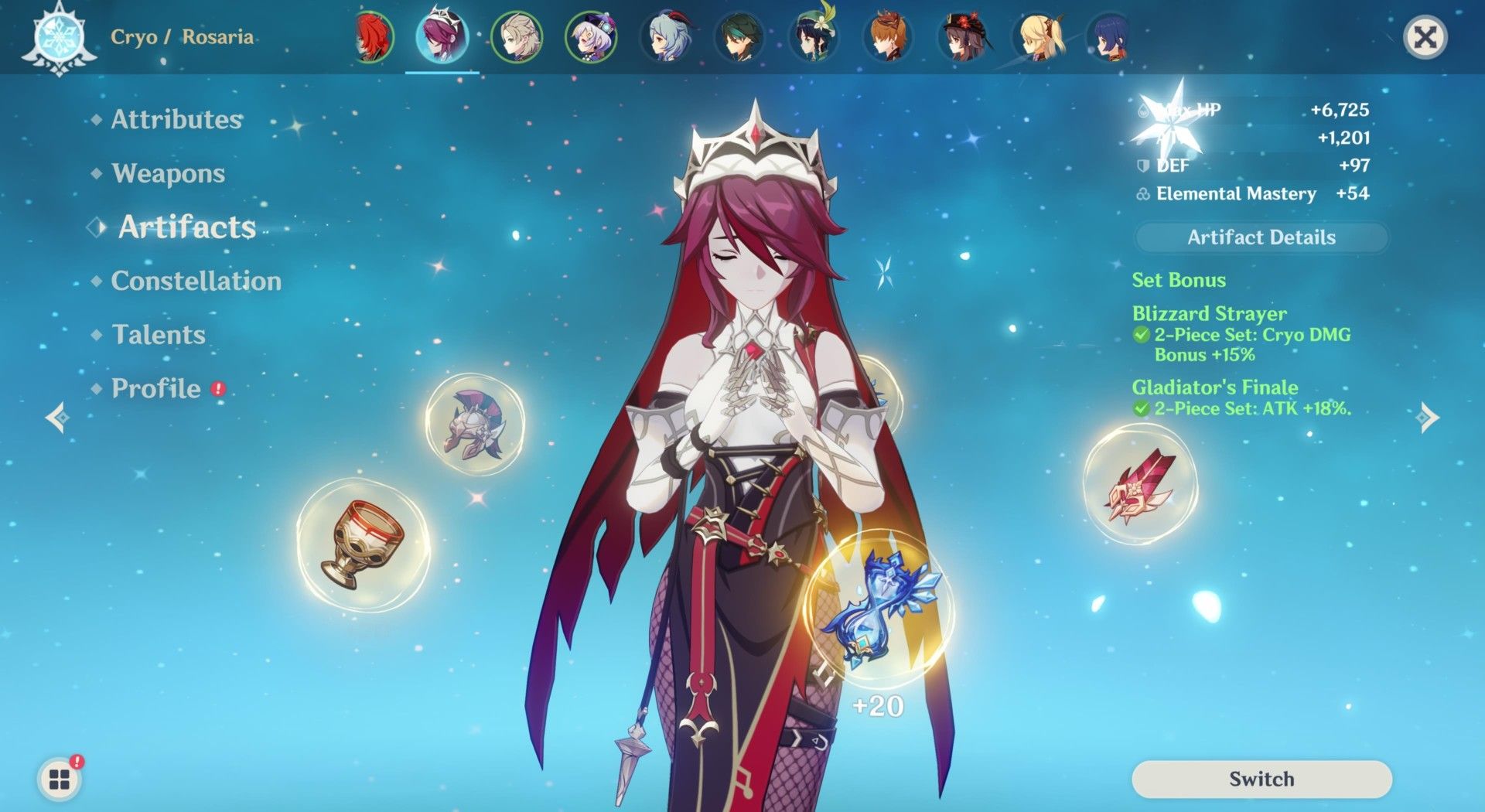 There are plenty of artifact sets that you can try on Rosaria. However, if you want the highest damage output, then try these artifacts.
The following sets are best for Rosaria:
| Artifact Name | Two-Piece Set | Four-Piece Set |
| --- | --- | --- |
| Pale Flame | +25% Phy Damage | Rosaria's Attack is increased by 9% for seven seconds. This effect can stack up to two stacks. On hitting two stacks, the Two-Piece effect is increased by 100%. |
| Blizzard Strayer | +15% Cryo Damage | If Rosaria hits an enemy affected by Cryo, she receives a 20% increase in Crit Rate. She receives another 20% increase in Crit Rate if the enemy is frozen. |
| Bloodstained Chivalry | +25% Phy Damage | After Rosaria takes down an enemy, her next Charged Attack will do 50% additional Damage. The Stamina for it changes from ten seconds to zero seconds. |
Rosaria has two builds. The Physical Main DPS and the Sub Cryo DPS Build. For the Physical DPS Build going Staff of Homa as your primary weapon is the best choice. As for the Artifact set, you can choose to go full-set Pale Flame or go two-pieces Pale Flame and two-pieces Bloodstained Chivalry for the highest Physical Damage bonus. Going Primordial Jade Winged-Spear for a weapon is a good choice for her Sub DPS build. For artifact set, Blizzard Strayer is the best option.
Source: Read Full Article