Genshin Impact: Best Weapons For Rosaria
Mondstadt native Rosaria is a member of the Church of Favonius in Genshin Impact. A Cryo-using, polearm-wielding pillar of strength, you can pick her up through Wishes at a normal rate. She offers strong damage in battle, and is a great option for a physical DPS for your team.
You'll want to focus on her Crit damage and raw physical damage when choosing a weapon to equip, ultimately with the goal of making her your main DPS, or at least your main physical DPS. The more powerful the polearm you give her, the more damage she'll deliver in fewer blows, making quick wins her expertise.
10

The Blackcliff Pole – Four Star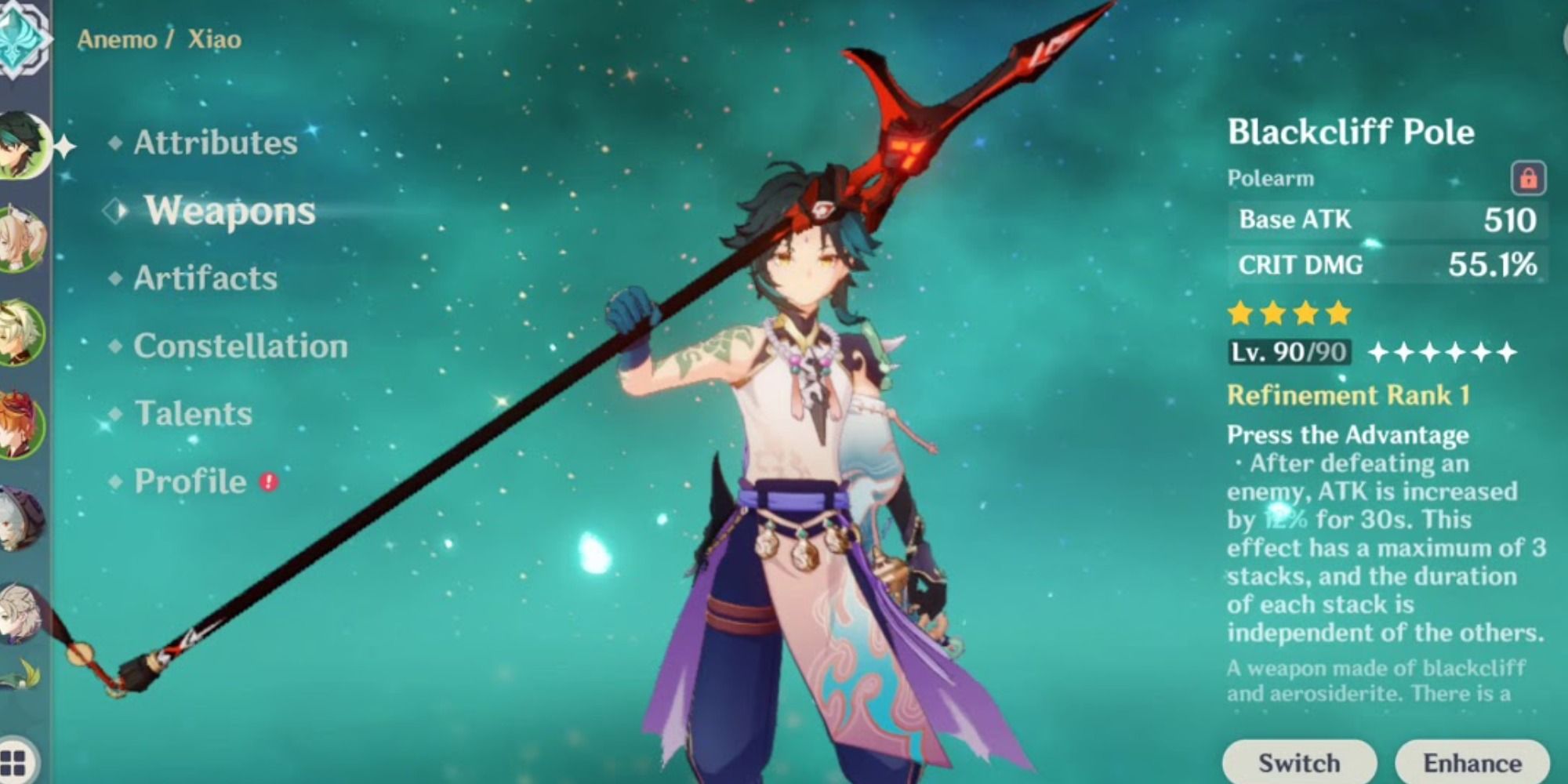 The Blackcliff Pole can be gained from Paimon's Bargains. When you give it to Rosaria, it will increase her Base Attack from 42 to 510, depending on what level she is, and it gives her a 12 to 55.1 percent boost to her Crit Damage through its substat.
Once you've defeated a target, her Attack is increased by 12 percent for up to 30 seconds. This can be stacked three times, and each stack is independent of the rest, meaning you can keep stacking as they wear off.
9

The Crescent Pike – Four Star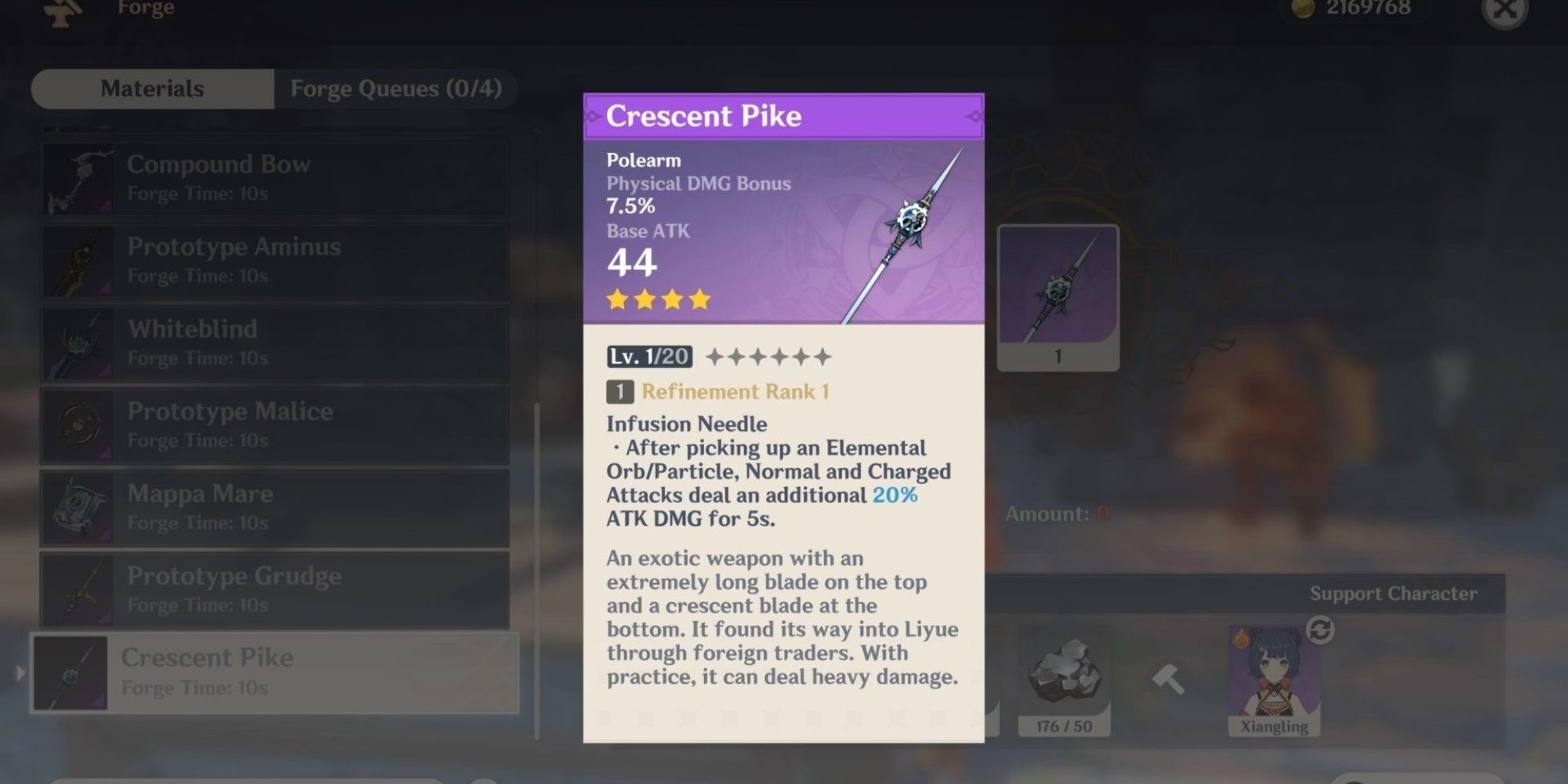 The Crescent Pike is generally a favorite in Genshin Impact, because you can forge it yourself at the blacksmith's shop. It boosts Rosaria's Base Attack from 44 to 565, depending on her level, and its secondary stat of Physical Damage gives a bonus 7.5 to 34.5 percent.
After you've obtained an Elemental Orb or Particle, her Normal and Charged Attacks will deal an additional 20 percent damage for up to five seconds. This, paired with the Physical Damage boost, makes it an ideal weapon for main DPS Rosaria.
8

The Deathmatch – Four Star
To get the Deathmatch you'll have to have a Battle Pass, which comes with Adventure Rank 20. It's fairly easy to level up, though, so this isn't a major concern. Once you have, equipping Rosaria with it will increase her Base Attack from 41 to 454, based on level. It also has a secondary stat of Crit Rate, which offers an eight percent to 36.8 percent boost.
If two or more enemies are nearby, Attack is increased by 16 percent, as well as Defense. If there's only one opponent, Attack will get a 24 percent boost.
7

The Dragonspine Spear – Four Star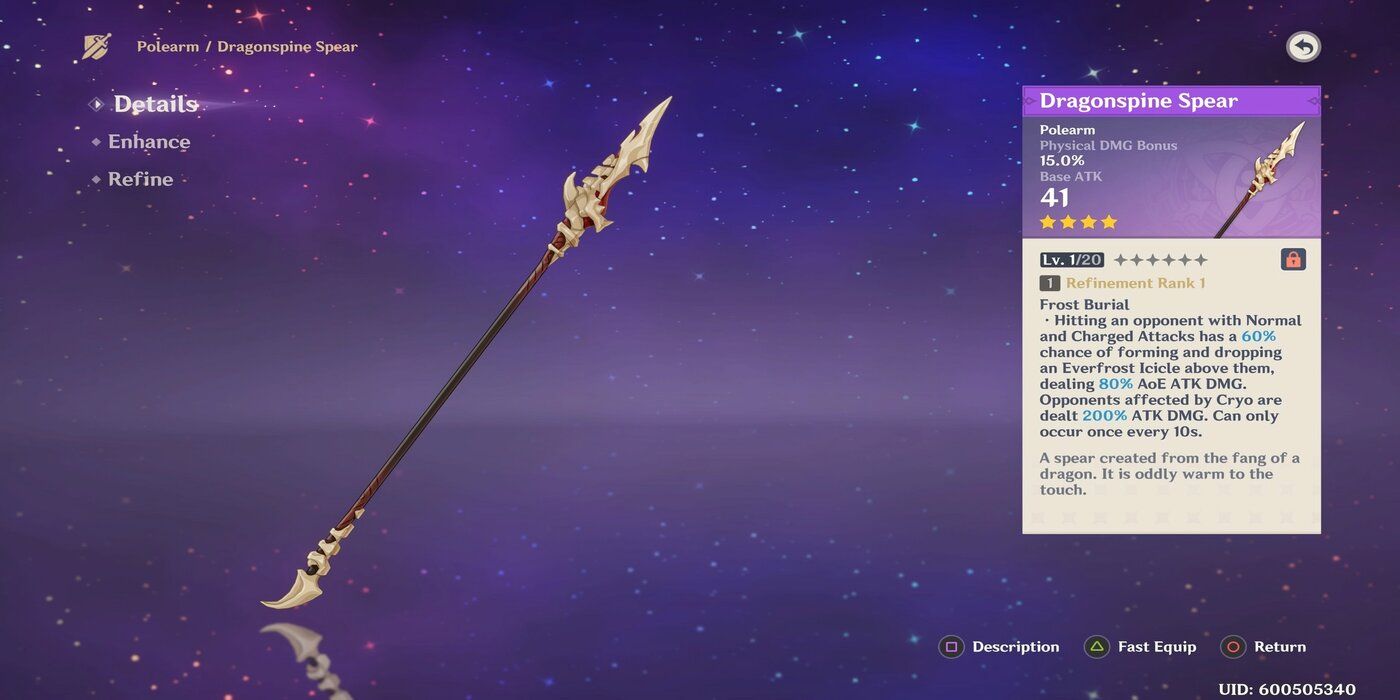 There are two ways to get the Dragonspine Spear: either through forging it yourself at the blacksmith's shop, or from completing the Festering Fang quest. Regardless of how you obtain it, you'll get a Base Attack boost of between 41 and 454 when you equip it, depending on Rosaria's level. The secondary stat is a Physical Damage bonus of 15 to 69 percent.
If you hit an enemy with a Normal or Charged Attack, it has a 60 percent chance to form and drop an Everfrost Icicle, which will deal 80 percent Attack damage in AoE. If an opponent is affected by Cryo (which is what Rosaria is), Attack Damage is then 200 percent from the Icicle. This will happen every 10 seconds.
6

The Favonius Lance – Four Star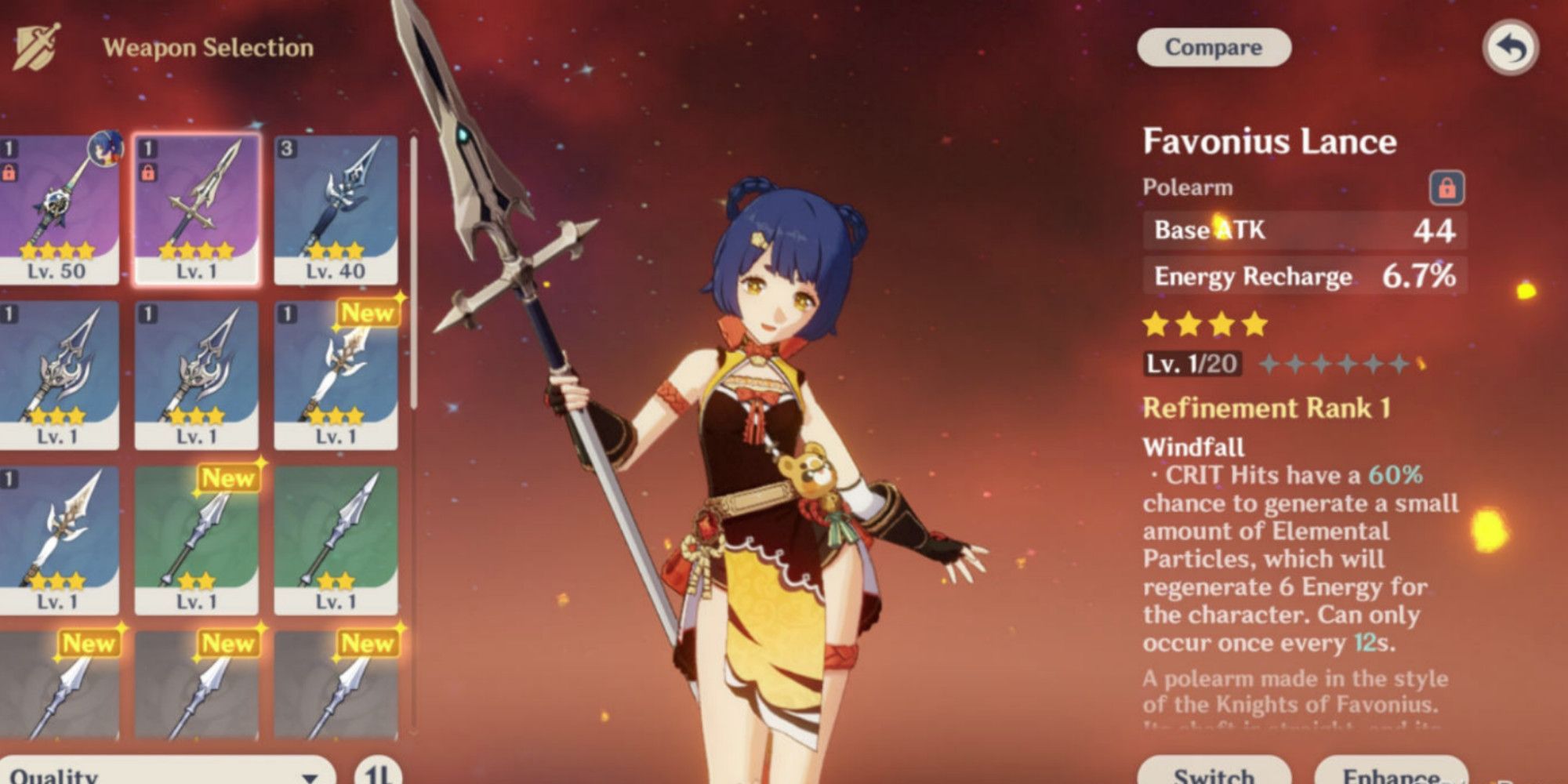 The Favonius Lance is obtained through Wishes at a regular rate. Rosaria's Base Attack increases by between 44 and 565, with a substat of Energy Recharge. Though she doesn't really need the Energy Recharge, it is a helpful 6.7 to 30.6 percent increase. This will keep her on the battlefield longer to dole out more damage.
Her Crit hits will have a 60 percent chance to create Elemental Particles, and those will in turn generate another six Energy every 12 seconds. Again, even though this isn't the area Rosaria needs help with, it does allow you to use her as a main DPS without relying on having a healer in the team.
5

The Catch – Four Star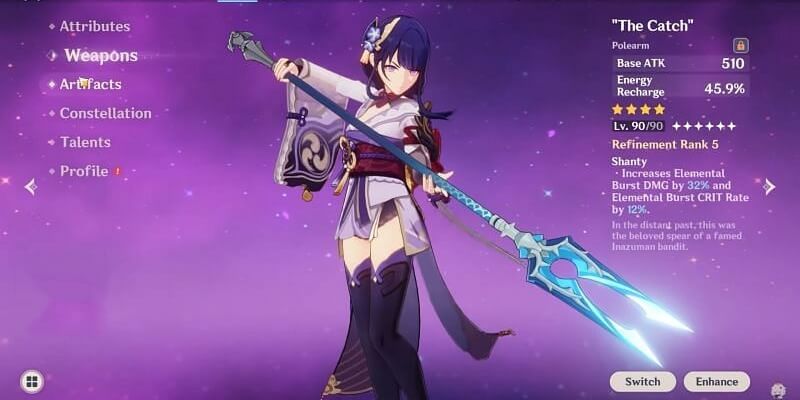 The Catch has been available through Wishes, but is also obtainable via the Inazuma Fishing Association. When equipped, Rosaria's Base Attack will see a boost by 42 to 510, depending on her level, and a secondary stat of Energy Recharge from 10 to 45.9 percent.
This Polearm will increase Elemental Burst damage by 16 percent, and Elemental Burst Crit Rate by six percent. Rosaria's already strong Elemental Burst will benefit the most from using The Catch.
4

The Vortex Vanquisher – Five Star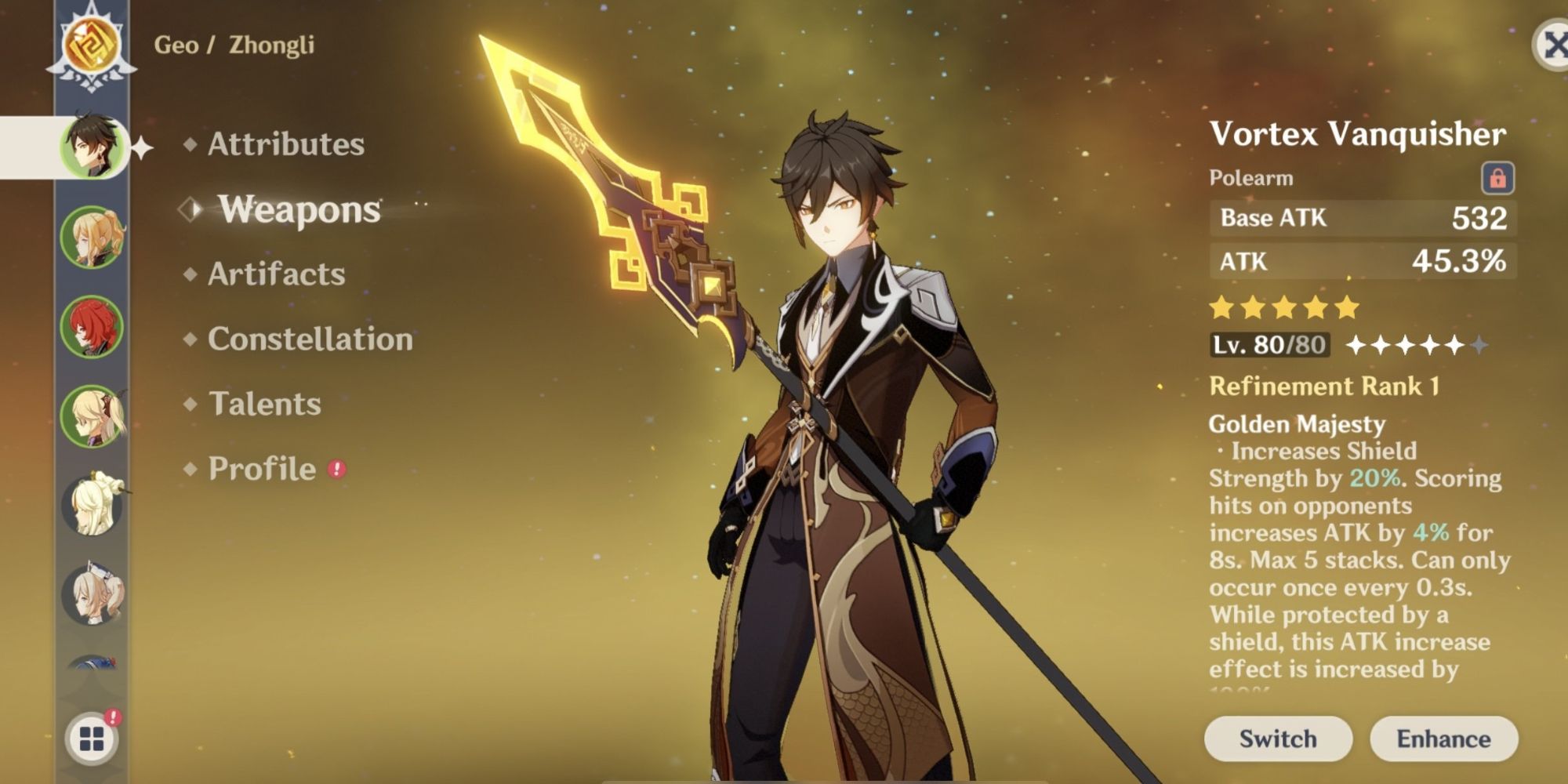 The Vortex Vanquisher is available through Weapon Event Wishes at a slightly harder rate, because it is a higher ranked weapon. If you're lucky enough to snag it for Rosaria, it will boost her Base Attack by 46 to 608, and increase her Attack by 10.8 to 49.6 percent with its substat. Both of these increases are based on her level.
With this Polearm you'll get a 20 percent increase to your shield strength. Connecting hits against targets will grant a four percent boost to Attack for eight seconds, with a max stack of five.
3

The Skyward Spine – Five Star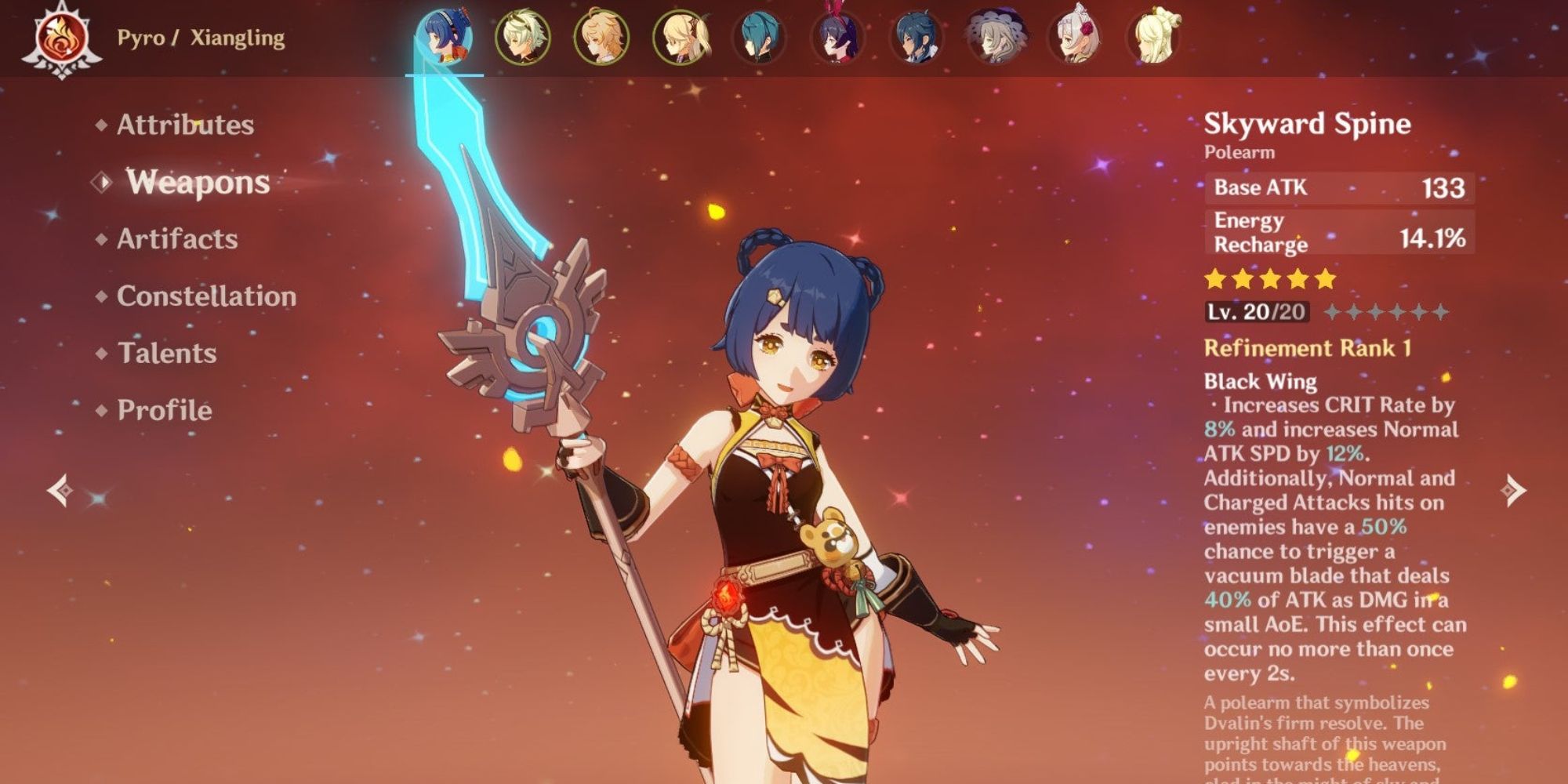 You can get the Skyward Spine through Wishes. The Base Attack boost runs from 48 to 674, based on level, and Rosaria will get an Energy Recharge increase of between eight percent and 36.8 percent with the substat.
Her Crit Rate will increase eight percent, and her Normal Attack speed will get a 12 percent boost. On top of that, Normal and Charged Attacks have a 50 percent chance to trigger a Vacuum Blade that deals 40 percent Attack in a small AoE every two seconds.
2

The Primordial Jade Winged-Spear – Five Star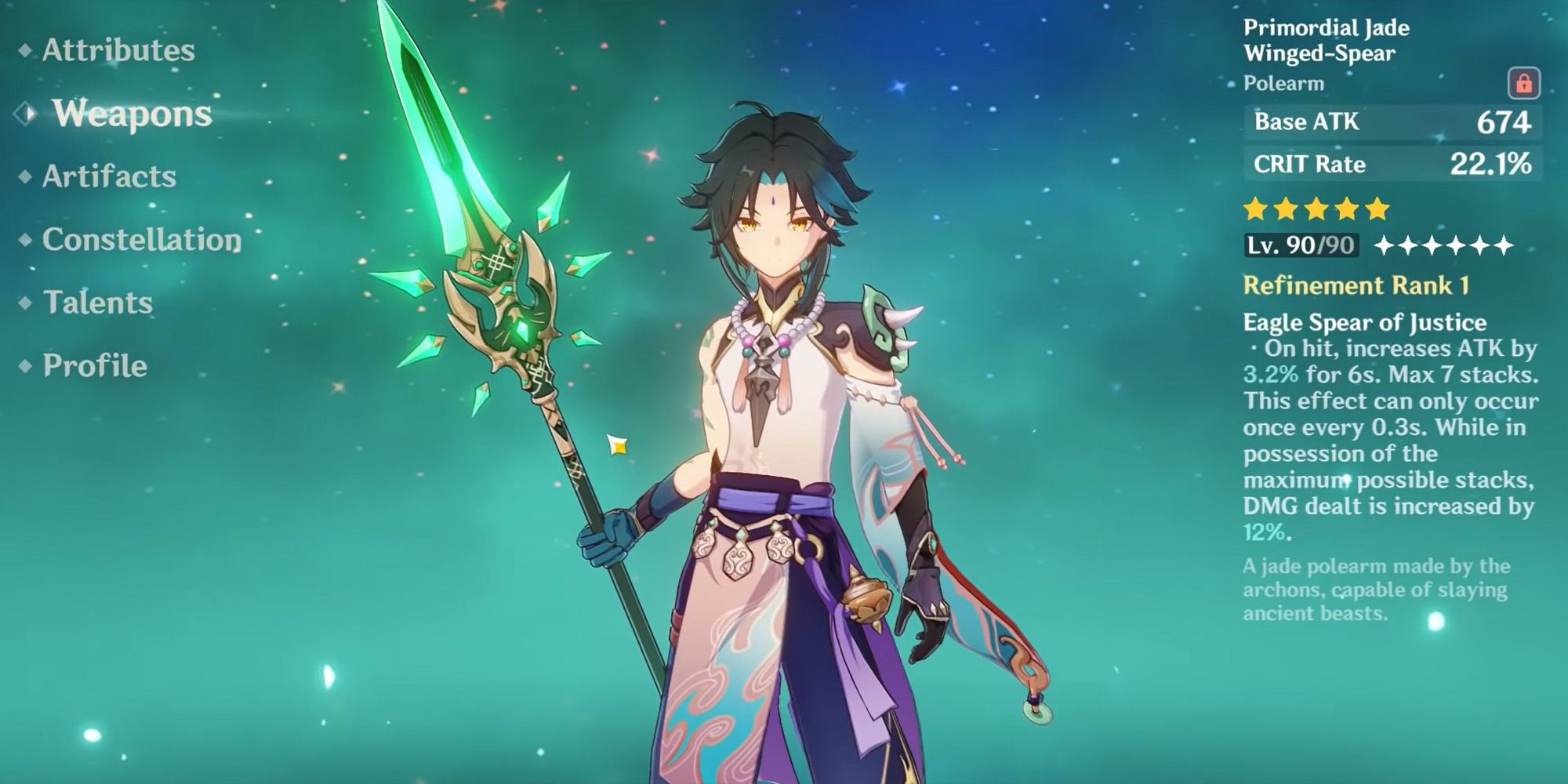 Obtained through Wishes, though slightly harder to get since it's a five-star Polearm, the Primordial Jade Winged-Spear is a solid weapon to equip Rosaria with because of its Crit Rate substat. Crit Rate will go up 4.8 to 22.1 percent, based on her level, and her Base Attack will increase by 48 to 674.
Whenever she successfully connects with a hit, her Attack increases by 3.2 percent for six seconds, and this has a max stack of seven. Once you've achieved the seven stacks, her damage increases by another 12 percent.
1

The Staff of Homa – Five Star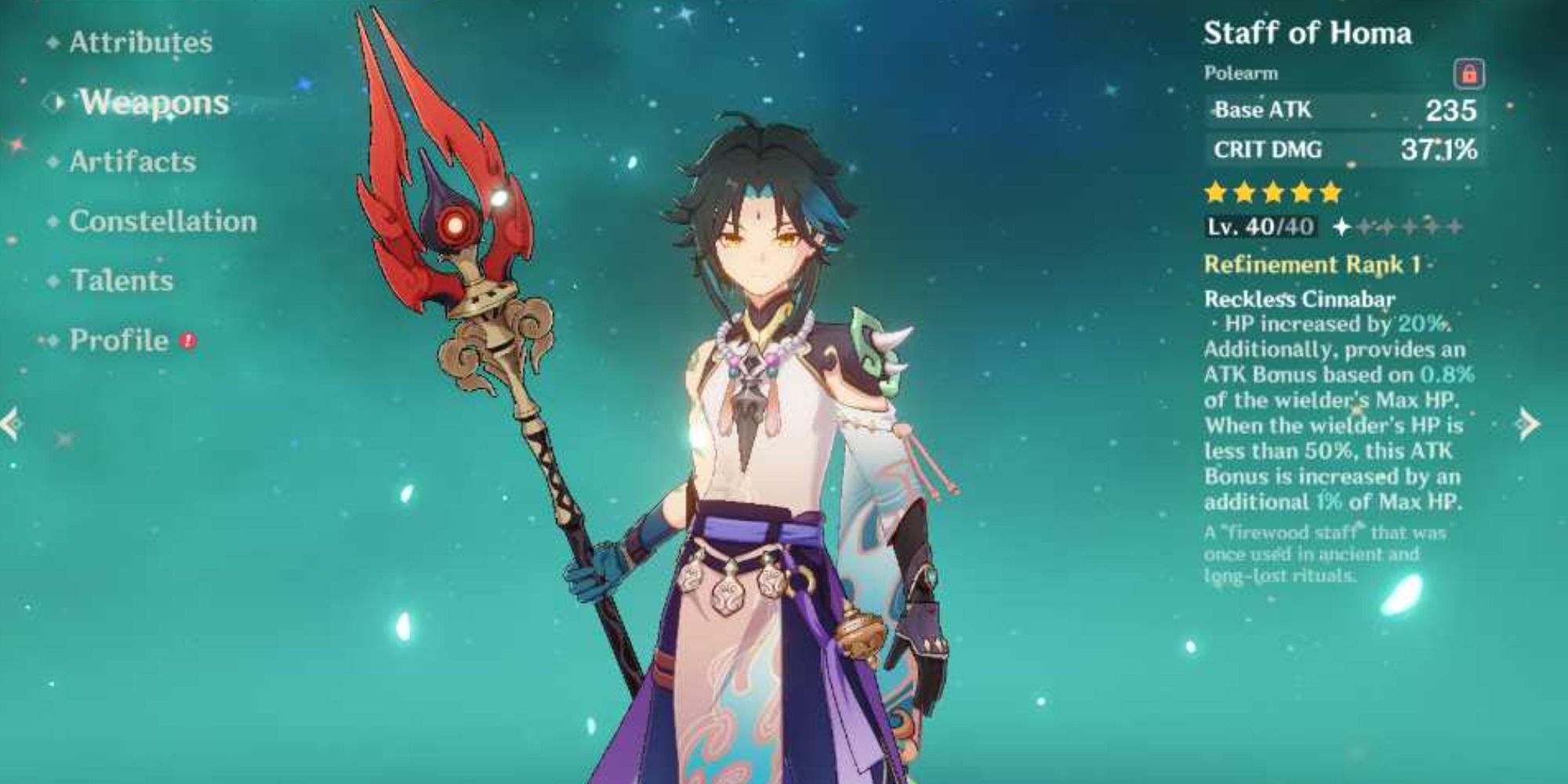 The Staff of Homa is probably the most recommended weapon for all Polearm users, and the hype is justified. It will boost Base Attack anywhere from 46 to 608, depending on Rosaria's level, and more importantly for her, its secondary stat is Crit Damage. A 14.4 percent to 66.2 percent increase to Crit Damage dealt will make Rosaria an absolute beast in battle.
As a bonus, her HP will get a 20 percent boost, with an additional Attack bonus based on 0.8 percent of her max HP. This will keep her on the battlefield longer (if she needs more time). You'll definitely want to pull for the Staff of Homa in the Weapon Event Wishes.
Source: Read Full Article