Guarantee Your Citizenship By Watching These New Starship Troopers Terran Command Gameplay Videos
Slitherine Games Ltd. recently revealed actual gameplay of its upcoming single-player RTS Starship Troopers – Terran Command. Two videos made up the reveal; a short in-game segment, and a longer developer-hosted livestream that was broadcast on Slitherine's Twitch and YouTube channels.
Contained within the livestream gameplay reveal was the announcement for the game's Open Beta phase, inviting interested gamers to sign up to possibly be recruited as a playtester. Those who do get selected for this prestigious opportunity will have to sign a non-disclosure agreement (NDA), with the phase currently scheduled to begin in the next month or two. You can sign up on the Slitherine Games website, and you'll need to be logged into the website to do so.
Would you like to know more? The first Starship Troopers – Terran Command gameplay reveal comes by way of the short, less-than-two minutes Canyon Ambush video (embedded below). Presented in much the same style as one of the official Federal Network PSA commercials from TriStar Pictures' 1997 sci-fi classic Starship Troopers movie, the video shows off a Mobile Infantry engaging swarms of bugs in the desert of their home planet Klendathu. The Mobile Infantry can be seen moving together in tight formations to lay down a blistering hail of concentrated gunfire on the incoming bugs, while rocket gunners provide indirect fire support over their heads. A huge fire acid-spewing Tanker Bug bursts from out of the ground to make an appearance, even managing to roast most of a Mobile Infantry squad before being killed.
The livestreamed gameplay reveal was hosted (on Twitch and YouTube) by Slitherine Games' Marketing Director Marco A. Minoli, who began with a bit of history to catch the viewers up on the past year in Starship Troopers' development. Over the next hour, Minoli describes how the dev team has revamped much of the game's gameplay to make it "a bit less convoluted but more enjoyable, and a more faster game, as well." Minoli is joined by Executive Producer David Sharrock, who shows off four gameplay clips that provide a closer look at the combat mechanics and storyline. The clips are presented without commentary, with Sharrock and Minoli adding in their dev insight after each one.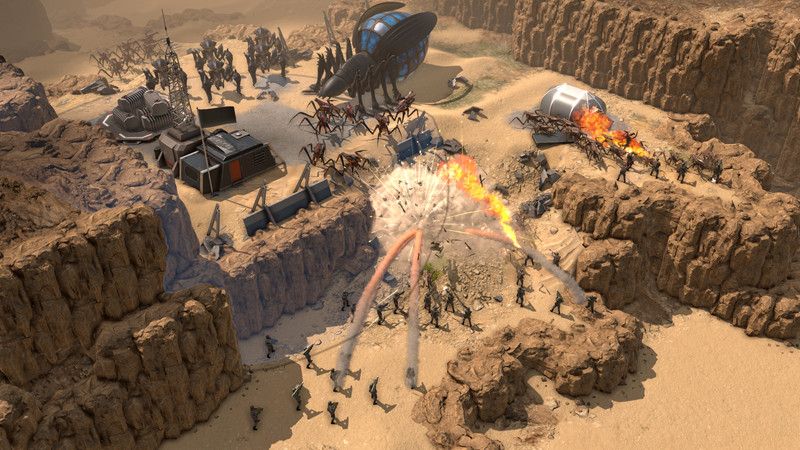 These gameplay vids are really worth watching if you're a Starship Troopers fan or an RTS gamer. Sadly, no official release date was announced, but the game is still currently scheduled to be released sometime later this year. You can Track Starship Troopers – Terran Command by wishlisting it on its Steam page, and by following Slitherine Games' socials linked on its website.
Source: Read Full Article