Guardians Of The Galaxy Had A Multiplayer Mode During Development
A LinkedIn post has revealed that Guardians of the Galaxy had a multiplayer mode earlier in its development.
This was spotted by ResetEra user Nightengale, who looked at Simon Larouche's LinkedIn profile and found information on the game's early development. Simon's profile lists that he was the "Online Gameplay Director" on the project between 2017 and 2018. The post confirms that the multiplayer mode was cancelled, and it seems to have been done at the start of 2018.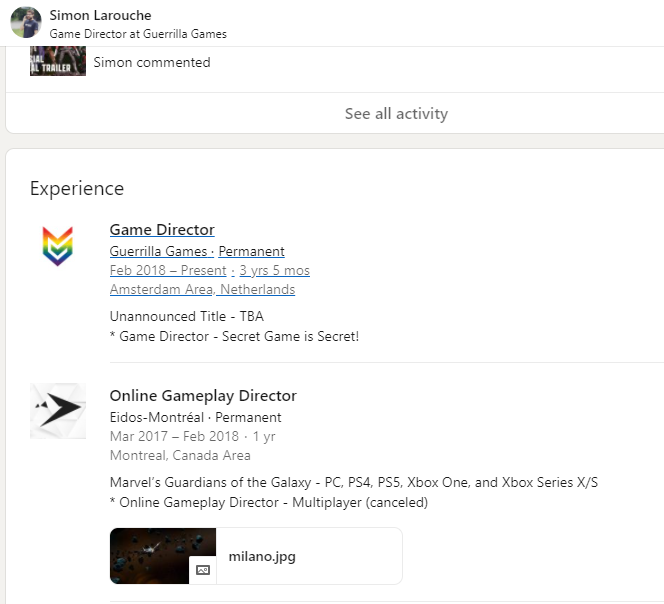 Square Enix has made a big deal out of Guardians of the Galaxy not having a multiplayer mode and being fully focused on single-player, but it looks like that wasn't originally the case at all. Since the game's announcement, we've heard nothing about a multiplayer mode past or present, but Simon's LinkedIn reveals that at one point it was seemingly a pretty big part of the game.
Although it might be easy to blame Marvel's Avengers for the shift in focus, the time frame of the change appears to be completely unrelated. Marvel's Avengers released in 2020, whilst the multiplayer mode for Guardians of the Galaxy was cancelled by the start of 2018. Someone else could feasibly have taken over the role but as it stands right now it looks to have been cancelled separately, rather than being a knock-on effect from Marvel's Avengers.
Even though this is the first time we've explicitly seen that Guardians of the Galaxy originally had a multiplayer mode, interviews with Eidos Montreal following the game's announcement were pretty open about the subject and revealed that the team considered the option before choosing to focus on Star-Lord.
Simon's LinkedIn also reveals that Guerilla Games is currently working on an unannounced title. His most recent work is listed with Guerilla, and the caption cheekily says "secret game is secret". Until now it was thought that Guerilla was only working on the upcoming Horizon: Forbidden West, but it looks like they've got another game in the works as Aloy's second adventure finishes development.
Source: Read Full Article