I Joined The Archie Comics Discord And Walked Into An NFT War With Fans
It's hardly surprising when a company jumps on the NFT bandwagon at this point. Few of these announcements endear themselves to their usual audience however, with tweets revealing the projects often ratio'd to hell and back.
This was much the same with the recently unveiled Archie Comics NFTs – but with an added bonus. Archie has repurposed a pre-existing Discord server and Twitter account to give the NFT drop a larger platform, and it's not going well at all. The Discord, which was previously just used for discussions and giveaways based on Archie comic books, is now being filled with typical NFT bros, and fans are hitting back. From boycotting the series, to even "stealing" new users' NFTs, the Discord members are not taking this lying down.
"I'm halting all planned purchases of Archie products until this plan is abandoned. The rollout was a disaster, and I'm not keen on 'deeply within crypto' individuals coming into an artistic space where they clearly aren't wanted", says one user.
"Most of the people here are children, who shouldn't be allowed to buy speculation properties. I have no faith this project is anything but doomed."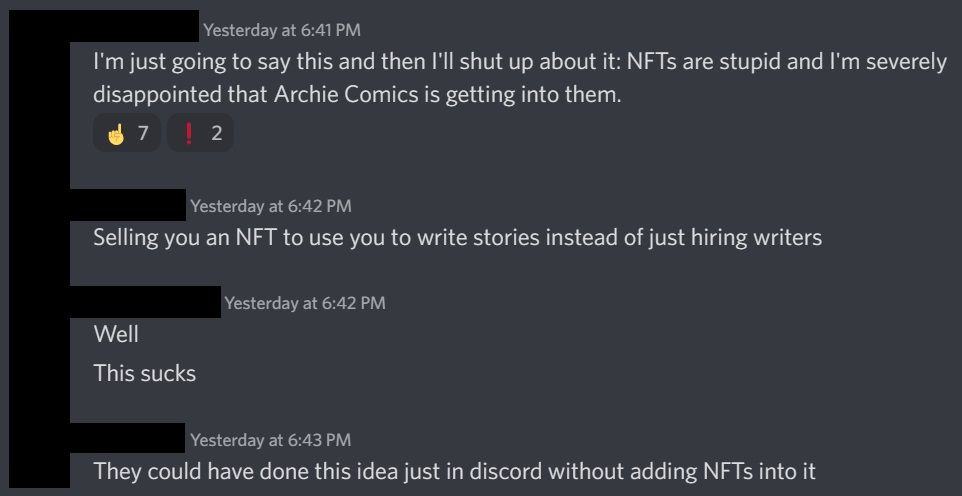 Archieverse NFTs won't just be collectables that can be resold. They will also give investors access to "role-play channels", a fan-work submission portal, and "potential inclusion in future Archie Comics projects". Only "selected artists" will get credit and royalties for their work.
Another fan takes issue with this in particular. "The majority of people who will buy these things will be a bunch [of] crypto investors who don't give one solitary damn about Archie Comics", they write. "This so-called story thing [Archie Comics] says will come out of it is going to either be terrible or crash and burn horribly."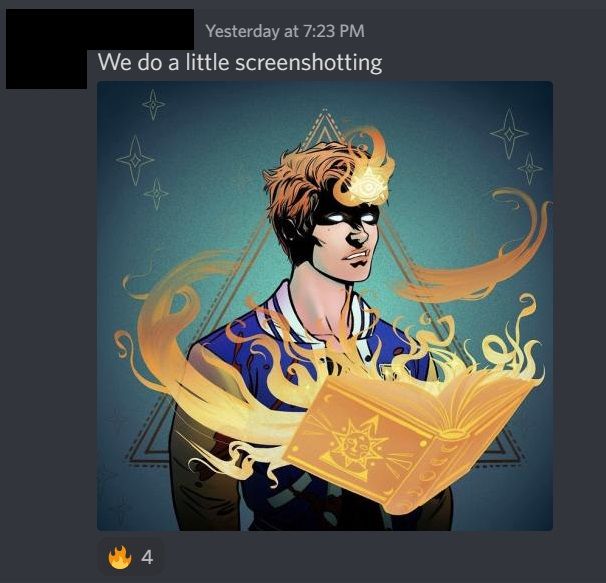 The users' predictions were correct, with the server now full of users with ape profile pictures. While you have to manually opt-in to being interested in the Archieverse, you'll still get NFT discussions and announcements regardless, so there's no way to avoid it completely.
This merging of Archie fans and NFT enthusiasts is giving moderators a lot to contend with. While I'm in the server, users are being banned for being hostile to new members. One is even banned seemingly for "stealing" another's NFT.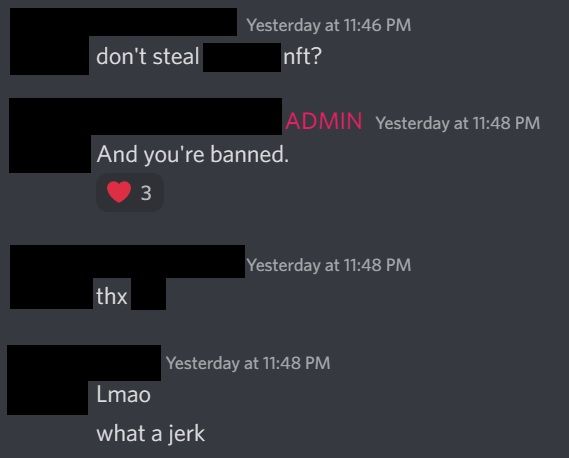 "I'm gonna have to leave this server", says another fan. "I have done my research on this topic, I will not support this company on this[…]I'm disappointed. There isn't an 'environmentally friendly' version here, there is no goal here and the toll is on our environment." They, like many others, share Folding Ideas' video on the subject, which is highly critical of Web3 and NFTs in particular.
If the Archiverse still goes ahead with its intended launch, the NFTs will drop May 16, 2022. 66,666 will be minted, and they will cost $66.66 initially. The team hasn't publicly responded to the backlash.
Source: Read Full Article