Japanese Swordsmiths Bring Monster Hunter's Kakaru Kumo Naki To Life
Japanese swordsmiths have made a full-sized replica of the Kakaru Kumo Naki longsword from Monster Hunter Rise. The huge 3.1-metre, 150kg longsword is featured in the special exhibition 'Monster HunterxSakai: A Close Look At Ancient Techniques' and was made in a city renowed for its swordsmithing.
The city of Sakai is known in Japan for its long history of producing katana samurai swords, which only licensed swordsmiths can manufacture. The tradition continues today and three expert craftsmen were involved in producing the replica (thanks Nikkei Asia).
Jun Mizuno, a fifth-generation swordsmith from the Meiji Era-established Mizuno Tanrenjo, made the two-metre blade using ultra-low carbon steel. The hilt was carved from a single block of zelkova wood by Akihiko Maeda from a wood carving studio, and he also painstakingly carved the longsword's scabbard. Finally, master painter Masakazu Yamaguchi watched 100 hours of Monster Hunter videos to see the virtual sword in motion. He painted the replica with photochromatic pigment to simulate how the blade's colour changes depending on how much light it reflects. The project took three years with planning, designing, and making the replica longsword.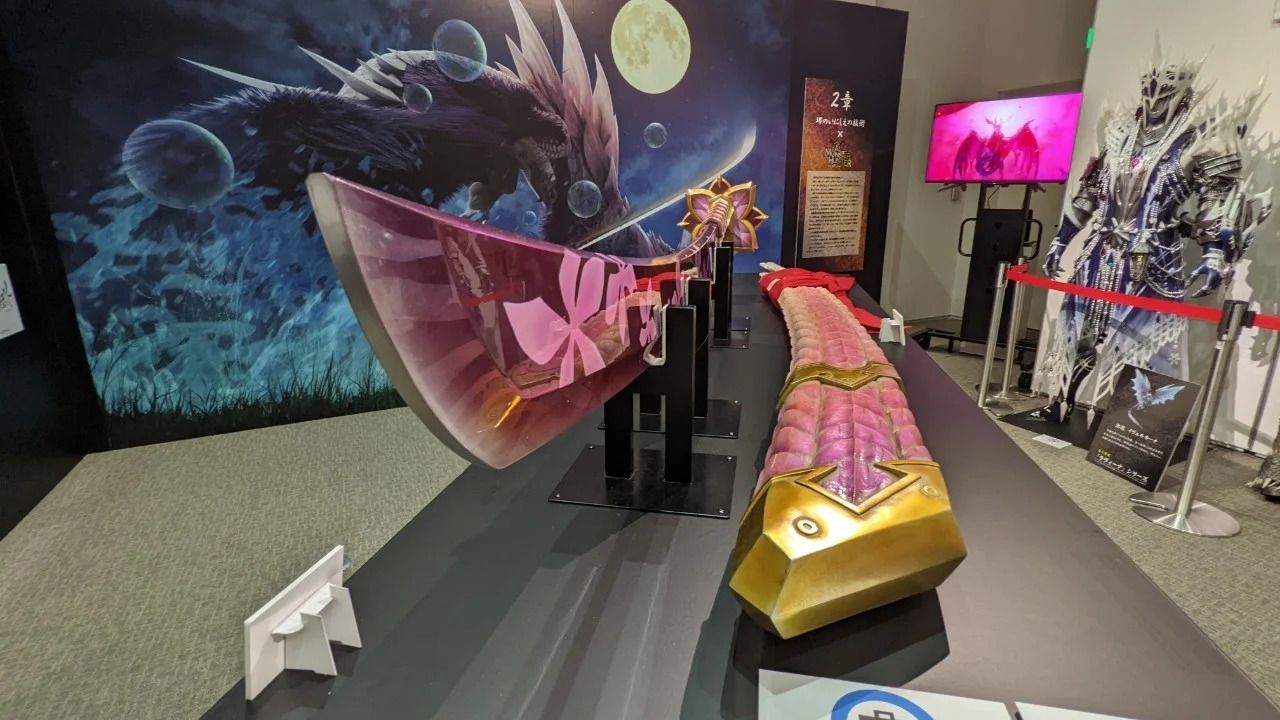 The Kakaru Kumo Naki features in Monster Hunter Rise and is one of the longswords in the game. The weapon is made out of the Leviathan-class monster Mizutsune. "The artists have done a good job in reproducing the sword that appears in the game," Capcom director and producer for the series Ryozo Tsuijimoto said, as reported by Nikkei.
Monster Hunter Rise launched last year and has sold 10 million copies worldwide, while the previous entry Monster Hunter World has sold more than 20 million copies making it Capcom's bestselling title.
Sakai's mayor Hideki Nagafuji said the idea for the exhibition was brought to Capcom, while the total cost for the project, including the manufacture of the replica sword, came to around nine million yen ($65,012).
Other weapons and shields from the Monster Hunter series also appear at the exhibition, but clearly the massive Kakaru Kumo Naki takes centre stage. The exhibition is on display at Sakai Plaza of Rikyu and Akiko in Sakai City from July 9 to September 4.
Source: Read Full Article