Mario Strikers: Battle League – Strikers Club Guide
Quick Links
How To Join A Strikers Club
How To Create A Strikers Club
Strikers Club Customization
Playing Strikers Club Matches
Mario Strikers: Battle League presents players with both returning features from previous titles in this series, and new ones to spice of the experience. One feature that is making its debut is the Strikers Club; a way to squad up with your friends to play matches and earn unique rewards.
This portion of Mario Strikers: Battle League is more in-depth than one may think; offering several customization options to you and other club members. There's a lot to take in if you're looking to maximize your time while playing this game mode – here's everything you need to know.
How To Join A Strikers Club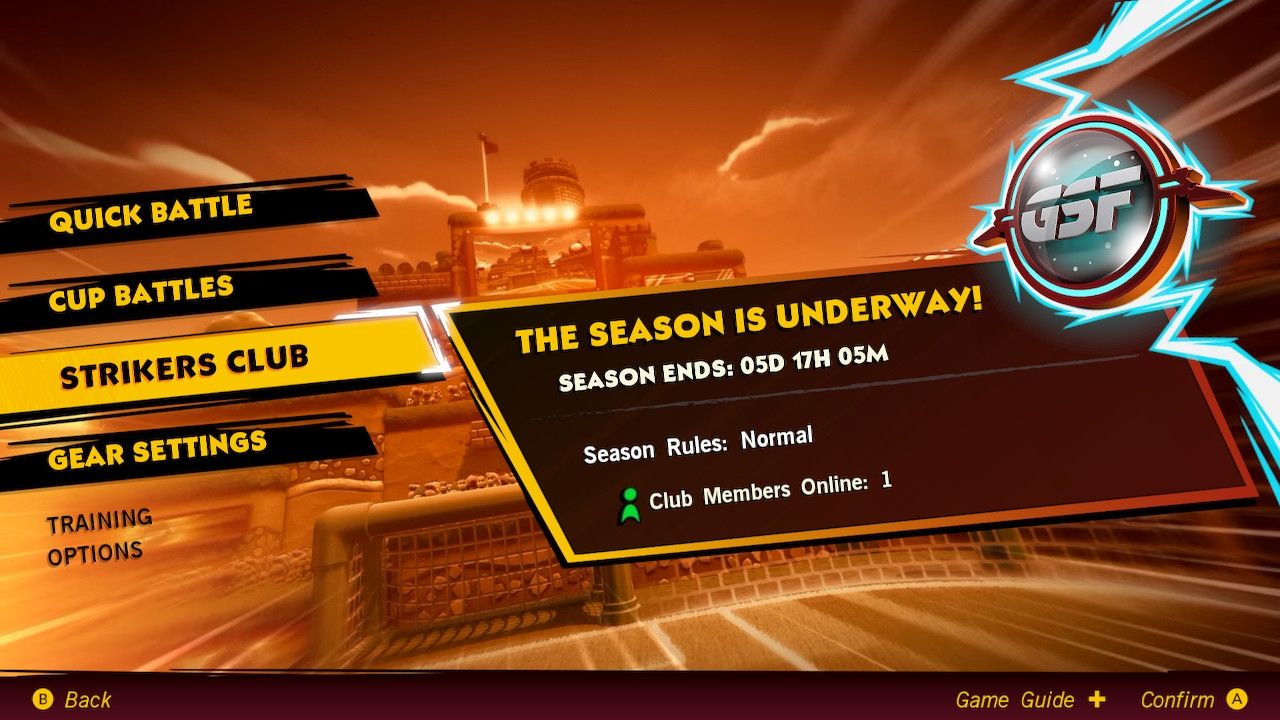 Once you have selected the "Strikers Club" option from the main menu, you will be prompted with options of different Strikers Clubs to join. There are two methods that can be used to join a club: joining one of the recommended clubs or joining a club by entering their specific Club Code.
Once you have found the club that you wish to join, make sure that there is still at least one available slot remaining; then request to join. Once the Owner of that club has accepted your request, you're in! You will now have access to all available features and actions when selecting the "Strikers Club" option from the main menu.
How To Create A Strikers Club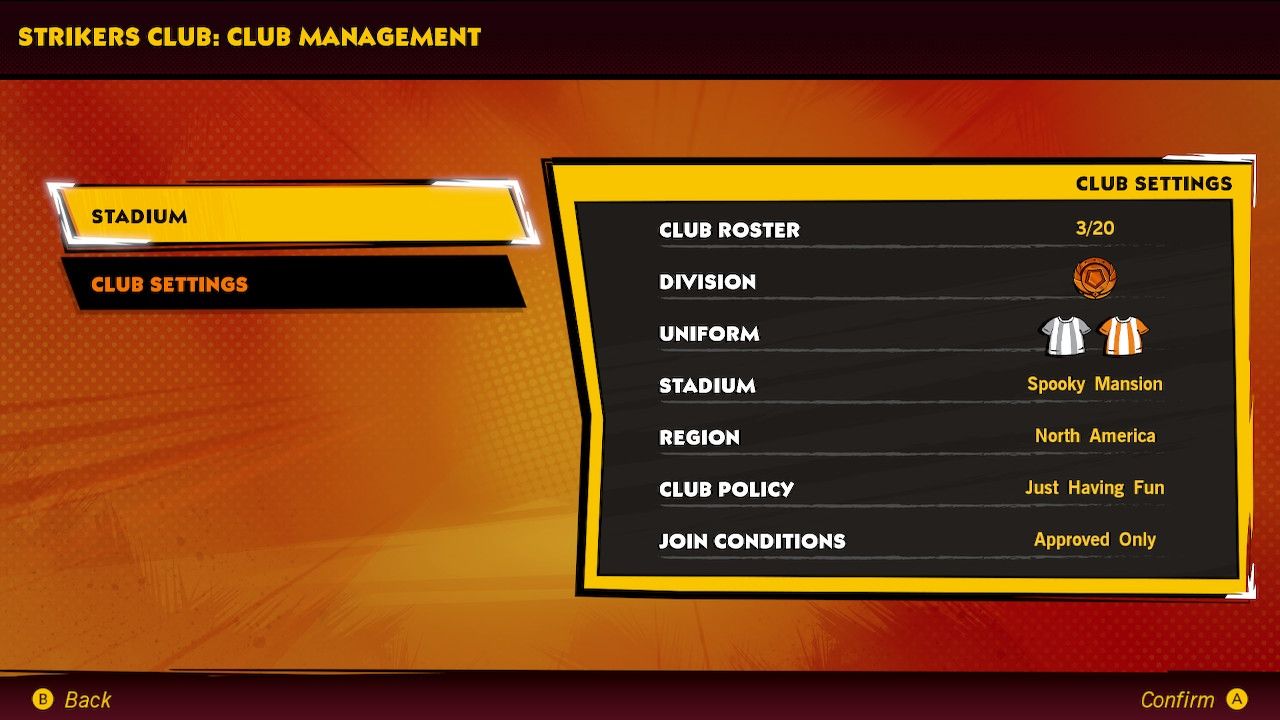 Alternatively, if you do not wish to join a club, you have the option to create your own Strikers Club. From the same menu as before, instead, select the "Create a Club" option. From here you will be provided with several customization options for your club, including your club's name, jersey, and stadium.
Once all of these options are to your liking, you can create your Strikers Club. Your club will now be live, open to requests from players seeking a club to score. Additionally, you can provide your Club Code to any friends that you wish to join your club, allowing them to input it and request to join.
A Strikers Club can have up to 20 members at a time.
Strikers Club Customization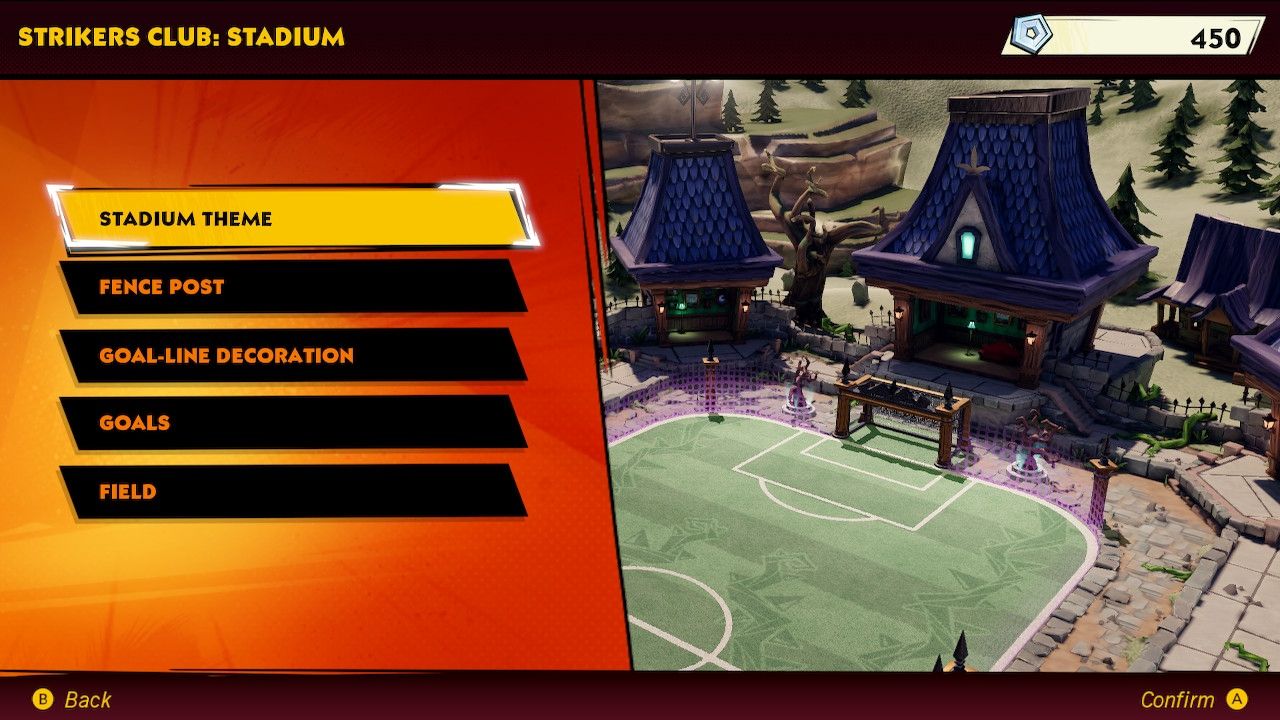 Once you are in a Strikers Club, there are a number of things that you are able to customize. First, you will have to pick your Striker. You are only able to select one character at a time, so make sure that you are selecting whichever Striker that you wish to play as during your Strikers Club matches.
You will be able to equip any Gear that you have acquired, tailoring your Striker's stats to your liking. You may also choose the number that your Striker will have on their jersey when playing a match.
The Owner of the club has additional customization options. The Club Owner can use Tokens earned from playing Strikers Club matches to purchase and make changes to your club's Stadium. These include changes to your club's stadium theme, fence posts, goal-line decorations, goals, and field.
Club members have the opportunity to vote on which Stadium changes they wish to make; giving everyone a say in how the club is customized.
Playing Strikers Club Matches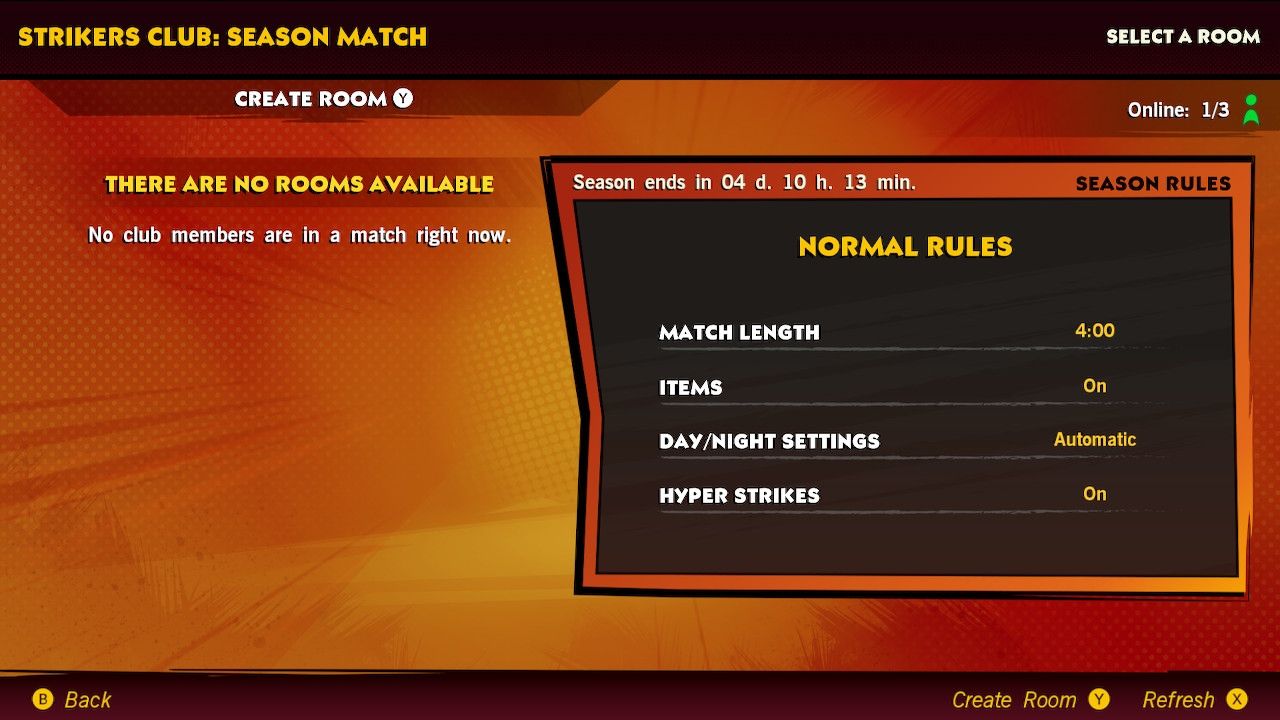 Club members can participate in matches at any point in time through the Club Strikers main menu. You can play with up to one other player during these matches; whether it be another player on the same console or through an online connection. If you are playing with another club member online, you will have to create a room for them to join; allowing them to join you prior to you starting the match.
Once this is done, you will begin matchmaking and eventually be paired up with another club to compete against. You will be prompted to pick the Striker that you have previously chosen for your club; then fill the remaining spots with other Strikers used by other club members to complete the team.
These matches will function like those played in other game modes in Mario Strikers: Battle League. Compete to win a four-minute match against another club; earning you rewards upon doing so. When the match has concluded, you will be given coins, the standard in-game currency, and tokens, a currency specifically for Strikers Clubs. You will be provided more or less of these two currencies depending on your performance during the match.
You will be given the option to Rematch a team you played against following the conclusion of your match. If they agree, you will immediately be placed in a match against the same opponents.
Strikers Club Seasons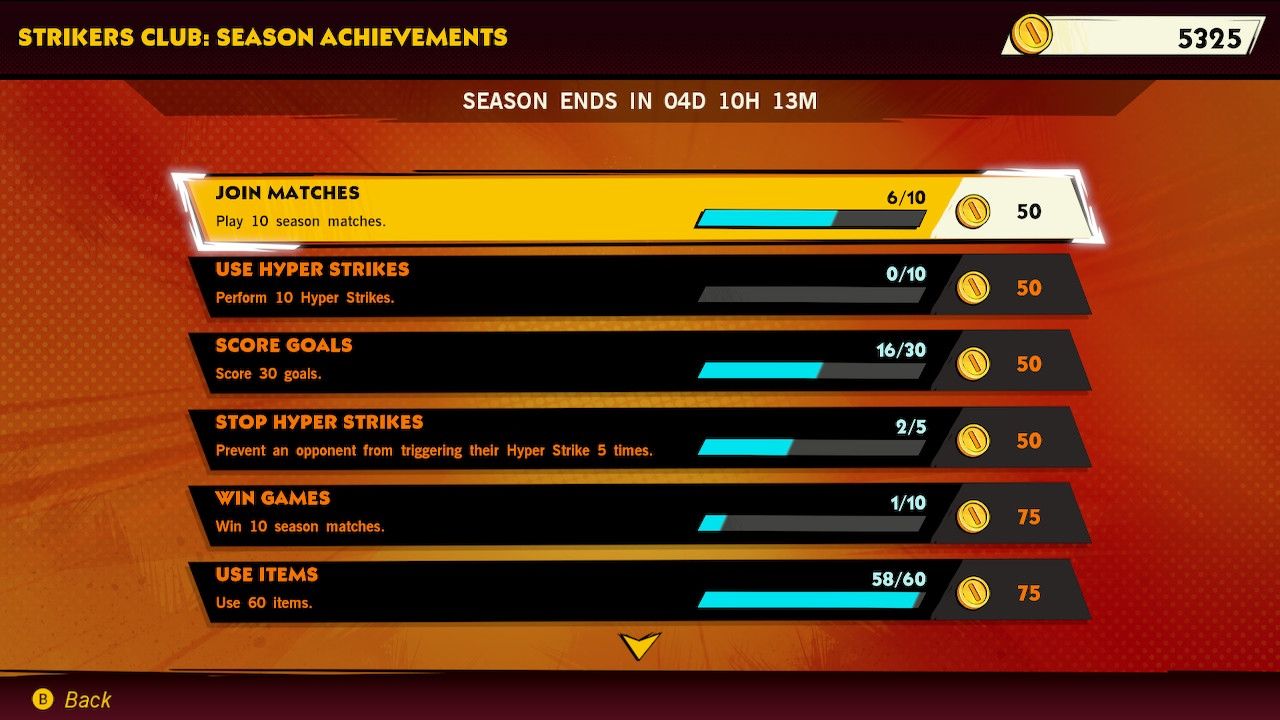 The Strikers Club will be broken into "seasons." Each season will last one week, following the same set of in-game rules for the duration of that season. At the start of a season, your club will be placed in a group with up to four other clubs of similar ranking; other clubs that you will be competing against for the duration of that given season.
Your club needs to be created at least one hour prior to the start of a season to be considered eligible to compete in that specific season.
Your club will be awarded points for playing matches during a season; one point for a loss, two points for a draw, and six points for a win. At the end of each season, you will be rewarded and promoted/demoted depending on how many points your club accumulated compared to the other teams in your group; higher rankings earn you more rewards and greater rank promotion.
Additionally, there will be achievements available during each season; challenges that go with each season that can be completed in exchange for coins. These may only be completed during the specific season that they are paired with, and will no longer be present following its conclusion.
After a season has ended, there will be one week of off-season time. Club members can still participate in matches during these windows, but it will have no impact on your club's ranking.
Source: Read Full Article