Marvel Champions: Wasp Hero Pack Finally Revealed
The Unstoppable Wasp is joining the roster of tabletop deck-building game Marvel Champions. This news follows the announcement of the Wasp Hero Pack and Game Mat by Fantasy Flight Games.
Marvel Champions has been receiving regular updates since its launch last year in November. It is a cooperative deck-building game for 1-4 players aged 14+. Players must work together to beat some of the most nefarious villains of the Marvel comic book universe. Like FFG's other Living Card Games, it will receive regular new product updates; these could be additional Hero Packs, Standalone Scenario Packs, or Campaign Expansions. The game has also received several accolades, with nominations for Best Co-Op Game and Best Solo Game at the 13th Annual Dice Tower Awards, and is also a Golden Geek nominee.
The Hero Pack contains a 40-card pre-built deck, ready to play, that can also be used with many of your other Heroes. The version of Wasp is that of Nadiya Van Dyne. She is a Russian who was originally part of Red Room, a brainwashing and training program to create elite assassins. Nadiya escaped her imprisonment with the help of a Pim Particle and eventually made her way to the US. She joined The Avengers after crafting her own Wasp suit.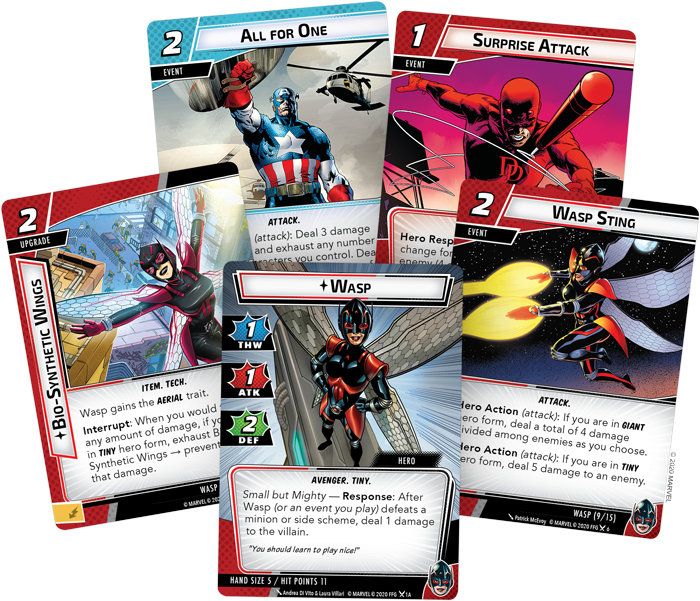 With this release, Wasp joins Ant-Man as being the only character with two different hero forms: Tiny and Giant. This is represented by a special card that details The Wasp on the face and her alter-ego Nadiya Van Dyne on the reverse. The card then unfolds into a Giant variant of Wasp that will no doubt make an impressive in-game statement and, more importantly, should rally the troops in their time of need. Gameplay captures the essence of the comic books, seeing Wasp perform strategically-placed shots with pinpoint accuracy. She is also able to team-up with Ant-Man (if both Heroes are on the table) through the Swarm Tactics card, a copy of which is also included in the Ant-Man Hero Pack.
The Wasp Hero Pack is available, alongside the Ant-Man Hero Pack, to preorder now on the Fantasy Flight Games website, or at your local independent games store for $14.95.
Source: Read Full Article