Overwatch 2: Ranking Every Ashe Skin
Ashe, or, Elizabeth Caledonia 'Calamity' Ashe, is the 29th hero released in Overwatch 2. Leader of the infamous Deadlock Gang, Ashe is a powerful mid to long-range shooter who packs a punch with her dynamite and coach-gun pushback. She is joined in the fight by her protector, B.O.B. (short for Big Omnic Butler), who she calls out as part of her ultimate summons.
There's a lot of lore that ties Ashe into Overwatch. She has a longstanding 'love/hate' relationship with fellow gunslinger Cassidy, who worked alongside Ashe until his doublecross sting operation. Route 66, one of the main maps in Overwatch, is all about Ashe in fact — as it's the site of her Echo heist gone wrong. Here we look at all the best skins the 'Viper' has to offer.
Updated November 20, 2022 by Jacob Whaling: With the official launch of Overwatch 2, every Hero's default skin has been updated, and Ashe has received several new skins since the time this list was originally published. We're here once again to rank each of Ashe's skins, from most disappointing to standout.
15/15

Overwatch 2 Skin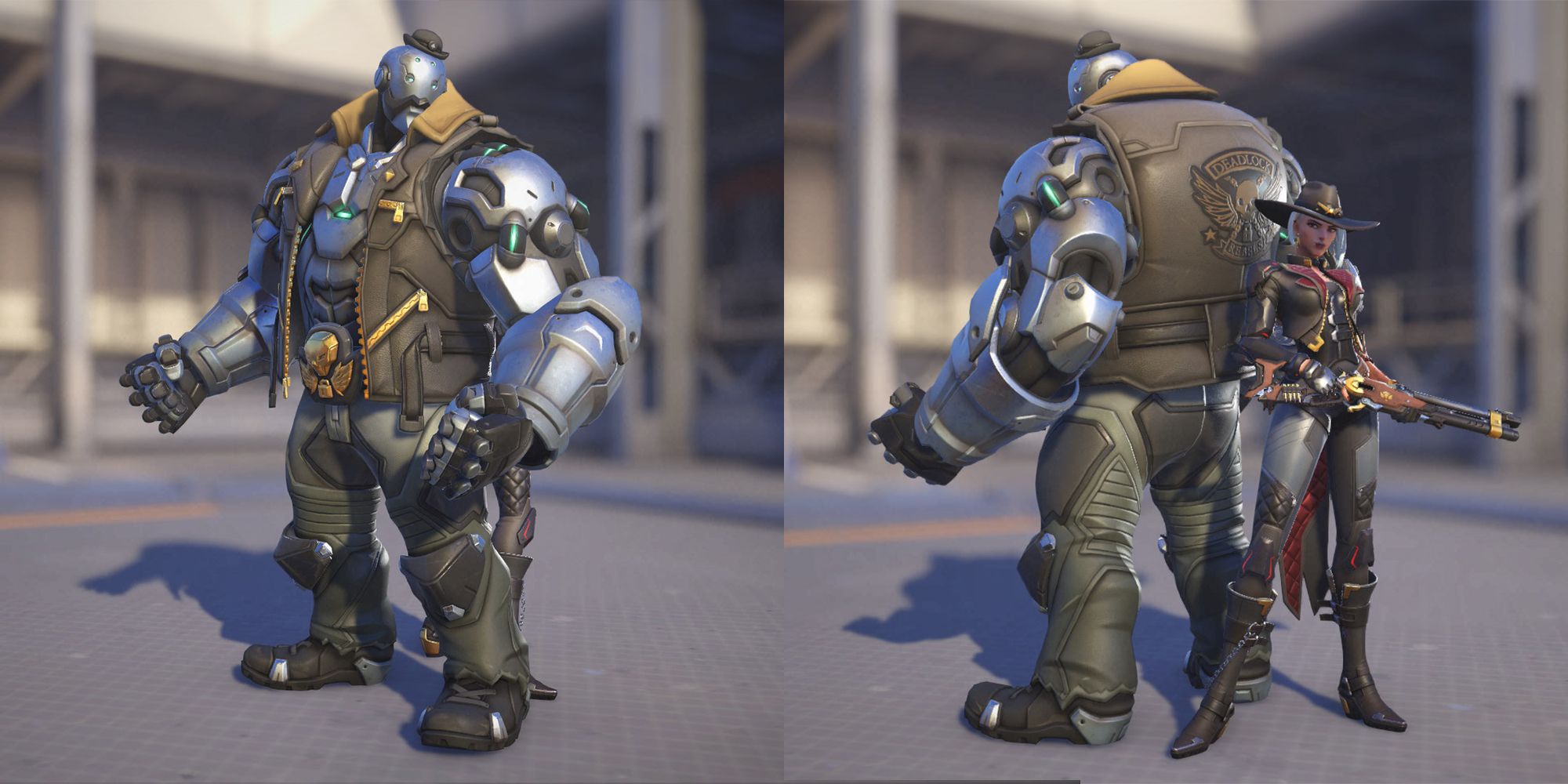 As with every Hero in Overwatch 2, Ashe has a new and improved default skin. In her new default skin, Ashe gets a haircut, puts on a different coat, installs zippers halfway down her pants, and not much else.
Although it is her default skin, not much is changed in this new version, while other Heroes have completely new looks, like Zarya, Baptiste, or Solider: 76. Ashe's new skin, in comparison, is so much like her original skin that telling them apart is difficult.
14/15

Merry Outlaw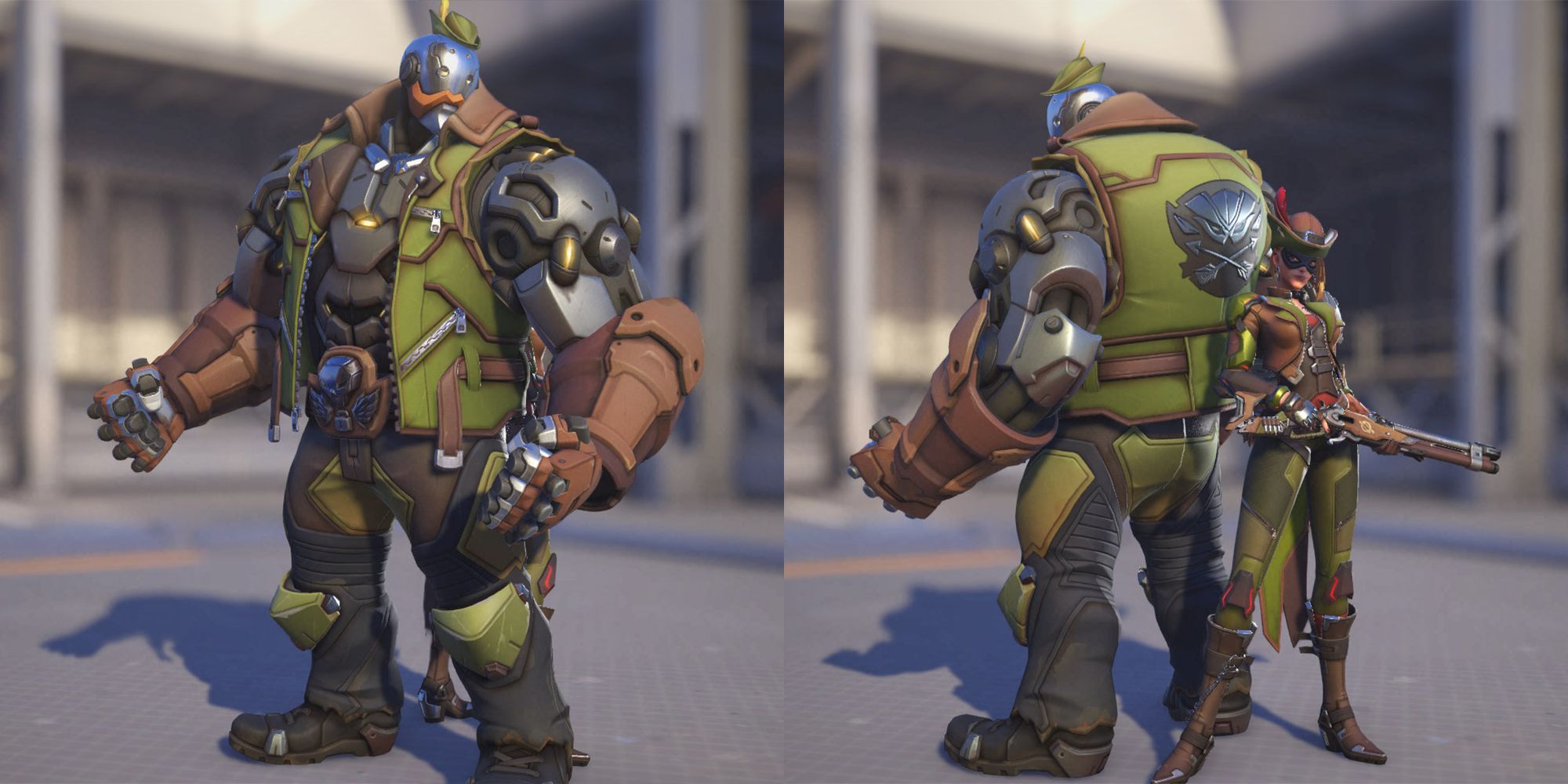 Sometimes available in the shop
Merry Outlaw is not the most amazing skin. The feather in the cap Robin Hood aesthetic entirely carries this skin, boosting it from a simple recolor to something a little bit more special. There are a few nice details to appreciate here — the unique hat and mask combo and a somewhat cohesive color palette.
However, these details will definitely be lost in the heat of battle, which is where this skin loses its appeal. Epic-tier skins can be amazing — just take Brigitte's General or Orisa's Sanye, for example, which get almost entirely new models. In these regards, Merry Outlaw isn't nearly as impressive. B.O.B.'s hat is cute, though.
13/15

Safari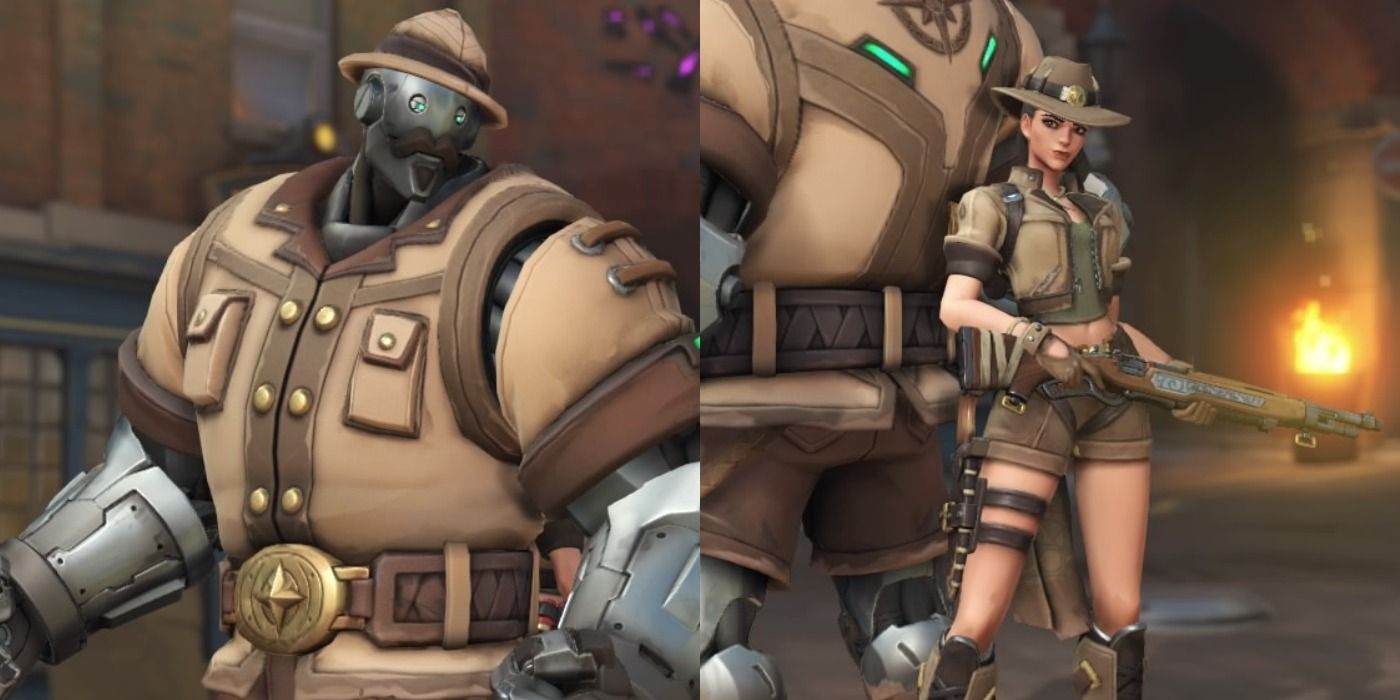 Price: 1000 Legacy Credits or 1900 Overwatch Coins
It's a sad thing when a skin this detailed ends up at the bottom of a list, but Ashe has some amazing skins that just blow Safari, and its alternate, Jungle, out of the water. Safari sees Ashe dressed as a Big Game Hunter, which produces a slightly different vibe from say, Winston's similar (but very different) Explorer skin.
Safari is a perfect skin if you are trying for a…khaki theme (?) and was available for Ashe from launch. As such, you can pick it up for the standardLegendary price of 1,000 Legacy Credits or 1900 Overwatch Coins.
12/15

Jungle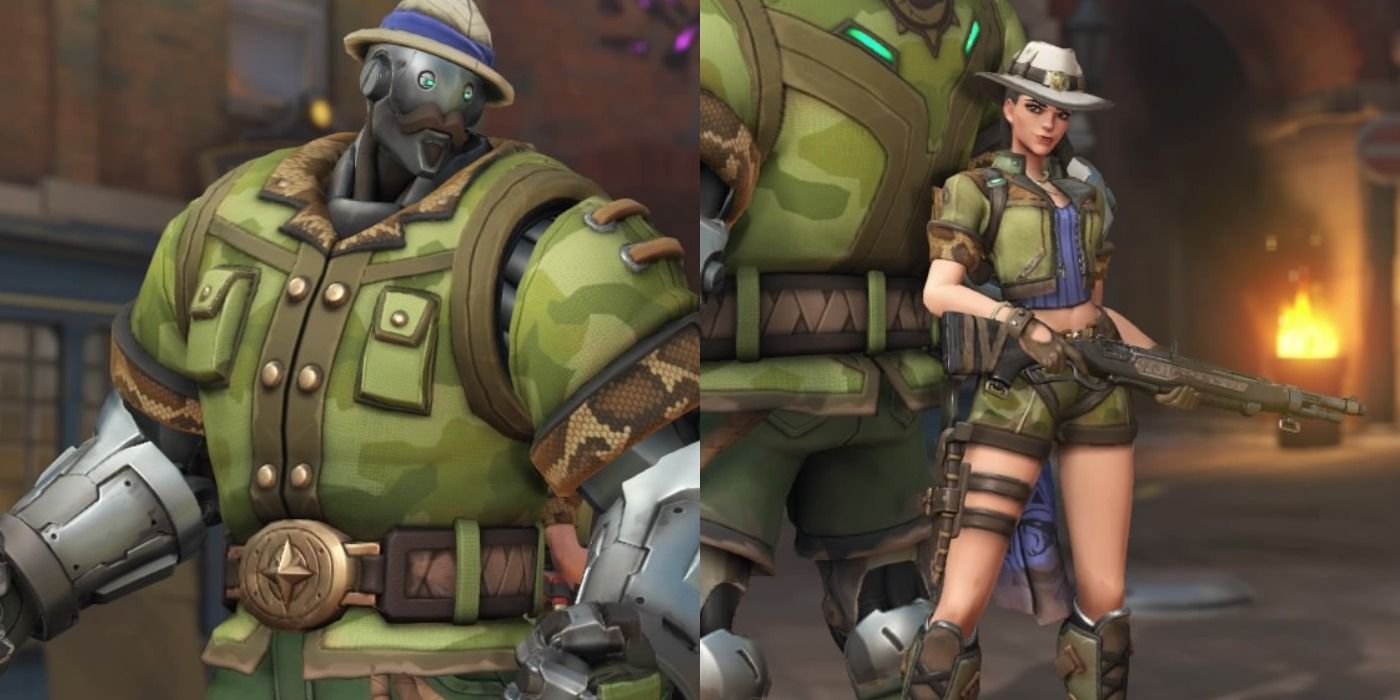 Price: 1000 Legacy Credits or 1900 Overwatch Coins
Just the same as Safari before it, this skin sees Ashe dressed and ready for the hunt. Jungle adds a slightly more Jurassic Park feel to the whole endeavor and dresses Ashe and B.O.B. in camouflage and…is that snakeskin?
Jungle is definitely a step up from Safari, with a load of extra little features built into the skin. For one, the jungle camo green is much easier to look at than the pure khaki color scheme of Safari. Perhaps staying a bit too true to its intentions, Ashe's Jungle skin doesn't stand out compared to some of Ashe's Epic tier skins
11/15

Posh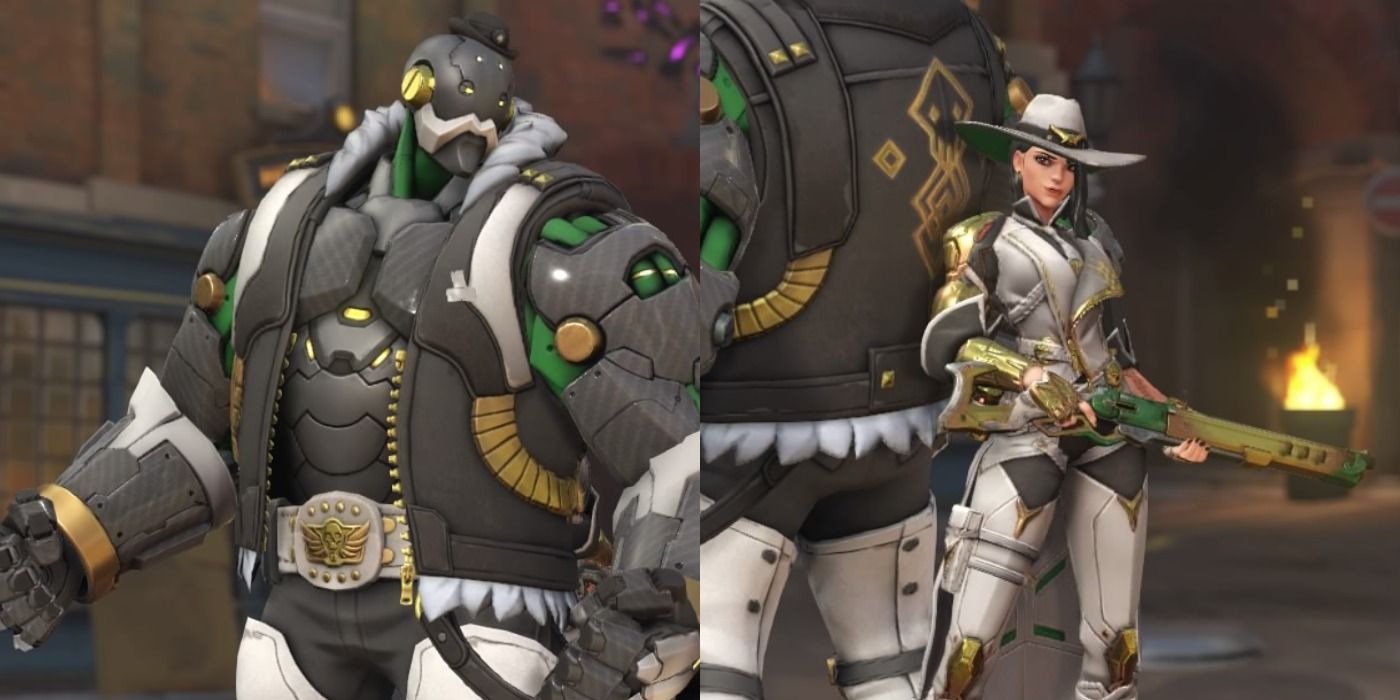 Price: 250 Legacy Credits or 300 Overwatch Coins
Sadly, this skin has nothing to do with the Spice Girls and instead references the fact that Ashe's backstory has her written as the daughter of aristocrats. Posh, then, is Ashe's flashy basic skin alternate, with both Ashe and B.O.B. embellished in gold and clothed in white leather.
This gaudy-chic skin is an Epic, year-round skin, and will cost you 250 Legacy Credits or 300 Overwatch Coins to unlock, making Posh one of the cheaper skins for Ashe — definitely not saying something right there.
10/15

Mobster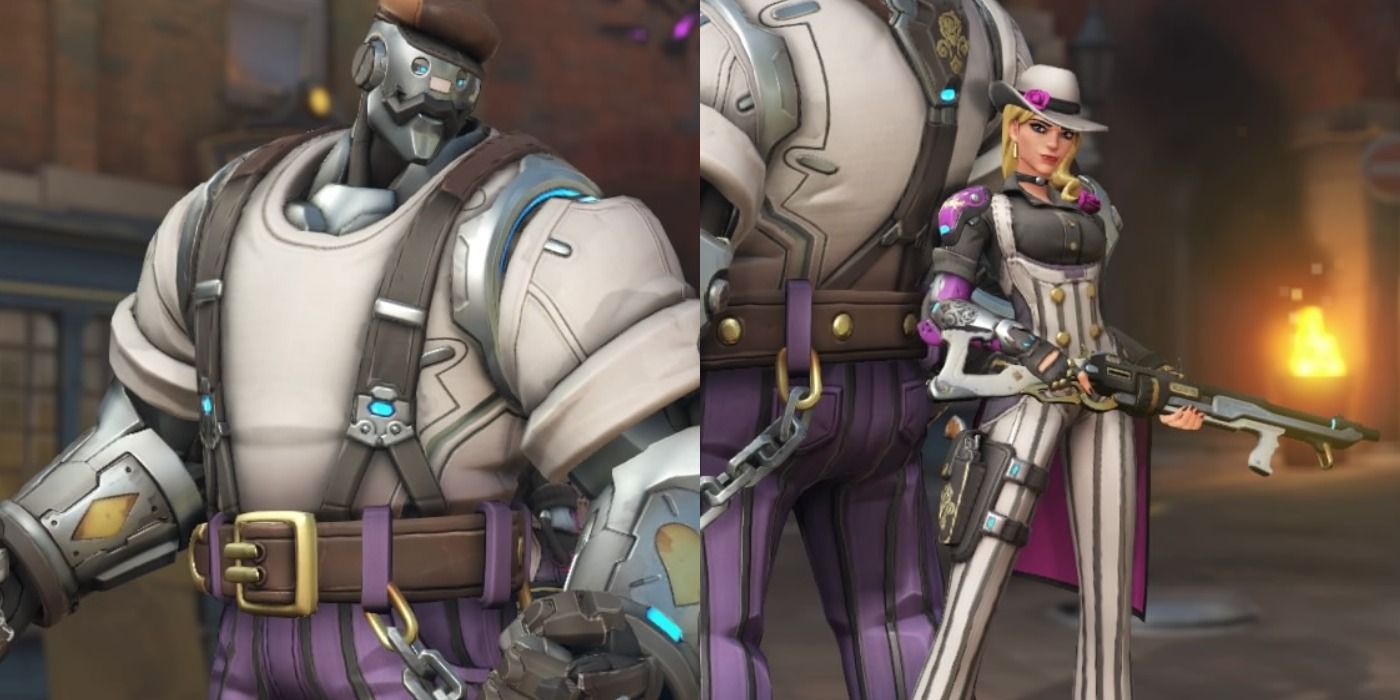 Price: 1000 Legacy Credits or 1900 Overwatch Coins
The first of two lore-related Legendaries released for Ashe on her launch, Mobster and Gangster refer to Ashe's life of crime as leader of the Deadlock Gang. Here in Mobster, we have both Ashe and B.O.B. dressed in cream and purple, with flares of fuchsia pink and teal.
There are some really nice elements here — the flat cap on B.O.B., his mustache, Ashe's roses, the general use of pinstripe — but both this and Gangster are a little formulaic to reach the top of the list. They're a bit too Bugsy Malone, not enough Goodfellas.
9/15

Gangster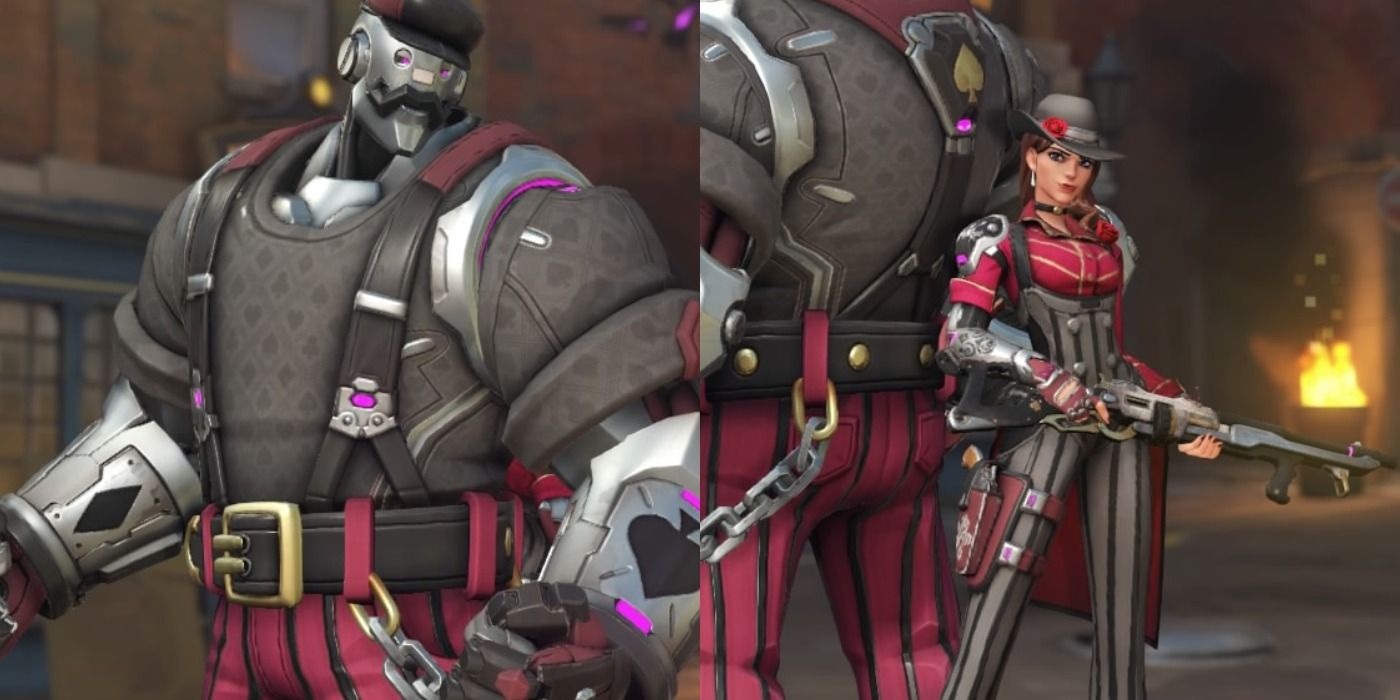 Price: 1000 Legacy Credits or 1900 Overwatch Coins
Gangster is definitely a step up from Mobster, but it's not a huge step. There's a lot more to see here, with bonus detailing in textures and fabrics (we love the card suits playing across B.O.B.'s clothes for example), but as with Mobster, Gangster is just a bit dated in its references.
Compared to Mobster, this skin is a bit more cohesive; its color palette offers a more complete look through the contrast of the dark grey pinstripes and pink top. Still, there are better skins out there, as you will see below.
8/15

Thorn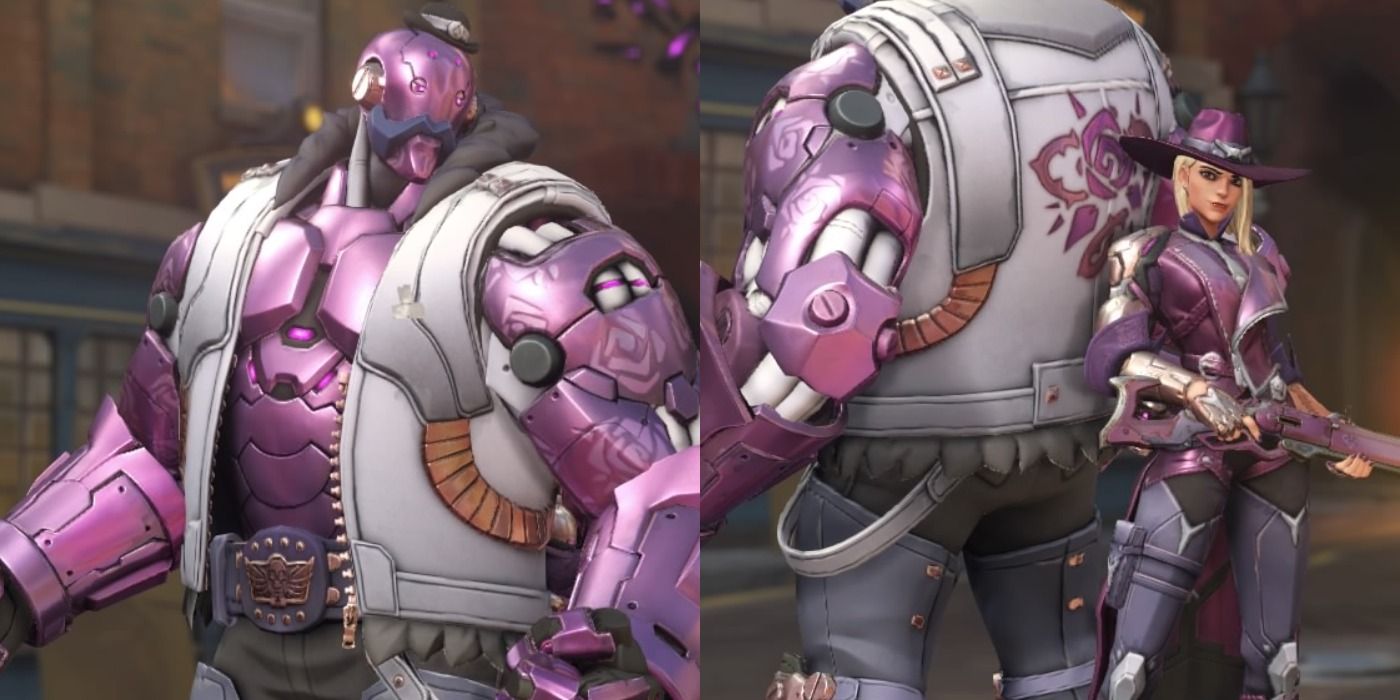 Price: 250 Legacy Credits or 300 Overwatch Coins
It's time for something fancy, and nothing says fancy like head-to-toe reflective pink armor! Thorn embraces one of Ashe's favorite aesthetics — roses — layering floral patterns over her and B.O.B.'s costumes subtly.
Though some may consider it gaudy, the shiny pink armor definitely stands out in battle. If you want to look like a Barbie Doll while shooting Genji in the head, this is the skin for you.
7/15

Mardi Gras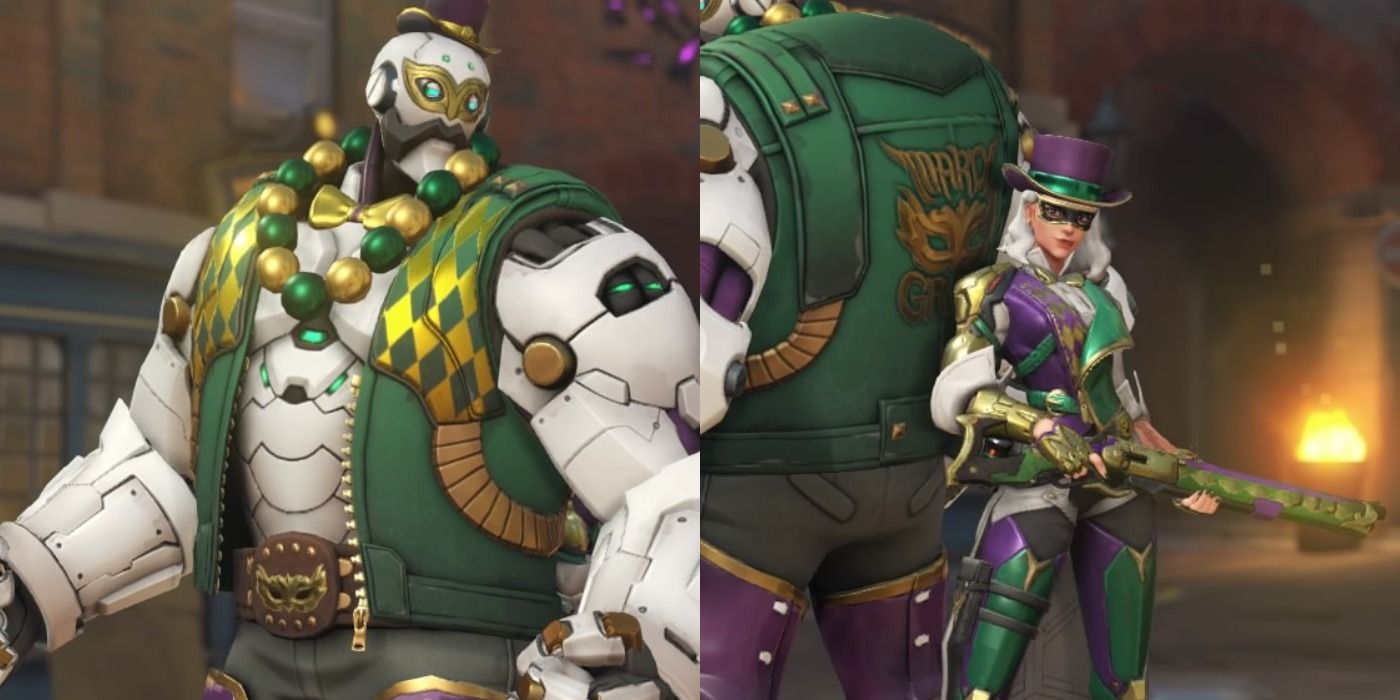 Only available during Ashe's Mardi Gras Challenge (Feb – Mar, 2020)
If you like your skins rare, there's none better for Ashe than this colorful limited edition skin. Ashe and B.O.B. are dressed for a festive evening out, New Orleans style. Purple and green gradients in metallic and reflective textures make this skin sing — and the loving details (the masks, the top hats!) are just the icing on the cake.
Mardi Gras was a reward for completion of Ashe's Mardi Gras Challenge during February and March 2020, and as such is sadly not currently purchasable. It's unknown whether it will ever be offered again, so enjoy it if you have it!
6/15

Winter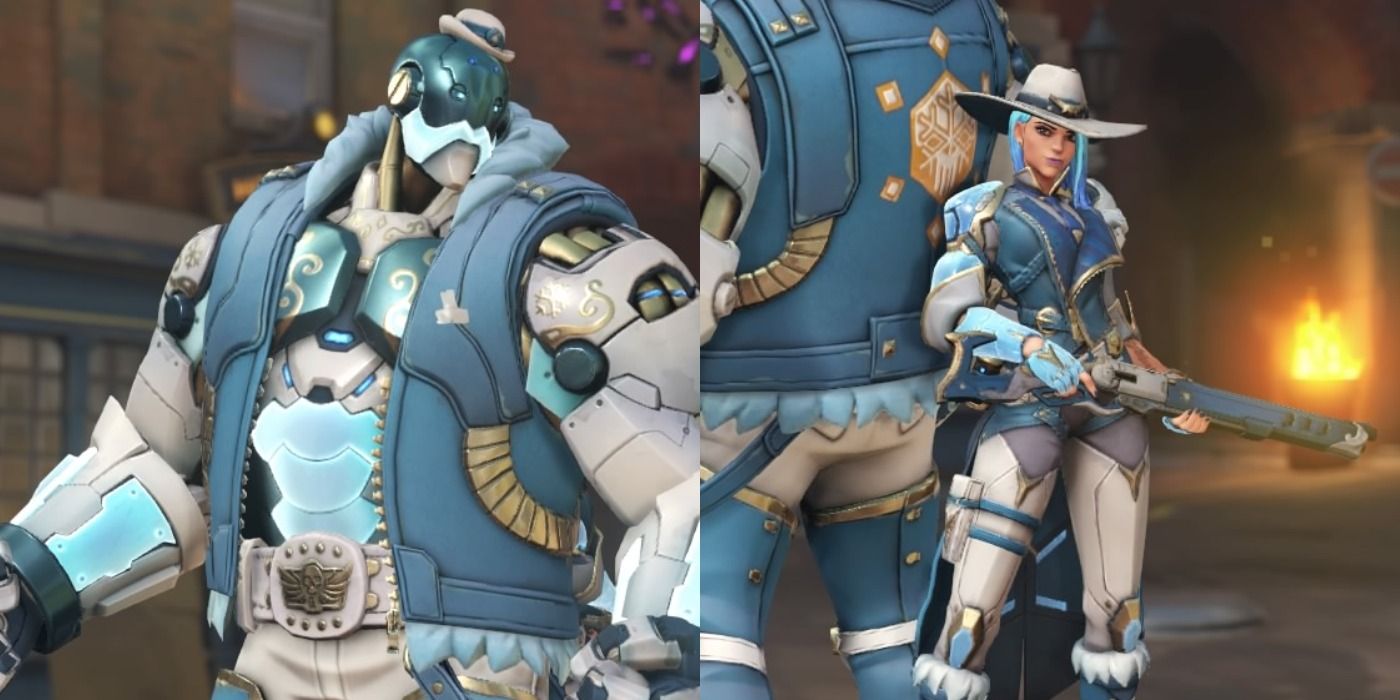 Price: 1000 Overwatch Coins
Almost an oppositional skin to Thorn before it, Winter has Ashe and B.O.B. in their warm, fur-lined best, dressed in lovely wintery shades of blue and white. The sky blue highlights on both B.O.B.'s arms, abs, and mustache, as well as on Ashe's arms are especially good, with the use of snowflake motifs added to really drive the idea home.
Ashe's Winter skin was released during the 2018 Winter Wonderland season and served as Ashe's earliest seasonal skin. It is now available to purchase year-round for 1000 Overwatch Coins.
5/15

Socialite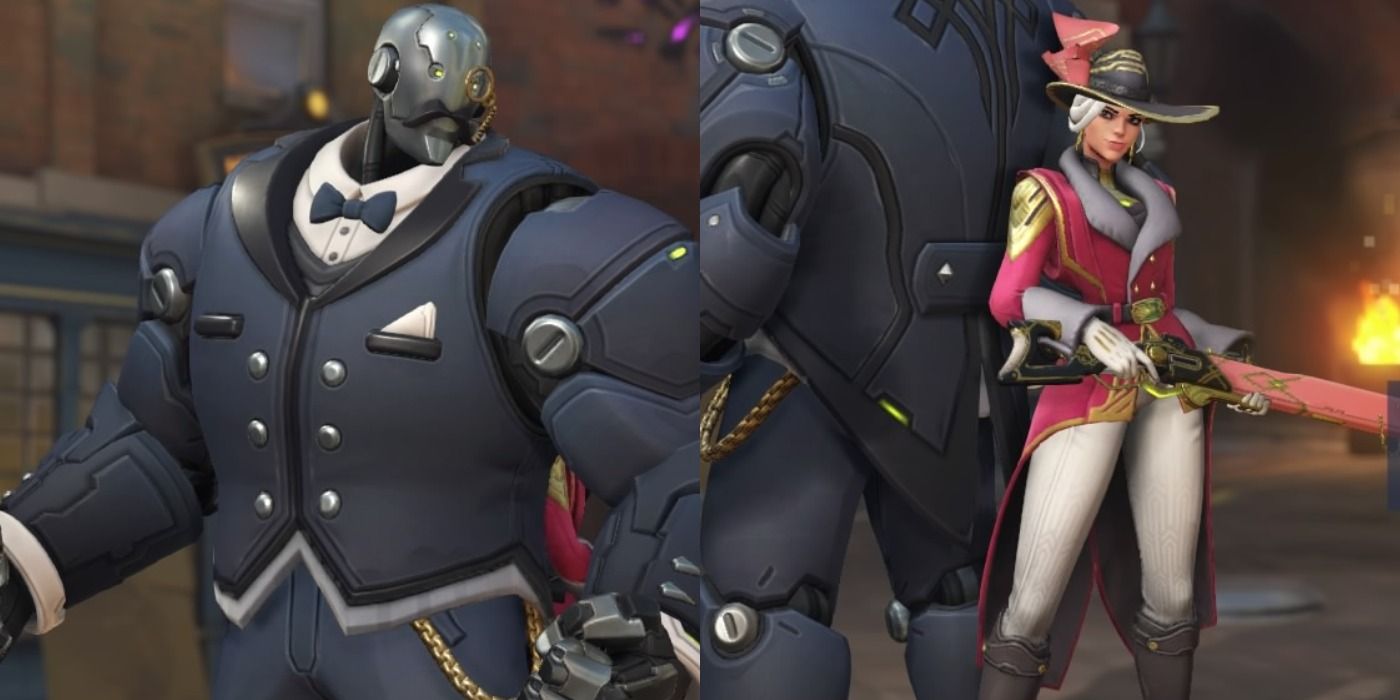 Sometimes available in the shop
Socialite sees Ashe at her most refined and is also one of the more lore-heavy skins for the character. Whilst Ashe is well established in-game as a gunslinger, her background as the daughter of aristocratic socialities is often a surprising reveal for new players.
This Legendary skin embraces that backstory, as well as making the most overt reference to B.O.B.'s original job, as Ashe's private omnic Butler. Both Ashe and B.O.B. are dressed to the nines, with Ashe in a bright, fur-trimmed coat (embellished with gold, naturally) and B.O.B. wearing a set of Butler's tails (and even a monocle!).
4/15

Warlock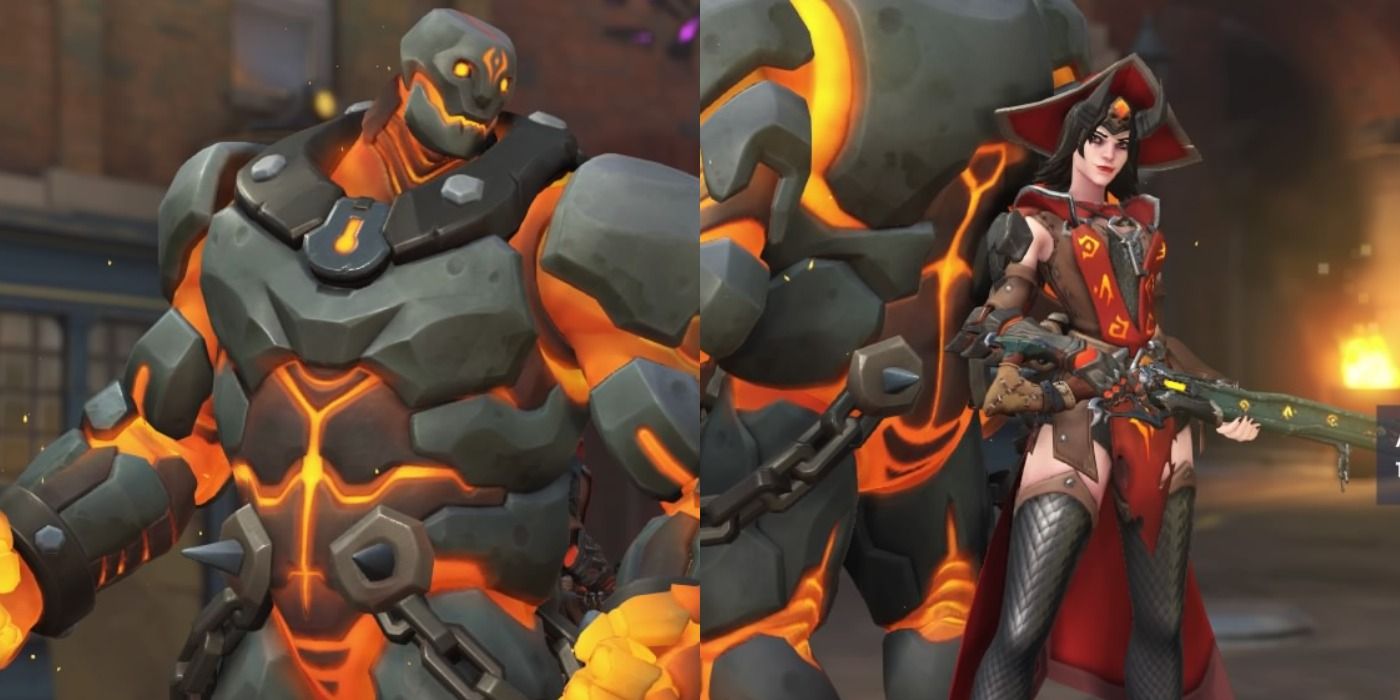 Price: 1900 Overwatch Coins
Not only is Warlock a fantastic skin, but it's also actually a certified game-breaking skin! This elaborate Halloween skin for Ashe is a tribute to the World of Warcraft class, but when it was released during the 2019 Halloween season, it featured design elements that players said made Ashe completely unplayable.
Warlock completely changes Ashe and B.O.B.'s look, transforming the Omnic butler into a fiery Earth Elemental, while overhauling Ashe into a demonic spell caster, complete with horns, runes, and witch hat.
3/15

Little Red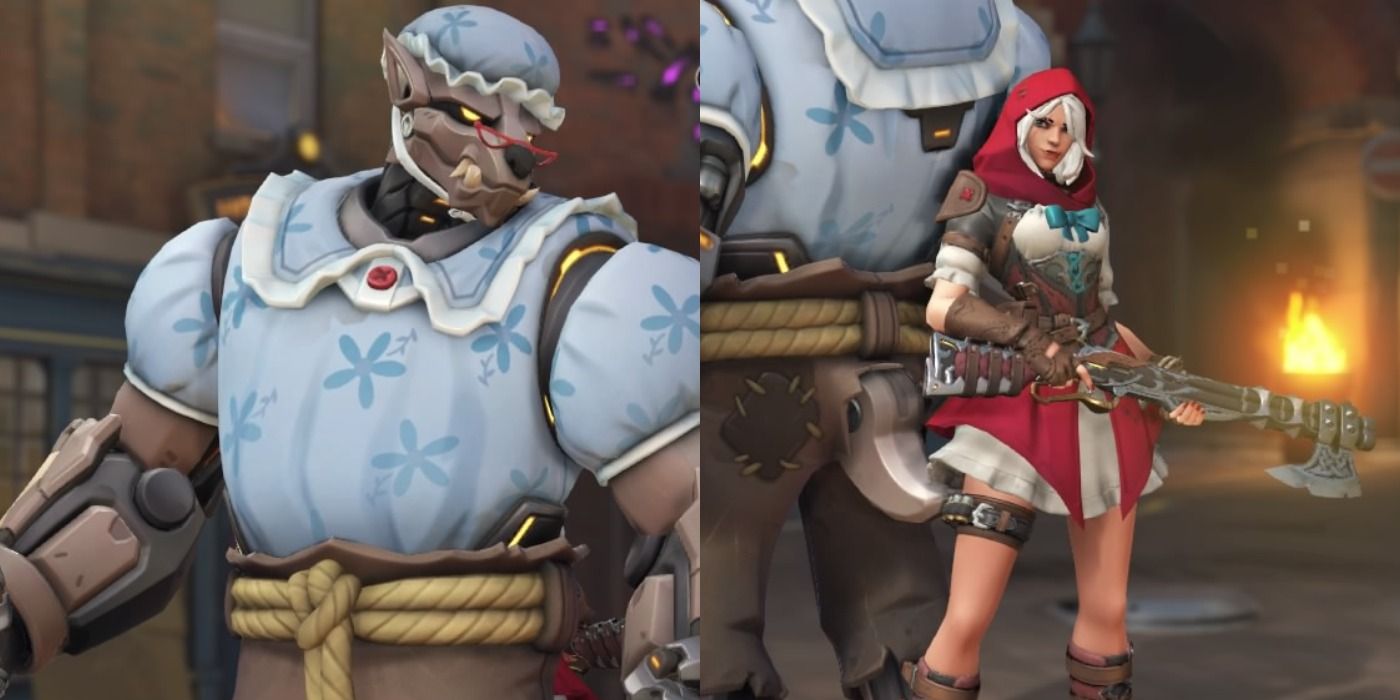 Sometimes available in the shop
Whilst many Anniversary skins like to celebrate the backstory of Overwatch character, this imaginative skin for Ashe prefers to tell us a familiar bedtime fairytale: that of Little Red Riding Hood. Ashe is redesigned into a much more combative version of Red, complete with leather harness and armor — and B.O.B. has become the Wolf, dressed in his tricksy 'Grandmother' garb. It's both easily recognizable and a fresh take on the tale.
This Legendary skin was released during the 2020 Anniversary season and is by far one of Ashe's most impressive seasonals, only topped by the two following skins.
2/15

Poolside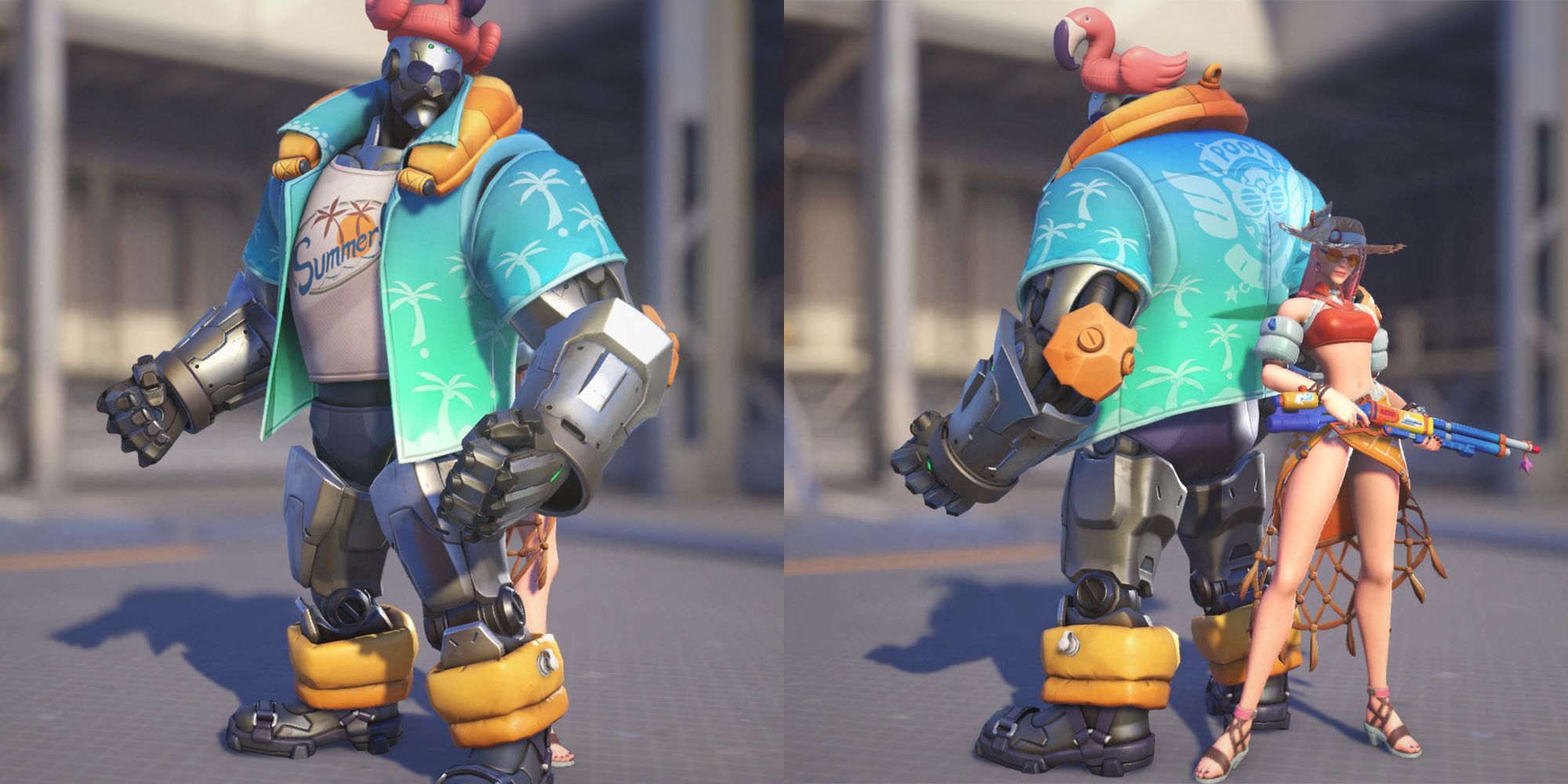 Price: 1900 Overwatch Coins
Originally added during Summer Games 2021, Poolside is Ashe's absolutely necessary swimsuit skin. This skin completely changes Ashe's outfit, making her fit for a vacation at the beach. She trades her rifle for a water gun, boots for sandals, dons her pool floaties, and even dyes her hair pink.
Meanwhile, B.O.B. looks ready to punish pool-goers cutting in line at the water slides. His shirt even says "Summer!", in case you were confused about why he's dressed like that. Also, Poolside pairs perfectly with Cassidy's Lifeguard skin, if you have that type of relationship with anyone in your party.
1/15

Tiger Huntress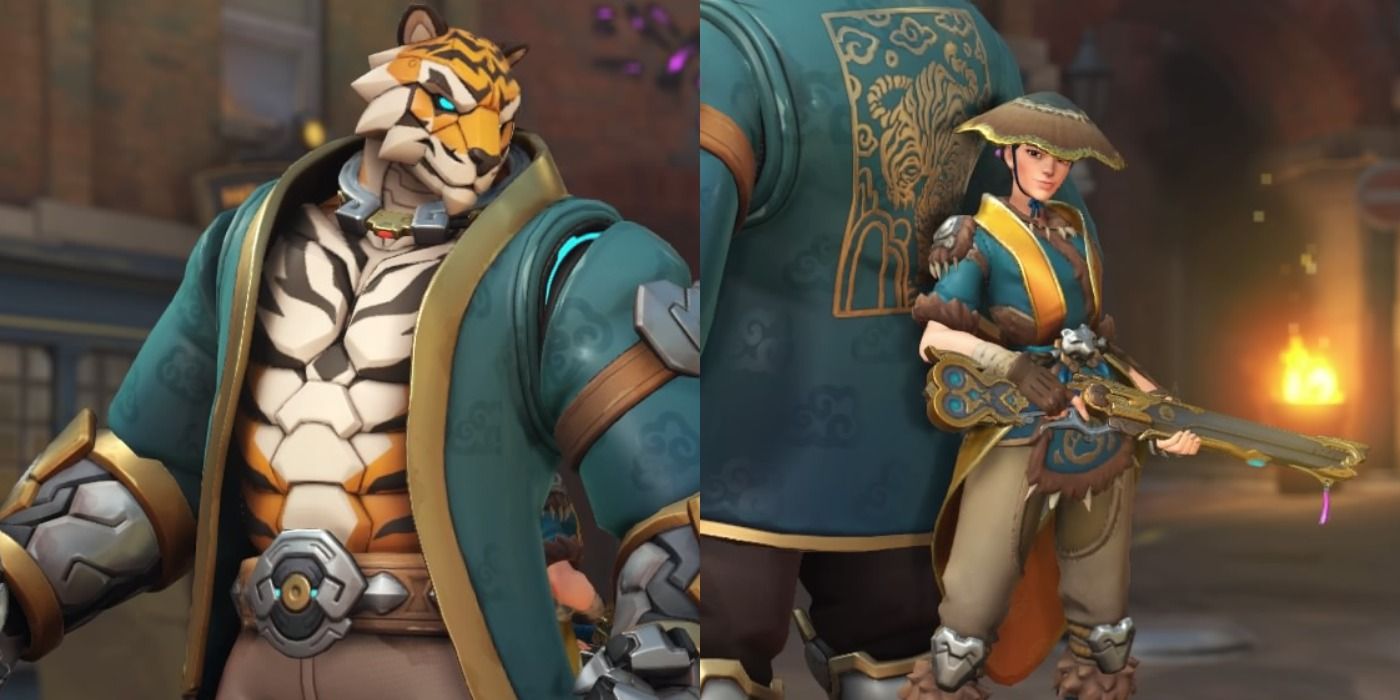 Sometimes available in the shop
The most recent addition to Ashe's skins is the winner for best Ashe skin, and it's easy to see why! Tiger Huntress was released as part of the 2021 Lunar New Year season, so it is unfortunately not available to purchase with Overwatch Coins year-round. This amazing skin dresses Ashe in teal and golden yellow, with lots of flourishes of layered detail present in not only her clothes but also her weapons.
However, the real draw of this skin has to be the amazing B.O.B. transformation as, in Tiger Huntress, we see our favorite robot Butler become a full-fledged (somewhat android?) tiger. With some really great rendering on show, specifically in B.O.B.'s head design, this skin makes a real impression.
Source: Read Full Article