Potion Craft: 10 Rare Ingredients You Should Always Buy
Potion Craft is all about mixing and matching ingredients. Progressing along the game's dynamic map of recipes is a matter of trial and error, but also of ingenuity and, well, craftiness. With an innovative, user-friendly system for concocting new potions, it's an ideal pick for newbies to the management simulator genre.
Every ingredient in Potion Craft has an elemental aspect that determines its cardinal directionality along the recipe map — as players mix ingredients, a potion icon travels along the map in a given direction, gradually clearing up hidden territory and leading to new brews. As such, the most useful ingredients in the game tend to have very specific movement patterns (typically including longer motions) to cover as much ground across the map as possible. For example, the Frost Sapphire has the same eastward flow that Waterbloom does, but goes a bit farther along the map. You'll find similar shortcuts that not only save you time and ingredients, but also help to better align your brew with recipe icons on the map for maximum potency. Read on, and get stocked up!
Please note that this article discusses items and mechanics in Potion Craft's public beta version, which includes quality-of-life tweaks and features not present in the early access version. You can enable the most recent beta build in your Steam library by right-clicking the game, then navigating to Properties, Betas, and selecting Public Beta 0.5.
10

Cloud Crystal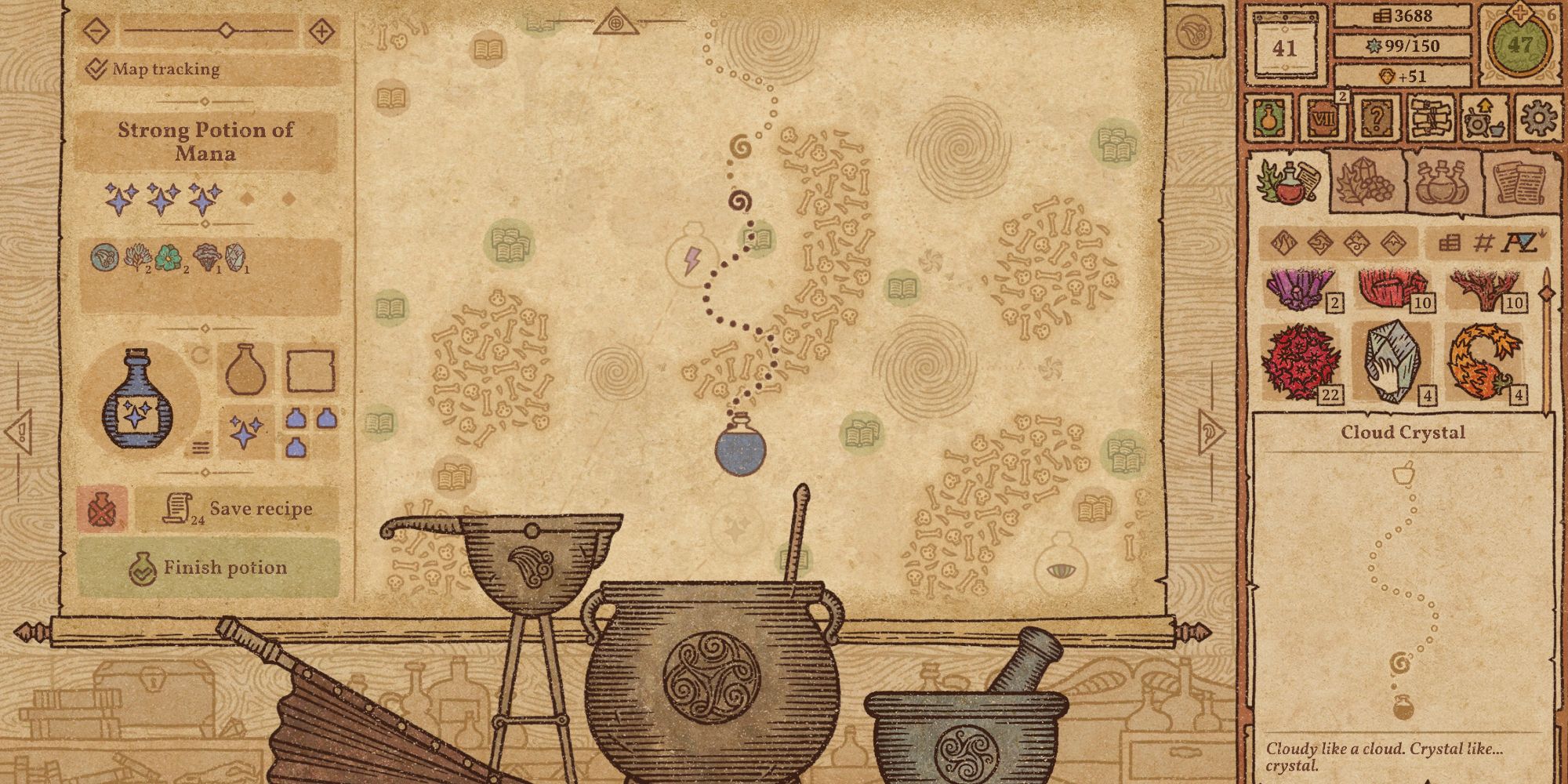 Element:
Wind

Cardinal Direction:
North
Gemstones are a particularly valuable resource because they allow you to skip over the boneyards scattered across the map. Staying too long in the bone zone can cause your potions to fail, wasting all of your ingredients in the process. Navigating around them often requires a convoluted array of ingredients, unless you happen to have a gemstone in your pocket.
A Cloud Crystal will carry you far on northerly winds to your next recipe. When an ordinary Windbloom or Foggy Parasol won't cut it, you'll be glad to have these on hand. You can pick them up from the Miner, a stout man with a thick, braided beard.
9

Thunder Thistle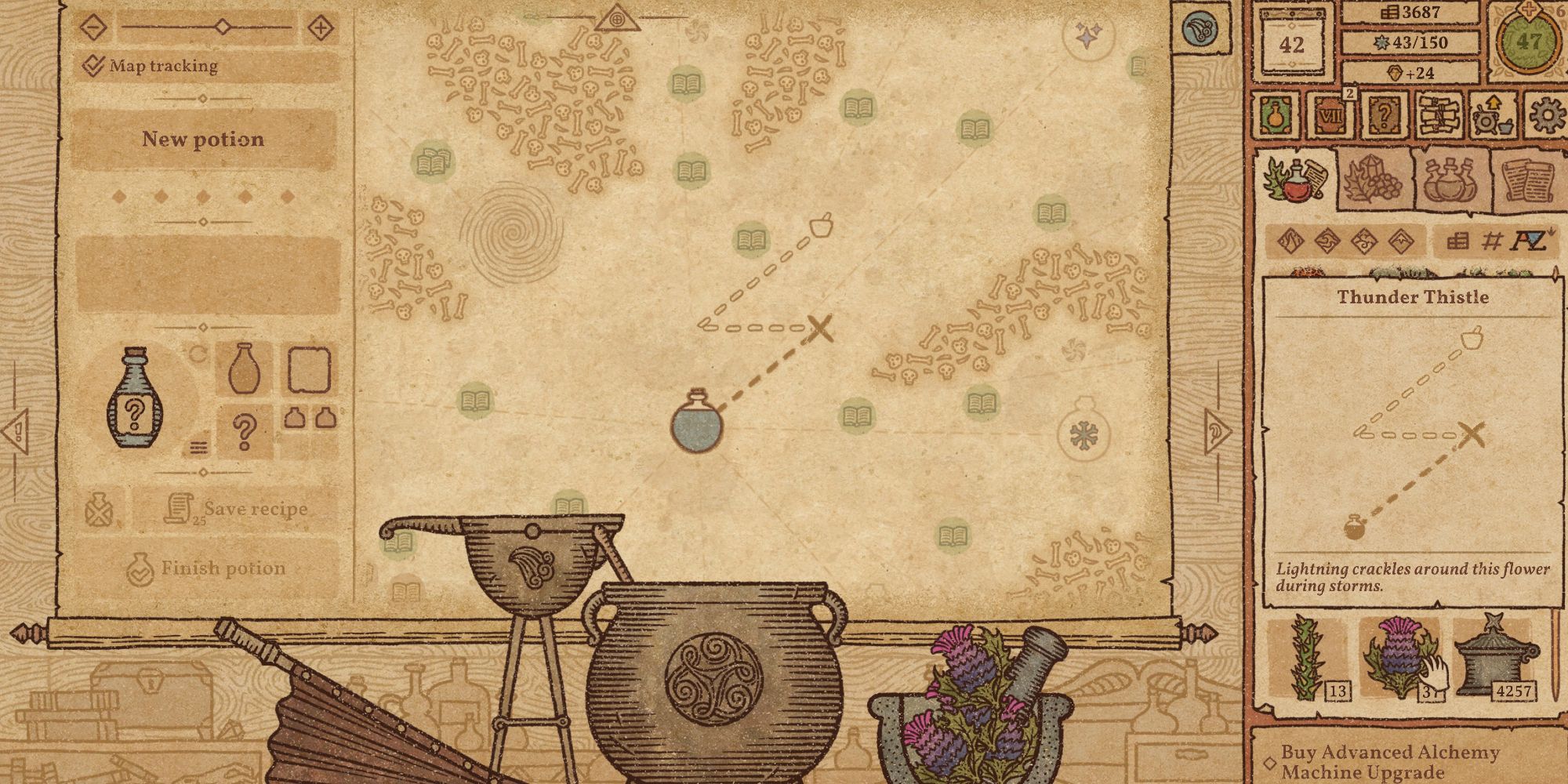 Element:
Air/Ice

Cardinal Direction:
Northeast
Some herbs grow much less often at the foot of your Enchanted Tree, including the coveted Thunder Thistle. Items that move northeast are even harder to come by throughout the game, making this herb a valuable purchase whenever it appears.
A few carefully-placed Thunder Thistles can land you a Potion of Lightning, as the name would imply. You can also more easily reach a Potion of Mana, as well as other highly-sought magical potions (such as the Potion Magic Vision and the Potion of Concealing). You can buy it from the Herbalist, a woman with pointed ears and a colorful bag of flora.
8

Boombloom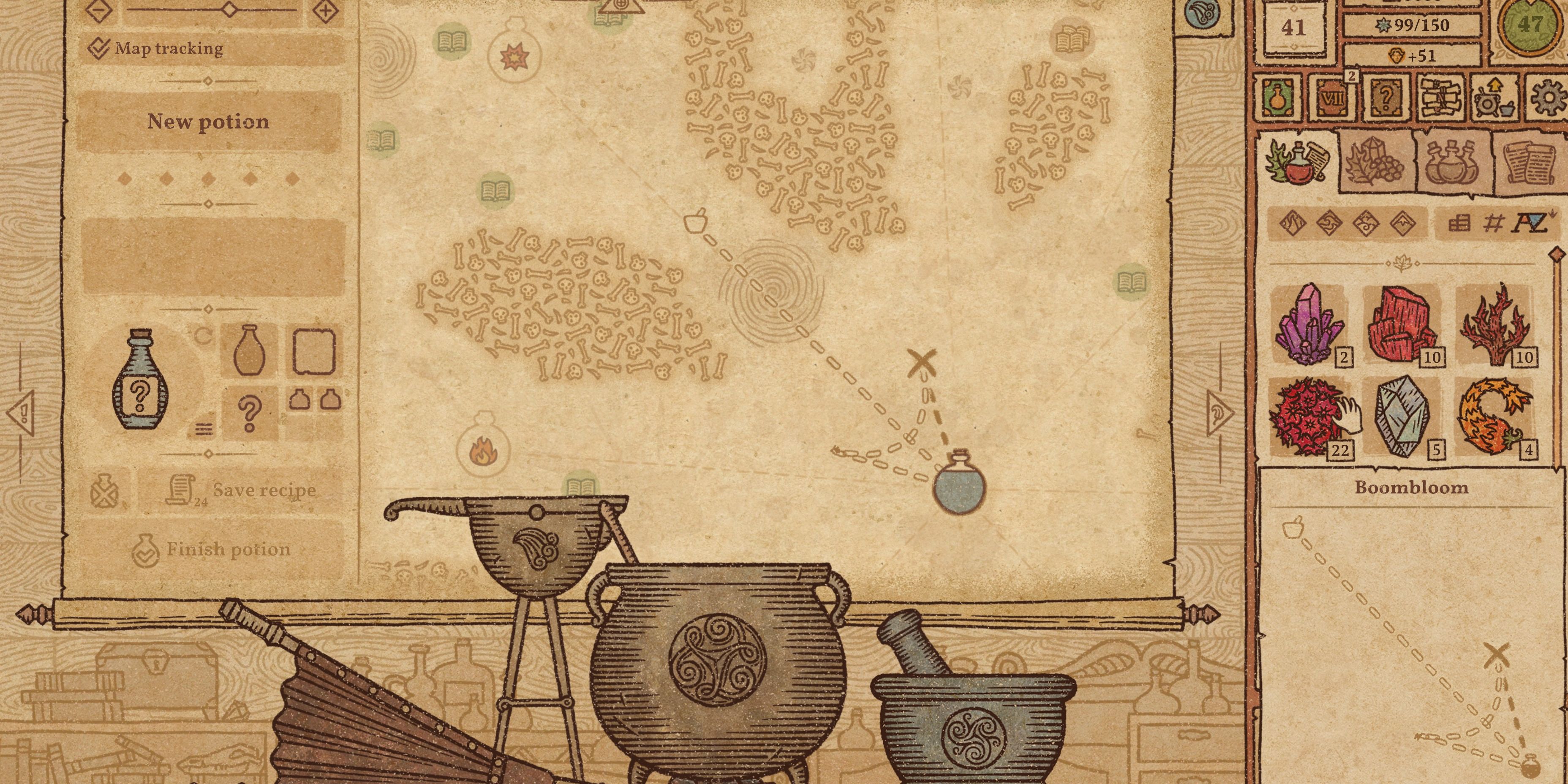 Element:
Air/Fire

Cardinal Direction:
Northwest
Boom! One Potion of Explosion coming right up! Not only is "Boombloom" incredibly fun to say, but it can also net you a Strong Potion of Explosion with ease. Some of the game's more choleric potions on the recipe map can be reached with these dynamite blossoms, too: the caustic Potion of Rage and the sultry Potion of Libido.
Like the other plant-based ingredients on this list, you can get Boombloom from the Herbalist.
7

Spellbloom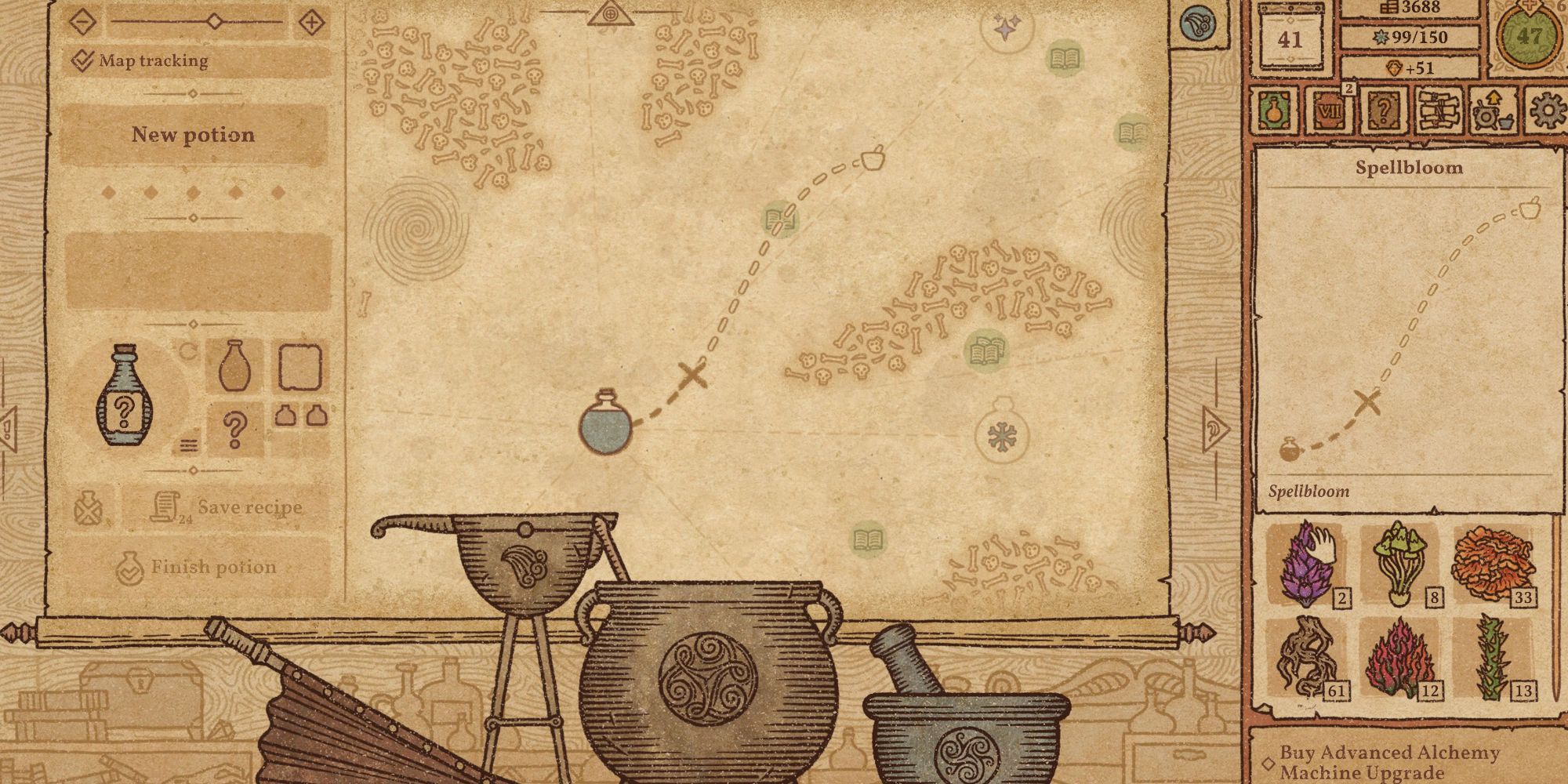 Element:
Air/Ice

Cardinal Direction:
Northeast
Another of the few northeast-moving items in the game, Spellbloom is worth stockpiling for later. Paired with Thunder Thistle, you can access all the magic-based recipes on the map for a much lower ingredient cost. While you're in the upper northeast region of the map, try combining multiple potions to experiment with dual effects. The Potion of Mana and Potion of Magic Vision are neighbors, so making a Potion of Mana and Magic Vision is a cinch.
As always, you can grab this handy plant from the Herbalist whenever she swings by your shop.
6

Mudshroom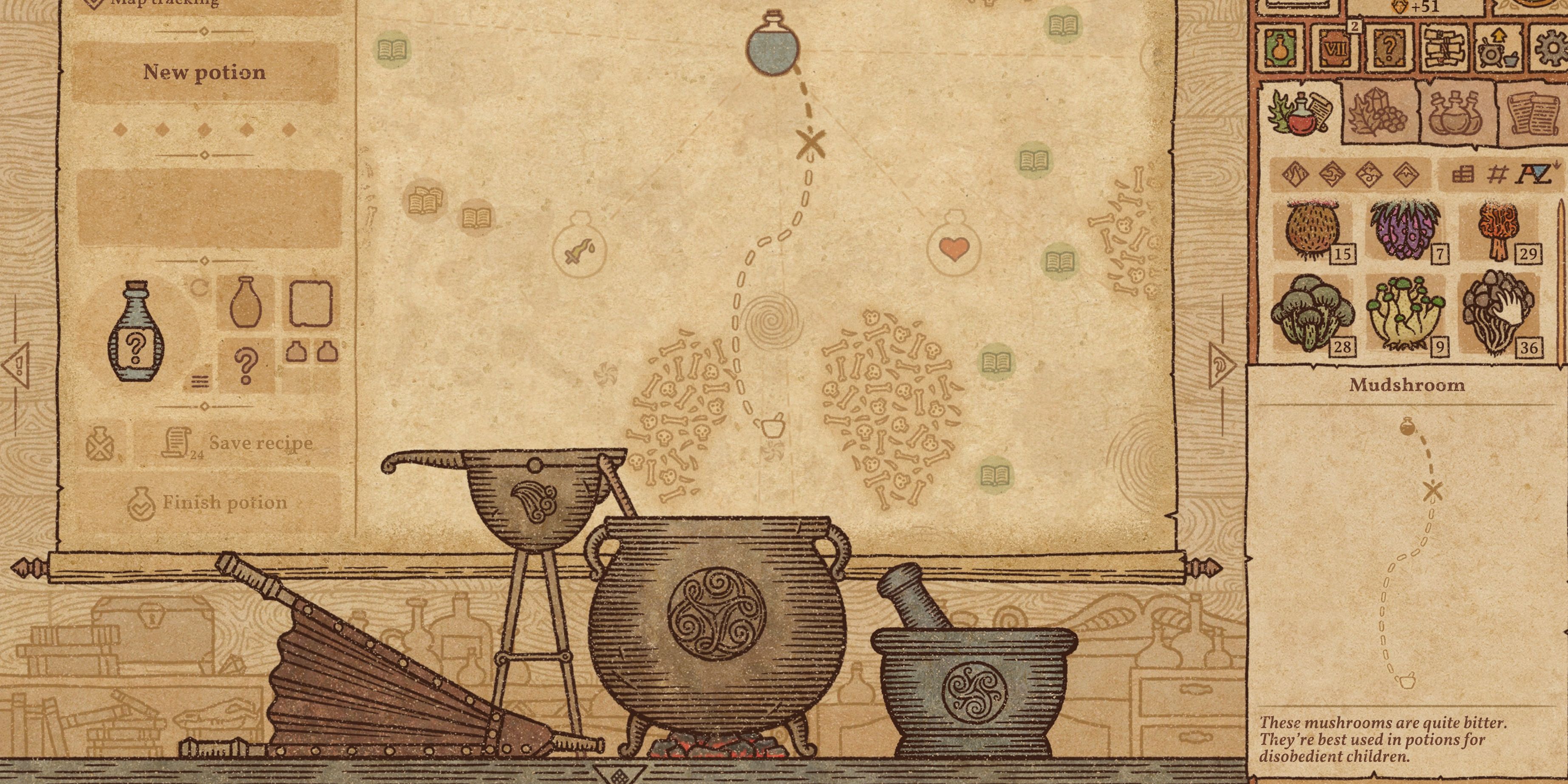 Element
: Earth

Cardinal Direction:
South
Tried and true, the Mudshroom is a must-have ingredient. Whenever the Mushroomer comes around, be sure to pocket some. Their earth-aspected downward arc is incredibly helpful when trying to brew a Level III (Strong) potion, especially in the early chapters of the game. Managing your inventory well is key to unlocking more potent recipes as quickly as possible, and having a steady supply of Mudshroom can be a game-changer.
One Waterbloom followed immediately by one Mudshroom will net you an instant Strong Potion of Healing!
The more potent your recipes, the more coin you'll pocket from your whimsical clientele, and the sooner you can tap into more powerful upgrades.
5

Earth Pyrite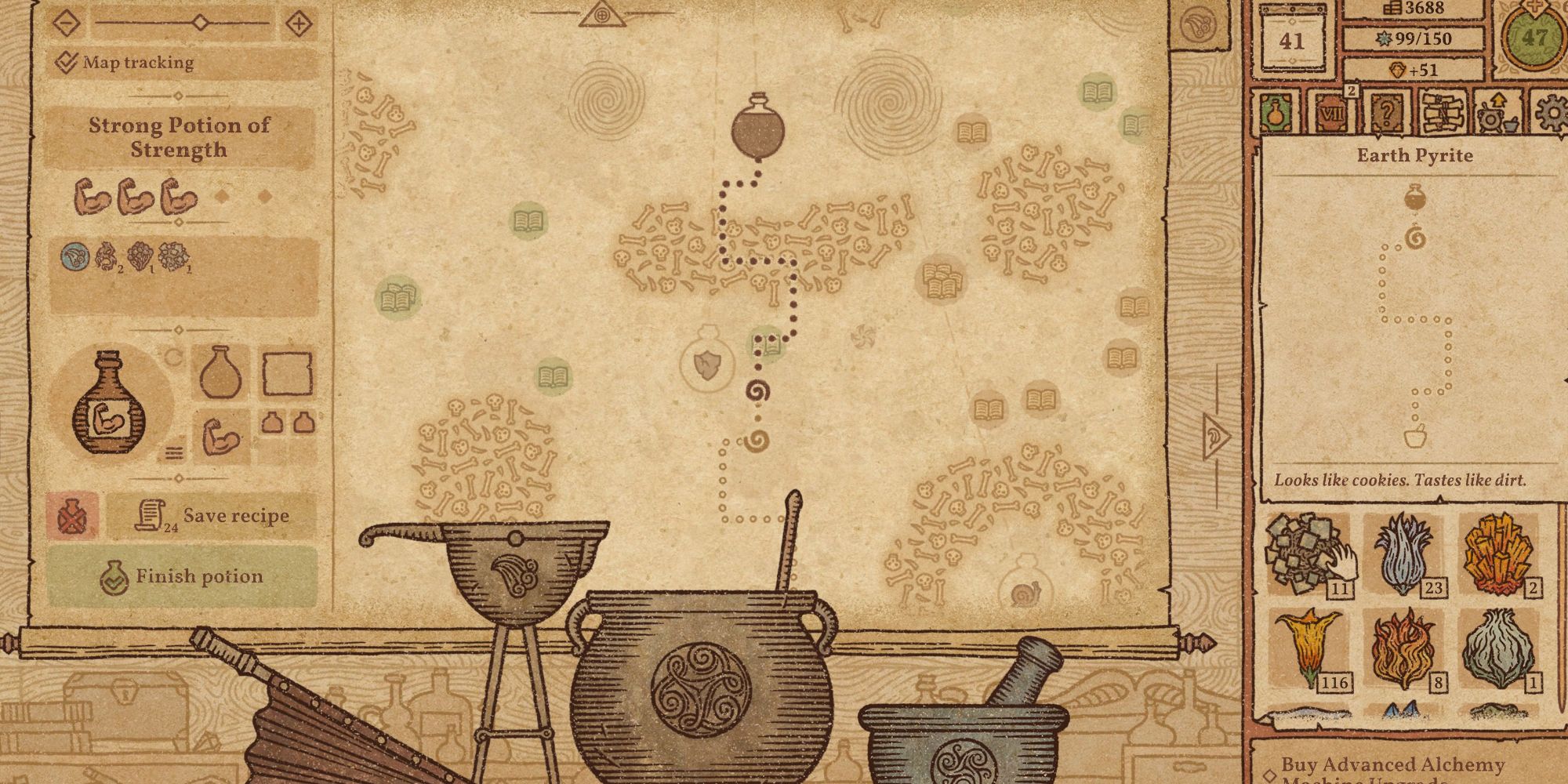 Element
: Earth

Cardinal Direction:
South
When Terraria just won't cut it, an Earth Pyrite will carry you straight to the south and then some. Like its cousins, this gemstone will allow you to skip the boneyard for maximum ground coverage.
Grab it from the Miner whenever you can; if he doesn't have it on a given visit, don't worry! He'll restock.
4

Healer's Heather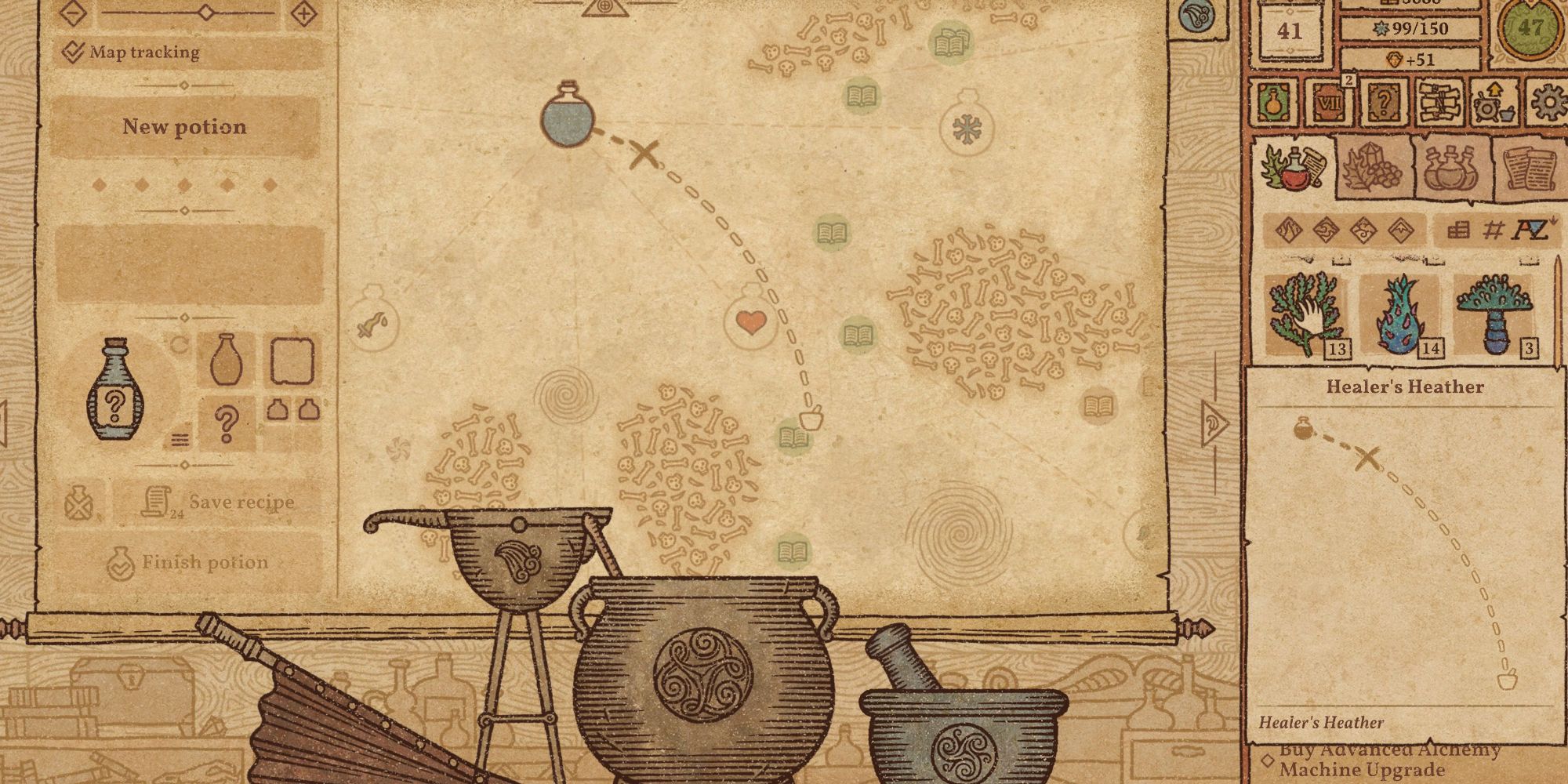 Element:
Earth/Fire

Cardinal Direction:
Southwest
Healer's Heather is a great compliment to Druid's Rosemary, traveling along the same downward diagonal curve. In this case, however, it moves southwest rather than southeast.
You'll want both herbs in your pocket for exploring the lower regions of the recipe map. Hit up the Herbalist to get your fill.
3

Druid's Rosemary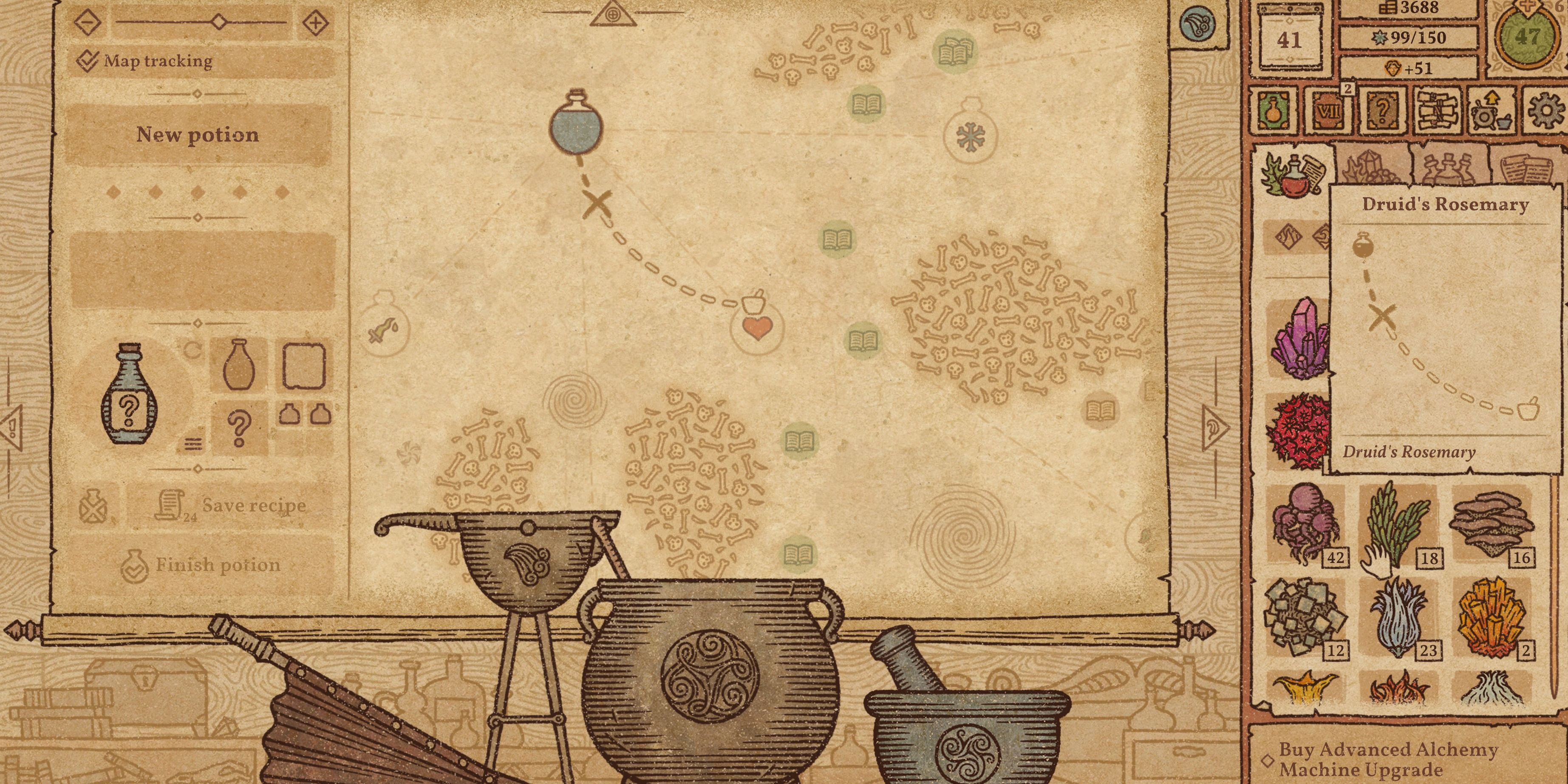 Element:
Earth/Ice

Cardinal Direction:
Southeast
Druid's Rosemary spawns much less frequently than other herbs in your garden — it does occasionally appear, though, so do keep checking your garden each day for more. To keep growing extra, you'll want to diligently harvest each herb when it appears!
Given its scarcity, Druid's Rosemary is a hot commodity when the Herbalist is in town. Its southeast diagonal arc is useful for reaching many recipes, including the very challenging, late-game Potion of Necromancy.
2

Frost Sapphire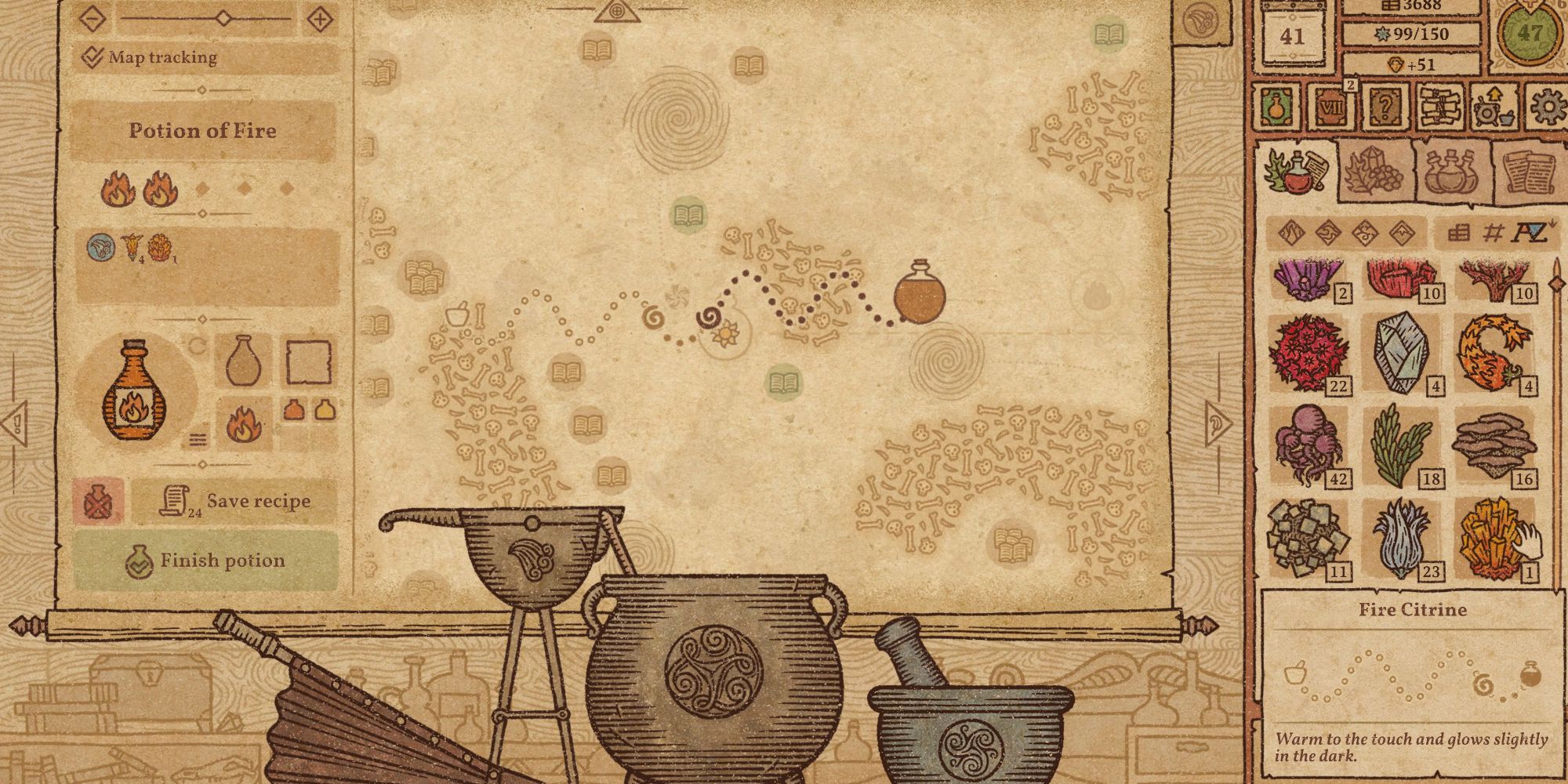 Element
: Ice

Cardinal Direction:
East
A Frost Sapphire can help you zoom past the skulls and into new recipe nodes, so be sure to stock up when you can! It will take you directly east, which will lead you closer to recipes like the Potion of Magic Vision without running the risk of failure.
You can also score a few Potions of Poison Protection early on in the game; be sure to check the Miner's stocks next time he's in town.
1

Fire Citrine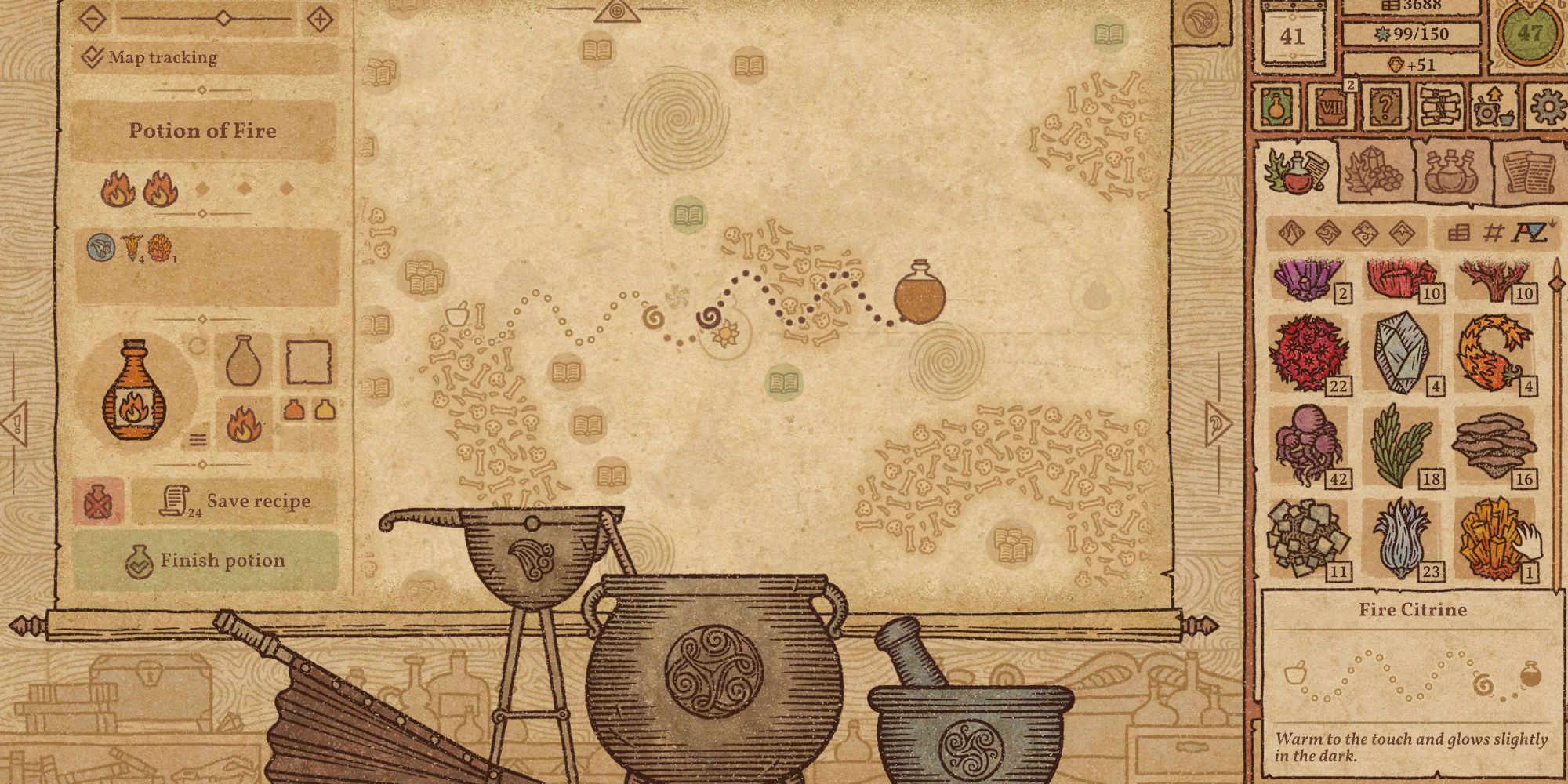 Element:
Fire

Cardinal Direction:
West
If you've ever wished Firebells were more potent and Flameweeds could zip past the boneyard, look no further! This hardy rock carries your brew farther to the west, granting access to a much quicker Potion of Explosion.
Fire Citrine is also very useful for netting a Strong Potion of Necromancy, which is a key ingredient in Void Salt — both items are required to clear Chapter 5, so be sure to have some Fire Citrine handy. The Miner can always hook you up.
Source: Read Full Article