Rare Says 1 Million Sea Of Thieves Players Have Become Pirate Legends
Rare's pirate-themed online multiplayer title Sea of Thieves came out just four years ago, but for some reason it feels longer than that. Perhaps it's because the game was teased some time before its release, back in the days of the Xbox 360, and its stylised visuals and online-only design seemed to indicate where modern video games were headed. Although Sea of Thieves never really took off in the way Rare and Microsoft might've hoped, the game still has a dedicated fanbase and a good amount of them have gone on to progress to its endgame.
Rare has announced some vital stats for Sea of Thieves as it celebrates 'Legends Week'. "As we've now passed the milestone of one million players who have reached Pirate Legend status, we thought it was a good a time as any to hold a big, week-long bash to celebrate our most dedicated sailors", its news post reads.
The achievement of Pirate Legend is reached when a Sea of Thieves player hits the rank of 50 with at least three of the game's Trading Companies. These players are adorned with purple and green outfits and are fearsome opponents on the high seas, with lesser players usually avoiding sea battles with these legends. According to Rare, more than 25 million people have "set sail on the Sea of Thieves" by October 2021, while only four percent of these players have gone on to achieve the high-ranking status.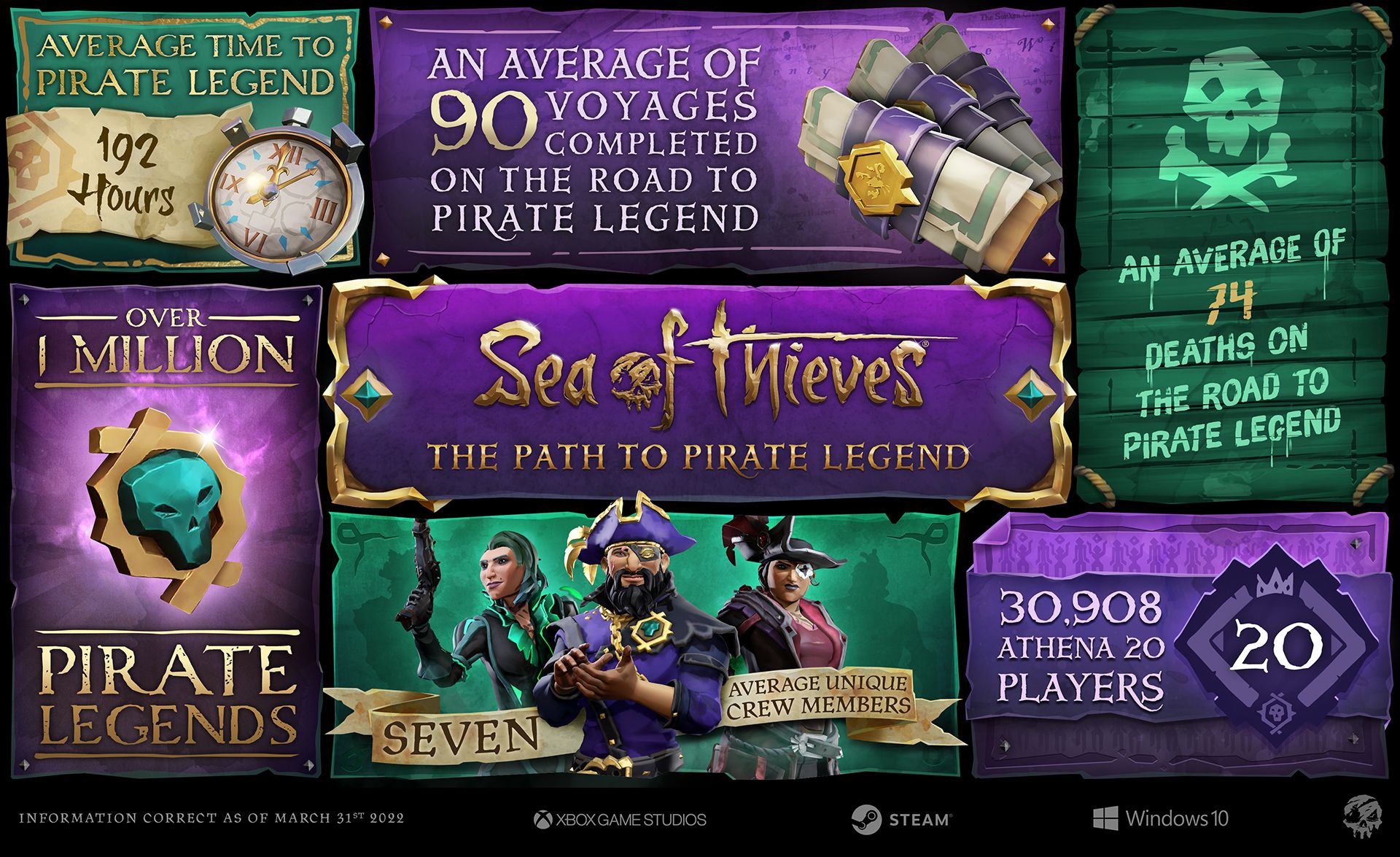 Most players take around 192 hours to become a Pirate Legend, which is a pretty decent chunk of time to sink into any video game, but according to the developer one devoted player took a leisurely 2,664 hours, or 111 days, to reach legendary status. Shiver me timbers!
Rare has a bunch of other stats on its blog post and the developer has other announcements in store. These include a new pirate legend voyage coming in Season Six, which is to be revealed today. Meanwhile, novice players yet to check out Sea of Thieves should have a better grasp of how long it might take, and the paths they can choose, to reach Pirate Legend and start their journey to its endgame.
Source: Read Full Article