Roll For Your Life, Elden Ring Is Getting A Board Game
As if there weren't enough ways to die in Elden Ring already, Steamforged Games has announced a board game based on FromSoftware's latest sensation. So, if you were having a tough time with the video game, perhaps the tabletop version will go easier on you. Like many of Steamforged's earlier games based on FromSoft titles, Elden Ring will also feature intricate miniatures of the game's enemies and bosses, and we even have a look at Margit, the Fell Omen.
As spotted by PC Gamer, Elden Ring: The Board Game will "immerse players in the forsaken Lands Between. In a vast, sprawling world of decaying grandeur that unfolds through their exploration, 1-4 'Tarnished' players will embark on a huge and varied adventure, visiting iconic locations and crossing paths with familiar enemies and characters.
"The video game's characteristically challenging fights will be recreated by intelligent dice-free combat, requiring players to strategise and adapt their plans during each encounter — whether that be a lowly Godrick Soldier or the Grafted King himself."
'Dice-free combat' sounds like a very interesting mechanic. While we don't exactly know what kind of mechanics the game will use, the absence of dice would mean that encounters aren't based on chance or luck, but very deliberate movements and strategy that you'd need to think through before committing to – much like a Soulslike.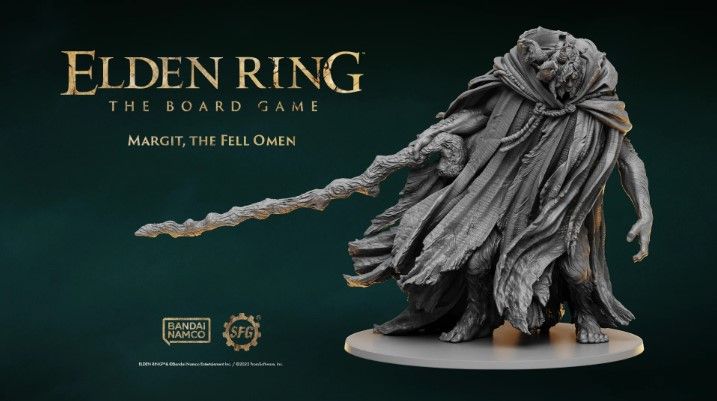 Besides the announcement of the game, a look at the Margit miniature, and dice-less combat, we don't really know anything else about the Elden Ring board game. Even its Kickstarter page doesn't have a date, nor has the campaign even begun. So, it's safe to say that we're not going to be venturing into The Tabletops Between anytime soon.
If you weren't quite sure, yes, this does mean that Elden Ring is rather popular. In fact, it has been the standout game of the year for many, even nabbing the Best Game of the Year award at the Japan Game Awards, which is held as a part of the Tokyo Game Show – the first of many, surely. There aren't too many triple-A games that have launched this year to compete with Elden Ring, but you can be sure that it will go head to head with God of War Ragnarok by the end of the year.
Source: Read Full Article