Should You Complete The Croatian Dynamic Duos SBC In FIFA 23?
Quick Links
How Much Is The Croatian Dynamic Duos SBC?
Should You Complete This Dynamic Duos SBC?
Vlasic and Sosa are the new Croatian Dynamic Duos SBC available in FIFA 23. Both are 85 rated, come with some decent stats, and provide links in the Serie A and Bundesliga respectively. The past few Dynamic Duos SBCs have been really decent, so let's take a closer look at the cards.
This short guide will cover how to complete the SBCs (with the cheapest teams), a deep-dive into the cards and their stats, and whether this SBC is worth your coins or fodder in what will be a very busy couple of weeks in FIFA.
How Much Is The Croatian Dynamic Duos SBC?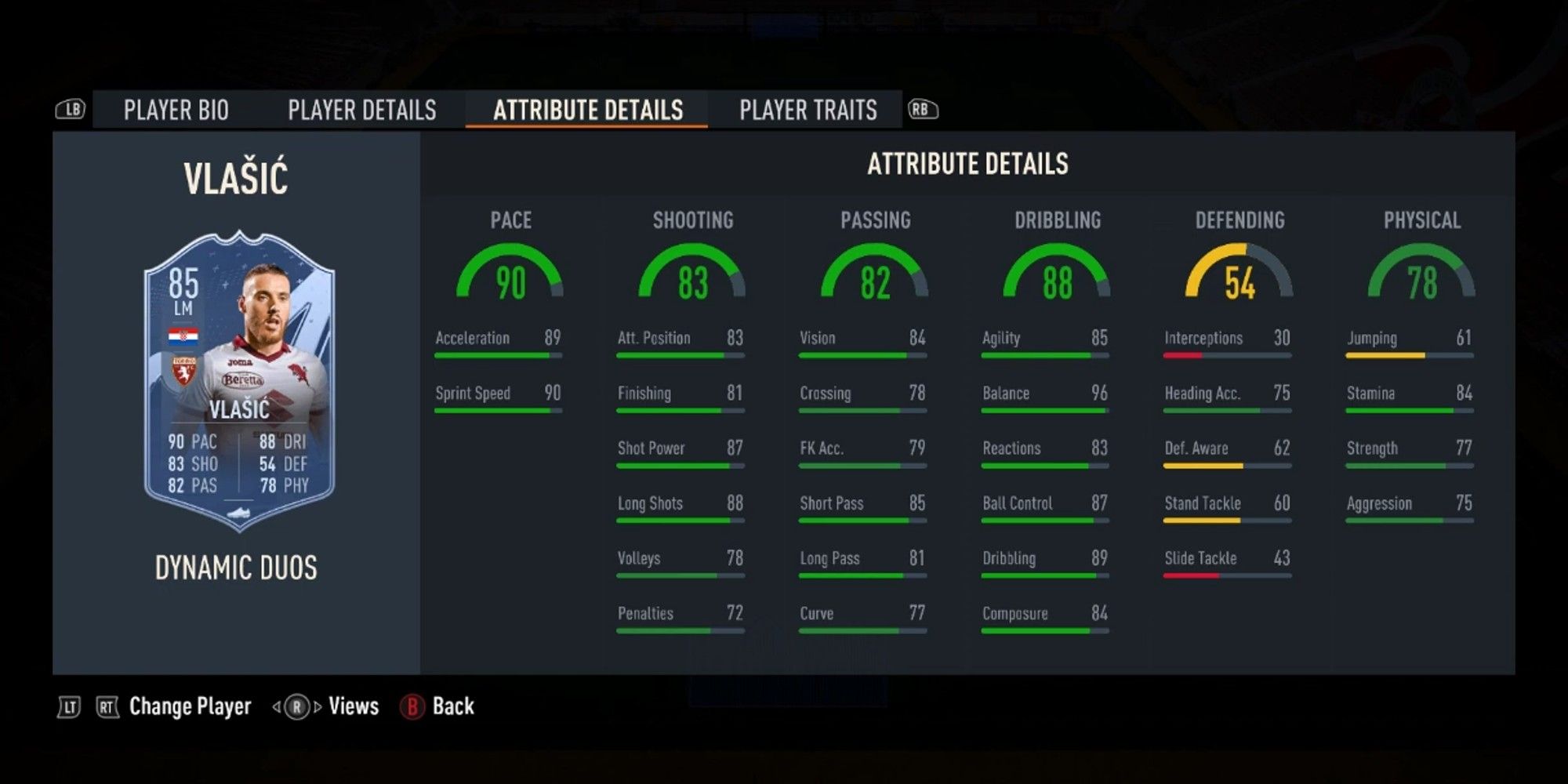 Right now, the cost of the Dynamic Duos SBC is about 30k for each card. That brings the total cost up to around 60k for two 85 rated Croatian players.
This cost will be lowered if you have some 83 fodder in your club, but you may be tempted to hold on to these for future SBCs over the busy World Cup season.
How To Complete The Croatian Dynamic Duos SBC
To complete the SBC you'll need to put together:
An 84 rated squad with a Serie A player and a TOTW player for Vlasic
An 84 rated squad with a Bundesliga player and a TOTW player for Sosa
83 and 84 rated cards are currently very cheap on the market, averaging at around 2-8k which means these SBCs are pretty cheap to complete overall. The cheapest 84-rated cards for this SBC include Di Maria, Tonali, and Insigne.
TOTW players can currently be purchased at discard (or close to) price. This is also a cheap SBC in terms of requirements, which means you could use some of that lower-rated TOTW fodder for it.
Should You Complete This Dynamic Duos SBC?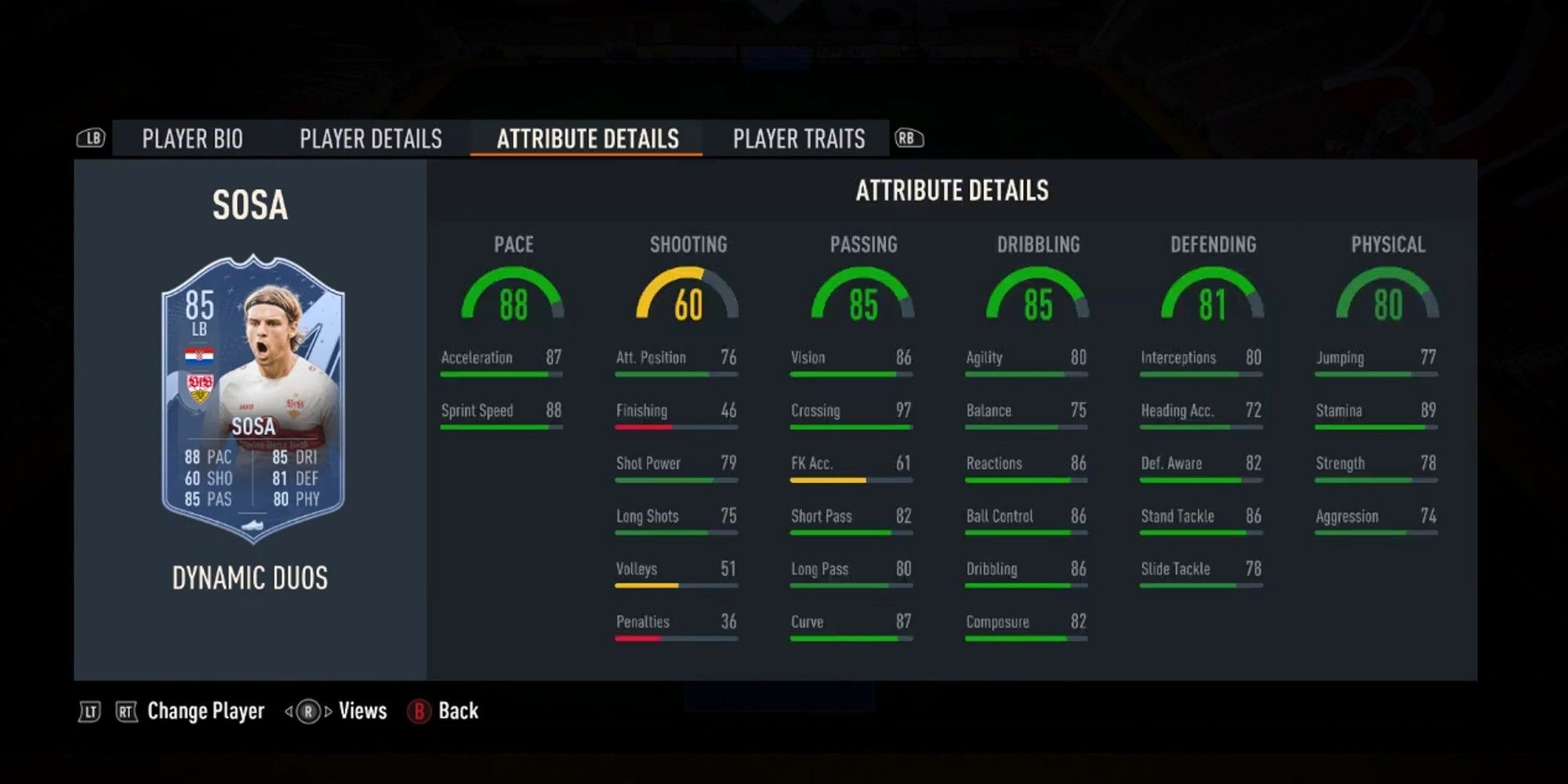 Both cards look decent in terms of usability, but the power curve is really creeping in FIFA 23 at the moment, which means these cards are significantly less valuable than a month ago. Here's a look at the two cards' key stats.
| Vlasic | Sosa |
| --- | --- |
| 90 Pace, which can be boosted to almost max with a Hunter chemistry style | 88 Pace for a LB is pretty good, can be almost maxed out with a Shadow chemistry style |
| 83 Shooting, really decent for a winger with 88 Long Shots and 87 Shot Power | 85 Passing, with great crossing at 97 – great for attacking wingback play |
| 82 Passing, 85 Short Passing and 81 Long Passing | Defending and Physicals are well-rounded, with 82 Defensive Awareness and 89 Stamina being the key standouts |
| 88 Dribbling, really decent stat this, with high Agility and Balance, and good composure at 84 | Dribbling is at 85 for Sosa, which is high for a defensive player – decent Reactions, Ball Control, and Dribbling |
| Three-star skills, five-star weak foot | Three-star skills, two-star weak foot (pretty poor), as well as the Early Crosser trait |
Our main concern with this SBC, regardless of the decent stats on each card, is how much similar cards cost on the market. Neither of these cards would cost as much as their SBC on the market, and it wouldn't even be close. Take Mendy at Left Back instead of Sosa and you can clearly see the issue.
The only upside of this SBC in terms of value is the Croatian links these two provide for future squad-building. We're not sure yet how hard EA is going to steer into Nation-based SBCs and objective squads in the future, so it's something to keep in mind.
Overall
Neither of these cards screams terrific value for what you're getting out of an 84-rated squad. You're probably best off saving some of your fodder for future SBCs, or start saving towards Icon SBCs and other valuable players.
Source: Read Full Article