Should You Complete The Franck Ribery SBC In FIFA 23?
Quick Links
How Much Is Franck Ribery?
Should You Complete This SBC? Is Ribery Worth The Coins?
Franck Ribery has a long and illustrious career – to celebrate his achievements, he has received a FIFA 23 End Of An Era SBC ahead of his retirement. The card is pretty expensive, but has five-star skills and five-star weak foot, as well as plenty of other extremely meta-friendly stats.
This guide covers how to complete the card (including how much it costs), as well as a deep-dive into the card's stats and pros and cons. Let's get into it.
How Much Is Franck Ribery?

Franck Ribery is coming in at around 450k-500k in total if you were to purchase all the players needed to complete the SBCs. That's pretty expensive for this card.
How To Complete Franck Ribery
To complete Franck Ribery you need to submit four squads in total.
An 84 rated squad with 1 Bayern Munchen player and 1 TOTW player
An 85 rated squad with 1 French player
An 87 rated squad with no requirements
An 88 rated squad with no requirements
The easiest way to complete this SBC is to use fodder that you already have in your club. It's been pretty heavy on content recently, so if you do need to splash out on some players, here are your cheapest options:
Cheapest 84 rated players: Bonucci, Savic, Hazard
Cheapest 85 rated players: Kostic, Busquets, Gulacsi
Cheapest 87 rated players: Trent, Robertson, De Gea
Cheapest 88 rated players: Kroos, Dias, Ter Stegen
Should You Complete This SBC? Is Ribery Worth The Coins?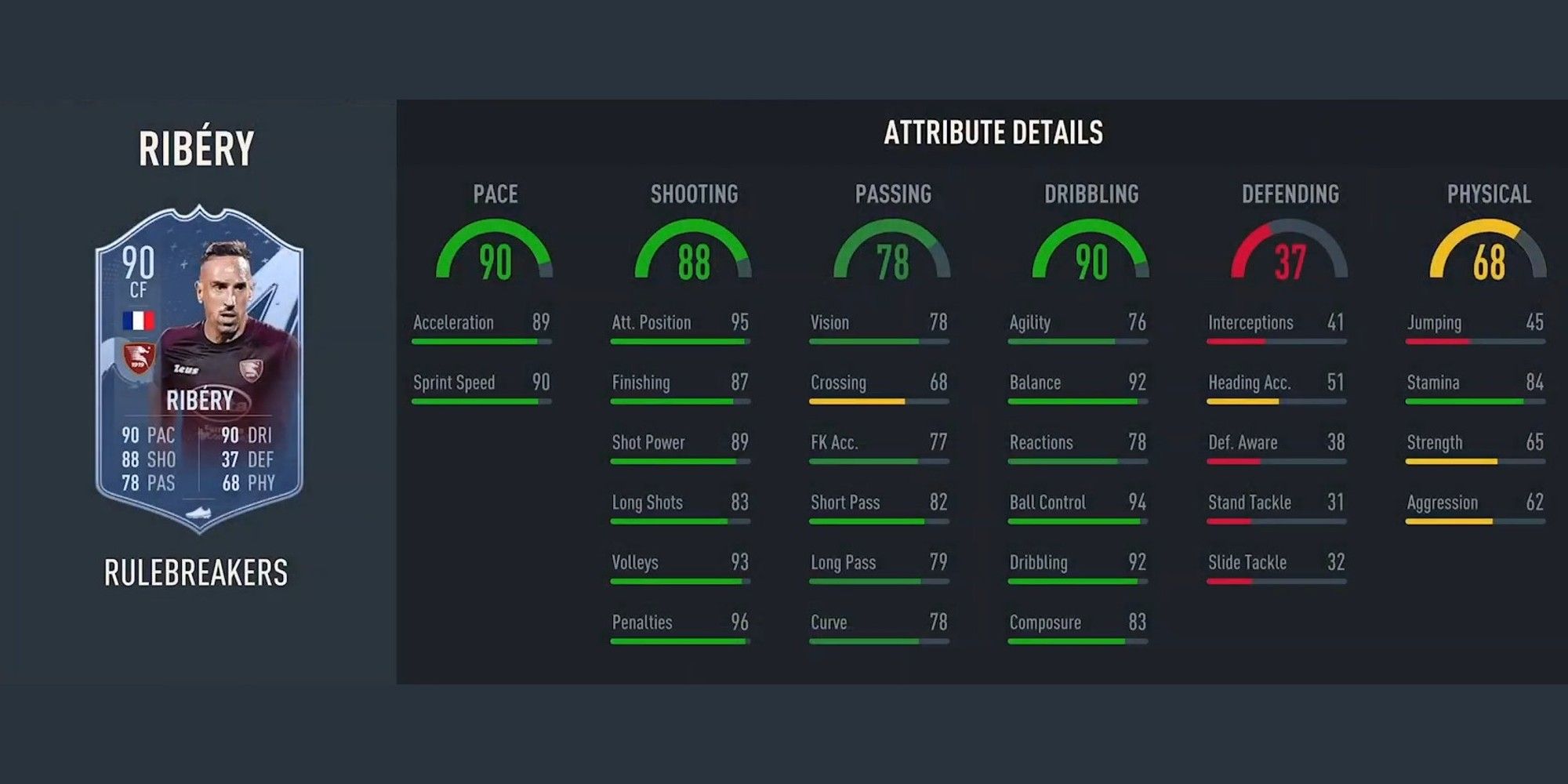 Ribery is destined to have an Icon in the coming FIFA games (whatever they will be called), but for now, he's still a much-loved player, and historically has played very well on previous games. Something about his character model and movement are unique and that makes him extra useable. EA clearly value this as the SBC is quite expensive.
For some realism, though, let's take a look at some other cards that you could compare Ribery to.
Ribery
Kewell
Theo Hernandez OOP
Pace

89 Pace

90 Acceleration
88 Sprint Speed

Pace
Pace
Shooting
Shooting

85 Shooting

85 Finishing, 87 Shot Power

Shooting
Dribbling
Dribbling
Dribbling
Traits
Traits
Traits
Both Kewell and Hernandez are cheaper than Ribery and share somewhat similar stats. These cards and cheaper and remain tradeable to recoup your coins in the future. Ribery does just come out on top of these two other great LW cards, but you then need to also consider the advantages of this card over Ribery's already-available Rulebreakers card.
The new End Of An Era card gets a significant boost to Agility, with +16 in total
The End Of An Era card also has +14 crossing
Ribery's 90 rated CF Rulebreakers card is currently trading for around 550k on the market, which is more expensive than the SBC, and the SBC is arguably a better card. SBCs last forever though – you aren't getting your coins or fodder back, so choose wisely.
Overall
Ribery is busted in FIFA. Always has been, always will be, with a future Icon definitely on the cards. If you want to invest some of your hard-earned fodder into this reasonably-priced SBC (less than Ribery's other 90 rated card) then go for it. The card will be a lot of fun, provides good Serie A links, and most importantly has that extremely meta five-star skills and five-star weak foot.
Source: Read Full Article