Should You Complete The Rafael Leao POTM SBC In FIFA 23?
Quick Links
Should You Complete Leao? Is The SBC Worth The Coins?
Rafael Leao receives an 87 rated Serie A POTM card to celebrate his recent form. This FIFA 23 SBC is likely to be very popular given the fact that Leao is definitely meta on the next-gen version of the game. Who can resist the Lengthy this year?
This short guide takes a look at how much the card costs, how to complete it, and at some of the card's strengths and weaknesses. Let's get into it.
How Much Is Rafael Leao?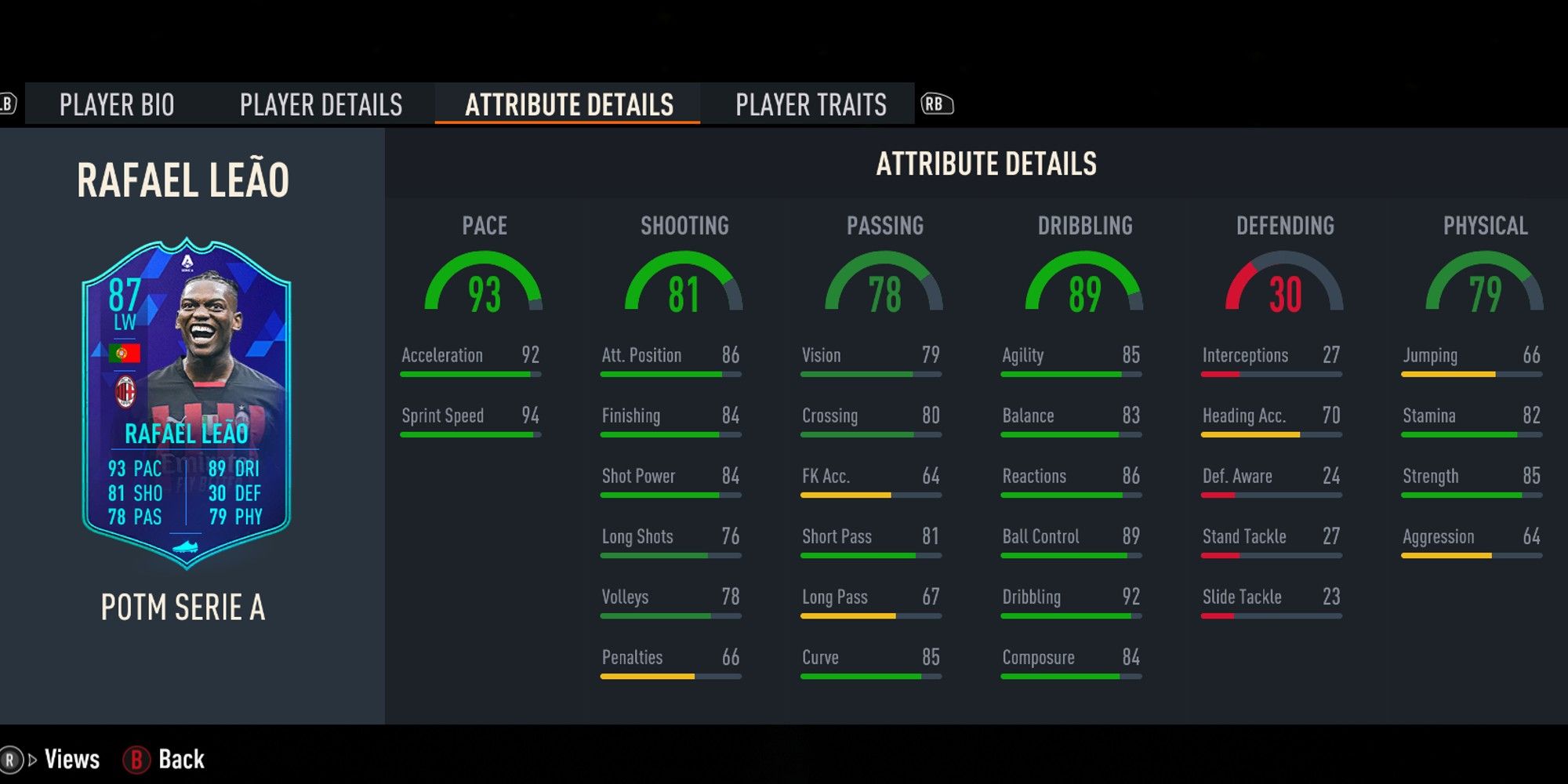 Rafael Leao is coming in at around just under 200k, and it requires three segments to complete:
83 rated squad with one TOTW player
85 rated squad with one Portuguese player, one TOTW player
86 rated squad with one Serie A player
How To Complete Leao
Alongside the Almiron SBC, we could see a rise in fodder off the backs of these two SBCs. Right now, the cheapest cards to complete the SBC with are:
Kostic, Ramos, and Depay at 85 just over 8k
Sterling, Laporte and Mendy at 86 just over 15k
TOTW players are currently still sitting at discard price, although higher rated TOTW cards will rise in price
Should You Complete Leao? Is The SBC Worth The Coins?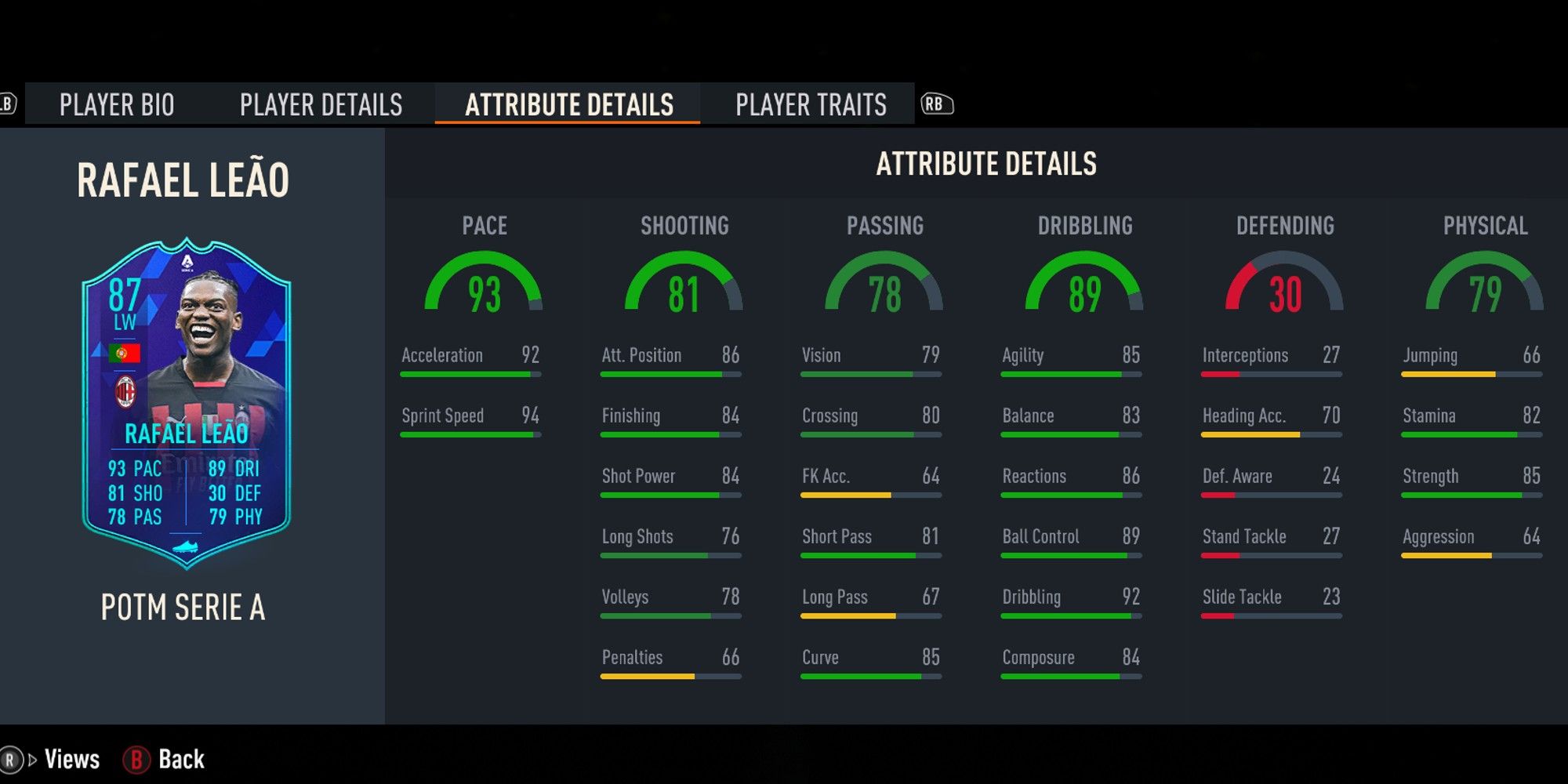 Leao is phenomenal card, and this is about to ruin or save some people's weekend league. Here's a look at some cards key stats.
| | |
| --- | --- |
| Pace | 93 Pace, and yes, Leao can be Lengthy with the Architect chemistry style |
| Dribbling | 89, with key stats of 89 in Dribbling, 85 in Agility, and 83 in Balance |
| Passing | 78 Passing, with 81 Short Passing |
| Shooting | 81 Shooting, key stats being 86 Positioning, 84 Finishing, and 84 Shot Power |
| Physical | 79 Physical, with 82 Stamina, and 85 Strength |
These are fantastic stats. With the Architect chemistry style, Leao's passing is increased to 86 with 96 Short Passing and 99 Strength. The card is perfectly posited to have the highest possible Agility alongside the highest possible Strength to still be a Lengthy card. EA knows exactly what it is doing here.
Leao also has four-star skill moves and four-star weak foot, as well as the Finesse Shot, Flair, and Outside the Foot Shot traits.
This is the definition of a meta card and will likely be a very popular SBC. There might be some hesitation ahead of the World Cup content update, but we can still see this SBC being completed by a lot of people.
Overall
Overall, the 180k-200k price tag on Leao is probably justified, especially if you do have some fodder in the club already. It's a very strong card that fits perfectly into the FIFA 23 meta. If you've used the base card or the in-form, you know how powerful this card is on the wing.
However, this is only really a small upgrade on the 86 inform version of the card that is currently going for around 70k on the market. Is the SBC worth that extra 100k? Well, you will get a first-owned player for future objectives, and +1 boosts to some key areas. Even if it is a bit expensive, we still think this is a decent SBC for the cost.
Source: Read Full Article