Sparkly Charmander and Vaporeon Funko Revealed
Funko Pop lovers and Pokemon fans alike can rejoice that more of your favorites are coming. With Funko Virtual Con Spring 2021 just around the corner, the company announced two new looks for Charmander and Vaporeon that will be known as "Diamond Variants." The sparkly look and feel of the new designs work well with the fire and water-type Pokemon.
These two new pops are set to release on March 4 through Funko's own online store. For those living in the United States, Charmander is a Target exclusive while Vaporeon will be available only at Barnes and Noble. The expansion of Funko's Generation 1 Pokemon line was already clear when they previously revealed that an epic metallic version of Bulbasaur is on its way. Others joining include Meowth Psyduck and an angry Pikachu.
Funko's Virtual Con Spring 2021 is set to happen between March 1-4 and besides being the fifth version to take place and will include giveaways and guest appearances. For those who want a chance at scoring these pops during the con, you will need to have an account on Funko.com as well as be a member of the Funko Fan Club. Funko will do a lottery system for those who fulfilled the requirements by February 14 to make it fair for everyone.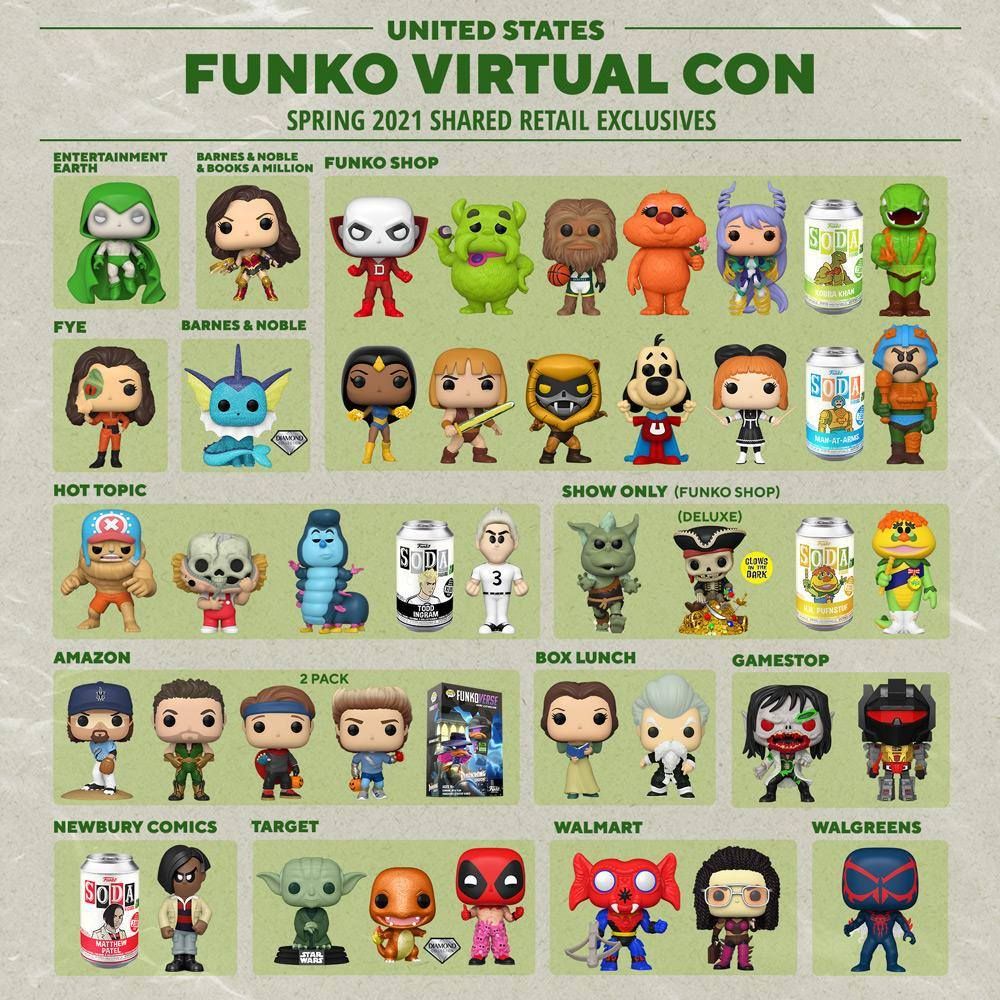 Related: Aw, Shucks! Amazon's Charmander Plush Is Actually Barney The Dinosaur
Lottery winners will get assigned one of the two-time slots on February 24 to be used on March 3. Before their assigned time slot on that day, they will receive a special link via email containing a password to gain access to the sale. It is also limited to one order total per lottery winner.
If you aren't a lottery winner, don't worry – Funko states that the general public will have access to the exclusives at 6am PST on March 4 via Funko.com and their respective sites and stores.
Hopefully, as we have seen with many exclusives in the past, scalpers won't prevent real collectors from getting their hands on these. New Pokemon Funkos you can grab now include Mew, Raichu, Ponyta, and a metallic version of Pikachu, provided they aren't already sold out. Clearly. the appetite for Pokemon Funko is hot still and fans are eager for more as we continue the 25th anniversary.
Next: Frogger Coming To Peacock As A Reality Competition Series
Source: Read Full Article