Stray's Day-One Launch On PS Plus Headlines July Titles
Looks like last week's leak was correct. Today, Sony announced its July lineup of PlayStation Plus titles, including Final Fantasy VII Remake Intergrade, Marvel's Avengers, five Assassin's Creed titles, two Saints Row games, and a few more depending on whether you've got the Extra or Premium tiers.
But easily the headliner for July is Stray, the upcoming adventure game from BlueTwelve Studio and Anna-purr-na Interactive. That purr is because you play as an actual cat in a cyberpunk world full of robots. Some of those robots are more appreciative of your feline wiles than others, with one little drone even pairing up with the titular stray to help it find its way back to its family.
Despite saying previously that it never planned to compete with Game Pass and it's day-one releases, Stray's release date of July 19 also coincides with its arrival on PS Plus' Extra and Premium tiers. July 19 is also when PS Plus subscribers can enjoy everything else coming to Sony's subscription service this month.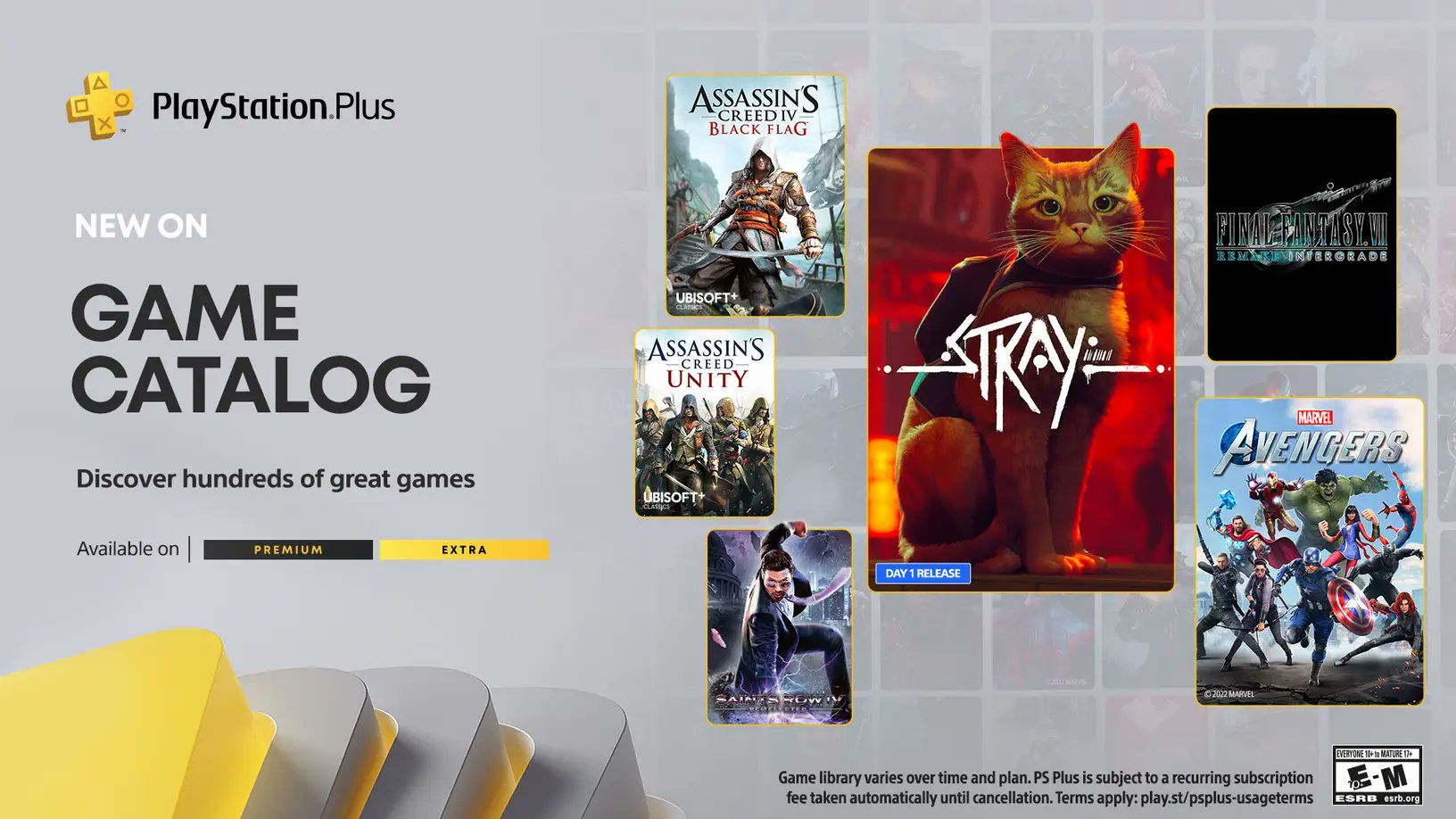 Here's the full list of PS Plus offerings:
Stray | PS4/PS5
Final Fantasy VII Remake Intergrade | PS5
Marvel's Avengers | PS4/PS5
Assassin's Creed Unity | PS4
Assassin's Creed IV Black Flag | PS4
Assassin's Creed Rogue Remastered | PS4
Assassin's Creed Freedom Cry | PS4
Assassin's Creed: The Ezio Collection | PS4
Saints Row IV: Re-Elected | PS4
Saints Row Gat out of Hell | PS4
Spirit of the North: Enhanced Edition | PS5
Ice Age: Scrat's Nutty Adventure | PS4
Jumanji The Video Game | PS4
Paw Patrol on a Roll! | PS4
ReadySet Heroes | PS4
And for Premium tier subscribers, the Classics Catalog is getting two PSP titles in No Hero's Allowed! and LocoRoco Midnight Carnival.
In other Stray news, this cat is also getting a physical release later this year. Iam8bit will handle the physical release with pre-orders available until September 20. Each copy comes with a premium matte black sleeve with Holofoil Spécialité, an oversized poster of the game's first teaser art, six frameable art cards, and a "fuzzy pettable chenille patch" of the nameless feline hero.
Source: Read Full Article