TermK47 Is The First Apex Legends Player To Reach 100,000 Eliminations
Exactly ten months to the day since Apex Legends launched with a surprise drop, TermK47 became the first player in the game's history to reach 100,000 in-game eliminations.
On Dec. 4, 2019, the 21-year-old streamed the moment on Twitch as as his viewers queued into a low-activity server to celebrate the milestone with him as he downed individual players. His 100,o00th kill involved frenzied melee boxing match against a player named PearlK47. PearlK47 is the Xbox alias of Twitch streamer and Apex Legends player Pearlaxx, who is also TermK47's girlfriend.
TermK47, who plays the game on Xbox One, racked up kills at a supercharged pace of 10,000 kills per month. Since the game came out, he's played more than 22,400 games and earned more than 2,560 wins.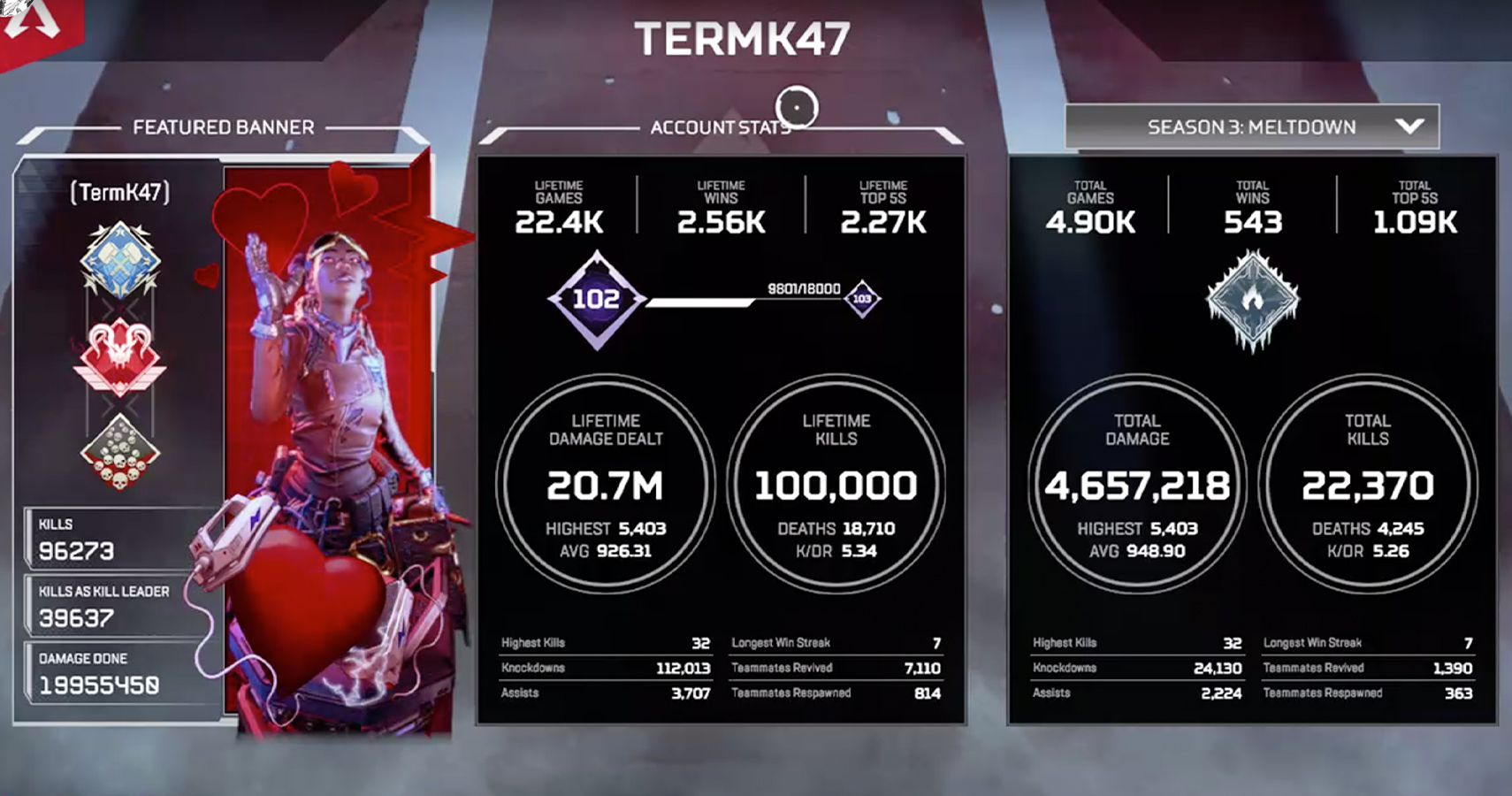 He plays on a controller with his sensitivity set to 4 (slightly higher than default), as well as 4 for aiming down sights. His field of view is set to 110, the maximum possible in Apex Legends, and has his response curve set to "Classic."
Perhaps surprisingly, TermK47 plays on the earliest model of the Xbox One. However, he recently purchased an Xbox One X, which is far more powerful and generally has fewer performance issues than earlier-model Xbox One products.
His next big goals involve finding ways to give back to the viewers and fans who followed his journey.
"My goal would definitely be improving my setup and bettering my stream for viewers so I can give them they best experience. Without them, I wouldn't be able to do this and I'd love to give back as much as possible," he said. "Apex-wise, there really isn't much more left to accomplish."
He's now saving money from stream subscriptions and donations to eventually invest in better streaming gear, including a gaming PC. 
While the grind may have been long and intense, it seems it wasn't without its rewards.
"I definitely feel I've grown tremendously as a streamer. I've always put the viewers first over everything. They have truly turned me into a better person," he said.
Now that he's reached the goal, he's looking forward to a change of pace.
"My celebration is gonna be being able to play the game more casually with friends and spending more time with my amazing girlfriend," he said, ending the sentence with a heart emoji.
Electronic Arts and Respawn Entertainment launched Apex Legends on Feb. 4, 2019, for Xbox, PlayStation and PC. On Oct. 29, the game surpassed 70 million players across all platforms.
Source: Read Full Article