The Arcana: A Mystic Romance – How To Get More Coins & Keys
The Arcana: A Mystic Romance is a visual novel and dating sim by Nix Hydra Games. The game finds players working as a magician's apprentice in the fantasy kingdom of Vesuvia. Soon, you find yourself in the middle of a magical murder mystery, and most work together with a colorful cast of characters to piece the story together. Plus, if you play your cards right, you just might fall in love along the way.
Though The Arcana is a free game, like most mobile visual novels, you'll need some form of currency to progress through the game's long and rich story. Specifically, you'll need coins and keys–and a lot of them!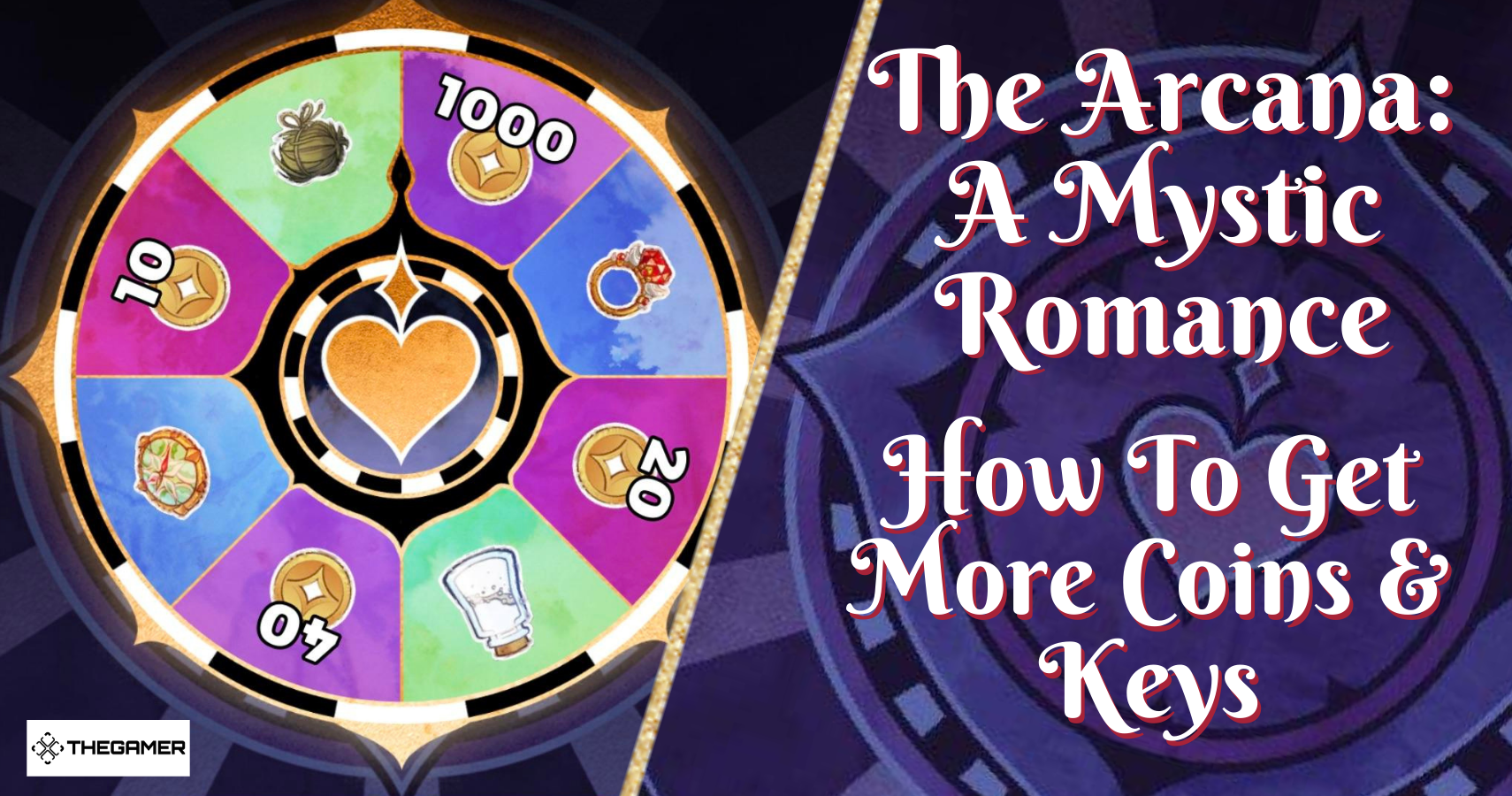 Here's a guide on how to get more coins and keys in The Arcana.
Coins
What They Are
Coins are the main form of in-game currency in The Arcana.
While the game is completely free-to-download, and players are able to progress through and complete the game without spending any type of currency, there are a number of paid answer options throughout each route. These paid choices don't affect the ending players can receive; however, they will often unlock exclusive memories, images, and scenes that are arguably the best in the game.
You can also use coins to purchase books, which will unlock chapters and paid choices within them.
Outside of the game's main story, you can also use coins to purchase extra things, such as tarot card readings, extra lives and turns in "Heart Hunter" (The Arcana's mini-game), and extra spins in the game's "Wheel of Fortune."
How To Get More
The simplest way to get coins is through The Arcana's in-game story. Packs of coins begin at $1.99 for 100 and go up to $99.99 for 6500.
However, if you're looking for some cheaper alternatives, there are still plenty of ways to gather coins for free–though be aware it may take longer to round up a sizable amount.
If you open up The Arcana and click on the "Dailies" tab at the bottom of the screen, you'll see three different in-game activities you can do outside of the main story. Each of these activities can help you accumulate coins.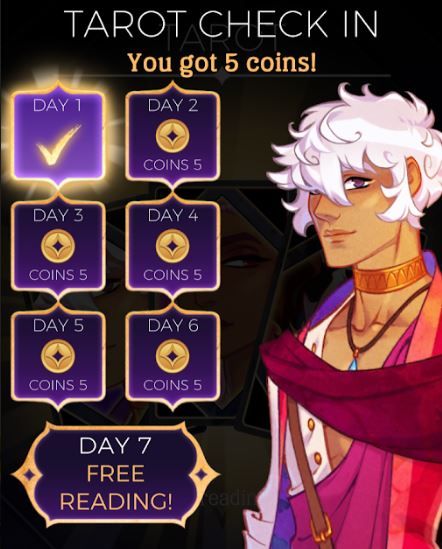 The first option is the Tarot card reading. Each day, make sure to log in and click on the Tarot button. You'll receive a daily log-in bonus of 5 coins. On the seventh consecutive day, you'll receive a free Tarot card reading (normally, you would have to pay coins to receive a reading).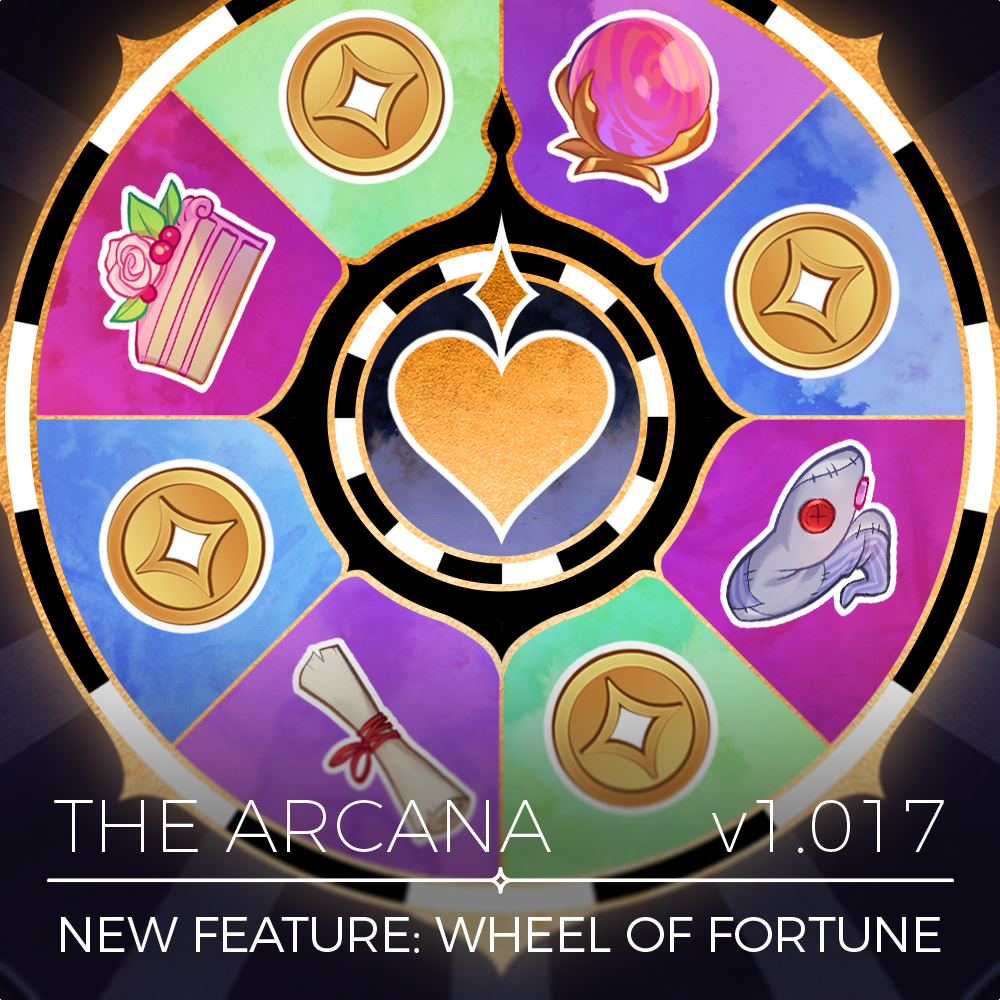 The second option is the Wheel of Fortune. Each day, you get one free spin. You can win coins, or "trinkets" which are collectible items that allow you to view special scenes from the game. For additional spins, you'll need to pay coins.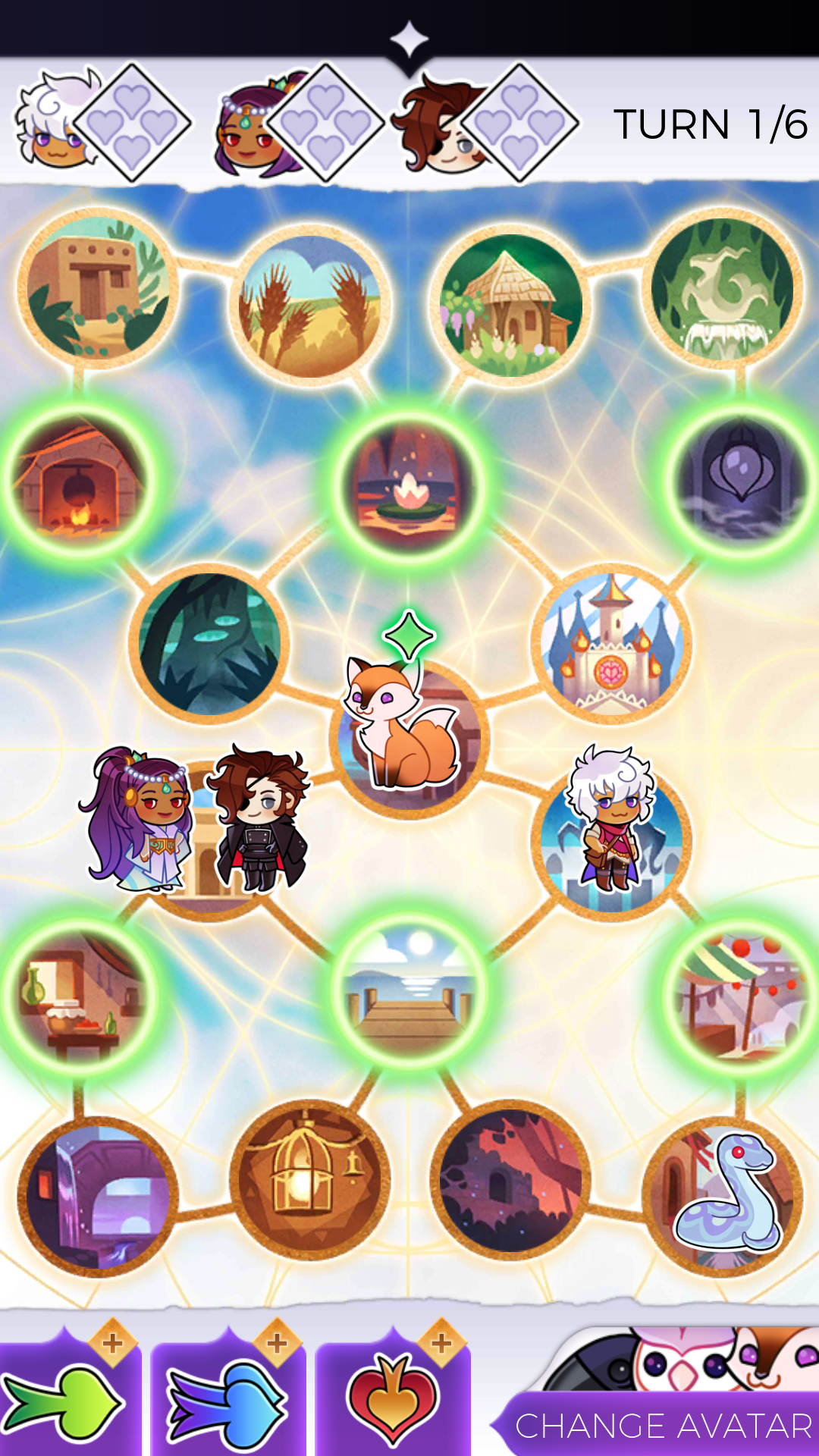 The third option is Heart Hunter, the abovementioned mini-game. Heart Hunter is a short, virtual board game where the goal is to collect four hearts from at least one character. You can collect hearts by landing on the same space as them, or vice versa. Each day, you'll receive three free lives, while each life gives you six free turns per game. For additional turns or lives, you'll need to play coins. If you are able to collect four hearts from a character, you'll win a postcard; once you collect enough postcards, you can unlock special items, which include coins and other prizes.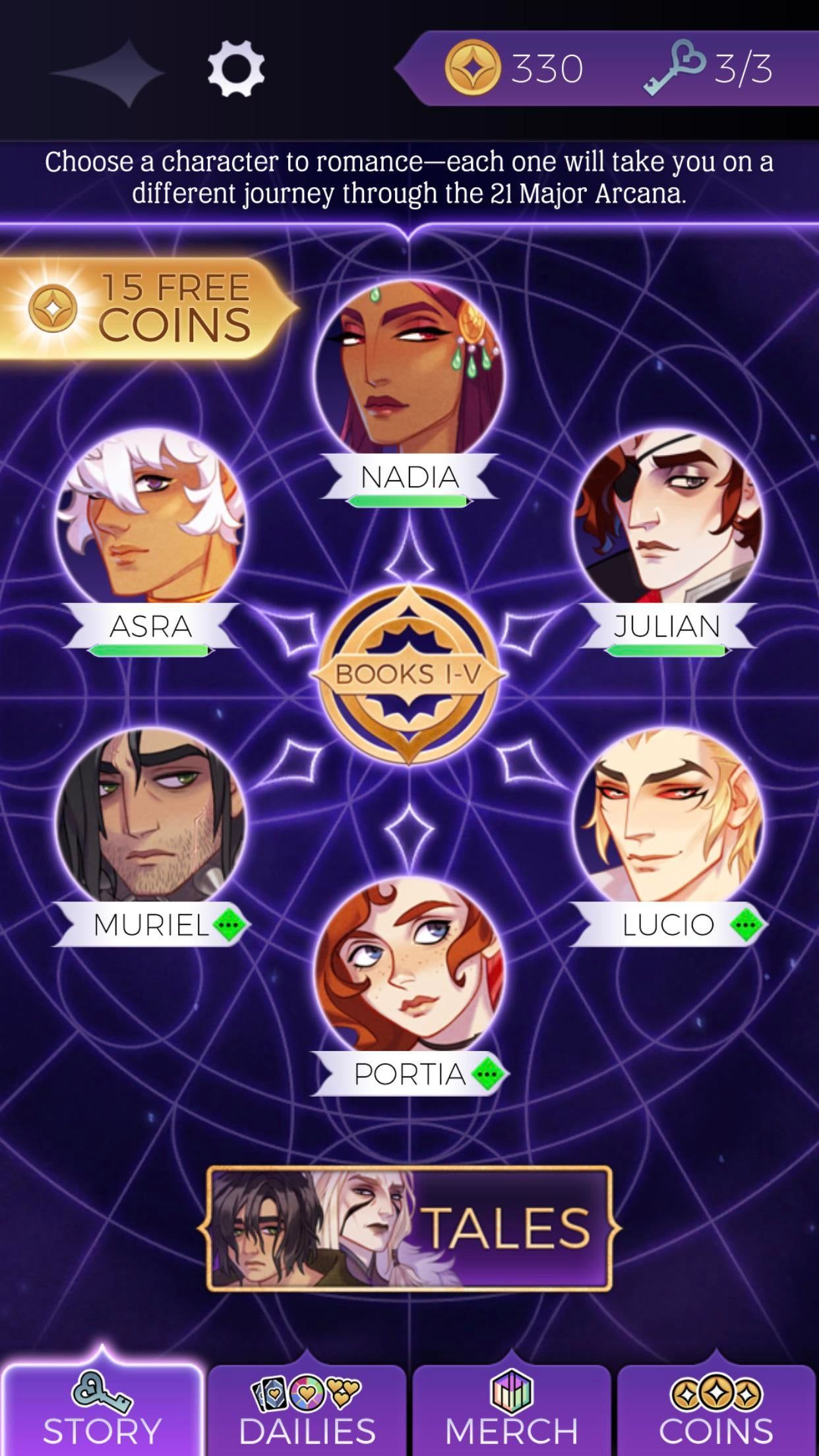 There is one additional way to earn extra coins: by watching 15- to 30-second ad videos. While this is probably the easiest method of obtaining coins, it, unfortunately, isn't the most reliable. The option to watch ads for free coins will pop up occasionally on the game's Story screen (the default home screen). Though it's not always reliable, be sure to take advantage of it when you see the option.
Keys
What They Are
Keys unlock chapters within a character's story. You'll need a key to read a chapter, even if you've already read it once. The exception to this rule is if you've purchased a book with coins, as mentioned above.
How To Get More
The Arcana automatically gives you three keys, which each refill after seven hours. Therefore, the easiest way to get more is just to be patient and wait.
However, if you're looking to binge a bunch of chapters at once, you'll obviously need more than three keys to get through a significant chunk of a character's story.
While there aren't as many ways to gather more keys in comparison to coins, the main way to get extra is by winning as many games of Heart Hunter as you can. As mentioned above, winning games will unlock postcards; which, in turn, will unlock special prizes. Both coins and keys can be obtained by winning these prizes. Plus, your keys stack; meaning if you end up with more than three keys at once, you'll keep them all! Therefore, it's a smart idea to take advantage of your three free Heart Hunter lives each day, and try your best to win as many games as you can.
The Arcana: A Mystic Romance is available now as a free-to-download game for iOS and Android devices.
NEXT: The Arcana: A Mystic Romance Portia – All Answers For Upright And Reverse End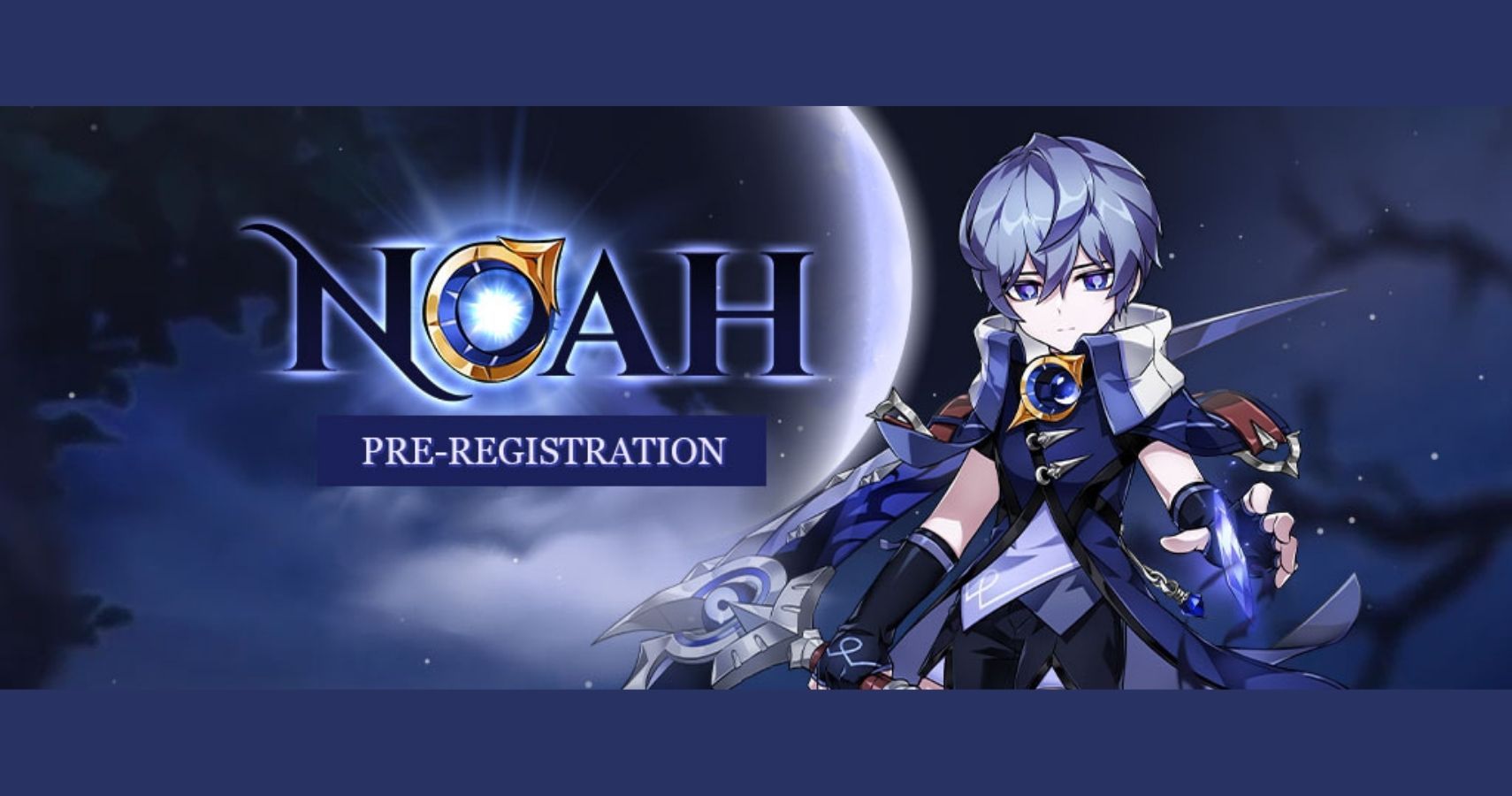 Guides
Dating Sim
visual novel
Abby Espiritu is a writer and video game fanatic. While pursuing a Bachelor of Arts (double major) in American Studies and Modern Culture & Media at Brown University, she stumbled upon a Video Games Studies course where she got to read and write about her favorite RPG's, visual novels, and everything in between for an entire semester. While she loved the class immensely, she wondered what the heck she would do with all the information she had learned. Luckily for her, she found something to do with it – make a living in video game journalism! In addition to her articles on The Gamer, Abby's also written for publications like Gaming Top Tens, Gamers Decide, and Nerds & Scoundrels. Beyond her writing endeavors, Abby is also an onscreen and voiceover actress, as well as a casting production assistant based in New York City. Follow her on Instagram and Twitter: @missabbyespirit
Source: Read Full Article