The Next Crash Team Racing Grand Prix Will Be Its Last
All good things must come to an end. If you've been enjoying Crash Team Racing Nitro-Fueled's Grand Prix events, you'll want to really make the most of the next one: it's going to be the last.
As fans who fondly remember the original Crash Team Racing (which hit the PS1 in 1999) will tell you, this kart racer was a huge deal. It was developer Naughty Dog's first ever attempt at the genre, and it really nailed it. Everyone from Sonic the Hedgehog to the darn Crazy Frog has tried that hand at kart racers, but for many, only Crash's effort came anywhere close to being considered a worthy Mario Kart competitor.
As such, after the release of the Crash Bandicoot N-Sane Trilogy, fans began to clamor for CTR to be given similar treatment. The announcement took quite some time, but Nitro-Fueled was eventually released in June 2019. Being a modern game, though, it was expected that the package would offer a little more than the original did (on top of all the additional Crash Nitro Kart content that was included), particularly in an arena that's crucial to any racing title today: online play.
To this end, Beenox and Activision introduced the Grand Prix system. These were time-limited in-game events that saw players achieving certain objectives and competing in races and battles to earn experience in that Grand Prix, which would go towards unlocking exclusive characters, skins, and customization parts for their vehicles.
As Activision's official blog reports, previous Grand Prix have explored themes from Prehistoric to Spooky and Apocalyptic, over the course of eight monthly seasons. Sadly, though, the next one is going to be the last. We don't know the details of this upcoming Grand Prix, but we do know that it's not going to mark the end of Nitro-Fueled support: new content is going to continue to be added.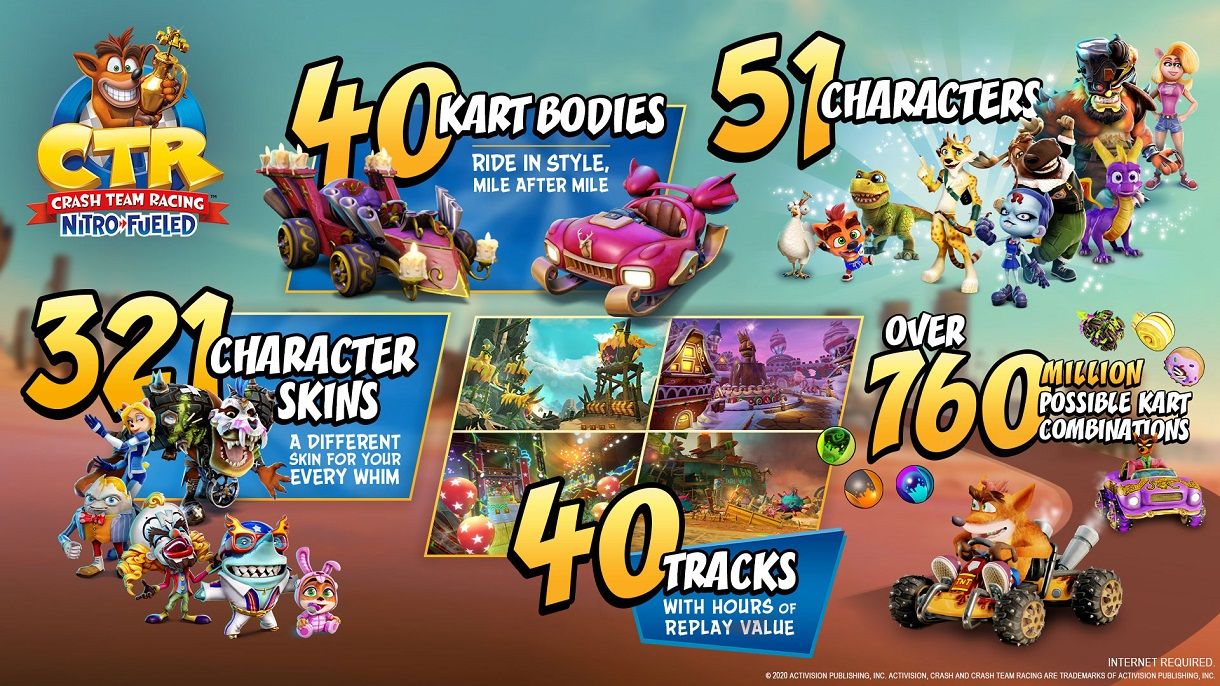 "Although the Grand Prix seasons are rounding out," the team writes, "current and new players alike will still be able to enjoy all the game modes (including online matchmaking), as well as a new ongoing challenge system, new time trials to complete, and even a new drop of characters, skins, and karts that will hit the track shortly after the final Grand Prix Season (including a long-awaited item that we think fans will be very happy about)."
Most interesting for the true Crash Team Racing pros are those time trial records. This time, it's not the nefarious Nitros Oxide's records that are the ultimate challenge, but the best times recorded by the Beenox team themselves. If players are good enough to beat these times on every track, they're promised a very special (and very secret) reward worthy of their achievement.
The Grand Prix system has served the game well, there's no doubt about it. As the graphic above shows, Nitro-Fueled now offers an absurd amount of content. Now it is entering a new, more low-key chapter, but it's sure to be just as much riotous fun as ever.
Source: Read Full Article