The Sims 4: A Complete Guide To Modular Furniture
The Sims 4 Dream Home Decorator pack has finally added sectional sofas and modular shelving to the game. Both of these new furniture types have two sets of matching styles and swatches to choose from.
We take a look at the options you'll find in the game and how they all fit together as well as all the different things you can do with the new sofas and storage.
Sectional Sofa Options In Dream Home Decorator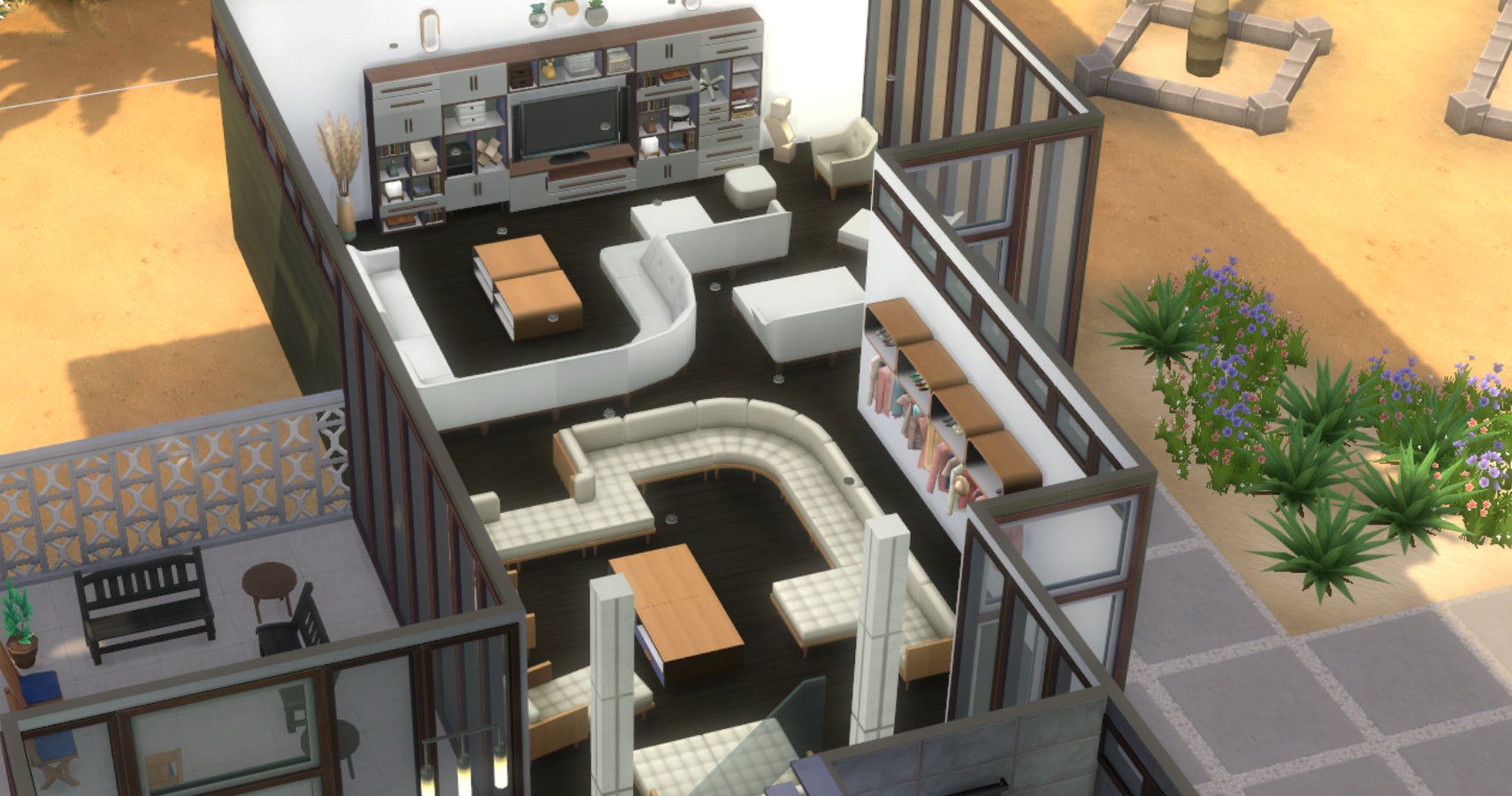 Dream Home Decorator comes with two different sectional sofa designs. The first is a sleek and modern style that has flat cushions and smooth rounded arms. There are few details on this design aside from the button on the back cushions.
The second design is more rustic with padded cushions as well as visible wooden arms and backs. This makes it appear more like a wooden sofa with removable cushions.
Each design has ten pieces. They comprise:
Left-armed section
Right-armed section
Armless section
Backless section (can be used as an ottoman)
Square corner section
Circular corner section
External corner section
Armless chaise longue section
Left-armed chaise lounge section
Right-armed chaise lounge section
There is also a matching armchair for both designs.
Dream Home Decorator Sectional Sofa Swatches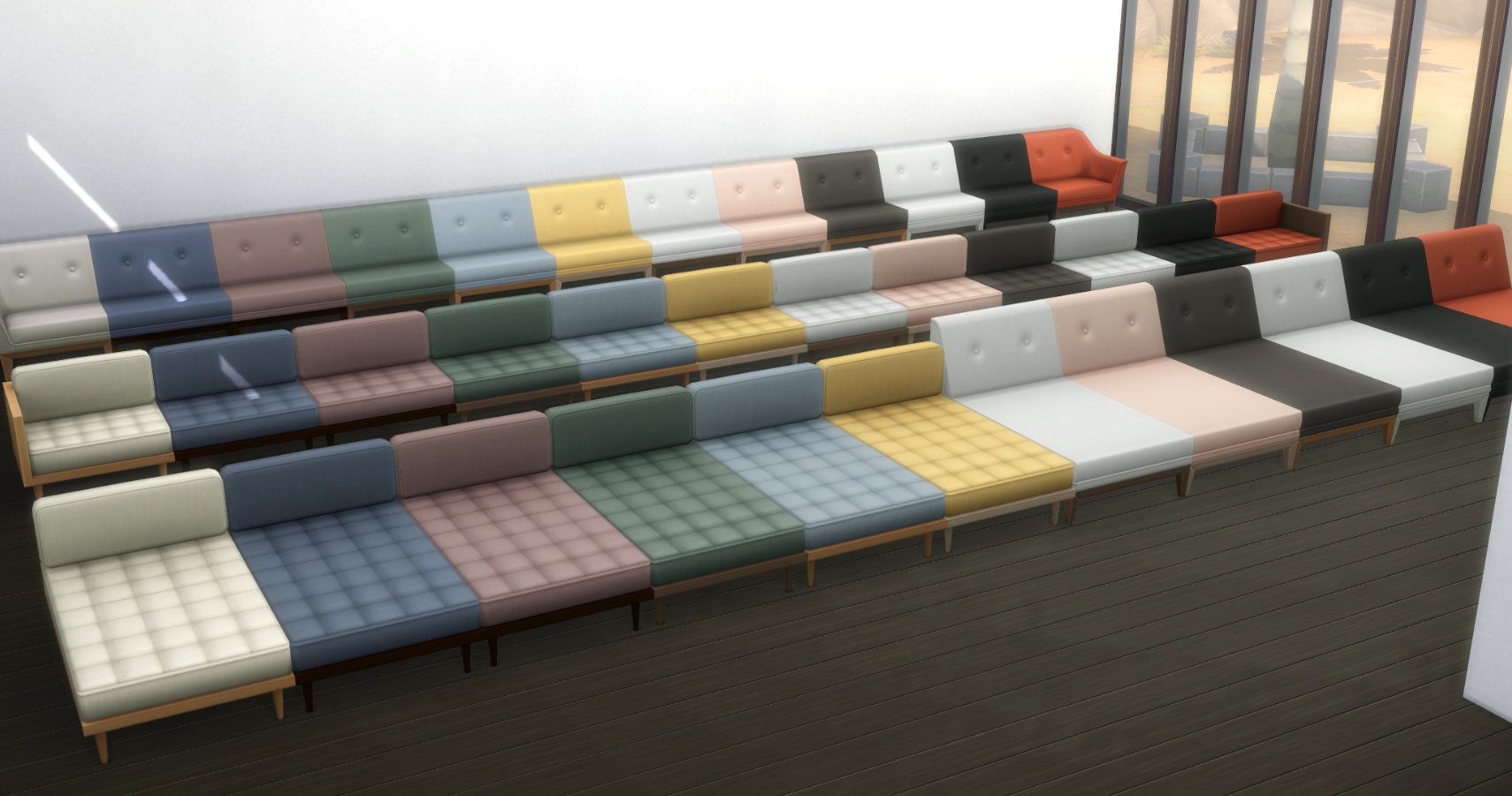 Both sofa designs have 12 swatches and they match across the two designs so whatever color scheme you choose either design will match.
As well as a selection of pastels there are also black, white, gray, and cream options to allow you to keep things neutral.
Dream Home Decorator Sectional Sofa Variations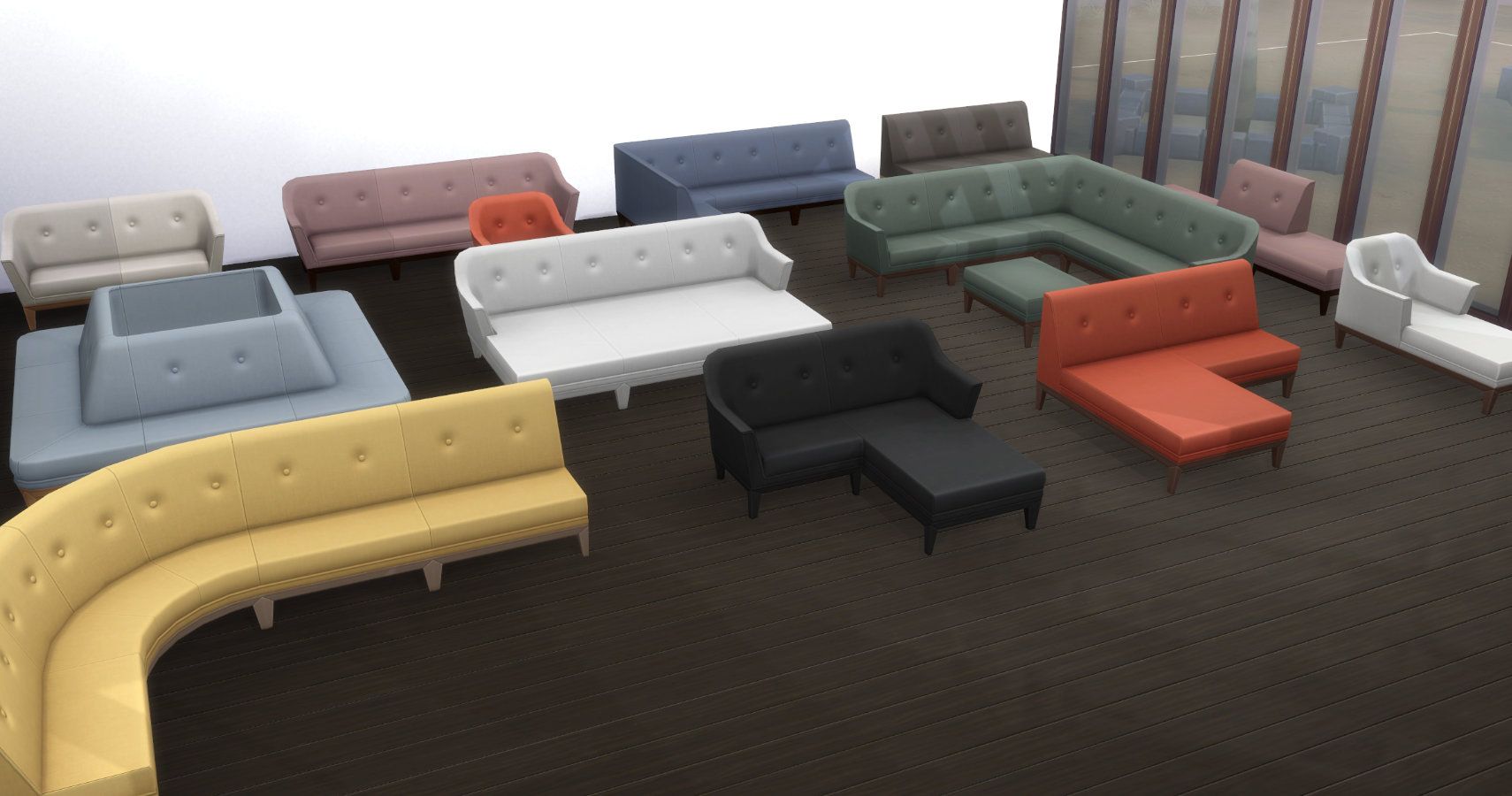 As you can see from the options above the pieces are versatile enough to create a wide range of styles and designs. Each section simply clips together when you put them next to each other, although they do also move individually.
There is an automatic option that tries to fill in the gaps but this has varying success due to the wide range of pieces. It only really works when placing a sofa in a corner against a wall. We found it easier to place pieces individually and move them around.
Modular Furniture Options In Dream Home Decorator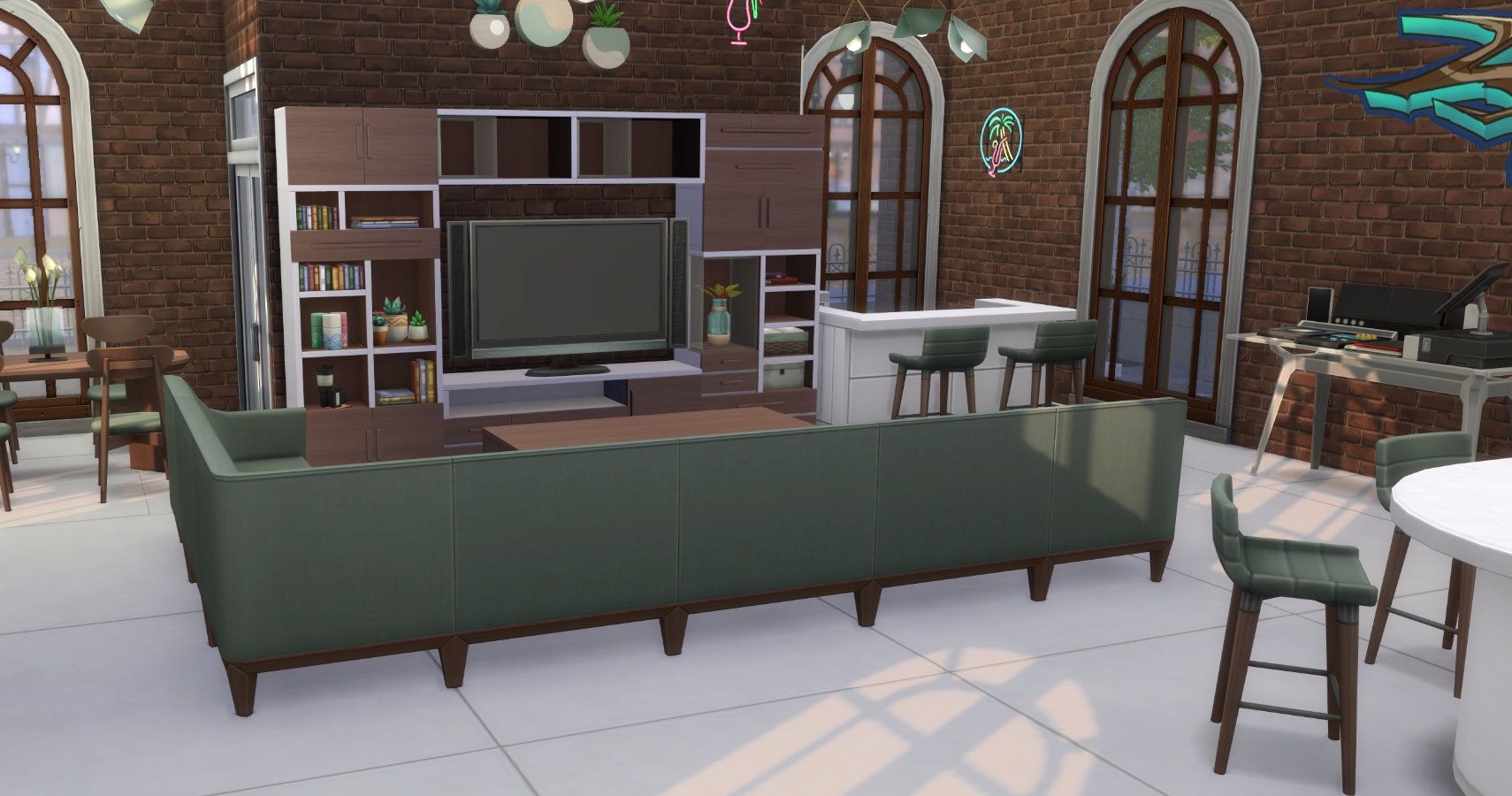 As well as the sectional sofas you'll also find a wide range of shelving unit options that can be utilized in most rooms of the house. There are floor and wall units, as well as complimentary pieces including coffee tables and desks.
As with the sofas, there are two different styles. The first has rounded corners and the second has square corners. Each style has the same basic pieces and a few different extras.
Dream Home Decorator Rounded Modular Furniture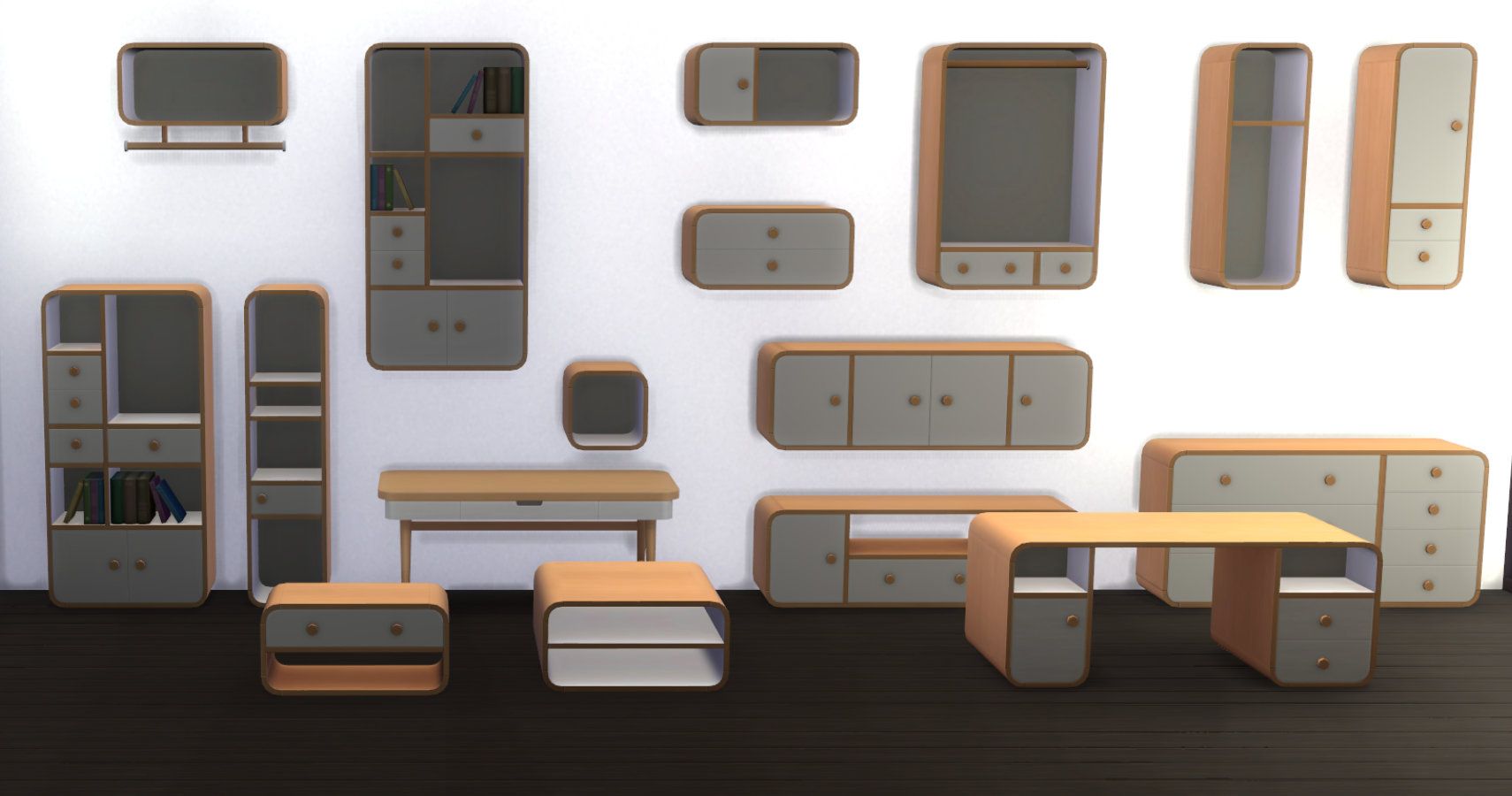 There are a good number of pieces of furniture in this set and most of them will snap together. Here's what's included:
Floor standing bookcase
Floor standing media unit
Open shelf unit with one drawer
Desk with drawers
Desk with same design as the small table against the wall (not pictured)
Small table
Coffee table with shelves
Coffee table with drawer
Chest of drawers
Tall wall unit with doors
Tall wall unit with shelf
Open wardrobe with hanging rail
Wall-mounted media unit with drawers
Wall-mounted two drawer unit
Wall-mounted shelf and cupboard
Wall-mounted open shelf with hanging rail
Wall-mounted cube unit
Wall-mounted bookcase
There are also a few other pieces of furniture that work with these but they won't snap together. While the small table is included here, not everything will snap to this due to the design of the legs. There is also a desk with the same design that has the same limited snapping functionality.
Dream Home Decorator Square Modular Furniture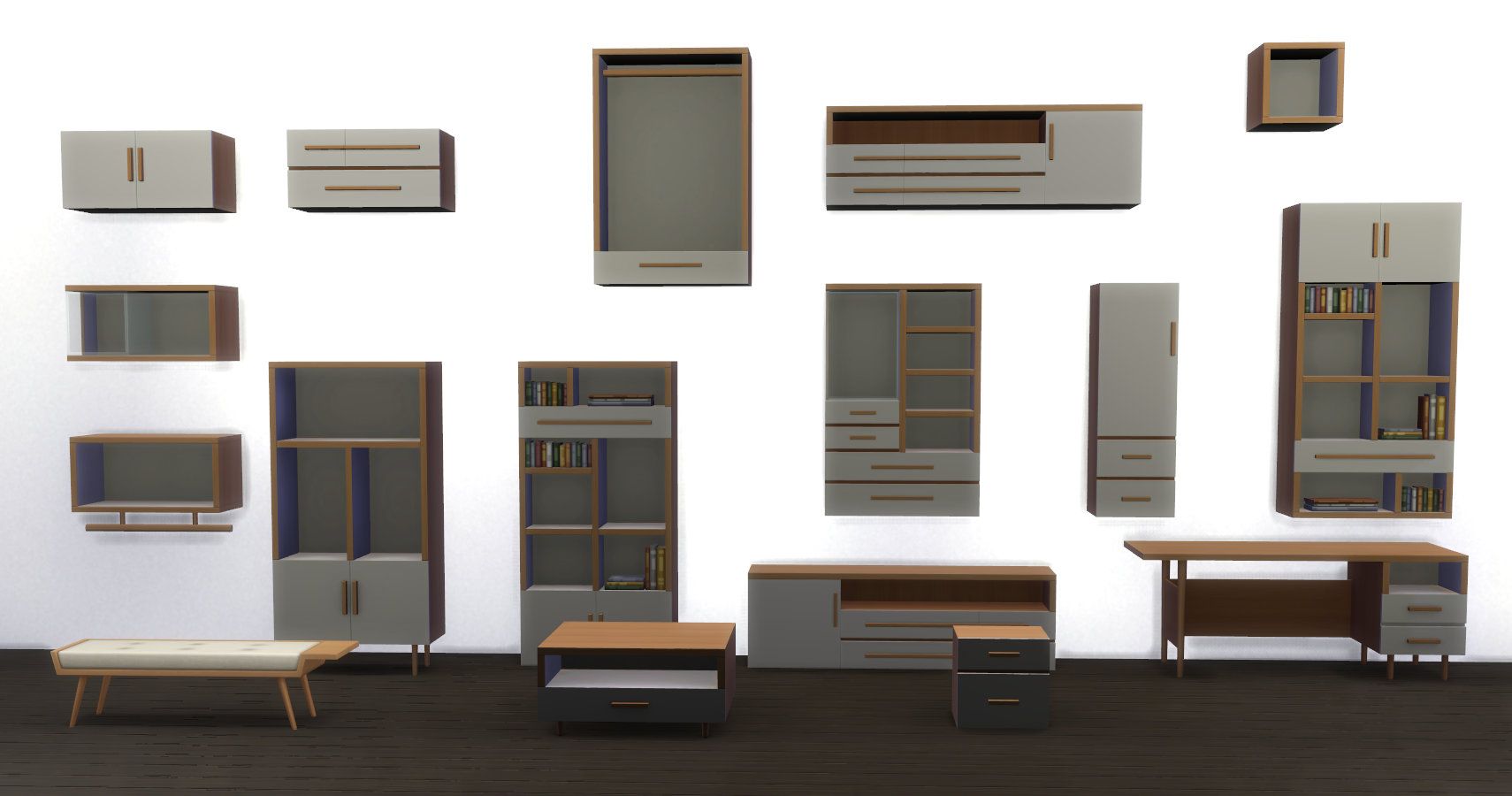 The square-cornered options have slight variants in terms of snapping pieces, including display units but not a large chest of drawers. The bench pictured doesn't snap but matches perfectly with this design. The snapping items are:
Floor standing bookcase
Floor standing media unit
Floor standing display cabinet
Desk
Small side table with drawers
Coffee table with drawer
Tall wall unit with doors
Open wardrobe with hanging rail
Wall-mounted media unit with drawers
Wall-mounted two drawer unit
Wall-mounted shelf with glass panel
Wall-mounted open shelf with hanging rail
Wall-mounted cube unit
Wall-mounted bookcase
Wall-mounted display cabinet
All these units will link together allowing you to create a range of different combinations. You can also mix and match the two designs if you wish as the modular system is all the same so rounded pieces will snap to square ones.
Dream Home Decorator Modular Furniture Swatches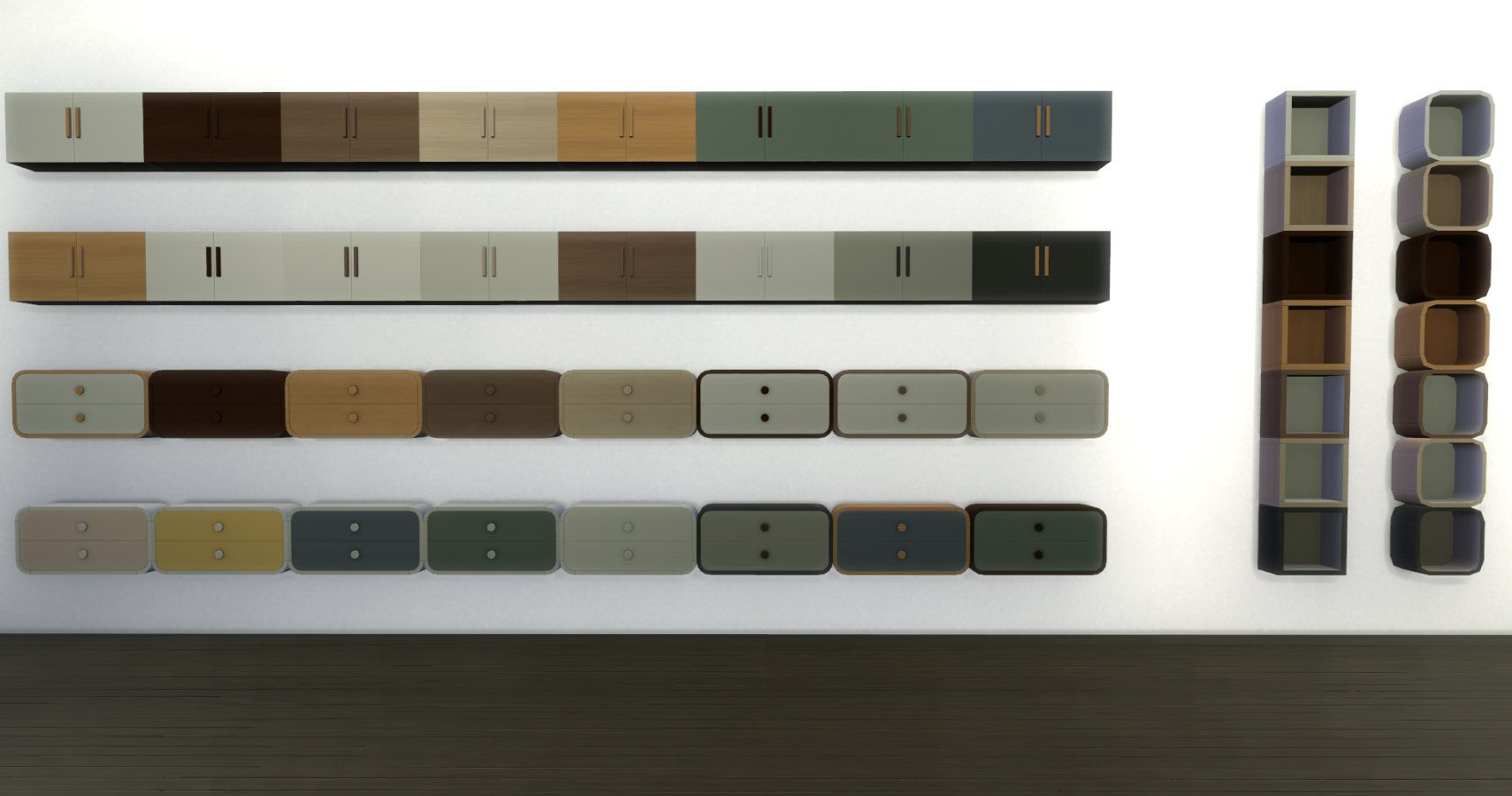 Both designs have 16 swatches and there is some crossover. However, both variations also have some unique options as well.
You'll find black, white, and several wood-tone combinations across both sets, allowing for some mixing and matching. Alongside this, the square furniture has some more pastel-colored woods that match existing retro kitchen items. The rounded furniture has swatches with more vibrant colors mixed with white to match items for kid's bedrooms.
Modular Furniture Tips For Dream Home Decorator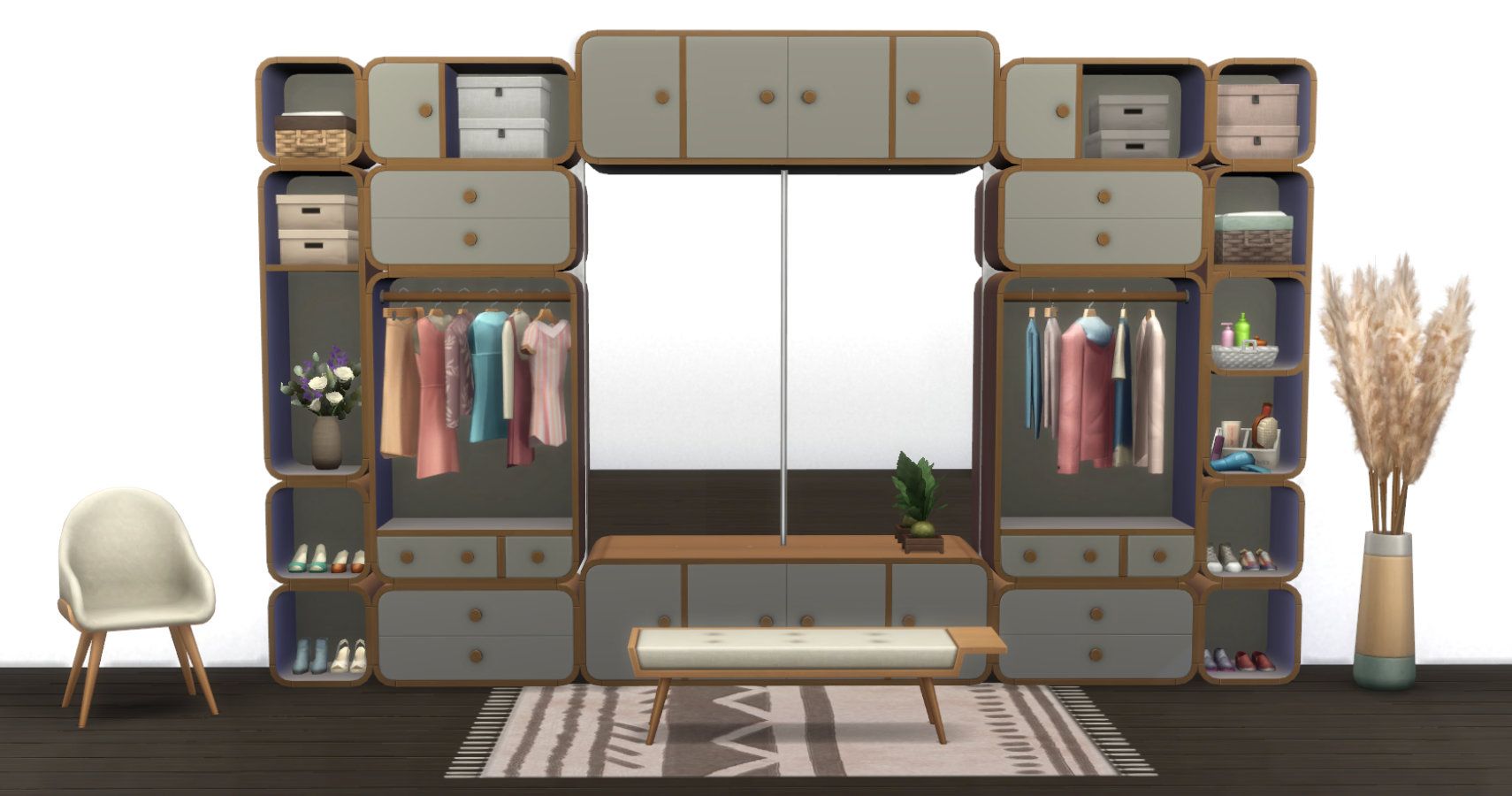 Most commonly you think of huge media centers in the lounge when talking about the modular shelving but these units are far more versatile. You can create walk-in closets, dressers, and shoe storage in bedrooms, as well as using complementary pieces like the beds, side tables, and chairs to add those finishing touches.
Outside of the bedroom, you can also use the furniture to add unique shelving to your bathroom, different wall units in a kitchen, and much more.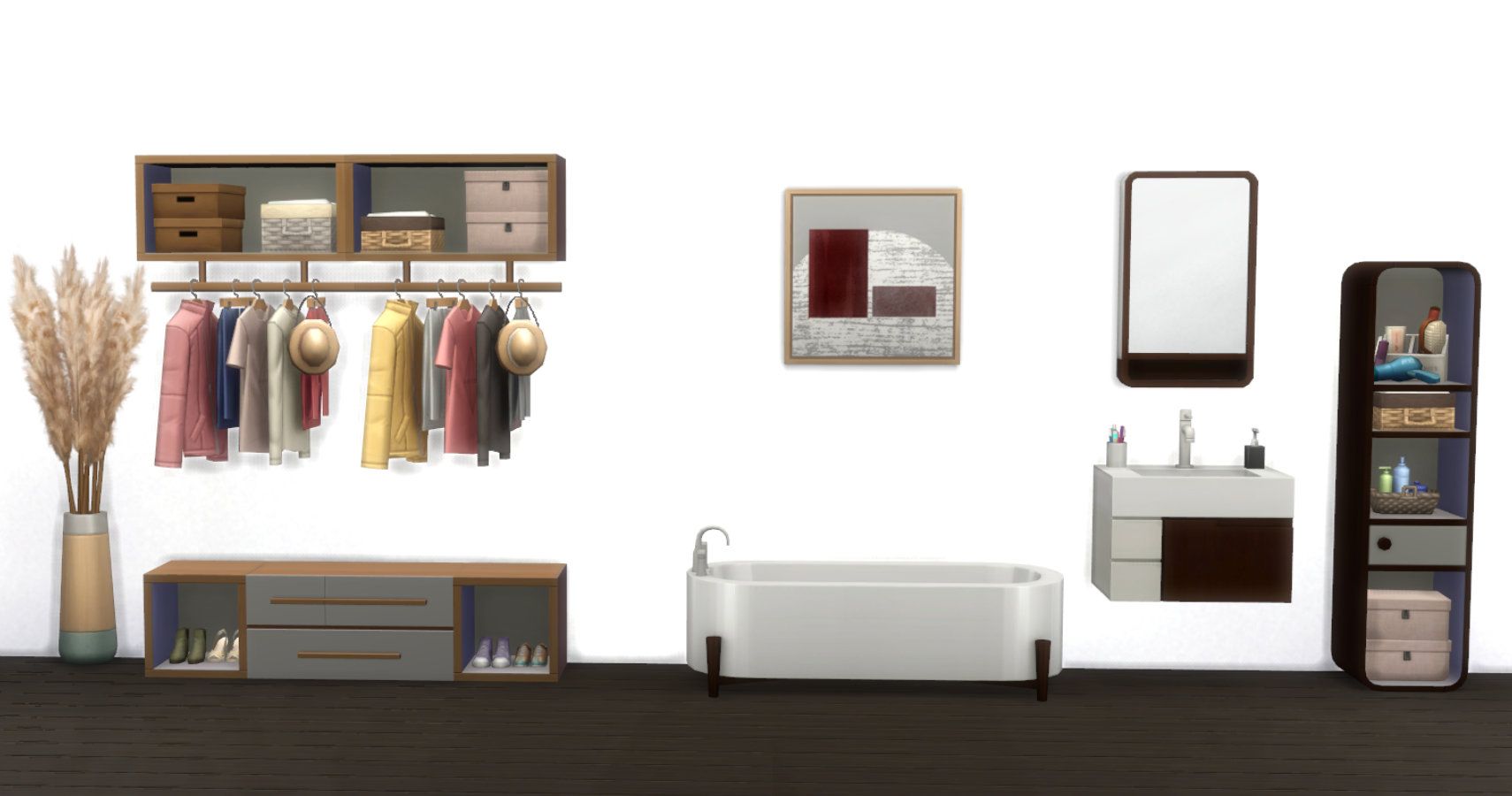 The items are versatile enough to put even in small spaces allowing you to create cloakrooms, display areas, and workspaces.
Each piece snaps to the one next to it when placed within a neighboring grid space. To move them all, simply click the first one you placed and the entire set will move. Clicking units separately will allow you to remove one from a larger unit.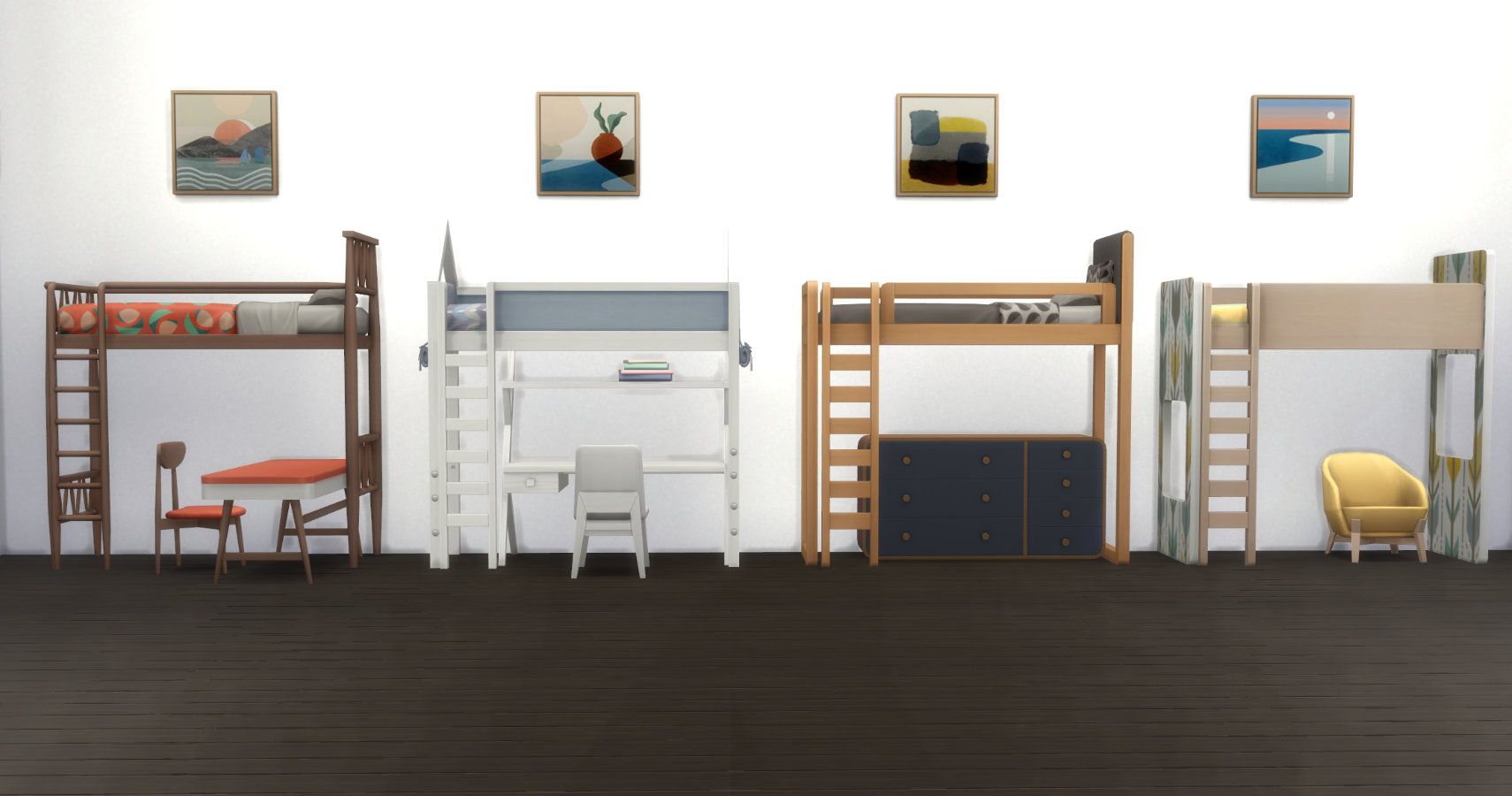 The pack also contains a large number of items designed to match the modular units. Four new bunkbed designs even have variants that put the new modular items underneath the beds to show how well they match.
We recommend using the filters in build and buy mode, just to see just how many other things you can find that go with the shelves and sofas. There are kitchens, sinks, curtains, rugs, dining tables, chairs, and more.
Modular Shelving Bugs And Issues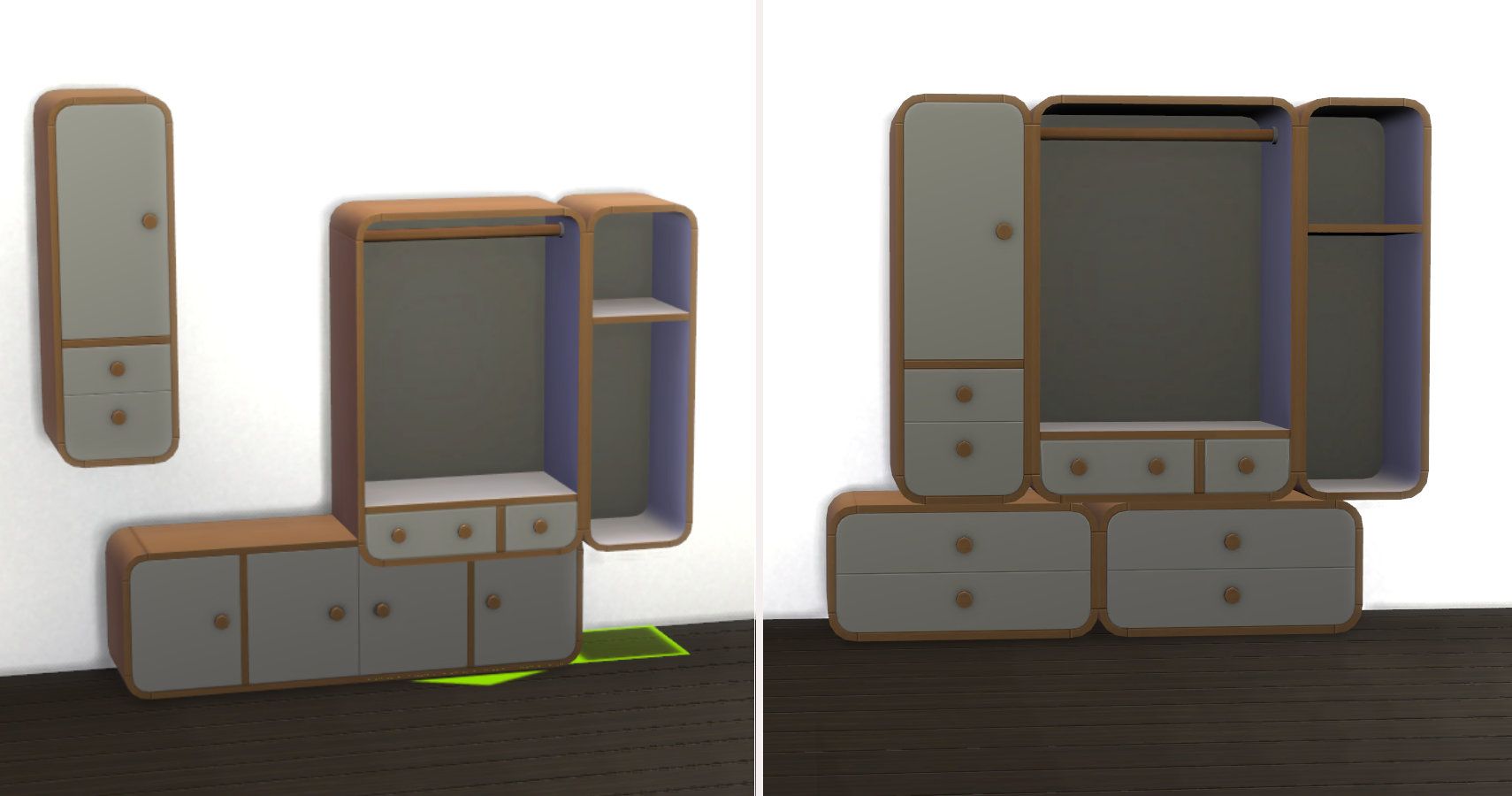 For the most part, the modular shelving works very well. The only issues are often a result of trying to snap wall pieces onto floor-standing pieces. Sometimes the units clip through each other, as can be seen above. This bug seems to mostly affect the media unit. If you replace it with the wall version you can still place it on the floor but it will snap together easier.
The other common issue is two units snapping to the wrong side. This is mostly just a case of fiddling around. If you end up with something like the image on the right above then try snapping the sections together in a different combination since trying to match up two small groups of units seems to be the cause.
The final bug you will spot is the lighting glitch that makes swatches appear a different color. This is a long-standing issue with the game, most frequently seen with kitchen wall units.
Overall the units work well, match well, and are incredibly versatile. Builders in particular will love this new addition to the game.
Source: Read Full Article