Tomb Raider Reboot, Rise, And Shadow Are Free On Epic Games Store
Sadly, today is the last day of Epic's big holiday giveaway. Starting December 16 and lasting until today, Epic gave away a new free game on the Epic Game Store every day. One of those free games was Control, which was a pretty good game that's been a highlight for Epic's free giveaways before, but today's freebie is an even bigger highlight.
The entire Tomb Raider reboot trilogy is available for free on the Epic Games Store. That includes Tomb Raider: Game Of The Year Edition, which has all the game's various story expansions; Rise of the Tomb Raider: 20-Year Celebration, which includes Extreme Survivor difficulty, co-op Endurance mode, and other DLC; and Shadow of the Tomb Raider: Definitive Edition, which includes all DLC missions and cosmetics.
Each of these games will be free on The Epic Games Store until January 6 at 11 AM PT, at which point the next free game will be Gods Will Fall. Which is a fine game, but the value proposition seems to be somewhat lessened by the fact there's only one free game as opposed to three.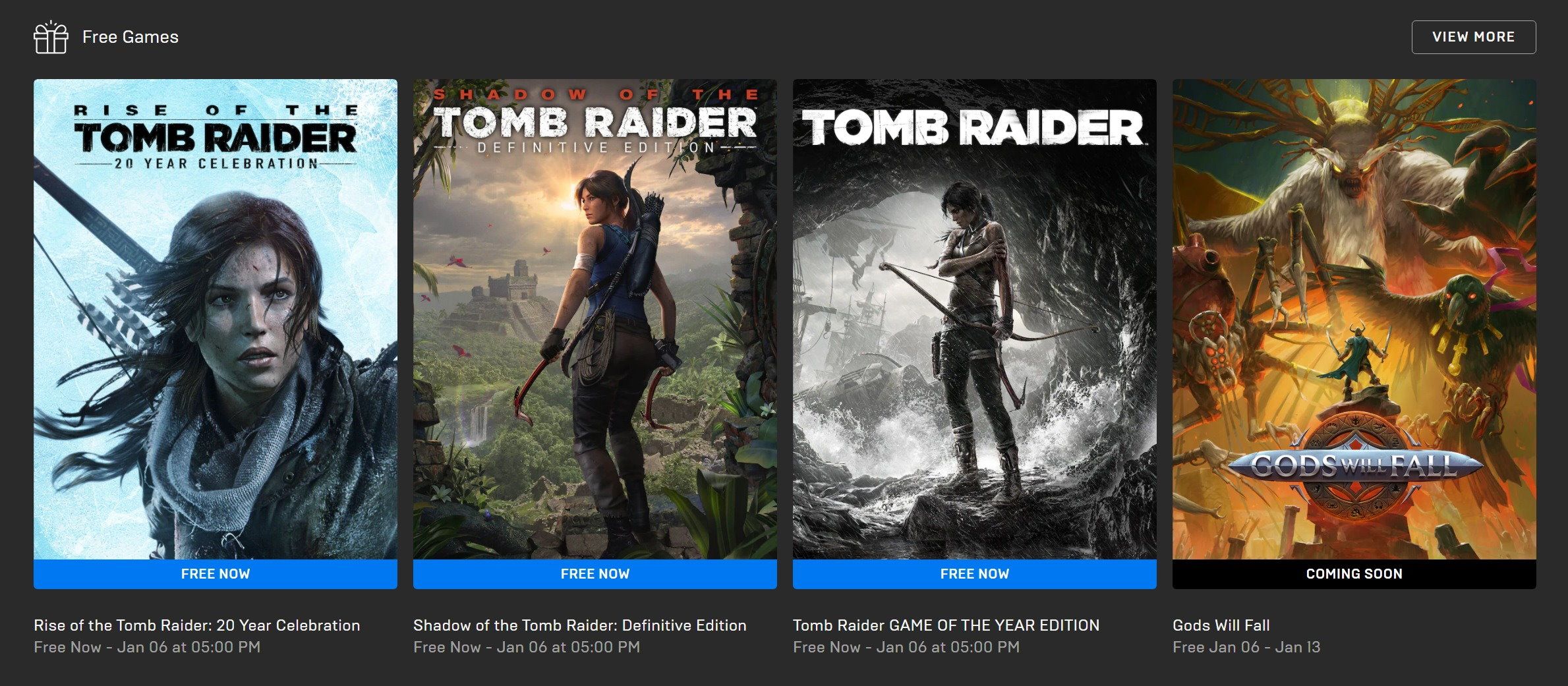 There's still time to take advantage of Epic's big holiday sale, which provides prospective game shoppers with a $10 coupon for every game purchase over $14.99. That's per game, not per purchase, so the more you buy, the more you save. That deal along with the many discounts and free loot for Rocket League, Warframe, and Fornite will end on January 6, too.
Epic might have decided to give away Tomb Raider to tie in with the franchise's 25th anniversary, which we celebrated by publishing a whole bunch of features and interviews about Lara Croft and her many adventures. I'm not saying that giving away a bunch of free games is easy, but it probably didn't take as much work as interviewing a bunch of former Tomb Raider devs.
Source: Read Full Article