Twitch Ads Incentive Program Promises Easier Money For Streamers
As much as we wish it weren't so, streamers and content creators need money, and the primary way for them to get it is through ads. But ads can be complicated! You gotta set aside two, three, or four minutes every hour to let Twitch run an ad, and then you gotta keep track of how much revenue you'll get based on your average viewers. Who's got the time for that?
That's why Twitch has announced its new Ad Incentive Program, or AIP. The program takes the guesswork out of ad revenue by providing content creators with a solid pay floor.
Related: "There Was No One Who Was Doing This" – Pokemon Challenges On Nuzlocking Emerald Kaizo
"We've created the Ads Incentive Program, or AIP, for two crucial reasons: reliable and predictable income is important for streamers, and managing ads can be a pain that takes time away from creating content," writes Twitch in its announcement. "We want to free creators from additional management responsibilities so you can focus on doing what you love with the community you love."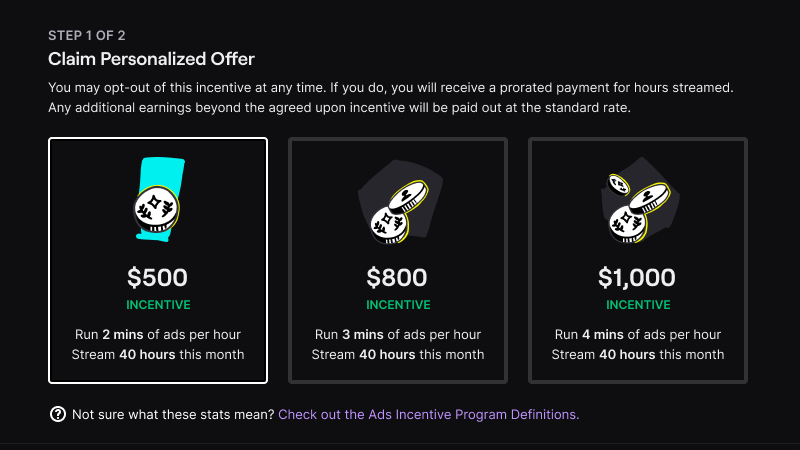 Twitch will only offer AIP to a select group of affiliates and partners to start, and only of those affiliates and partners accept the AIP offer in the Ads Manager tab. Those offers will vary, but Twitch provides us with three examples: $500 for two minutes of ads per hour of streaming, $800 for three minutes of ads per hour, or $1000 for four minutes of ads per hour. All three require a minimum of 40 hours of streaming per month. Ads Manager shows your progress towards your monthly goal and that monthly payout.
If you stream more than 40 hours (or however many is required in your AIP agreement), streamers will keep earning their normal ad payout rate for every additional hour.
We should note that Twitch has removed the AIP announcement from its official blog, which might indicate that the streaming platform has delayed its rollout.
In other Twitch news, don't say you're 12. Twitch has started cracking down on viewers who say they're 12 or under in streamer chats, resulting in permanent suspensions for breaking Twitch's terms of service.
Source: Read Full Article