Two Point Campus: Guide To Funny Business
Quick Links
How To Unlock Funny Business
Funny Business Course Details
Funny Business Course Rooms And Items
There are more than a handful of courses in Two Point Campus that can be described as random. Chief among them is the Funny Business course, which takes class clowns and trains them into full-gown, professional clowns. Funny Business isn't the most practical course, but it'll make your campus a brighter place as it attracts students with the class clown personality type.
Funny Business is a great secondary or tertiary course to run alongside others. It's not a very difficult course to manage, and the facilities needed to run Funny Business can also be used for several other courses.
How To Unlock Funny Business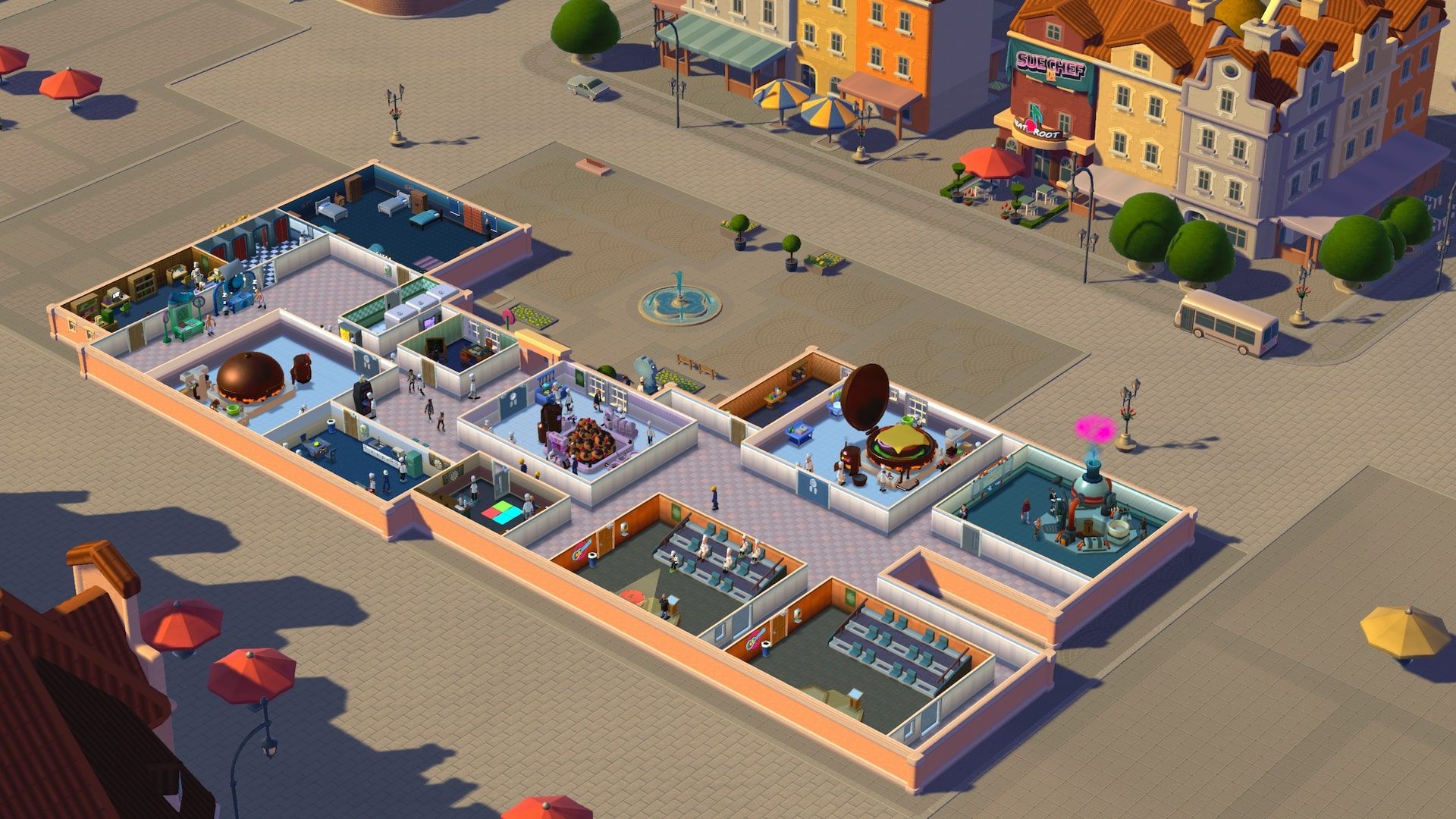 To unlock the Funny Business course, you'll need to progress to the campaign's second level, Piazza Lanatra. Once you begin the Piazza Lanatra level, you'll automatically unlock the Gastronomy course. The Funny Business course won't unlock until you've completed all the objectives to gain one star.
One Star Objectives
Tips
Have Ten Students Complete Private Tuition Sessions

The first thing you'll want to do is build a Private Tuition Room. You'll need $6,600 to build this room.
You'll need a teacher to staff this room, so make sure you hire enough staff to teach lessons and run private tuition.

70 Percent Average Student Entertainment

Student entertainment can be raised in many different ways.
You can use lecture theatres to hold film screenings to boost student entertainment. Click on the room and head to the events tab to set one up.
Building a student union is another great way to raise entertainment. Make sure the room is equipped with a stage, so you can hold live music shows for students.
Place items like an arcade cabinet or a darts board around the campus.

Five B Grade Gastronomy Classes

Every lesson that's taught on campus will be graded. To increase the grade of a class, hire teachers with a higher qualification level, or increase the level of the room by buying better equipment.
Funny Business Course Details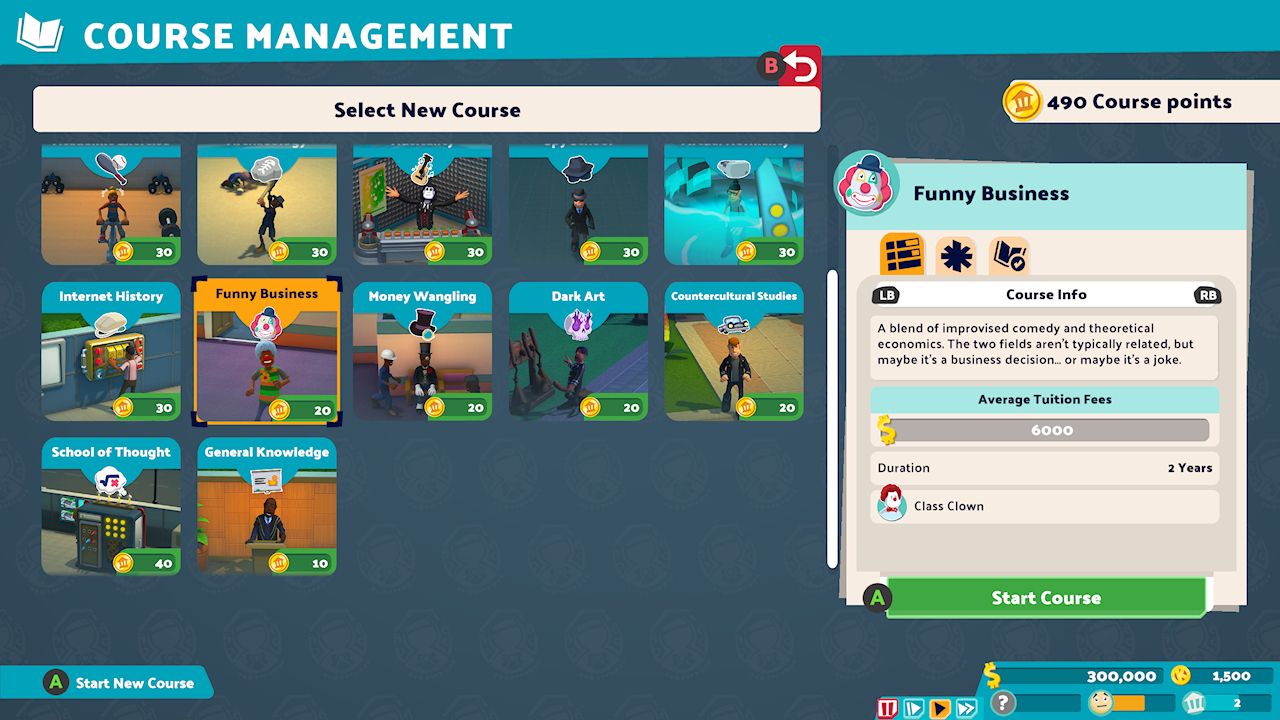 Funny Business is a course that only requires two rooms: a Science Lab and a Lecture Theatre. This makes Funny Business a great secondary course, as all courses need Lecture Theatres and several courses require a Science Lab. There are no rooms that are unique to funny business.
At the end of an academic year, you'll be able to invest your Course Points to begin new courses or upgrade existing ones. Funny Business costs 20 Course Points to start, and upgrading the course will increase your student intake for the course and the teacher's maximum qualification level for Funny Business.
As your student intake increases, you'll need more facilities to accommodate all of them, as there won't be enough space in a single Lecture Theatre and Science Lab.
Here's a breakdown of everything you'll need as you upgrade the Funny Business course:
| Level | Students (Default) | Max. Teacher Qualification Level | Lecture Theatres | Science Lab | Funny Business Teachers |
| --- | --- | --- | --- | --- | --- |
| 1 | 10 | 3 | 1 | 1 | 1 |
| 2 | 15 | 4 | 1 | 1 | 1 |
| 3 | 20 | 5 | 1 | 1 | 2 |
| 4 | 25 | 6 | 2 | 1 | 2 |
| 5 | 30 | 6 | 2 | 1 | 2 |
| 6 | 35 | 7 | 2 | 1 | 3 |
| 7 | 40 | 7 | 2 | 1 | 3 |
| 8 | 45 | 8 | 2 | 1 | 3 |
| 9 | 50 | 9 | 3 | 2 | 4 |
| 10 | 55 | 10 | 3 | 2 | 4 |
The average tuition fee per student on the Funny Business course is $6,000, which means you can make at least $330,000 a year from students once you've fully upgraded the course. Once student happiness is high enough, you can raise tuition fees in the campus overview menu.
If you raise fees by too much, students will begin to drop out, and it won't be worth the extra money.
The table above only lays out what is required to run the Funny Business course – students will still need a host of other facilities on campus.
Students will need libraries to study, level up, and complete assignments. Toilets and bathrooms will keep students' toilet needs and hygiene in check.
Student unions and lounges will keep students happy – ensuring they'll pay their tuition fees and avoid dropping out.
Dormitories are essential so students can get enough rest – they're also a great source of income since they'll generate money through rent.
Funny Business Course Rooms And Items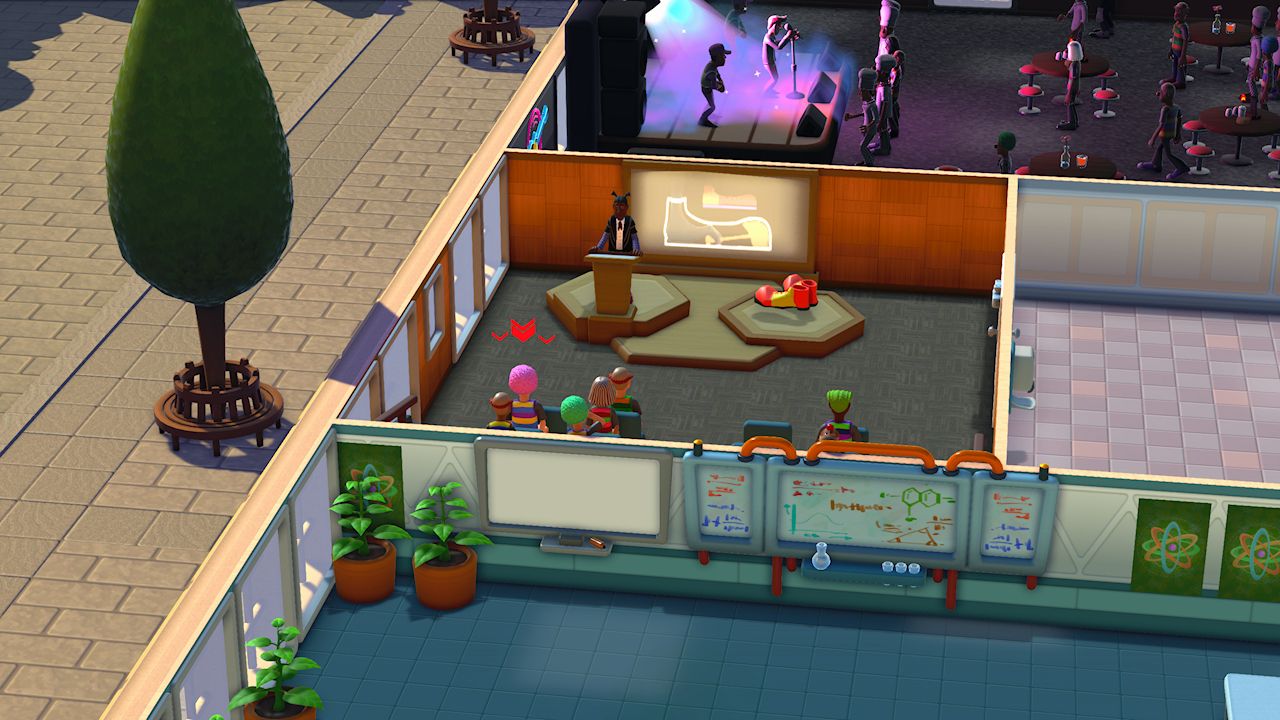 As previously stated, Funny Business only requires two rooms a Science Lab and a Lecture Theatre. But if you want to run the best course possible, you'll need to upgrade these rooms and equip them with the best items possible.
Increasing a room's size, attractiveness, or learning capability will help a room level up and become more effective. Higher-level rooms also contribute to your Campus Rank.
Even though the game will only tell you that the Science Lab and Lecture Theatre are required, students will soon request lots of items and facilities required for assignments and other activities.
You can keep track of student requests by going to your messages.
Science Lab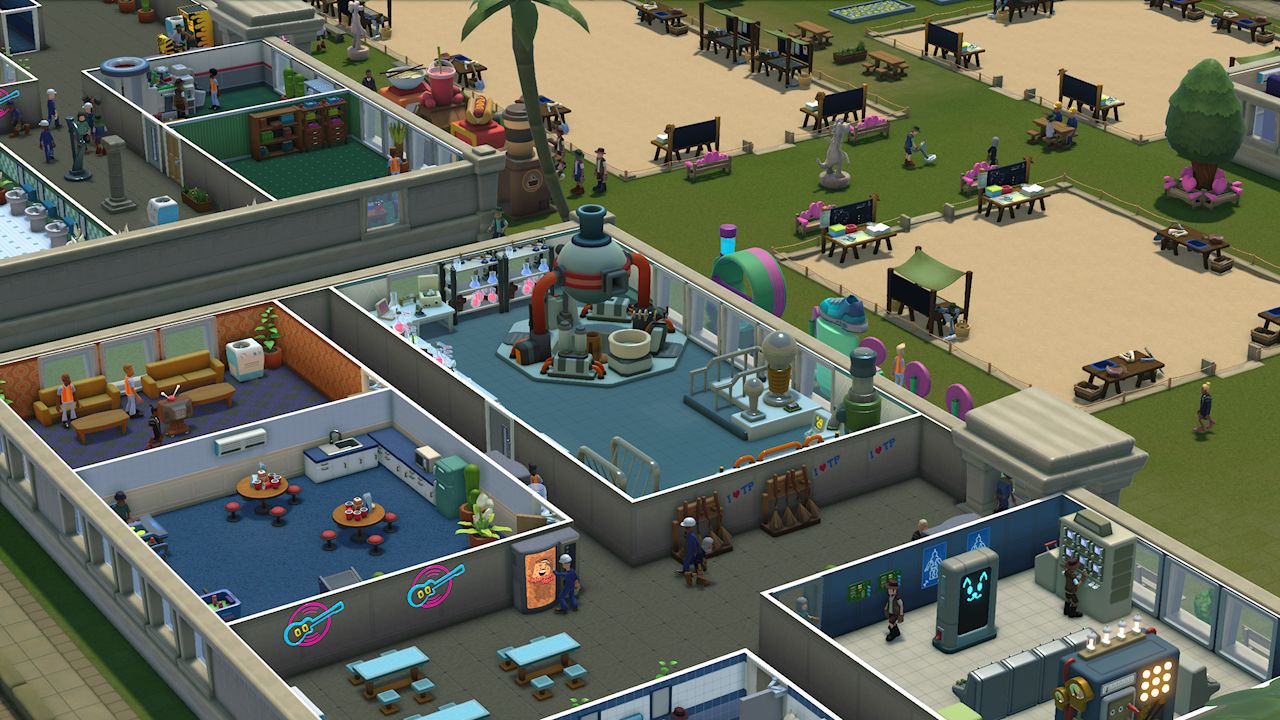 The Science Lab is where Funny Business classes will be held – comedy is a science, after all. Students will level up and achieve better grades while using the Science Lab, but some items can give students a learning boost to speed up their education. Take a look at all of the Science Lab's most essential items below.
Science Labs cost $18,200 to build and have a minimum room size of 4×4.
Item
Details
Science Hub
Science Board
Experiment Station

$3,500
15 Kudosh
Required for Assignments

Momentum Marbles

$25,000
+ two percent Learning Power
30 Kudosh
Required for Assignments

Microscope

$16,000
+ two percent Learning Power
150 Kudosh
Required for Assignments

Science Station

$3,000
15 Kudosh
Required for Assignments
Lecture Theatre Items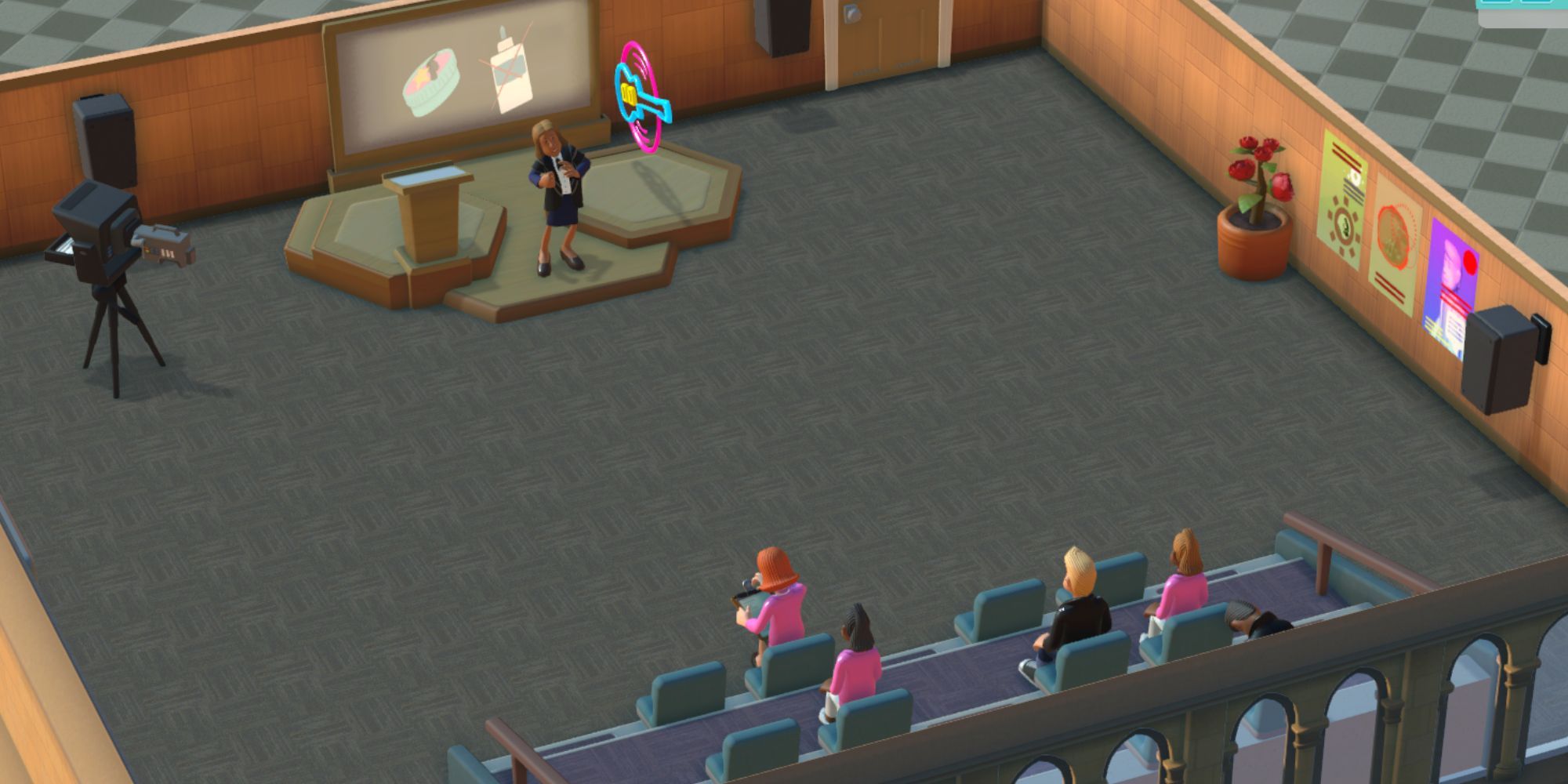 Lecture Theatres are rooms that every single course in the game uses, and Funny Business is no different. You can increase the level of your theatres to boost the learning in lectures.
Alternatively, there are several items you can purchase that will provide their own learning bonus for students. Be sure to upgrade the lectern in this room for an additional boost to learning.
The lectern can be upgraded twice, but you'll need a janitor trained in maintenance before you can upgrade equipment. Before this is possible, you'll also need to research how to upgrade the lectern in a Research Lab.
Remember to hold film screenings in your Lecture Theatre for a boost to student happiness, entertainment, walking speed, and more.
Lecture Theatres cost $21,300 to build and have a minimum room size of 4×4.
Item
Details
Lectern
Lecture Seating
Autocue

$4,000
+ four percent Learning Power

Surround Sound

$4,000
+ three percent Learning Power
Library Items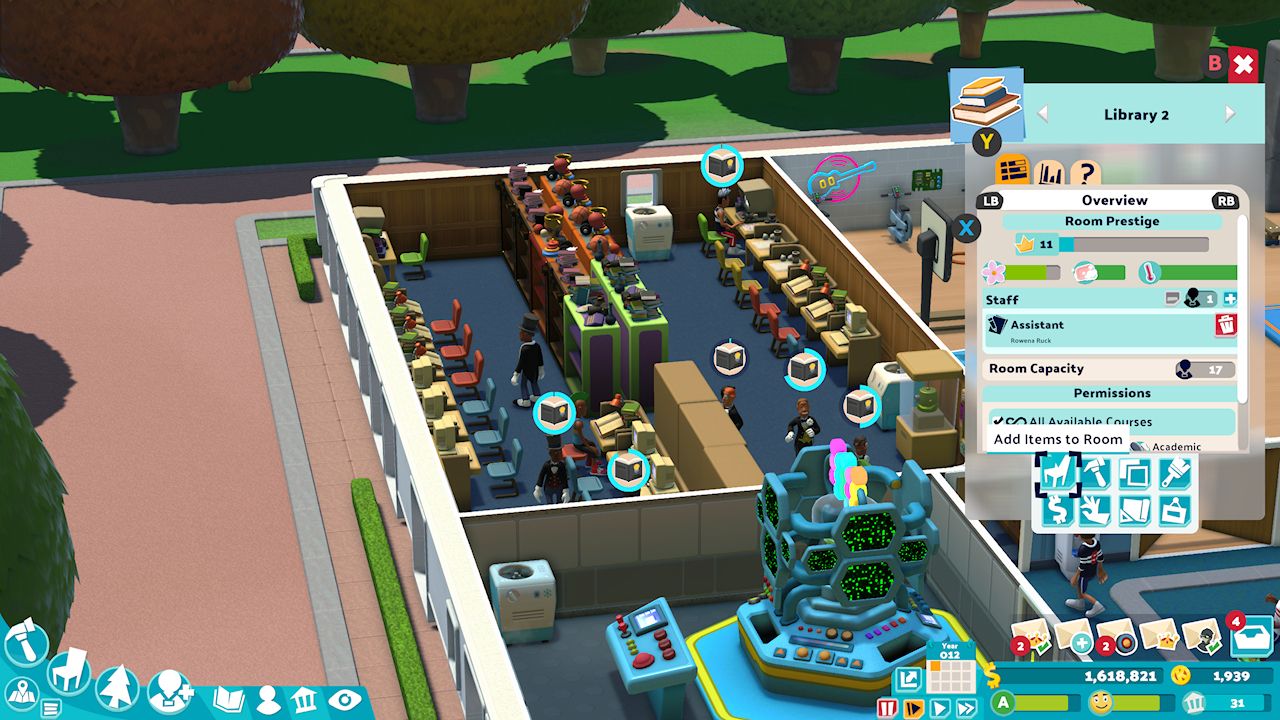 Libraries are another facility that students in every course will need. While it's not listed in the course requirements before you begin the academic year, students won't get far without a library. It's the main place where students will study, level up, and complete assignments.
You'll need to have an assistant to man the library at all times. Assistants at higher levels will give students more of a learning boost.
Libraries cost $11,900 to build and have a minimum room size of 3×3, although it's recommended that you make your library substantially bigger than the minimum requirement.
One library is enough to accommodate an entire campus full of students; just make sure you have enough bookcases and cubicles to avoid queues forming.
Item
Details
Textbook Cubicle
Library Reception
Bookcase
Computer Cubicle

$800
Required for Assignments

Study Cubicle

$300
Required for Assignments

Funny Business Bookcase

$6,000
+ five percent Learning Power
Required for Assignments

Giant Library Reception

$8,000
+ eight percent Learning Power
Source: Read Full Article