Two Point Campus Preview Impressions
"Doctor, return to the hospital, thank you," a familiar voice calls out over the tannoy, referencing Two Point Hospital, and I immediately feel at home in Two Point Studio's latest business management sim, Two Point Campus. It's all very familiar to me, whether it's the quirky claymation style of characters as they mill around my screen, the hilariously British humour, and of course, getting to grips with running my fledgling business to make some cash.
At least, that was my initial intention when I started playing, but my plans were quickly derailed by some of the new features. Two Point Studios has raised the bar with its latest title. There's a lot of it that is comfortable and familiar, but there's so much more that's shiny and new. Unlike Hospital, where you're trying to shuffle patients through the system as quickly as possible, Campus allows you to get to know the little people on your screen as they spend three years of their lives under your tuition. There's an emphasis on the students, who have different styles and personalities, can build relationships with one another, and develop romantic attachments. This became my new obsession.
I worked on placing items that increased relationship status anywhere and everywhere. My campus became home to Love Trumpets galore and I kept unlocking as many items as I could to boost my chances of getting as many soulmates paired up as possible. My ultimate goal? To see two lovebirds on the Double Jump Bed. Don't worry, that's not some weird slang for woohoo shenanigans. The bed falls firmly into the category of playful humour that Two Point is known for and lets a couple jump up and down on it like a trampoline.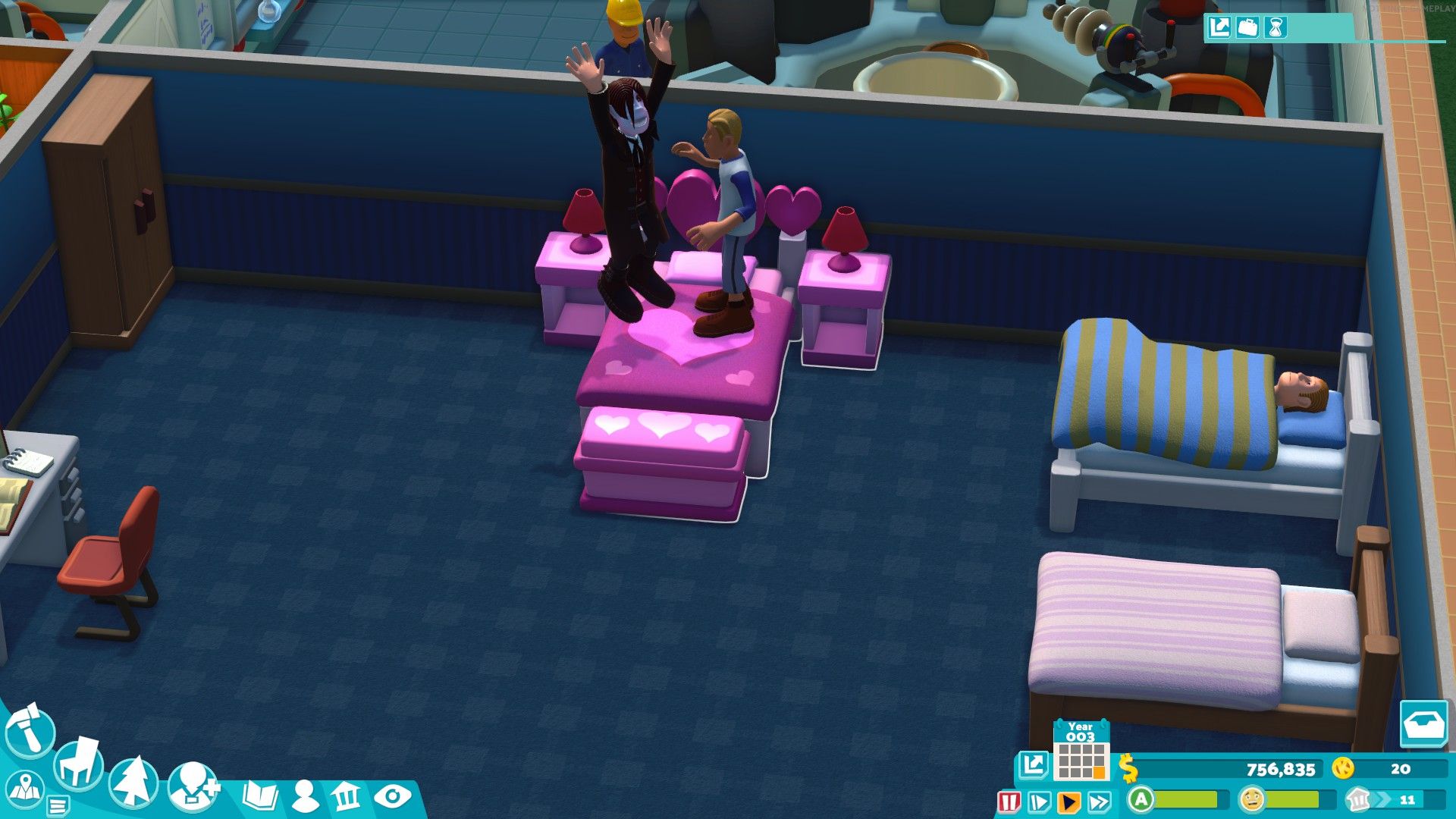 With my mission accomplished, I set to work building the best campus I possibly could. This isn't your average university though. It comes with the usual Two Point wackiness,so you won't find your regular courses to study here. Expect chefs cooking gigantic dishes, scientists with colourful vials, and students learning VR. This is just a taste of what's to come in the full release, but it was more than enough to keep me occupied.
In addition to placing classrooms, there are lecture halls and libraries. Then you'll need everything to take care of your students, such as dormitories, basic facilities, and more. You'll also need to hire a team of dedicated staff and they'll require their own space too. It's everything you know and love from Two Point Hospital, but it comes jam-packed with so much more.
Lots of quality of life updates that were added to Hospital post-launch are already included in Campus straight off the bat, such as copying and pasting rooms and customisation features, but there are so many extra goodies that have been crammed into Two Point County's latest business. Now you can shape your buildings, customise the interior right down to the items you place, and what's more, you can even take your creativity outside.
You're no longer restricted to just designing the layout within pre-set buildings, you can also create beautiful courtyards with paths and hedges, build gardens and food courts, or whatever you desire. You don't have to follow the usual format of taking a building and just filling it with what you need to complete the level. Now you can make each university your own unique creation. Take a building, fill it with dorms and lounges, throw in a student union bar, and you've essentially created your own frat house.
I loved playing with all the tools and I did create a punky, gothic dorm room, but I'm well aware my customisation skills will pale in comparison to others at launch. I'm too lazy to aim for perfection, that's why my whale garden walls are a little odd. I'll luckily have plenty of time to practice my design skills at launch.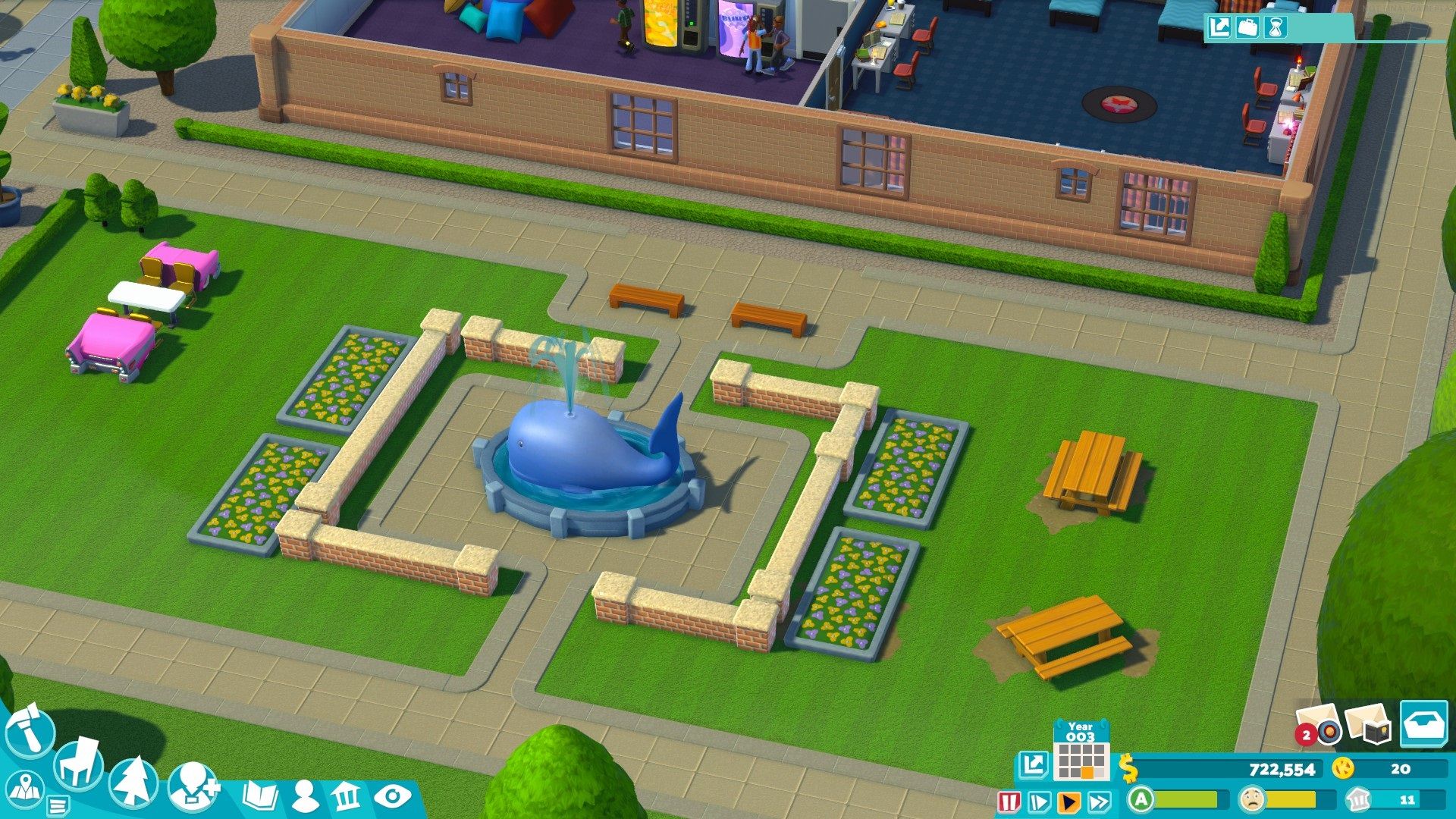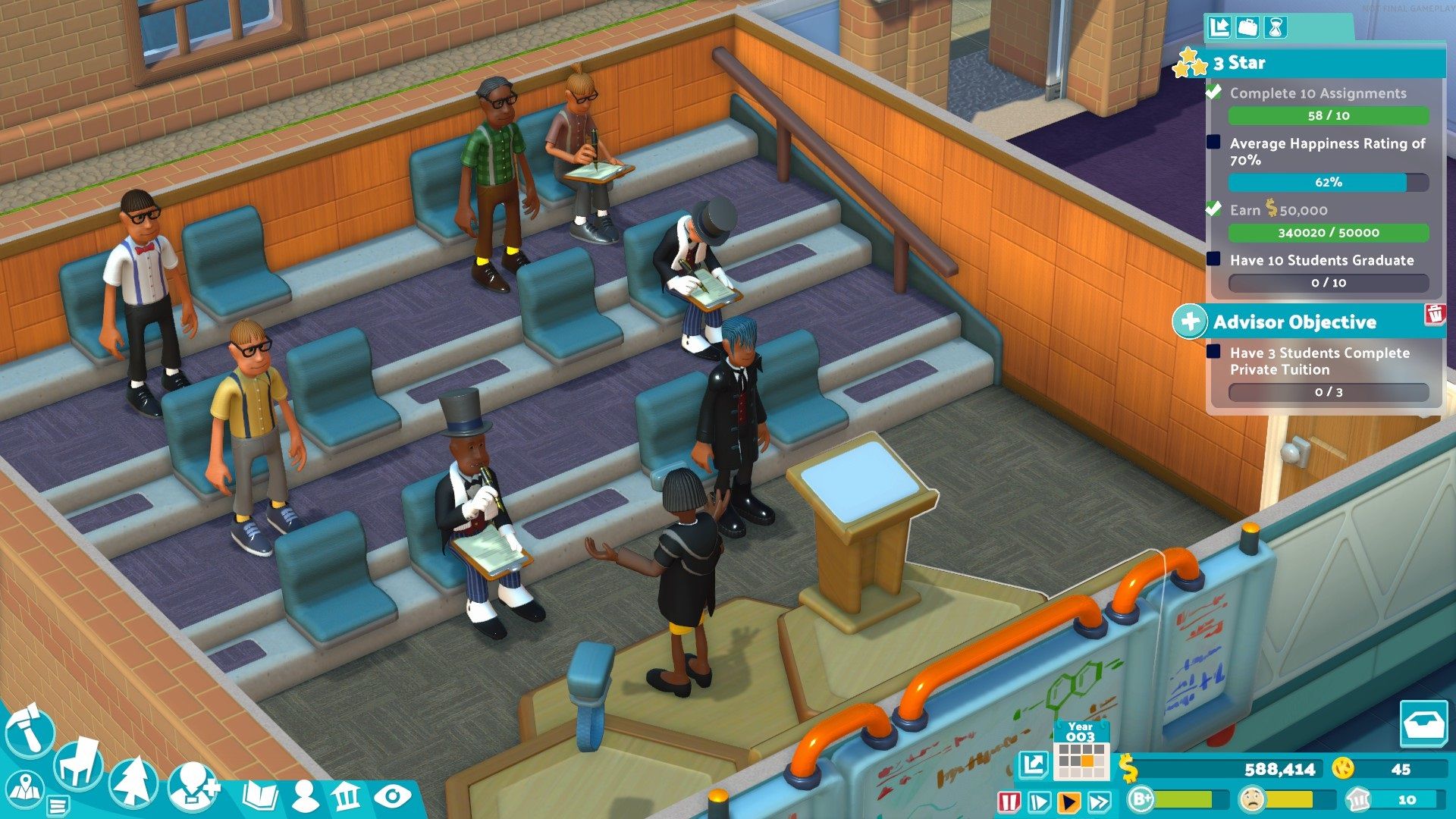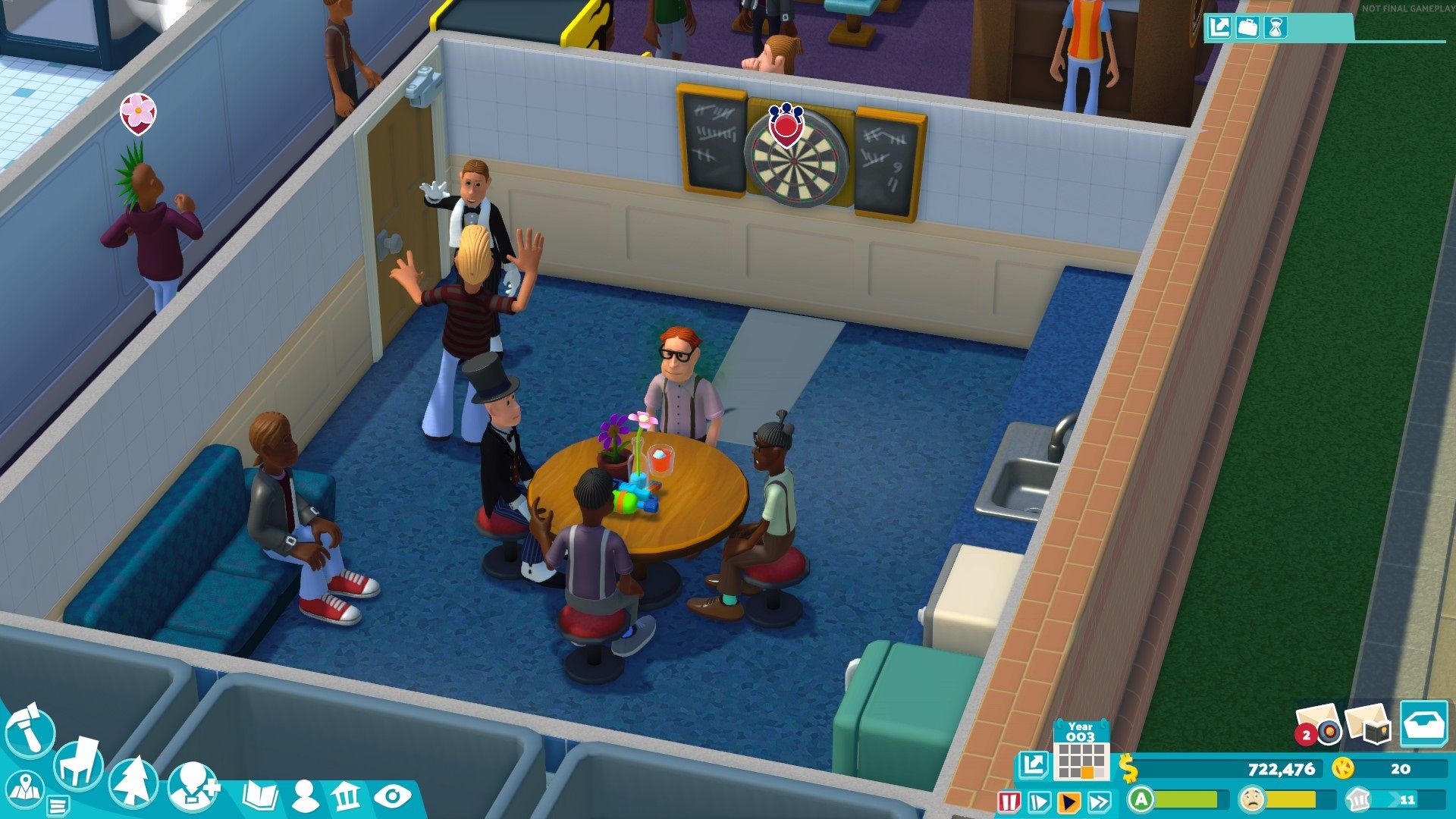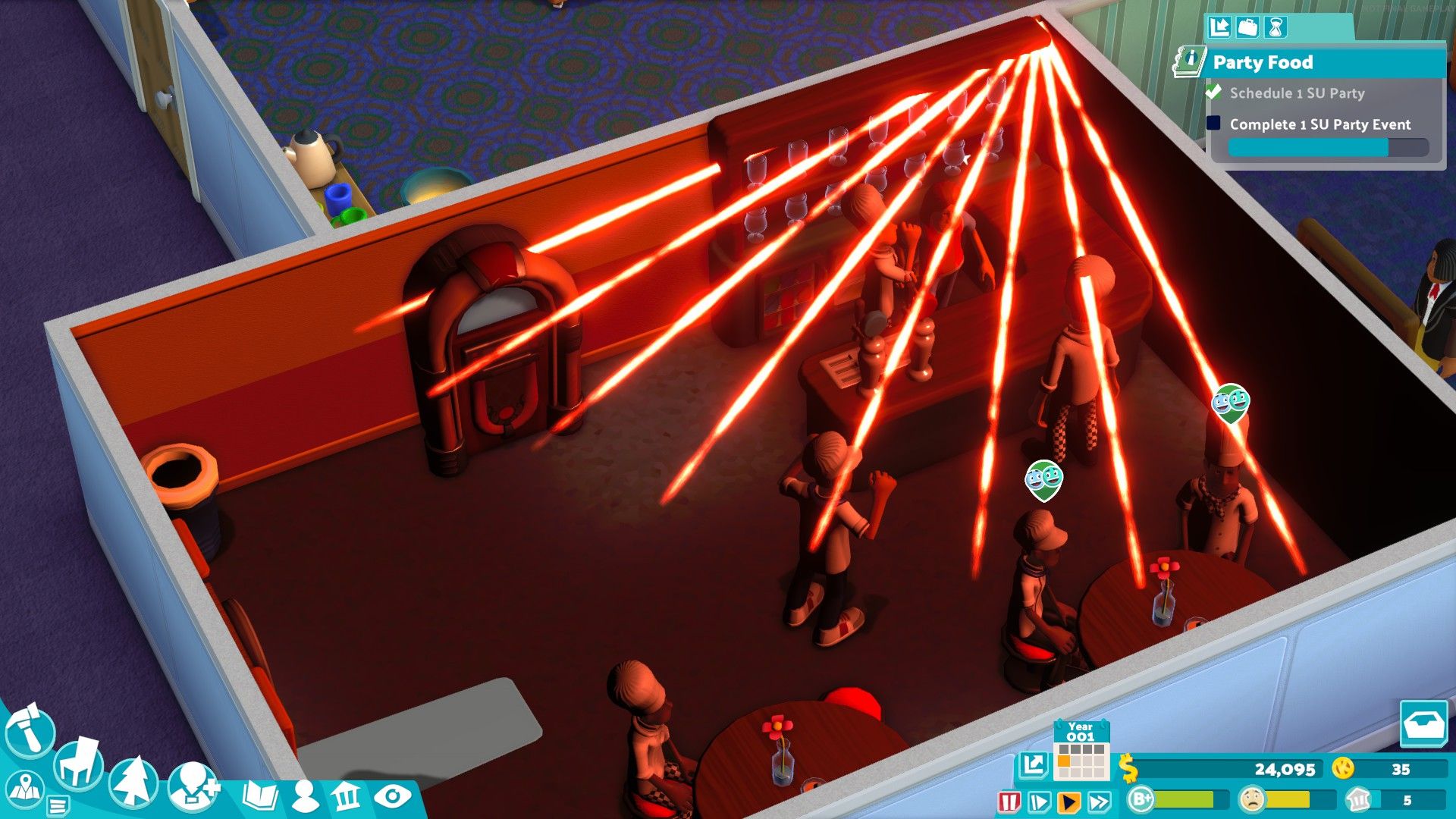 There are so many little details and features that you can get lost in but in the best "I can't believe I just missed dinner because I've been playing so long" way. It's all too easy to become utterly engrossed with building and designing your perfect university, rather than just chasing down objectives, but only if you want to. For those who want to stick to the business management side and don't want to get down and dirty with design, you can easily purchase buildings ready to go with what you need. If down the line, you want to tinker with building, you can renovate both buildings and rooms at any point, and add some of your own flair to what already exists on your campus.
Of course, it wouldn't be a true Two Point game without silly humour and hilarious references and I loved seeing them pop up in every little bit of the game. From funny and funky item names to references to some of the best pop culture and films, there's so much to make you chuckle. One of my favourite easter eggs was a nod to Mean Girls in a staff application that said "he doesn't even go here!"
Despite playing through the two available levels in the preview and completing all objectives, I feel as though I barely scratched the surface of what Two Point Campus has to offer. There is so much you can do with the tools you are given. I can't wait to find out what the rest of the game has in store and I'm especially excited to see the other imaginative courses that my students can enroll in.
Source: Read Full Article