Warzone 2 Sits At A Mostly Negative Steam Review Score Two Days After Launch
After only two days since launch, Warzone 2 currently sits at a "Mostly Negative" review score on Steam, with players reporting issues with the menus, lag, and some of the game's obvious attempts at monetization.
Following the launch of Modern Warfare 2 back in October, Warzone 2 finally launched just a few days ago, bringing with it the new DMZ mode, a new map in the form of Al Mazrah, and a host of other changes to the established Warzone formula. As exciting as that may sound, it seems that it's made a negative impact on Call of Duty players, who are leaving some pretty scathing reviews on Steam.
As of the time of writing, Warzone 2 currently stands at a score of "Mostly Negative" on Steam, based on 5,709 reviews. The reviews in question name a range of issues, but some of the ones that pop up consistently are the server issues, balance problems between guns, hard crashes, and the infamous DMZ mode. On the flipside, there are also reviews that simply say, "Do yourself a favor, and stay away from this game", "Warzone 2.0? more like Warzone -2.0.", and "boooring".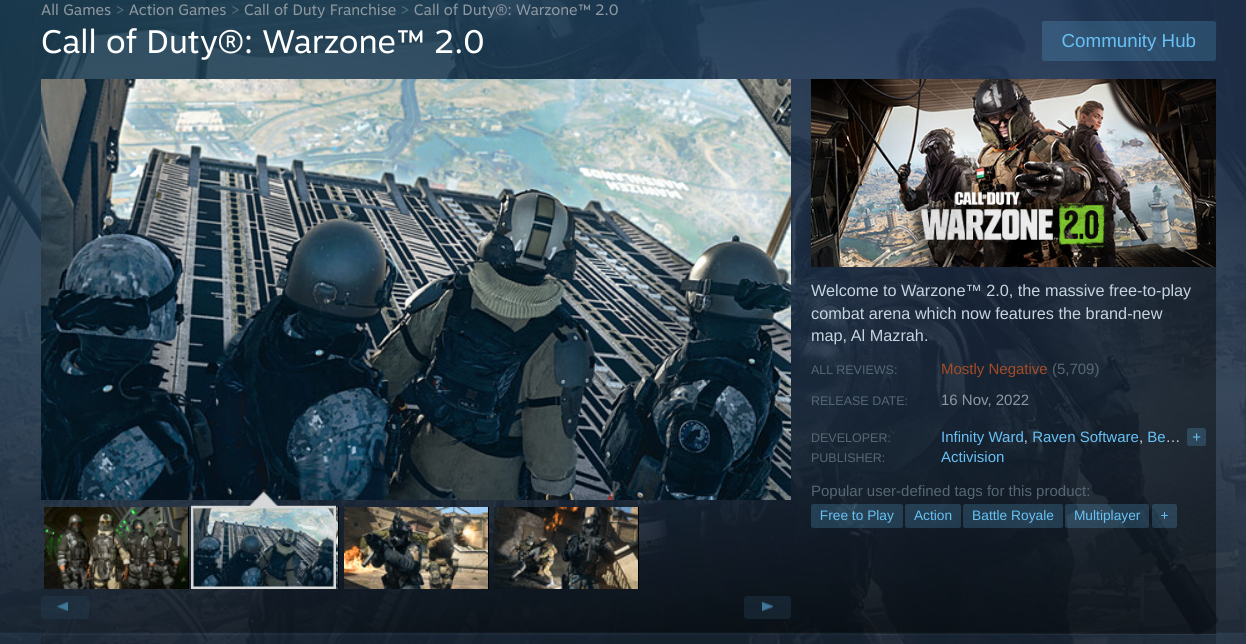 Although most of the reviews on Steam are negative, there are a few that have some positive things to say. Some of the things that Call of Duty players seem to be enjoying include the dolphin dive, the infamous proximity chat, and the overall gunplay being solid. Again, on the flip side, we also have reviews saying "skill issue for all negative reviews", so take that for what you will.
Call of Duty players aren't quite so hot on Modern Warfare 2 either, as its Steam score is currently "Mixed" with close to 90,000 reviews. That's probably not a big surprise considering the range of complaints players have had about the game since launch, including things like skill-based matchmaking, attachments, a lack of modes, and much more, but it seems to indicate a frosty reception to the latest Call of Duty releases.
Source: Read Full Article