Xuan-Yuan Sword 7 Major Update Adds New Boss And Difficulty
If you're in the market for an RPG saturated in Chinese history and mythology, then Xuan-Yuan Sword 7 may answer your call when it heads west on the PS4. The ARPG PS4 release will join its PC variant on western tech in February 2021, and the game has also received a major patch introducing a new boss, difficulty, mechanic, and more.
The martial art single-player's seventh chapter first debuted on the PC worldwide back in October, followed by an Asian release on the PS4 earlier this month. The west will now be able to indulge in the game's striking cutscenes early next year, despite the east's version already possessing English subtitles. The game's publisher and developer Softstar Entertainment confirmed to Gematsu that there is an Xbox One port in the works, with a release date yet to be confirmed.
Joining the news of its worldwide PS4 release, the developer also detailed the contents of a significant patch that arrived in-game on December 18 on PC via Steam. First, a new Nightmare difficulty was added to challenge the veterans who laughed in the face of the Hard difficulty. Nightmare mode pits enemies against you who deal higher damage, and your character will also move slower when stamina is running low. Enemy AI and moveset also got enhanced, where enemies deal you relentless blows and unforgiving combos.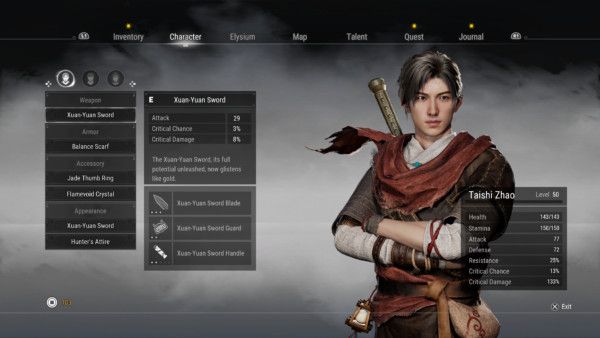 Tundou is the new boss on the block posing as a giant lizard-like creature with an even bigger mouth. The monster carries the Earth element and can be taken as a new escort once defeated. Luckily, with the arrival of a hungry, unrelenting boss comes a new stun mechanic in the Ox and Tiger stance. These two stances can be used to stun the enemy and execute it for ultimate damage, with the parry and counter attacks receiving upgrades too. Another trick up your sleeve to gain victory is the Immortal Sword, where you can begin your journey from scratch with the legendary Xuan-Yuan Sword. This New Game+ will only unlock once you finish the whole game at least once.
Lastly, patch 1.1 brings a new title soundtrack called Mohism, composed by pianist Yoko Shimomura – you will now be able to choose between the new track and its predecessor The Divine Land. Russian, German, and Spanish will also be added to the game's worldwide PS4 release next year, but until then, there's plenty of new content for you to soak up on PC.
Source: Read Full Article