BioWare Needs To Rethink How It Does Romances
Dragon Age games always having a "blond chantry boy" romance option has long been an inside joke among BioWare fans. But really, for all that you could say about the fantasy series, you can hardly call it formulaic. For starters, the blond chantry boys don't actually have a thing in common – Alistair isn't even blond, and Anders' relationship with the chantry is hardly comparable to Cullen's. That aside, Dragon Age is constantly shaking up how it does romances. The way you trigger them is always different, as is what you can do within them.
Unfortunately, the same cannot be said for its more popular sibling, Mass Effect.
In the games industry, where trends come and go, audience expectations change, and technology ever improves, you can only build upon the same structure for so long. While it would be uncontroversial to suggest that open-world games have suffered from stagnation or Bethesda could do with using a different engine, it's time we really take a look at an aspect of gaming we've mostly taken for granted. Is the "BioWare romance" as we know it – with the overused character archetypes, tired tropes, and familiar narrative patterns – fit for the next generation?
It struck me while playing Mass Effect Legendary Edition – going through all three games back to back – how the romances have changed over the years, but not really for the better. It's not hard to see why. When writing the first Mass Effect, "BioWare romance" wasn't in our vocabulary. BioWare was instead synonymous with lore-rich RPGs; adding romance into the mix was just another feature, like the power wheel, or renegade/paragon points. It fits itself smoothly into the narrative as any other aspect of the game. With only three romantic interests (two available at a time), they all fit centre stage into the narrative. It wasn't just some side gig between missions, the conversations would inform what kind of Shepard was helming the Normandy, as well as giving a unique perspective on this new universe.
Fast forward to Mass Effect 2, and this was largely unnecessary. We knew the score – humans are erratic, biotics are a thing, everyone fancies asari etc etc. – so that allowed for more creativity with who we got it on with. It's impressive how we jumped from the generic Ashley Williams, to Jack, Miranda and Tali, or from straight-laced Kaidan to Garrus, Thane, and Jacob.
But what's interesting is that Dragon Age has (mostly) dodged this problem. On the one hand, this is probably due to this series being significantly less pre-planned. The world of Thedas is always growing in scope, so there's always a culture that needs to be explored. All the romance options in Dragon Age: Origins and Dragon Age 2 go through different story beats: Morrigan starts out as a fling, Alistair starts off as a friend; Isabela runs off for a bit, Anders moves in – there are very few similarities between the romances. They all take different things to trigger, and in Origins at least, they'll all jump into bed with you at different points in the game. This is a world away from Mass Effect, where every development in the relationship takes place at the exact same time, regardless of who you're with. Always the same story arc.
This is to say Mass Effect's approach was fine during the original trilogy's run. But when you religiously stick to the mindset of having to add more options every game, and every romance to have the same structure, that's when you get Mass Effect Andromeda.
Andromeda's offerings were about as formulaic and uninspired as it gets. A couple of heterosexual soldiers? Check. Bisexual asari? Reporting for duty. Funky looking spiritual alien for the ladies? Yes, of course. Hide a couple of gays away on the ship, and we're following the unofficial BioWare romance rulebook to a T. Hell, it's become so predictable that GreedFall, an RPG wearing its BioWare inspiration on its sleeve, follows the same rule, certainly in how the romantic subplots were structured. It's sad that uninspired love stories is what this legendary company is now known for. We're about two sequels away from essentially just being that romance parody in Saints Row 4.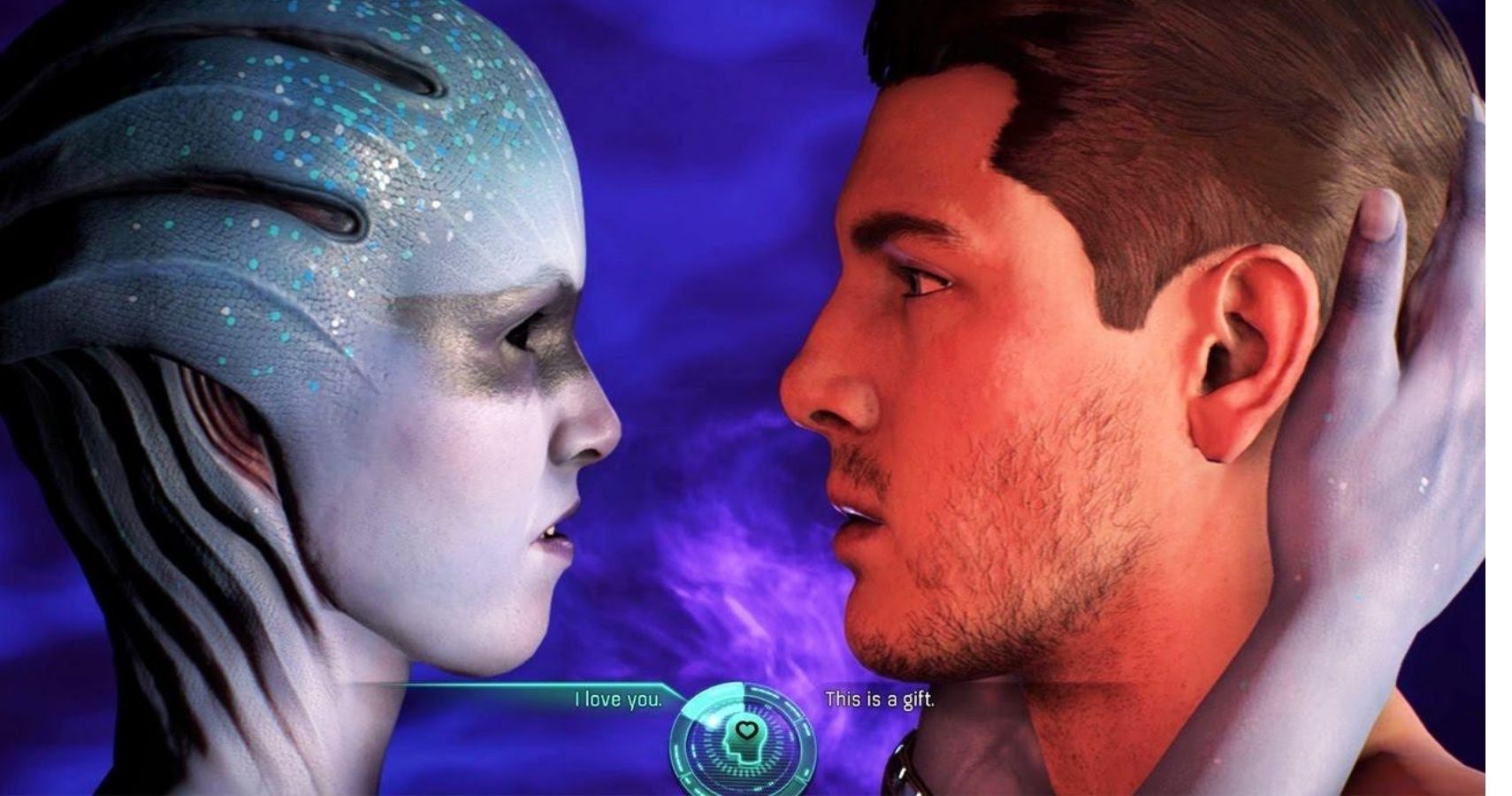 Moaning aside, how do you fix this? Firstly, you make sure the romance options have something to do with the main story. We remember getting with Alistair because it influenced who we wanted to put on the throne of Fereldan. We remember Isabela because staying with her meant causing a major diplomatic incident. We remember Liara because our first date was killing her mum. Frankly, I couldn't tell you a thing about who I romanced in Andromeda, it didn't say anything about my Ryder that they got with them.
This mindset could so easily have fit into Mass Effect. Think about the political implications of the Hero of the Citadel proudly holding hands with his quarian girlfriend. Or perhaps the council would be less trusting of a Shepard who hooked up with a Cerberus operative. Hell, maybe one day the Alliance will actually enforce its regs against fraternizing, making things awkward for the Ashey/Kaidan romancers.
As it stands, Mass Effect romances exist in a bubble. What happens on the Normandy, stays on the Normandy. That was fine before, but to stay relevant, BioWare needs to stop retreading the same ground. Make these love stories epic and with consequences. Make the BioWare romance firmly part of what makes a phenomenal BioWare product, rather than a cheeky bit of side action.
Source: Read Full Article