CultureFly's My Hero Academia "Quirks" Box Leaves Something To Be Desired
My Hero Academia is a treasured franchise that goes beyond my expectations time and time again. So, it comes with some disappointment to say that CultureFly's latest subscription box based on the series leaves me wanting more.
What Is The Box?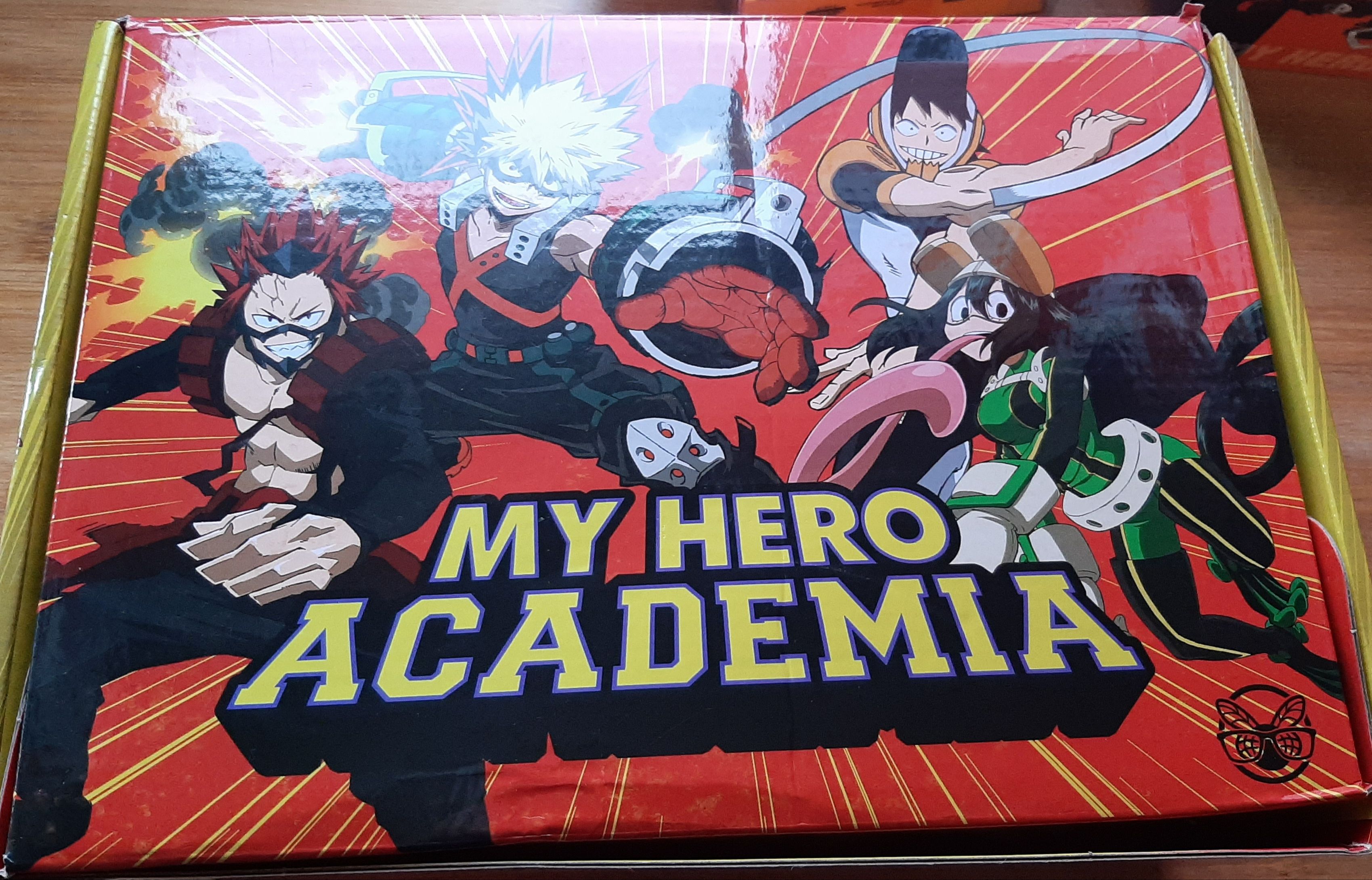 CultureFly is a company that makes premium subscription boxes with exclusive products that are dedicated to the franchises they cover. It makes boxes for fans of Nickelodeon, The Office, and in this case, My Hero Academia. This particular subscription comes quarterly with a package that arrives at your door. The box looks stunning as it features different characters on almost every side, but there are a few dents that made it less than optimal. Better packaging would be a good start.
What's In The Box?
Despite what I just said, you get a lot for its hefty $60 price tag. For this quarter, it came with a Red Riot long sleeve shirt, a Tokoyami: Dark Shadow Notebook (with Gel Pen), crew socks based on Froppy's appearance, a clever Sero tape dispenser, a night light based on Aoyama, a Grape Juice pom beanie, and a vinyl figure of Katsuki Bakugo. Your satisfaction with this set obviously relies on how much you care about each of these characters.
The Red Riot Long Sleeve
This is the main attraction for this month and feels comfortable to wear. The long sleeve shirt is 60% cotton and 40% polyester. I went for the 2XL size as most shirts fit me in that range, but unfortunately, it feels a bit tight around the stomach. Even though I have some workouts to catch up on, I feel like this is something I can wear in public without fearing judgmental eyes.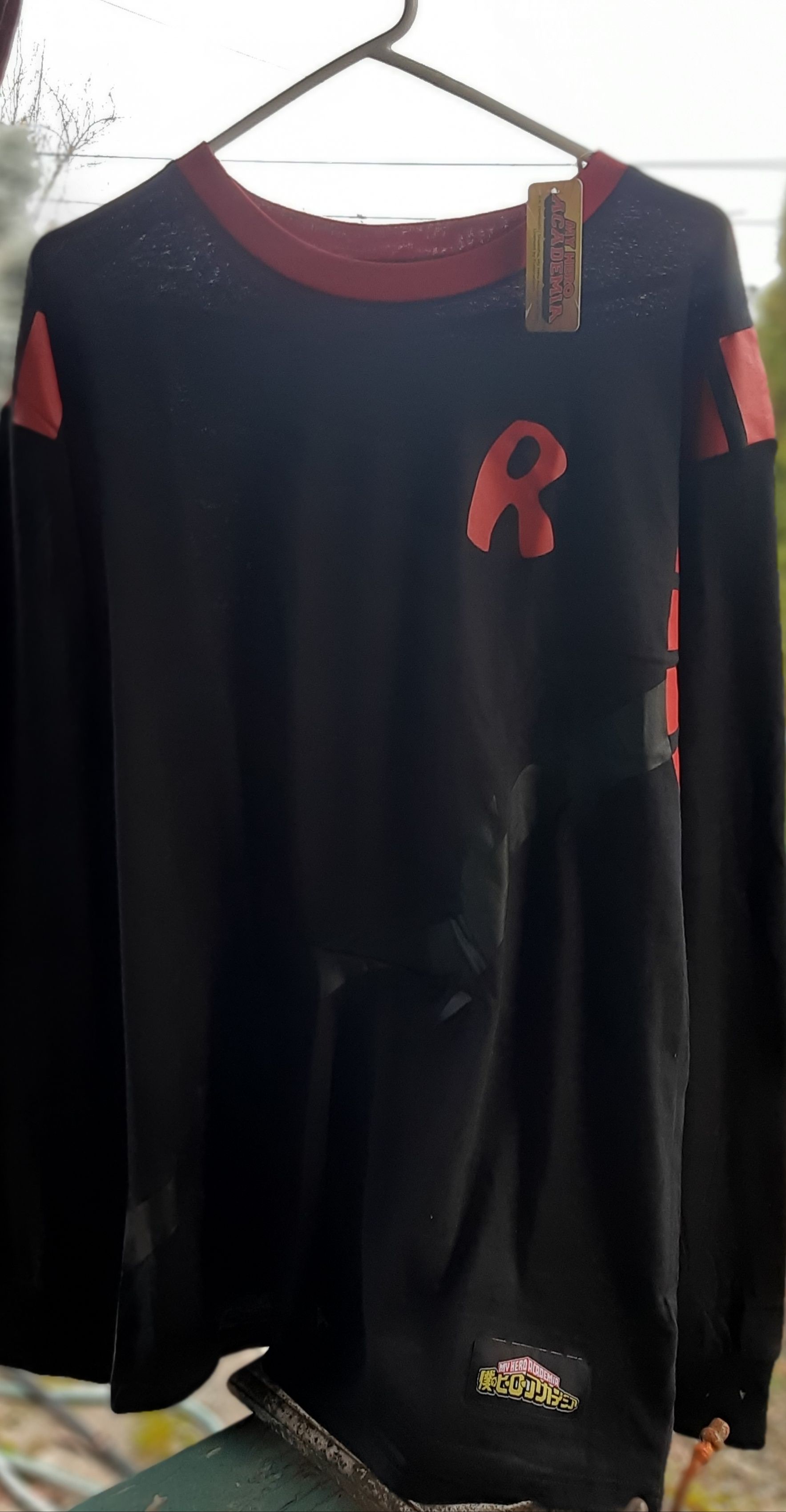 It matches Kirishima's Red Riot costume pretty well but CultureFly took some creative liberties. There are cool gash marks on the stomach and the back of the shirt. His R symbol on the belt area is also up to the chest area. It's nice that the My Hero Academia label is stitched to the bottom right too. I feel like there are far better characters to base a shirt off because his costume is literally him shirtless with a vest. The sizing might be incorrect and I'm not over the moon about the character choice, but it's a good quality shirt that will get a few uses out of me.
The Dark Shadow Notebook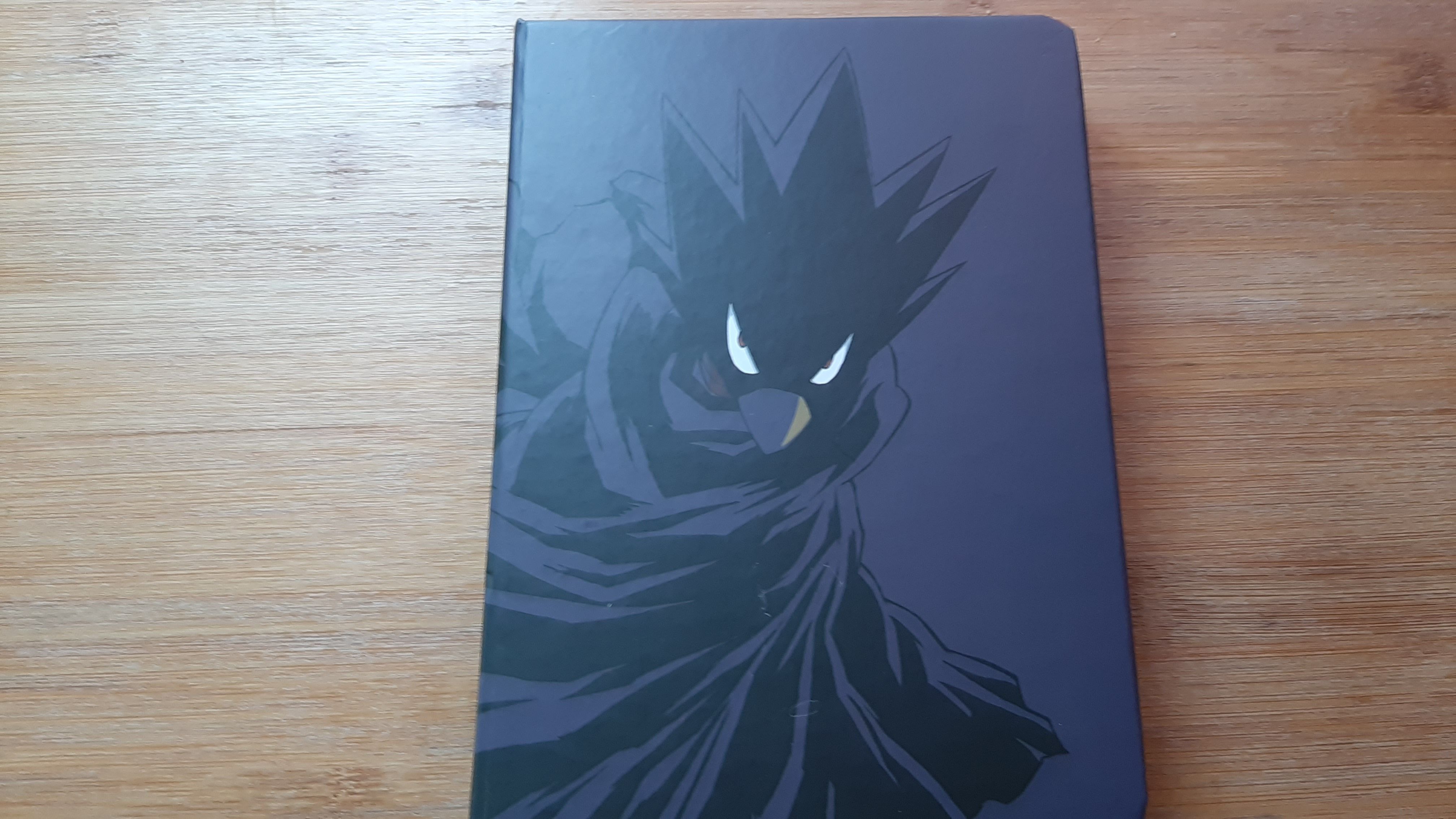 When you first grab this notebook from the box, it feels expensive. It has a nice heft to it, giving you at least a perception of quality. Opening it, you'll be greeted by a lovely piece of artwork with Tokoyami enveloped in Dark Shadow. The brush strokes are accentuated to give his quirk fellow a rough look. Turn the page again, and you'll see that the notebook is actually in black and purple as opposed to a standard white and blue. This would be cool to bring along to your high school or college classes, perhaps even at work.
Grape Juice Pom Beanie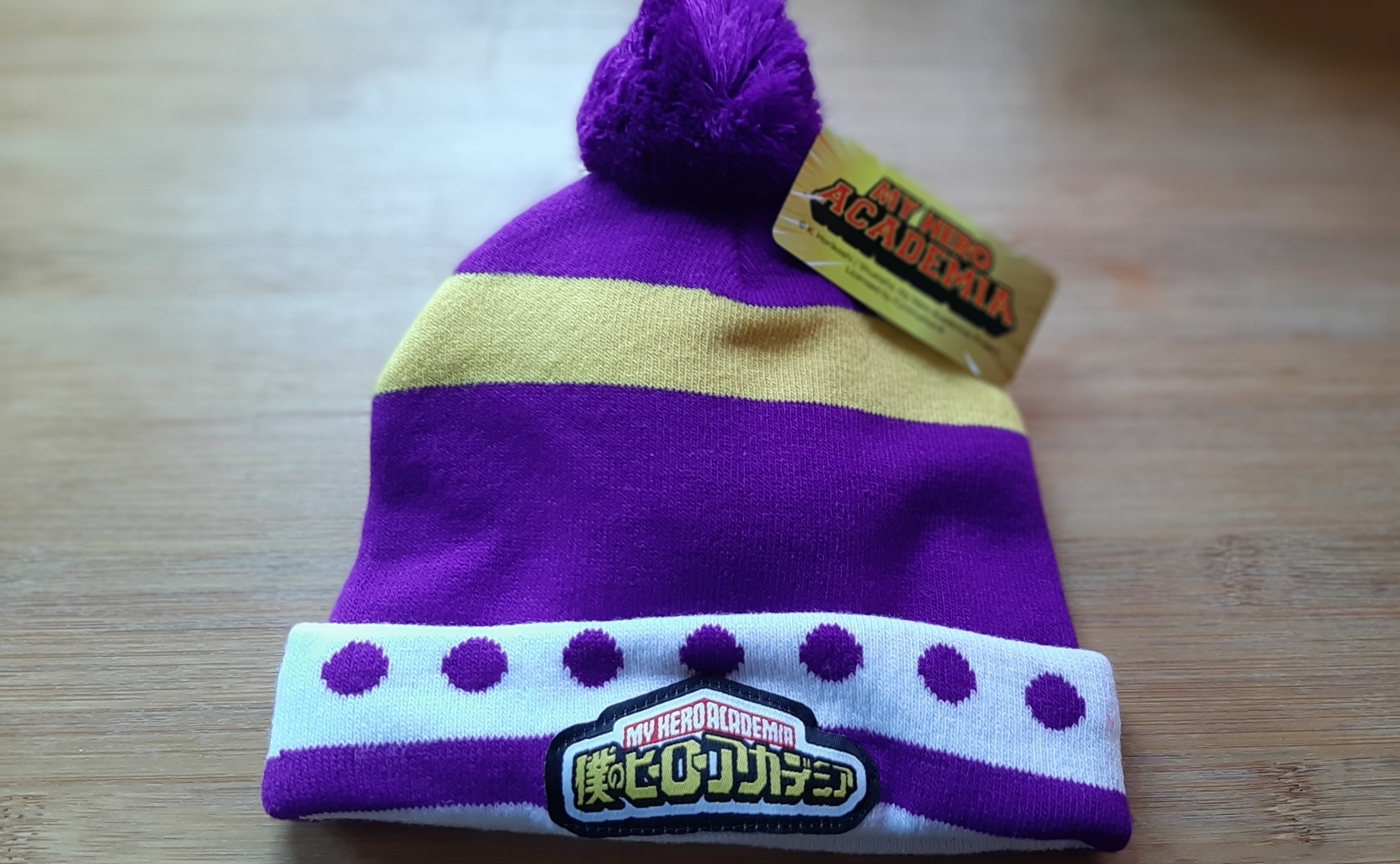 This is quite easily the worst part of the box. Sure, the beanie feels comfortable on your head, and I love the My Hero Academia logo prominently on the front but there are two major problems. One, Mineta (Grape Juice) is one of the most despised characters in this series, so why the heck would I want to wear a toque (beanie) based on him?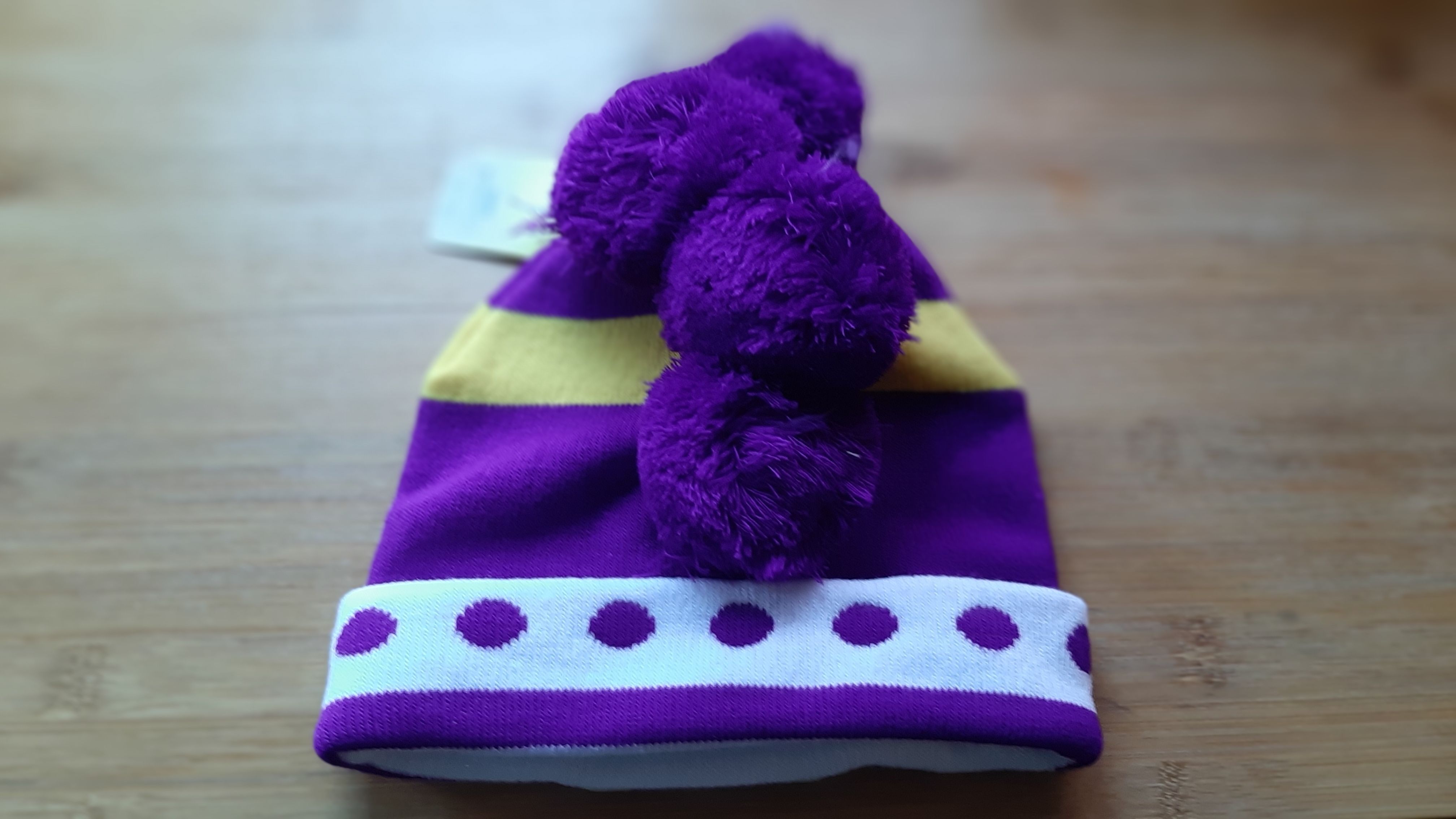 Second, is the gimmick on the back of the beanie. It's a cool gimmick to have balls of purple fabric to symbolize Mineta's quirk, but man, in real life, I wouldn't be caught wearing this. I can imagine the snickering now. This could be good for possible cosplaying, but CultureFly made a useful beanie into something completely worthless; they went a stretch too far with this design.
The Bakugo Vinyl Figure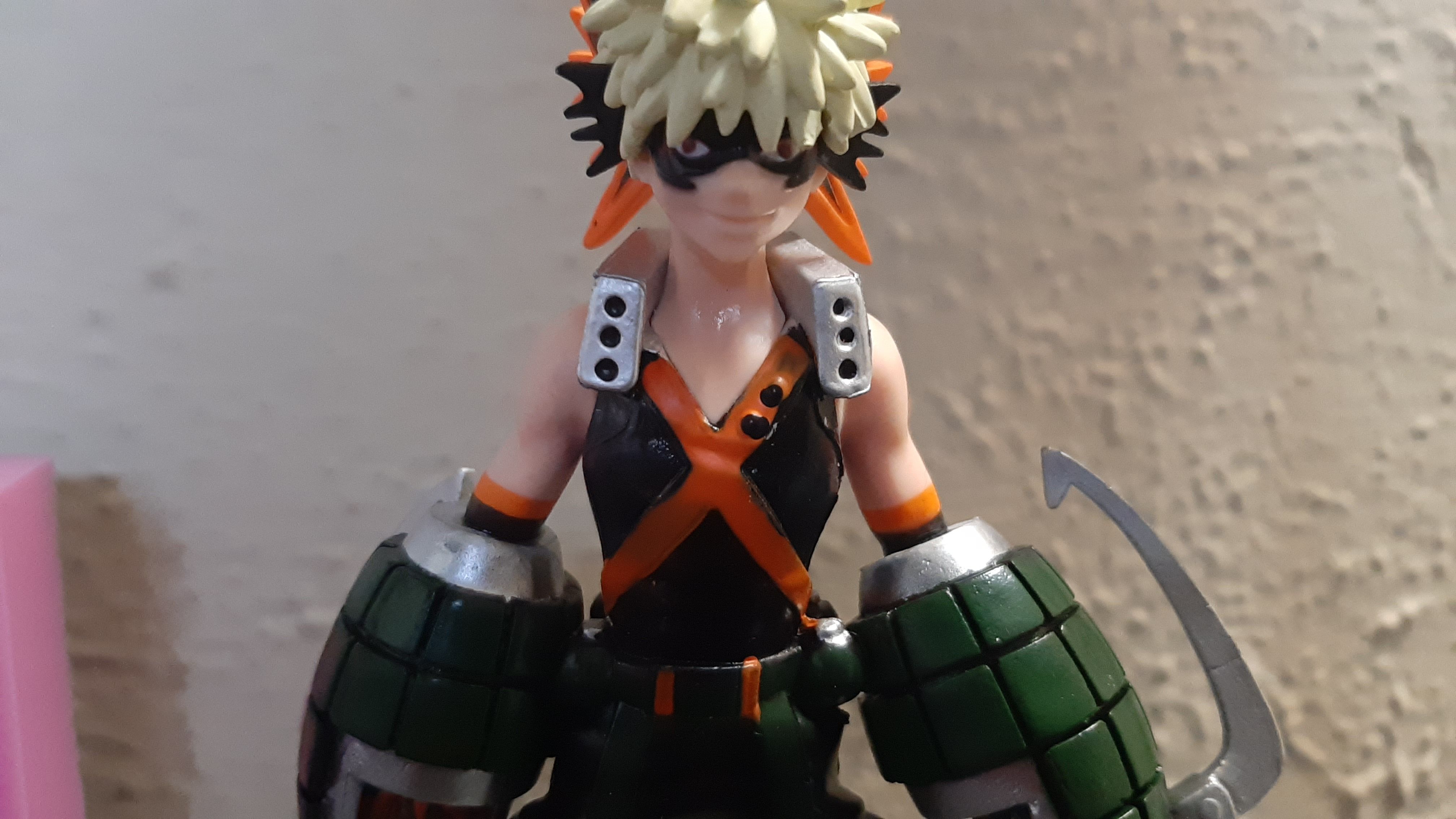 The My Hero Academia Box doesn't just come with a shirt; it has a figure too. This time, Deku's biggest rival Bakugo is standing tall against his foes. He's more of a statue than a figure, however, as there are no movable joints to speak of. With that in mind, he's quite detailed.
The grenade-like gauntlets are painted well and his costume looks like it's ripped straight from the show, despite one tiny smudging error on the orange stripe of his front.  His face, however, tells a different story. His eyes look soulless and have no pupils. A small black dot in the middle would have made a big difference. Overall, he will look great in the distance and fits right in with my other My Hero Academia collectibles.
Everything Else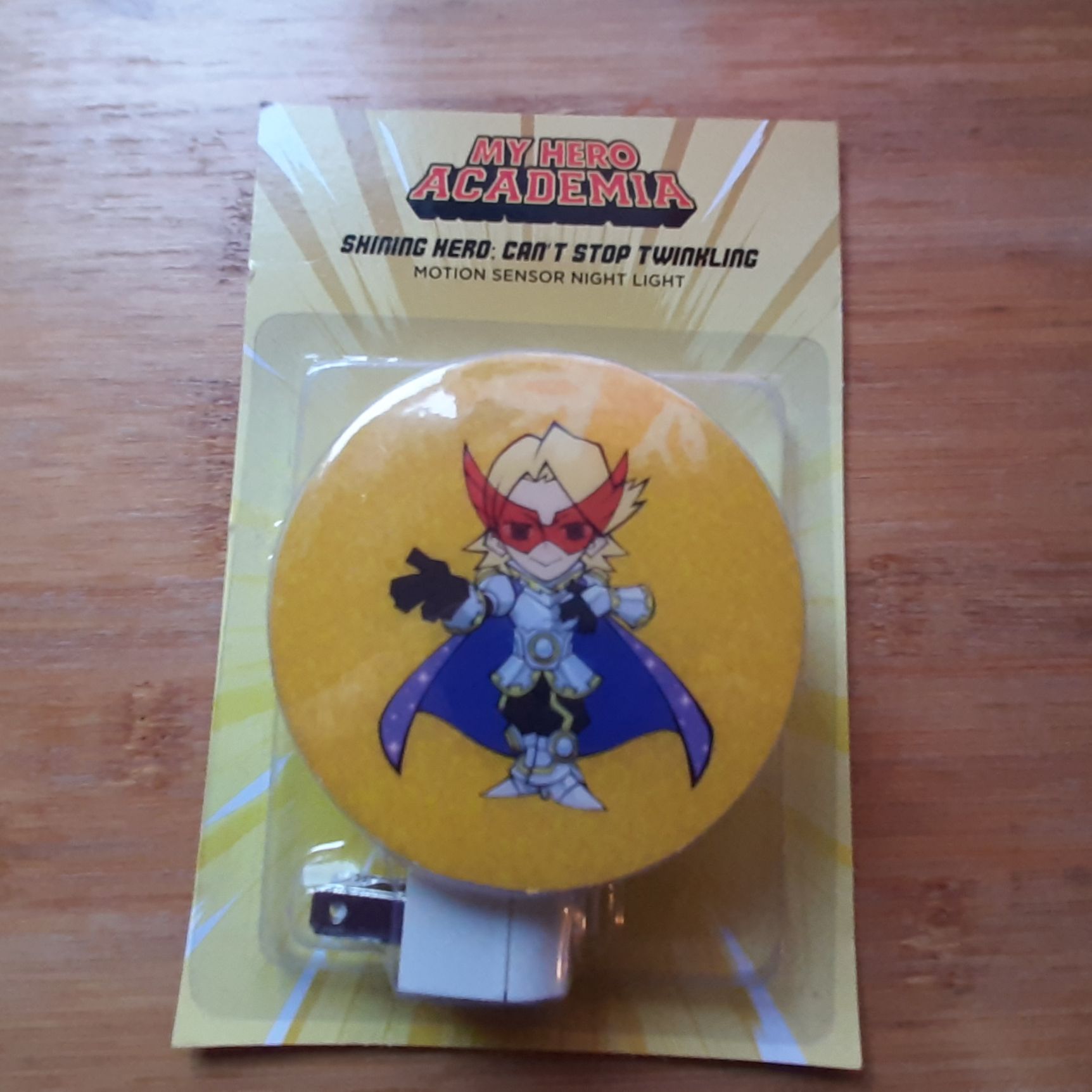 Not much else can be said about this box. Crew socks are always useful and the ones based on Froppy match the colors of her suit. The Aoyama motion sensor flashlight is a creative idea as he loves to sparkle but it's something I'll never use as I'm not a child, but I might keep it in case I have my own offspring. Last is the Sero tape dispenser, which completely fits the character's quirk and shows CultureFly's creative spark; it is cheap, though, no matter how you spin it though.
Conclusion
For the price of this box plus shipping and the amount of time it took to send to Canada (seriously, it took a month), it's hard to recommend this box. In the future, it would be awesome to get one that's themed on a specific character. If it's ever based on Deku or All Might, my wallet is ready. However, there wasn't anything that truly wowed me in this set. I was hoping to see something like the U.A. jacket from the first box that was sent out, but the Red Riot shirt left a little to be desired. Right now, it's hard to recommend but I can't deny the Plus Ultra effort and creativity that went into making these products. It just shouldn't come with the cost of practicality. Seriously, I'm never wearing that Mineta beanie.
Next: Genshin Impact's Pity System Really Needs A Counter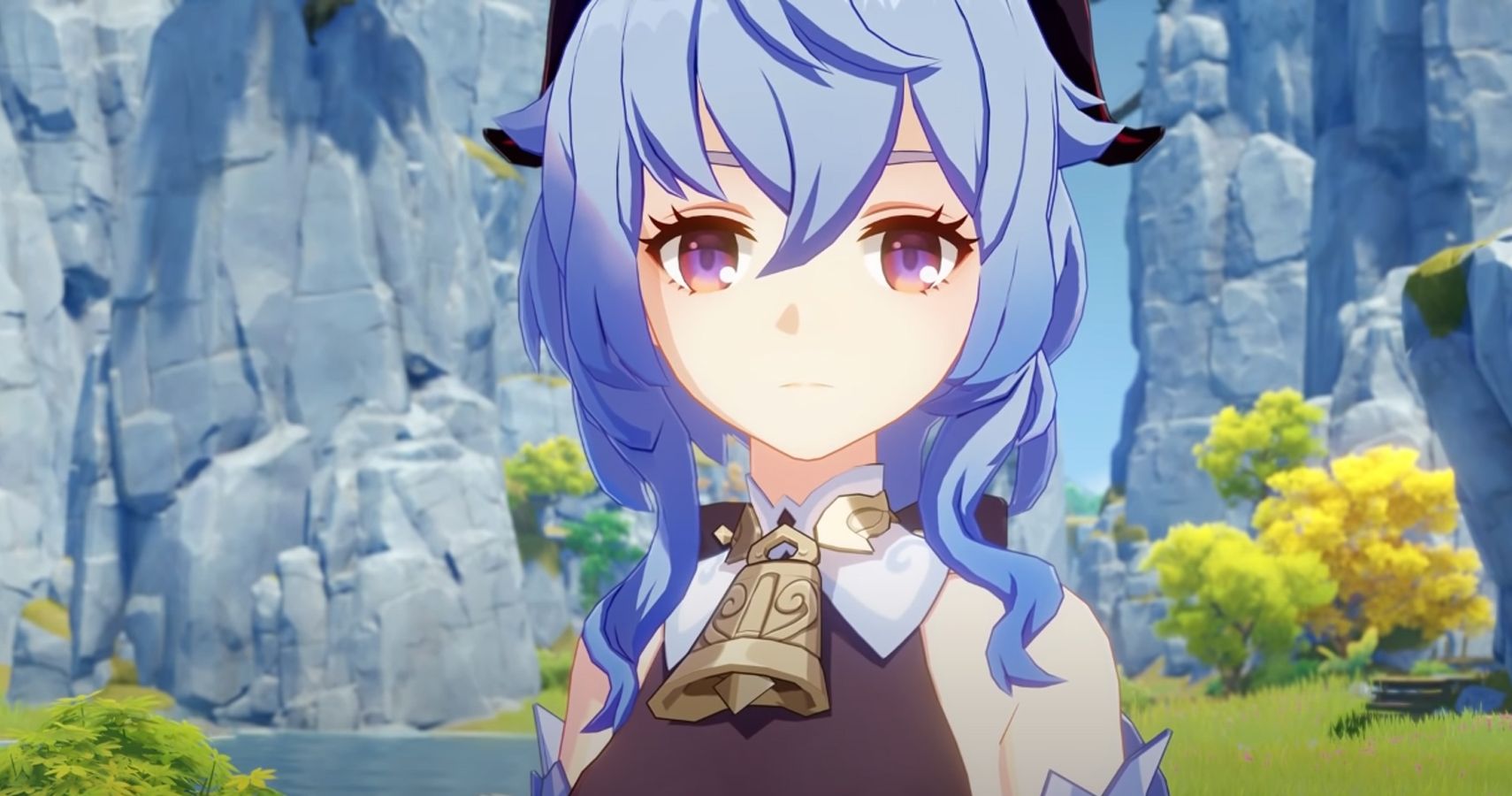 TheGamer Originals
My Hero Academia
The British "Canadian" Chris Penwell has been a video game journalist since 2013 and now has a Bachelor's degree in Communications from MacEwan University. He loves to play JRPGs and games with a narrative. His dream is to go to E3 and PAX one day and experience the mania of each event!
Source: Read Full Article