Madden 21 Review: Backyard Shenanigans
Despite the impact that the COVID-19 pandemic has had on the world of sports, this year's NFL Draft still took place in an online format, off-season player moves were still made, and locked down training camps are currently in full swing. As such, it seems as though the 2020 NFL season is still happening (at least, for the time being). It should come as no surprise, then, that the annual release of Madden NFL would come along as scheduled as well. However, for the first time in a very, VERY long time, a significantly new game mode has been added to truly make this year's version stand out from the previous releases. While The Yard brings a fun (and welcomed) new experience to the Madden series, the overall Madden 21 experience remains relatively unchanged.
Taking The Field
As far as overall gameplay goes, one of the main focuses in Madden 21 was honing in on total player control. EA Sports was looking "to deliver complete control to players on both sides of the ball." This brought along new pass rush controls, ball carrier skill stick responsiveness, realistic open-field tackling, along with overall improvements to the game's authenticity (relating to things like quarterback play and throwing position, player momentum, and extra-effort first downs).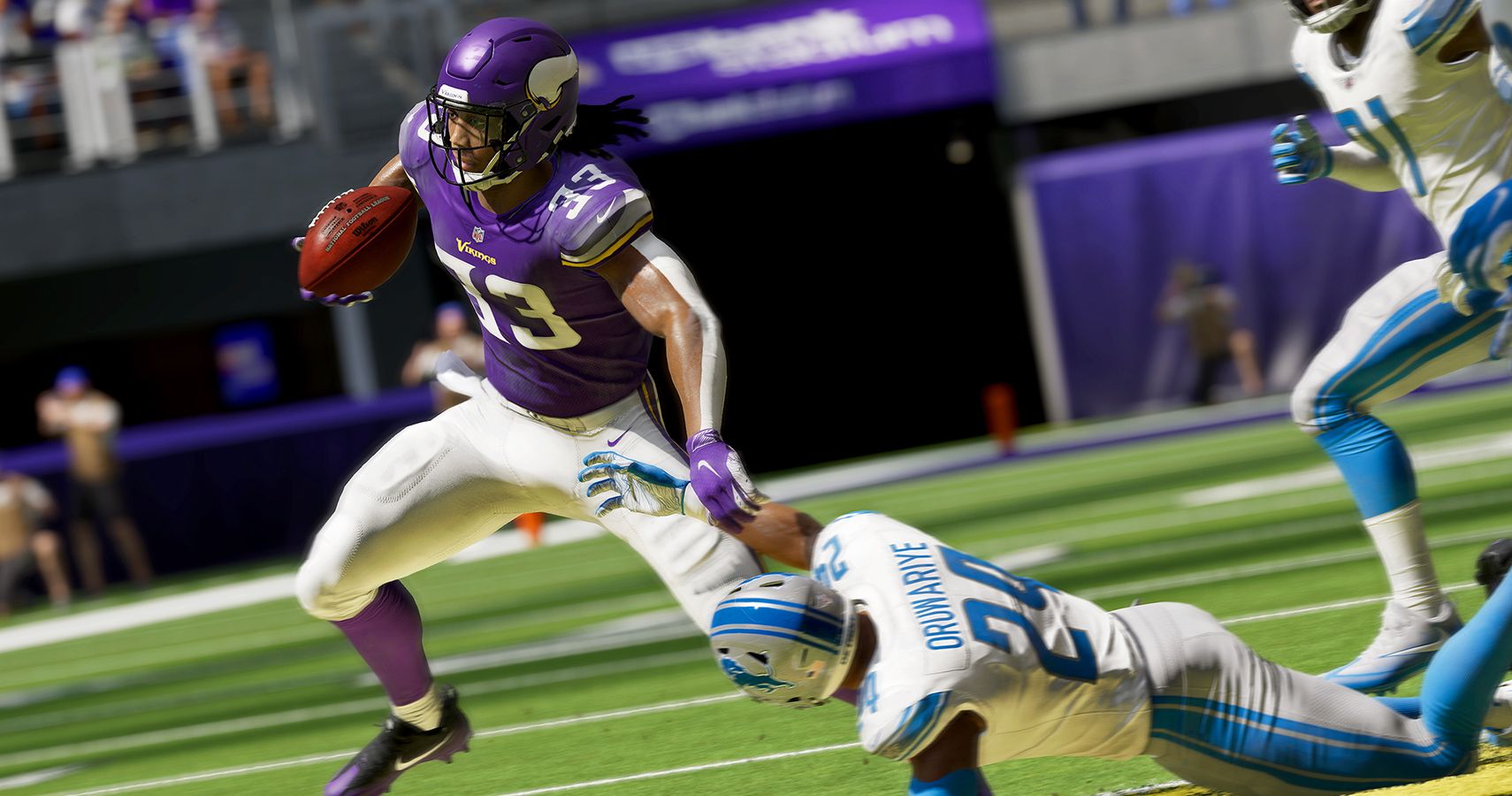 I was admittedly skeptical as to how much of a change these "new" mechanics would actually add to the overall gameplay experience, but I was pleasantly surprised by how much the seemingly small details impacted the flow, and sometimes even the outcome of the game. This was especially true with the ball carrier stick controls, which allowed my running back to string together highlight reel-level moves for major gains on the ground (even though Phillip Lindsay hardly needs any help with that).
That said, it's certainly no walk in the park to create a successful run, especially considering the improved open field tackling and defender positioning. Beyond being skilled at hitting the right juke move at the right time, you'll need to take into consideration the angle at which a defender is coming at you. If they have better positioning, they'll win the battle. In fact, that'll probably be the case more often than not, but it doesn't take away from the fun factor. In my week of playing Madden 21, I have yet to feel "cheated" on a play. After all, on any given Sunday in real life, there aren't THAT many incredible ball carrier runs.
Back To The Yard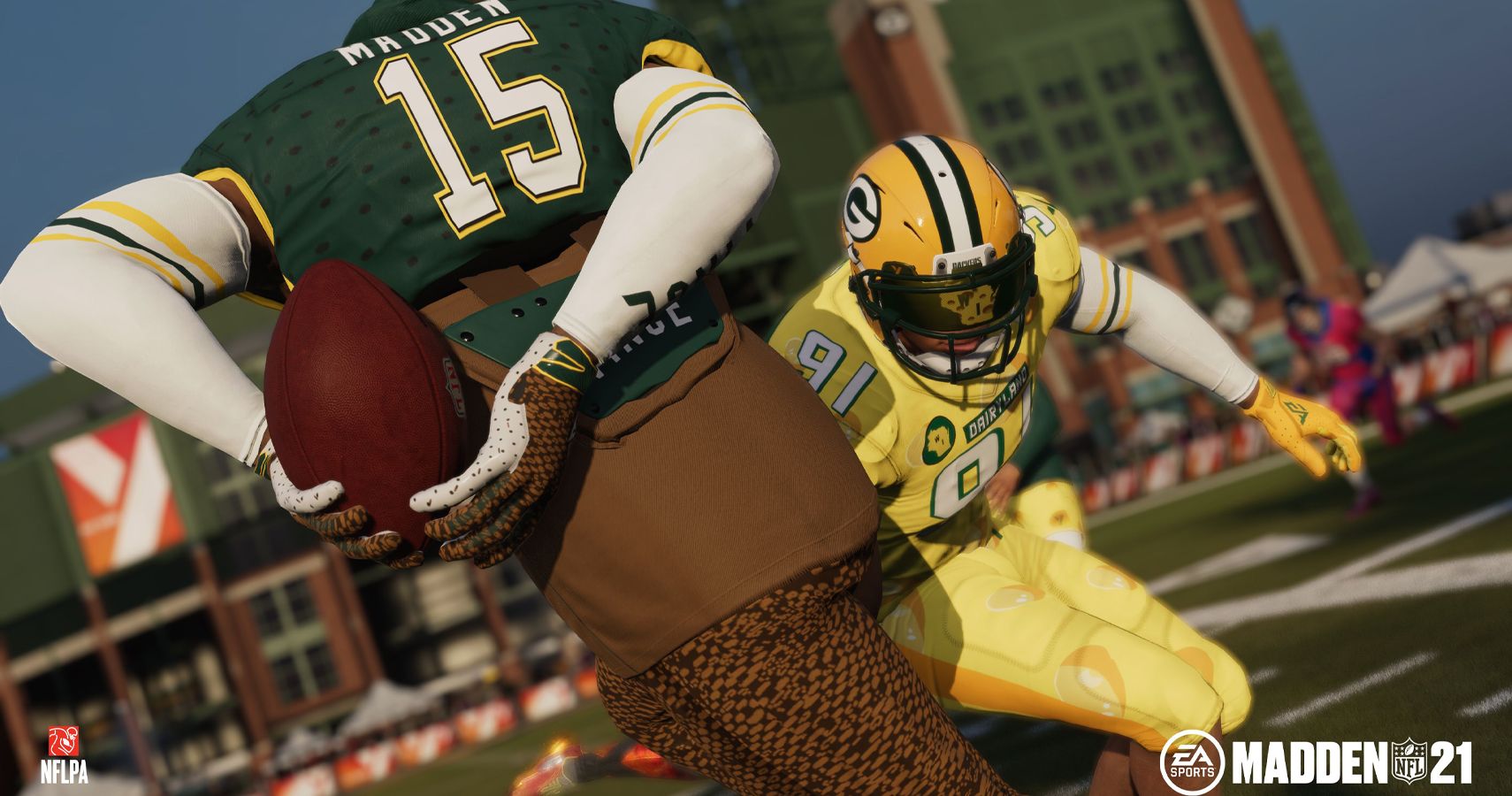 While Madden 21 returns with modes that veteran fans will undoubtedly be familiar with – such as Madden Ultimate Team (MUT), Superstar KO, and Face of the Franchise – the most notable addition is the 6-on-6 backyard football-style mode called The Yard. Honestly, the entire Madden 21 experience is based around the new game mode. One of the first things you'll do in Madden 21 is create a custom character (unfortunately, female create-a-player options are not available at this time), with everything you do in the game (in any mode) rewarding you with XP and rewards for your character. In that sense, the game kind of forces you into at least checking out The Yard to see what it has to offer. While it still feels like traditional Madden, the overall gameplay is anything but.
The Yard features fast-paced, often chaotic and unscripted gameplay that is a major departure from standard 11-on-11 NFL games. You can snap the ball to any player on the offensive side of the ball, pass an unlimited amount of times so long as it's behind the line of scrimmage, and lateral until your heart's content (which is far more difficult than it sounds). You can also generate additional points by scoring after multiple passes or by intercepting the ball. Finally, since there's no kicking in The Yard. Extra point attempts can award between one and three points, depending on the placement of the ball for the play.
At first, it was a bit difficult to get into The Yard. There's quite a lot to take in all at once, and it gets thrown at you pretty quickly. Once I got the hang of the mode and its various challenges, though, it became pretty addicting. So much so that I really have little desire to play the other modes right now. This is likely due to the simple fact that The Yard is one of the first major additions in a while, whereas I'm overly familiar with all of the other modes from having played them in every single Madden release from the past few years. That said, there is still plenty of room for improvement.
Hutt, Hutt, Huh?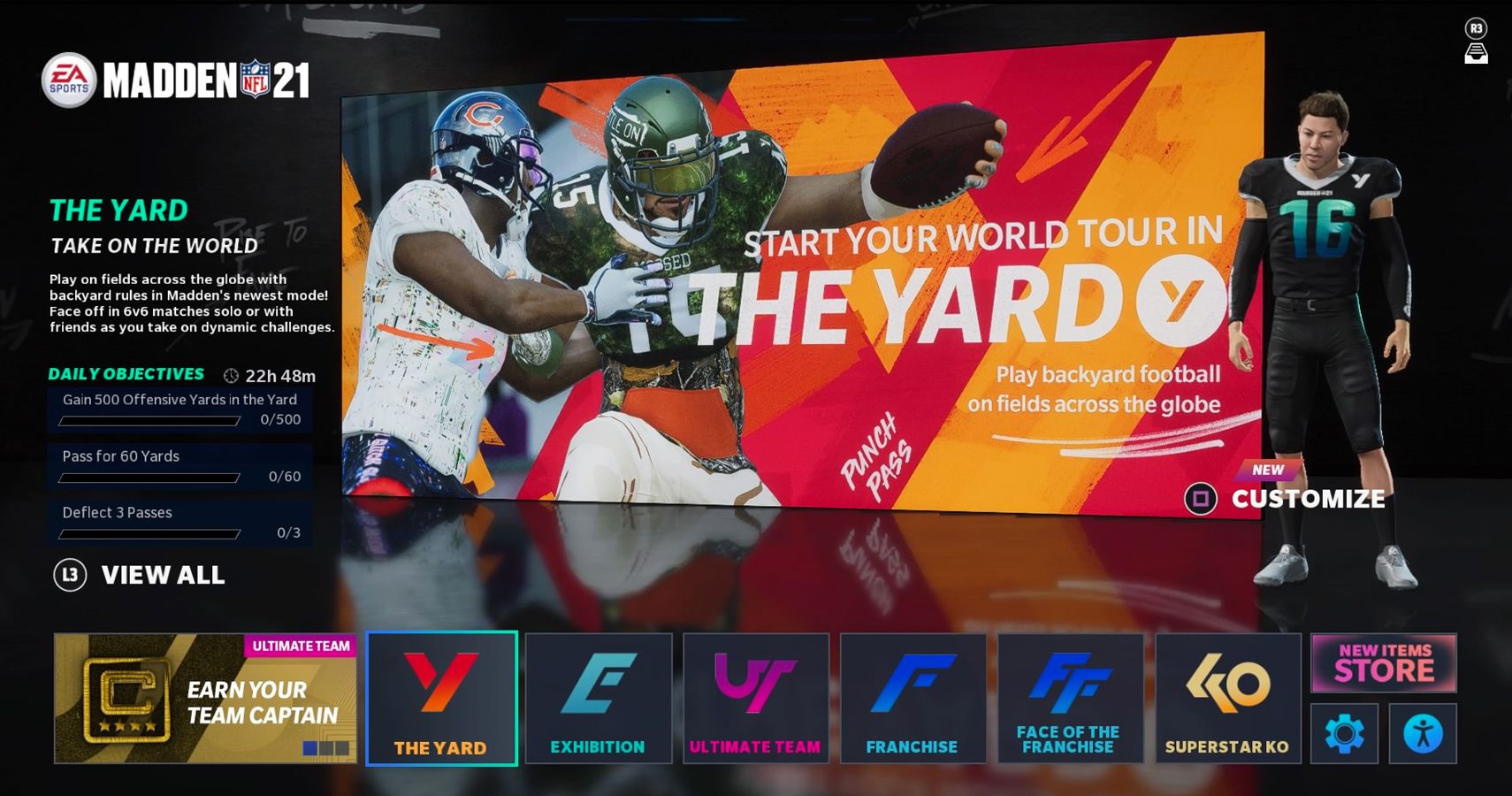 From there, I'd be taken back to the menu screen. And, boy… are there a lot of menu screens. Besides the surprisingly long load times that take place between screens, there are almost too many screens detailing things that I don't really care about, or that could be combined to a single summary screen. For instance, if I fail a challenge in The Yard, I know that I probably didn't get enough points to pass that challenge. I don't need to run through all of my character's progression screens, since I'm probably just going to replay the challenge. On that note, adding a "replay challenge" option while actually in the sessions would be a huge quality of life addition, not to mention negate the need to run through a multitude of XP and character progress screens.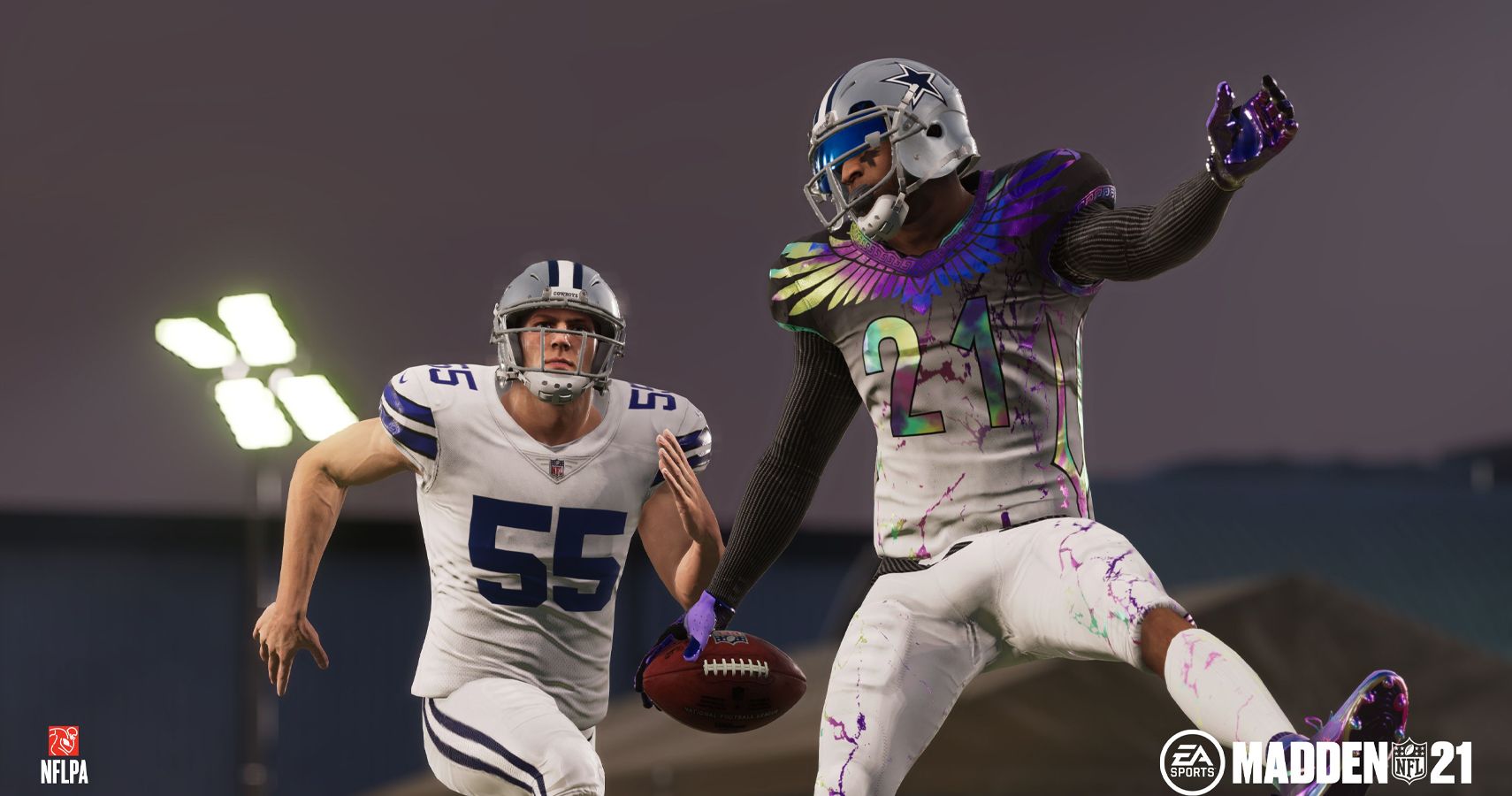 Finally, the audio design had my ears ringing, and not in a good way – more like how I imagine they'd be ringing if I were to be sacked by Von Miller or Khalil Mack. In most Madden games, the tackling noises actually sound like pads and helmets crashing. Currently, the "rat-a-tat-tat" tackling sounds more like a toy Gatling gun. This, amongst other bugs, will no doubt be addressed in future updates, though. So, it shouldn't be a long term issue. However, while they are at it, hopefully, EA Sports will add a bit more variety to the game's soundtrack, or at least change the cadence for each song's playing rotation. (At this point, I'd love to never hear Yungblud & Denzel Curry's "LEMONADE" ever again, simply due to the number of times it plays while in the game's menus.)
1st & Goal
Last year's Madden release was one of the best in recent memory, so – at least in my eyes – Madden 21 had a lot to live up to. For the most part, it did so. Madden traditionalists will enjoy familiar game modes (which are all par for the course in their own right) with improved control mechanics, while The Yard adds an exciting element for those looking for something new. The Yard still has room to improve, but, personally, I'm excited to see where the game mode goes and how its long-term placement in the game (and competitive esports scene) plays out.

A PlayStation 4 copy of Madden 21 was provided to TheGamer for this review. Madden 21 is available now for PlayStation 4, Xbox One, Google Stadia, and PC.
Source: Read Full Article