There's Another Witcher TV Show, And It's Real Bad
Before The Witcher there was The Hexer, which was based on a few of the same short stories by Andrzej Sapkowski. The Netflix adaptation has sparked a craze, as audiences can't get enough of Sapkowski's macabre world. With season two not set to premiere until 2021, fans are eating up all the Witcher lore they can find. This is evident through the sudden spike in book and game sales correlating with the show's premiere this past December. However, The Hexer is one iteration of Sapkowski's work that's better off forgotten.
It's not recommended for fans to satiate their hunger for all things Witcher with this sloppy rendition. In fact, had Sapkowski had his way, the project never would've seen the light of day.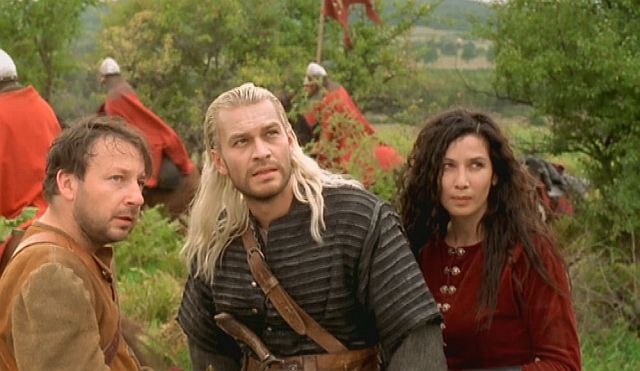 What made The Hexer so bad? All of the usual downfalls that come with low budget productions; bad acting, gaudy costuming, and unconvincing effects add to the overall disenchantment. Screenwriter Michał Szczerbic also endured heavy critique for its plotline. When Sapkowski was asked for his thoughts on the adaptation of his original work, he proclaimed that he could only respond with one short and indecent swear word.
RELATED: Netflix's The Witcher Site Has An Interactive Timeline To Help Confused Viewers
Luckily Sapkowski is much happier with the work being done on the Netflix adaptation, which is likely in part to do with the fact that he was brought on as a creative consultant for the project. The author has even gone as far as comparing Henry Cavill's portrayal of Geralt to Viggo Mortensen's iconic depiction of Aragorn in The Lord of The Rings. "He's a real professional," Sapkowski said in an interview with People. "Just as Viggo Mortensen gave his face to Aragorn, so Henry gave his to Geralt — and it shall be forever so."
While the Netflix adaptation left audiences with an unscratchable itch for more Witcher content, The Hexer is definitely not the cure. For those who can't get enough Witcher lore, revisiting the books or picking up the games are great places to start. Rewatching season one of The Witcher is also recommended, as there were plenty of bits fans probably missed and the timeline can be a bit confusing at first.
Source: Read Full Article