Top 5 Narrative Games To Look Forward To From LudoNarraCon
LudoNarraCon is now live and is a fantastic way to see some of the best narrative video games currently in development and recently released. The first virtual event took place in May of last year, and is again showing off some great titles now between April 24 and 27.
Fans of narrative games or even those interested in the process of development can attend for free online and see not only games, but also panels of developers speaking about their own processes and challenges to bring a game from concept to reality. Here are five games releasing over the next year that stood out as exciting; readers should be sure to check everything out on Steam this weekend by clicking here.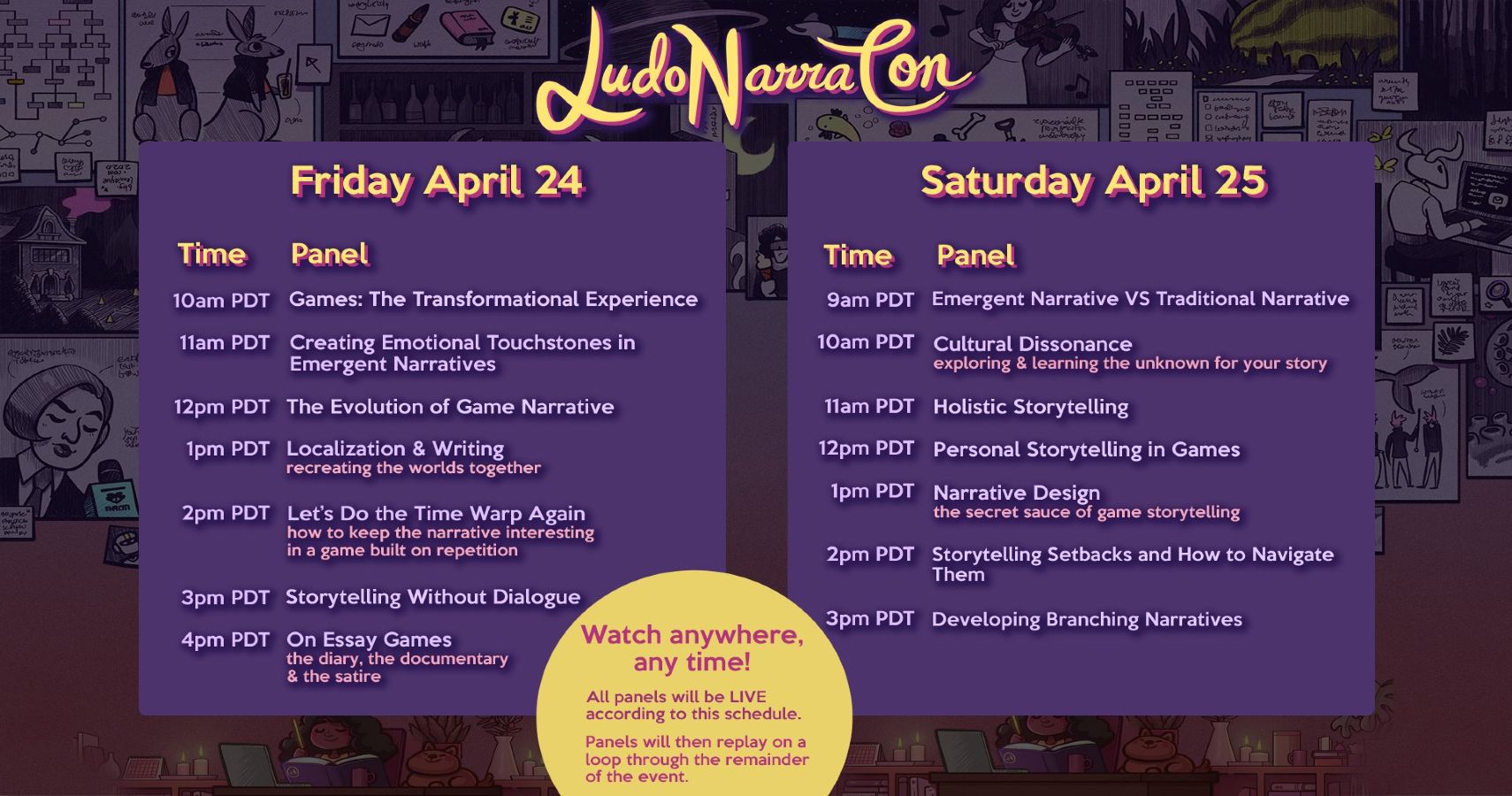 5. Paradise Killer
A murder mystery in paradise on an island outside of reality, where a rogue human civilization hopes to resurrect dead alien gods. Paradise Killer sounds amazing, and its trailer makes us exciting to dive into this strange world.
Paradise is an island that literally regenerates each few millennia in a process that brings back fallen deities to life, but on the eve of the ritual, the Council preparing Perfect 25, the next island-to-be, are all murdered. Players take control of Lady Love Dies to solve the case in a narrative adventure that looks out of this world.
4. Ring of Fire
Another detective game awaits in this noir puzzler that is set in the solarpunk utopia of New London with Ring of Fire. The brutal and gruesome Ring of Fire killer has been on the loose for some time, and players take on the role of Detective Grosvenor, a woman who must hunt through the corners of the city to find this radicalized serial killer. Players will examine clues, interrogate suspects, and cross-reference their findings with a police database to discover the killer.
A quick look at the trailer gives off some great-looking retro-techno vibes, mixing an aesthetic of noir with the 1980s, and we cannot wait to dive into this one!
3. Röki
Röki is a bit different as it initially falls more within the adventure genre but features a strong story built in the world of wintry Scandinavian folklore with a distinct graphical style. Players take on the role of Tove in a dark contemporary fairy tale to save her family. There are strange locations and creatures, all within an ancient wilderness with mysteries to solve. Rather than face a world of only monsters, Tove will also meet many creepy but completely friendly characters in this unique take on Nordic folklore.
2. Solace State
Solace State looks to take a futuristic theme in a 3d visual novel about Chloe, a young hacker who becomes involved in major political issues after she seeks out her friends in a sci-fi surveillance society. Players will utilize the cameras meant to survey the city to examine their environments and reveal important story information. Most exciting of all, the developer states that choices matter in this game, which is always a great design choice if done well.
1. Wayward Strand
Wayward Strand looks to offer players an empathetic narrative game aboard an airborne hospital in 1970s Australia. Players take on the role of Casey Beaumaris, a teenage girl who visits the place for the first time to explore the history of the ship and the people who call it home. Several of the people that live aboard the hospital have a rich history and much to share about their lives. As Casey meets more people and learns their stories, she will also see that her actions can reverberate beyond her expectations.
Be sure to check out the rest of LudoNarraCon this weekend, as there is so much to see in this digital event!
Source: Read Full Article